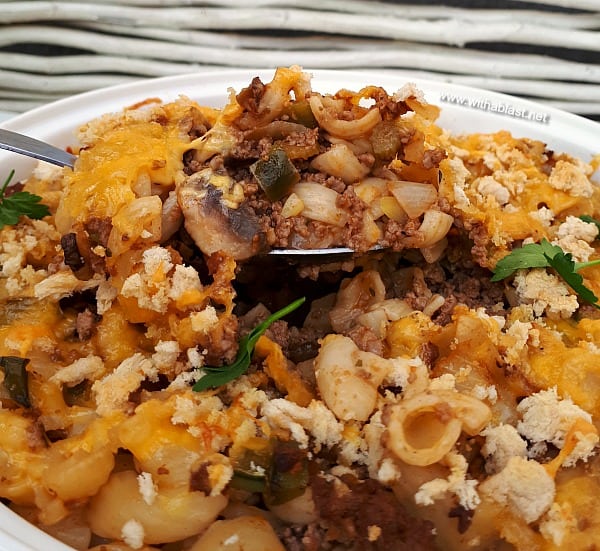 Whether you cook for a crowd or just a very hungry family – this Beef and Vegetable Pasta is for you. We enjoy this dish very much and I have to hand out the recipe frequently.
My daughter normally has a problem with a baked Cheese topping, but combined with breadcrumbs … well, she loved it ! I suppose most of my cheese topped dishes will now include breadcrumbs as I usually leave a corner without cheese before baking, or I remove the crusty cheese before dishing up hers.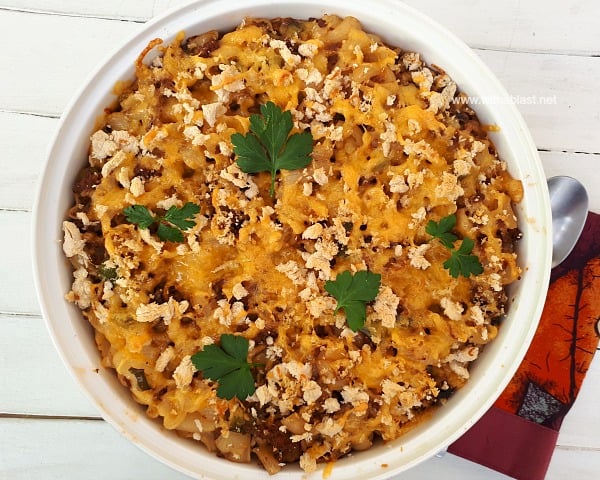 This is an extremely filling dish and you could really feed up to 10 people with only a side or two of salads. If served on it's own, I'd say, you will get 6 – 8 large portions. Dishes like these are fine with me because any leftovers and the kids will take some to work for lunch. They are only too happy when there are leftovers as that means they do not have to make their own lunch – just spoon into a lunchbox and off they go!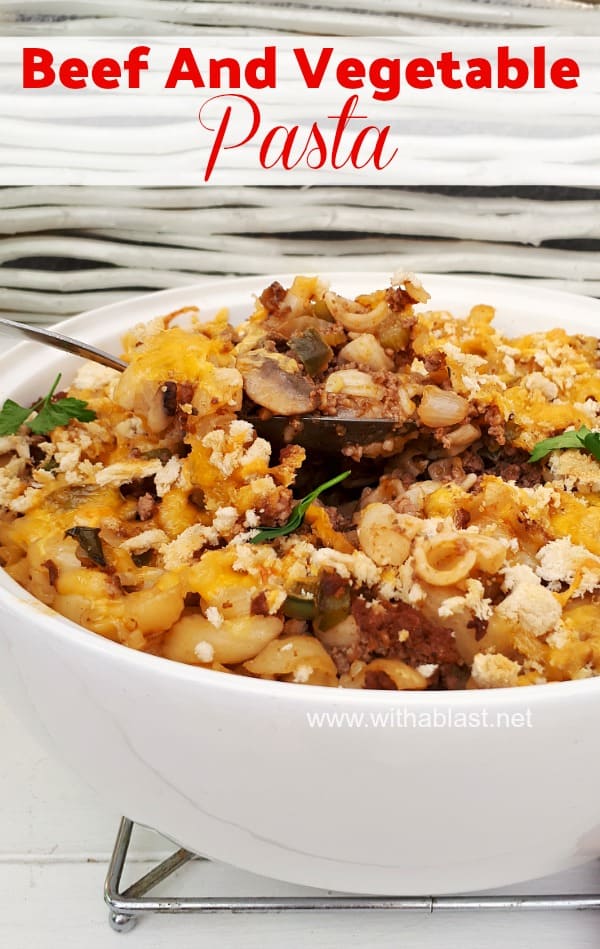 Beef And Vegetable Pasta
adapted by my from the recipe book Eenskotteltreffers
8 – 10 Servings
INGREDIENTS:
500g Pasta Shells ( 16 oz )
2 TB Olive Oil
2 Onions, chopped
1 Green Bell Pepper, large, chopped
3 t Garlic, fresh, crushed
2 Celery Stalks, chopped
250g Mushrooms, sliced ( 8 oz )
1 kg Lean Ground Beef ( 2 pounds will do )
1 cup Beef Stock
2 t Sugar
1 can (65g) Tomato Paste
1 t Dried Parsley
1 t Dried Mixed Herbs
1 TB Worcestershire Sauce
Salt and Black Pepper, to taste
2/3 cup Cheddar Cheese, grated
2/3 cup Breadcrumbs
DIRECTIONS:
1.) Pre-heat oven to 190 deg C (375 deg F) – spray a large casserole oven dish with cooking oil.
2.) Cook the Pasta as per the instructions on the pack, drain and keep aside.
3.) Meanwhile heat the Oil in a large pan – saute the Onions, Green Bell Pepper, Garlic and Celery until soft – add the Mushrooms – cook until light brown and soft – remove from pan and keep aside.
4.) Cook the Ground Beef in the same pan until done (loose and no longer pink).
5.) In a separate bowl, mix the Beef Stock, Sugar, Tomato Paste, Parsley, Mixed Herbs and Worcestershire Sauce – add to the meat – add the vegetables back to the pan – stir through and season to taste with Salt and Black Pepper.
6.) Stir the Meat mixture into the Pasta – spoon into the prepared casserole dish.
7.) Mix the Cheddar Cheese and the Breadcrumbs – sprinkle over the Meat and Pasta – bake uncovered for 45 minutes until nicely browned.
Serve with side salads or vegetables.
LINDA