Quick White Cheddar and Bacon pasta is comfort food at it's best ! Loaded with a creamy cheese sauce and Bacon makes this a winner every time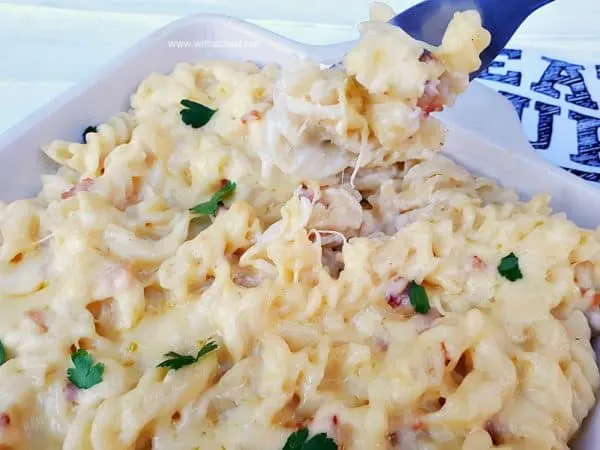 Pasta smothered in the creamiest cheese sauce, add bacon and a delicious comforting dinner is on your dining table in around 30 minutes !
Since I started using white cheddar more often during this last year or so, I am slowly but surely loving this cheese more each time I use it in a dish.
I love all kinds of cheese, Brie, Camembert, Pecorino, Stilton also known as Blue cheese, Cheddars, Gouda and so the list goes on.
Obviously the majority of cheeses are for specific uses. For instance, I can not see myself eating a sandwich with Pecorino slices.
The Cheese aisle in one of our favorite supermarkets stocks around 400 different kinds of cheeses and believe me, I can get totally lost in there. Hubby mentioned the other day that he is almost sure that I spend more money buying cheese than meats. That's still up for discussion, but if I do, it will only be by a marginal amount 😉 !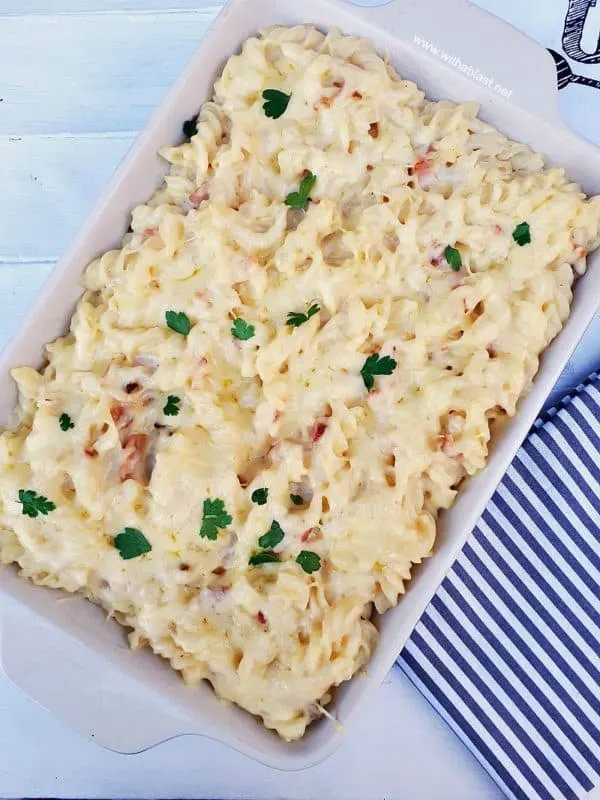 After years, decades really, of making my family's favorite mac and cheese, of which you can find the recipe here, I decided to use White Cheddar instead of the usual plain Cheddar.
Now my family is very open to new recipes. Me being a food blogger and all, they have to be ! Since starting With A Blast in 2012, I have subjected them to recipes and ingredients they, myself included, never even knew existed.
I am proud to say most recipes they loved as many are dishes I have made all my adult life. Foods my kids grew up with. But just as many were new recipes either ones I found online, tried or usually made adjustments to, and of course my family and extended family are the guinea pigs.
And unfortunately a lot of blunders also happened, either they just did not like the dish, or I simply had a wrong idea of how something would turn out.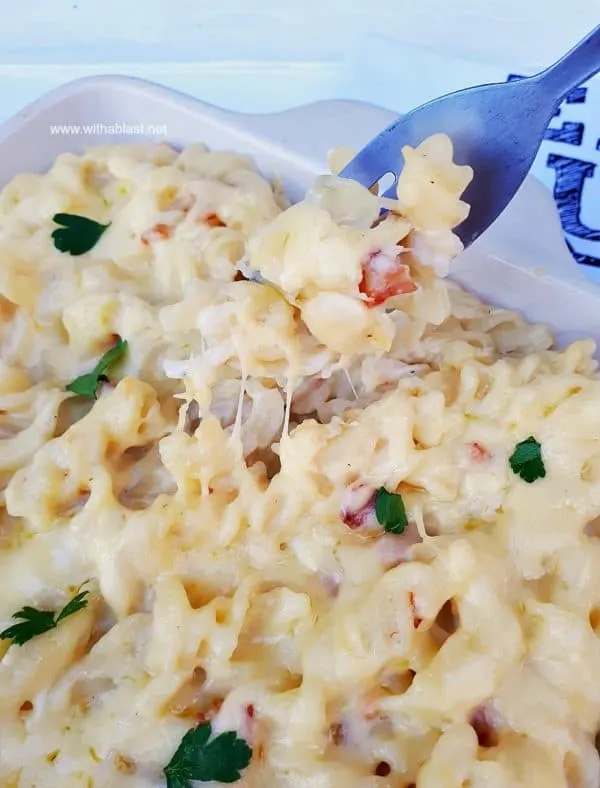 Sooo, when I made this quick White Cheddar and Bacon Pasta, I only told them we were having pasta for dinner. No way in the world was I going to tell them that I am making their number 1 mac and cheese, using a different kind of cheese !
The dish would have been condemned long before they even tasted it. Pinky promise, some recipes my family just would.not.budge.on.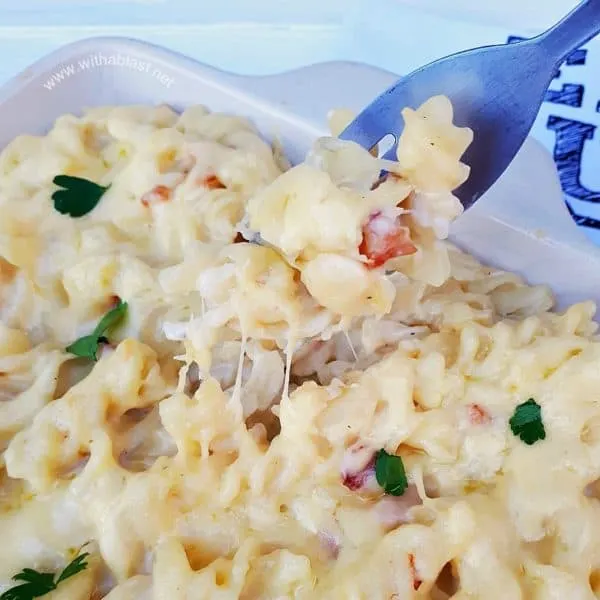 I served the pasta and while we were having dinner, I watched them closely. More so than whenever I try something totally new and usually weird. And yes, if you are wondering, I always watch my family when we are having something new or different.
They are always honest with feedback after a new meal or dessert, but I still think by watching them eating, tells one much more.
Not long after we started dinner, the "oh yummy", "this is delicious" and "this is really good" began flowing in and I relaxed. Only then did I tell them it is my basic recipe for their favorite mac and cheese, but made with White Cheddar !
Oh, the looks I received at first ! But, a few minutes later, my son was the first to say that the White Cheddar is in fact tastier than when I use plain Cheddar.
My point is, even your old true, trusted and loved recipes can be adapted by using only one new ingredient and turn it into a new family favorite.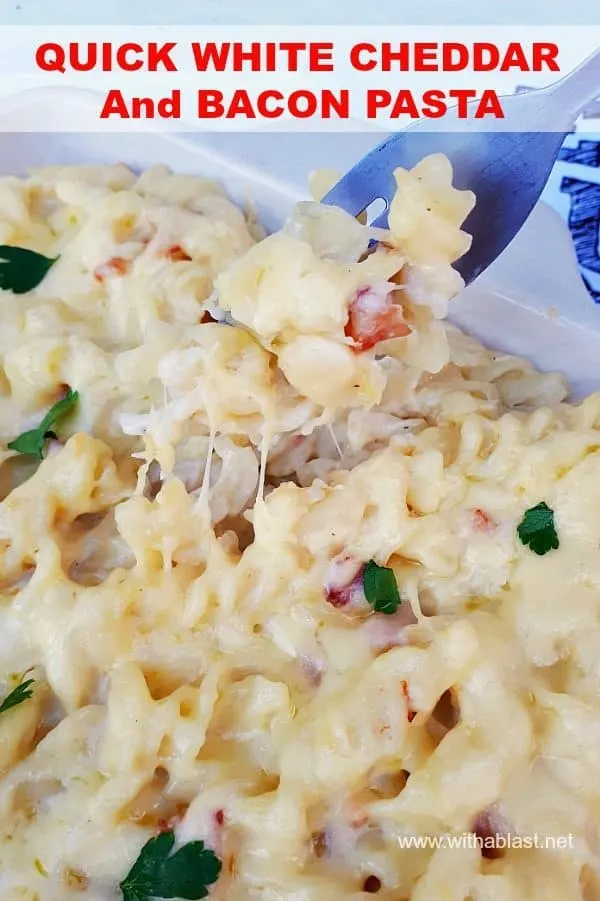 This pasta dish is ultra creamy, each and every piece of pasta hugged in the sauce. Bacon bits add just the right balance, and as I always say, Bacon makes everything better !
If you are craving a cheesy, creamy, saucy, comforting dish, this recipe is for you. Never mind that it is on the table in a flash as well.
Also, if you prefer to use macaroni instead, that is just fine. At the moment I am going trough a pasta phase, where I use different pastas in different dishes. Ha ! But I have also over stocked a bit at the end of last year when pasta was on promotion at our supermarket. I must have bought around 10 different types, and at least 5 of each.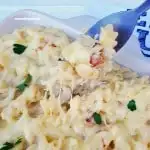 Quick White Cheddar And Bacon Pasta
This quick White Cheddar and Bacon pasta is comfort food at it's best ! Loaded with a creamy cheese sauce and Bacon makes this a winner every time
Ingredients
500

g

Fusilli Pasta

( 16 oz )

250

g

Bacon Bits

( 8 oz )

1/3

cup

Butter

1/3

cup

Flour

3

cups

Milk

3

cups

White Cheddar

grated

Parsley

chopped, to garnish (optional)
Instructions
Pre-heat the oven to 200 deg C (400 deg F) - spray a large 20 x 30 cm ( 9 x 12 inch) casserole dish with cooking oil

Boil the Pasta in salted water until al dente

Meanwhile fry the Bacon in a pan (if Bits are used, no oil is needed – if you use another type, just fry as you normally will, then chop into bite-sized pieces) Remove from pan and keep warm

By now the Pasta should almost be done – Use a 4 cup microwave container (I use a glass measuring jug) – melt the Butter/margarine in the microwave. Add the flour and stir well until a smooth paste forms

Add the Milk little by little, stir and scrape the bottom and sides to make sure all the butter, flour and milk are combined. Microwave on HIGH for 2 minutes, stir, make sure there are no lumps, repeat this same method twice more. Then, microwave, 1 minute at a time, stirring after every minute until you are satisfied with the thickness of the sauce. (6 – 8 minutes)

Stir in two cups of White Cheddar, in 3 - 4 batches - stirring after each addition, to the white sauce

Drain the Pasta and place in a large mixing bowl, add the Bacon and the Cheese sauce - mix until combined

Transfer the Pasta to the prepared casserole dish - sprinkle over the remaining one cup White Cheddar Cheese - bake 10 minutes or until cheese is bubbly and all melted

Remove from the oven and sprinkle with Parsley (if using)
Recipe Notes
For a quicker version - omit the baking and serve the retained cup of White Cheddar over the pasta once transferred to a serving plate
LINDA
Linked up at: WEEKEND POTLUCK – The Country Cook