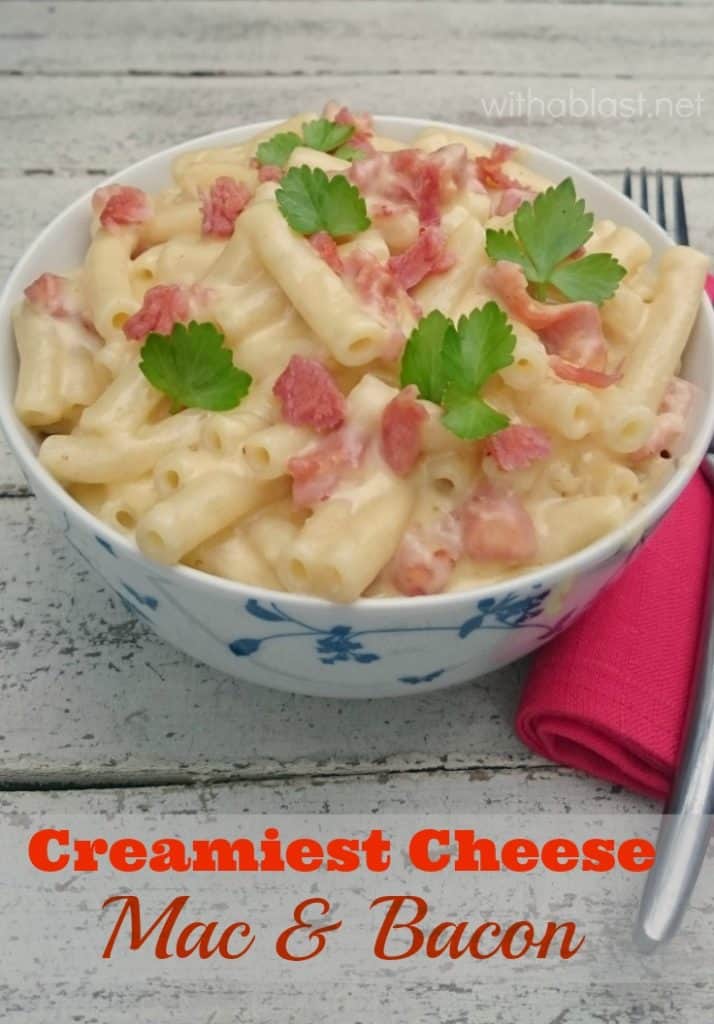 Every family has their favorite Macaroni and Cheese recipe. Some with meat, some without … we love our meat, and a main meal, without meat, just would not work for us. This Creamiest Cheese Mac and Bacon has been our favorite for years.
I have made this recipe for years and made no changes, ever ! Normally, I like to experiment, but according to the familia, it's non-negotiable on this recipe .. and I agree, this is simple, creamy delicious and something I know I always have all the ingredients on hand.
It is a very rich meal and we have this on it's own or maybe with a light crunchy salad. This is also my son's favorite and whenever he's asked to decide about dinner .. well, I just told you it's his favorite, so you know what his answer will be.
Creamiest Cheese Mac and Bacon
6 servings
INGREDIENTS:
450 g Macaroni ( 1 pound )
250 g Bacon Bits ( 8 oz )
1/3 cup Butter
1/3 cup Flour
3 cups Milk
3 cups Cheddar Cheese, grated
DIRECTIONS:
1.) Boil the Macaroni in salted water until al dente
2.) Meanwhile fry the Bacon in a pan (if Bits are used, no oil is needed – if you use another type, just fry as you normally will, then chop into bite-sized pieces) Remove from pan and keep warm.
3.) By now the Macaroni should almost be done – Use a 1 liter microwave container (I use a glass measuring jug) – melt the Butter/margarine in the microwave. Add the flour and stir well until a smooth paste forms.
4.) Add the Milk little by little, stir and scrape the bottom and sides to make sure all the butter, flour and milk are combined. Microwave on HIGH for 2 minutes, stir, make sure there are no lumps, repeat this same method twice more. Then, microwave, 1 minute at a time, stirring after every minute until you are satisfied with the thickness of the sauce. (6 – 8 minutes)
5.) Add the Cheese in 3 batches to the sauce, stirring until the Cheese has melted after each addition.
6.) Drain the Macaroni and place in a large mixing bowl, add the Bacon and mix until combined.
7.) Stir in the Cheese Sauce – transfer to a serving bowl and serve immediately.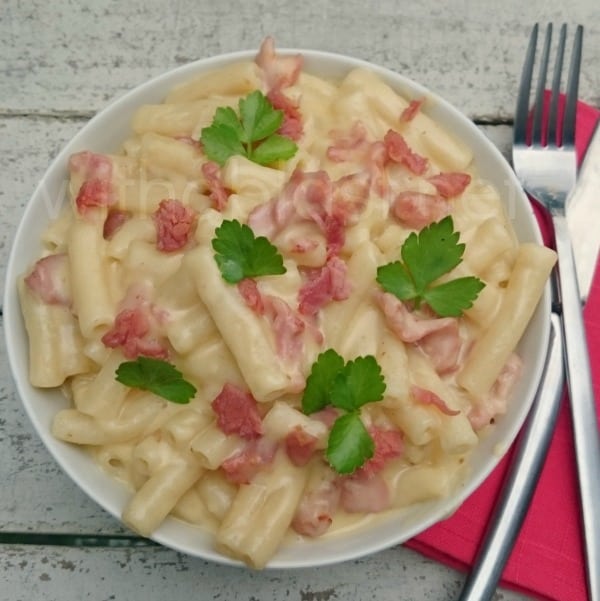 LINDA