Orange Honey Ginger Chicken is sticky delicious ! Sweet, salty and perfect for dinner, as an appetizer or a game day treat.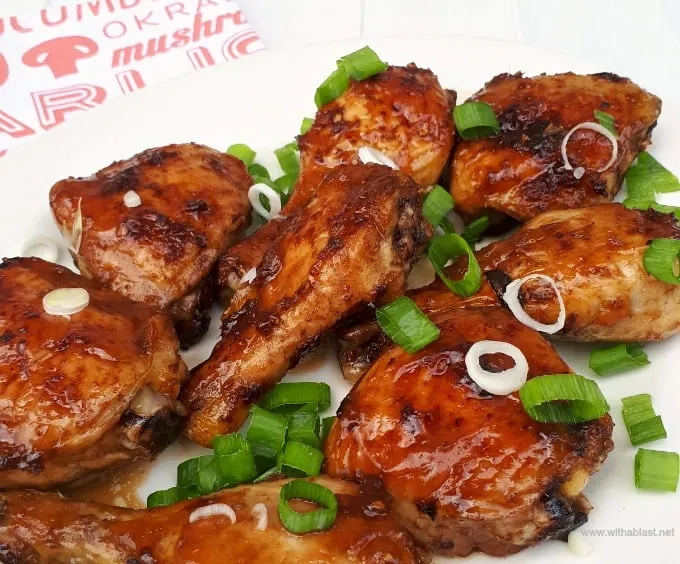 Chicken is such a versatile and economical meat and there has to be (literally!) thousands of recipes on the internet and cook books.
You can give me a good piece of chicken any day, especially sticky chicken such as this Orange Honey Ginger Chicken !
My family loves this recipe and whenever I have fresh Oranges on hand, I always work in these chicken pieces into our menu.
Whether it is for dinner or as part of a savory party (game day) platter, you can be sure it will make an appearance on our table.
I have been making these scrumptious, drool-worthy sticky chicken pieces for years and it is delicious served either warm or cold.
Therefore, perfect to add to a savory platter. Do remember the serviettes though !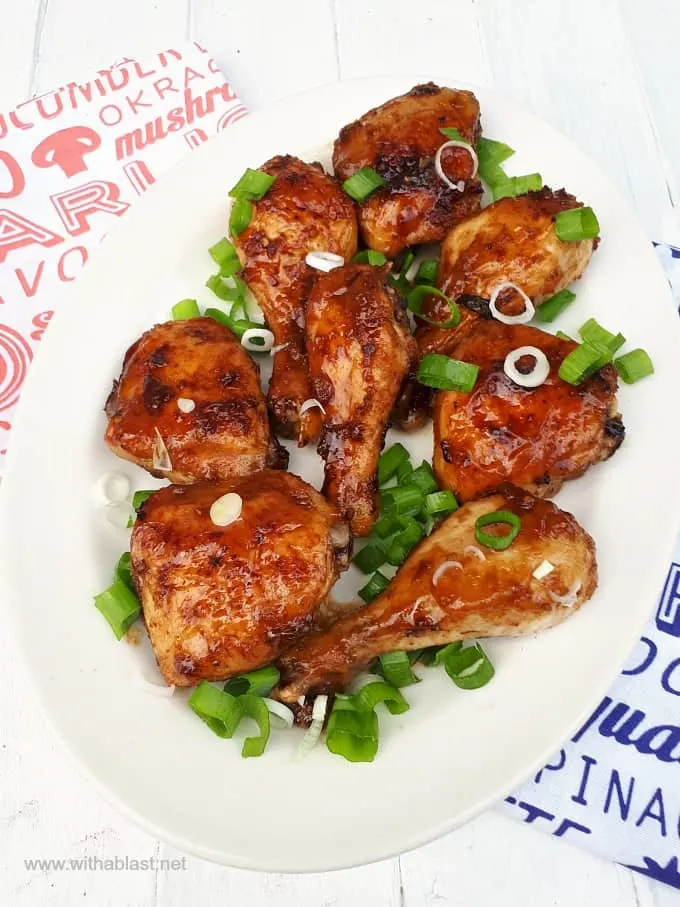 Freshly squeezed Orange Juice or bottled for Chicken ?
From personal trial and errors making this recipe over the years, I have found that by using fresh Orange Juice makes the chicken much more stickier.
And stickier does not only mean the texture, but being so sticky all the flavors also sticks to the Chicken. No cooking away of any flavors !
When I made the chicken with bottled Orange Juice, the chicken did not turn out as sticky. Actually, one could barely call it sticky. Not to mention all the added sugar (in the very first batch).
After that I bought bottled again, but a name I trust and uses only 100% juice. A small difference in the stickiness, but still not the way I wanted the chicken to be.
So I became a little creative. About 10 minutes before the end of the final baking period I made a small batch of Orange juice mixture.
But, only the juice, about 2 tablespoonfuls, mixed with about 2 teaspoonfuls of Cornflour (Cornstarch). I removed the chicken 10 minutes before the end of the cooking time. Then brushed the pieces all over with the Orange/Cornflower paste and back into the oven.
That did the trick ! Sticky and delicious, albeit a little more effort.
ps: The above could be helpful if you really can not get hold of freshly squeezed Orange Juice.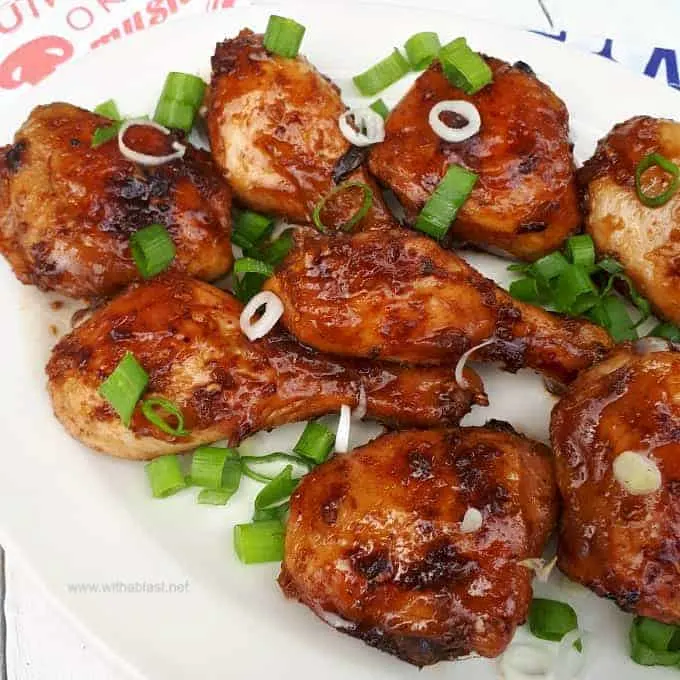 Not long after that our Orange season hit us and Oranges were plentiful ! This is one of the recipes I tried first using freshly squeezed Orange Juice – what a difference !
No last bit of Orange/Cornflour, just 100% fresh juice. Needless to say that I have never used bottled juices for this Orange Honey Ginger Chicken again.
Freeze fresh orange juice for use when out of season !
I now buy bags, yes bags of Oranges, juice them and freeze in bottles, ice-cube trays (great to add to just about any kind of fruit juice!) and even in Tupperware bowls.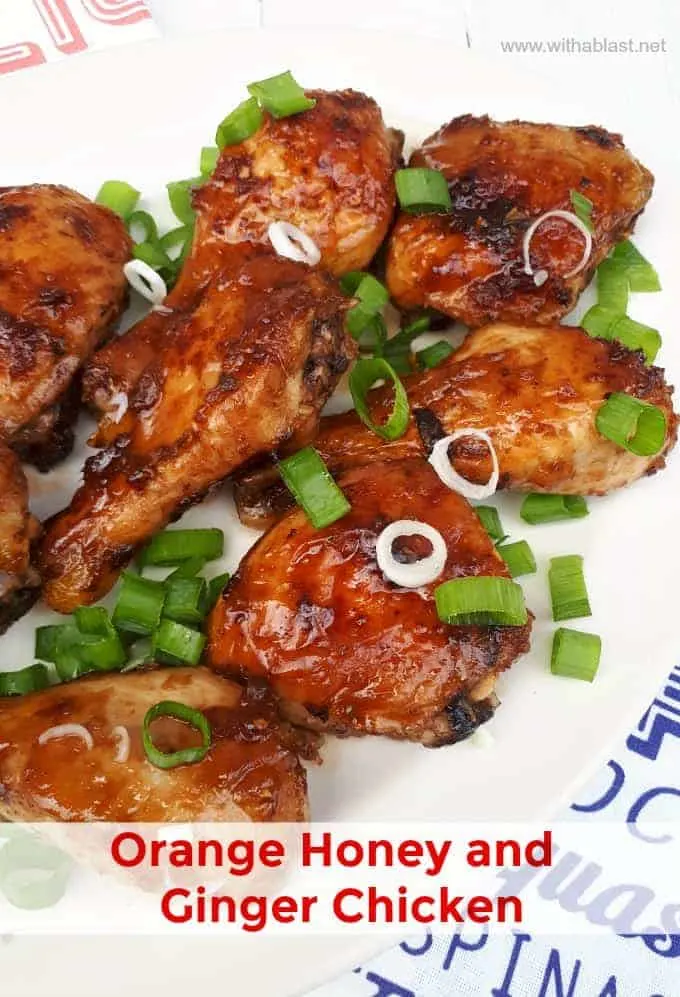 We use Orange Juice in so many recipes that even though I freeze a lot, I still run out before the next season's fruits are ready and either in the green grocers or on the road side.
Yes, we have almost all kinds of fruits sold along the roads. You just need to know where the good ones are !
I know Oranges are usually available throughout the year, but the best ones are when it is Orange season. Out of season Oranges tend to be a little tasteless. But then again, I am a bit obsessed with flavor and quality.
By baking the Chicken pieces first, without any basting, makes the skin crispy and the sauce also sticks better after the initial 20 minutes in the oven.
More Chicken recipes you might like:
Orange Honey And Ginger Chicken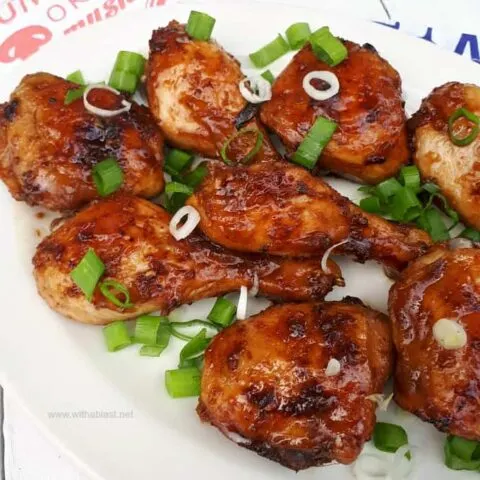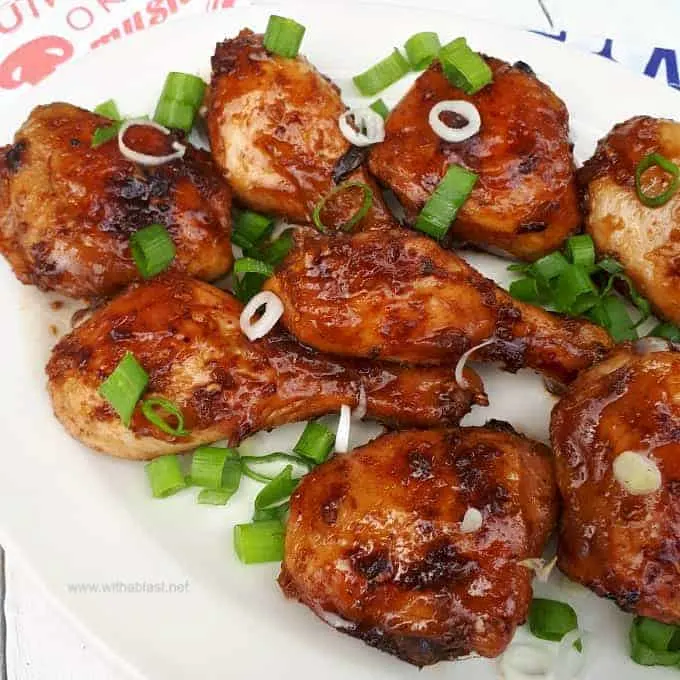 Orange Honey Ginger Chicken
Orange Honey Ginger Chicken is sticky delicious ! Sweet, salty and perfect for dinner, as an appetizer or a game day treat
Ingredients
8 Chicken pieces, (thighs, wings, drumsticks)
Salt and Pepper, to taste
1/2 cup Orange Juice, freshly squeezed
1 TB Soy Sauce
1 TB Fresh Ginger, finely grated
1 TB Honey
Instructions
Pre-heat the oven to 180 deg C ( 350 deg F ) - spray a medium oven dish with cooking oil
Season the Chicken pieces with Salt and Pepper - arrange in a single layer in the prepared oven dish - bake 20 minutes, turning over halfway
Combine the remaining ingredients in a small bowl
Remove the partially cooked Chicken from the oven - brush with half the Orange Juice mixture and bake 30 - 40 minutes until done and sticky (turn over halfway through and brush again with the remaining Orange Juice mixture)
Once out of the oven, brush with the pan juices and serve
Notes
Optional: Garnish with chopped Spring Onions
Nutrition Information
Yield

4 Servings
Amount Per Serving
Calories

93
Total Fat

3g
Saturated Fat

1g
Trans Fat

0g
Unsaturated Fat

2g
Cholesterol

36mg
Sodium

321mg
Carbohydrates

8g
Fiber

0g
Sugar

7g
Protein

9g
Nutrition value is not always accurate