Creamy Shrimp Tortellini Soup is packed with vegetables, so filling and so comforting – ready in about 30 minutes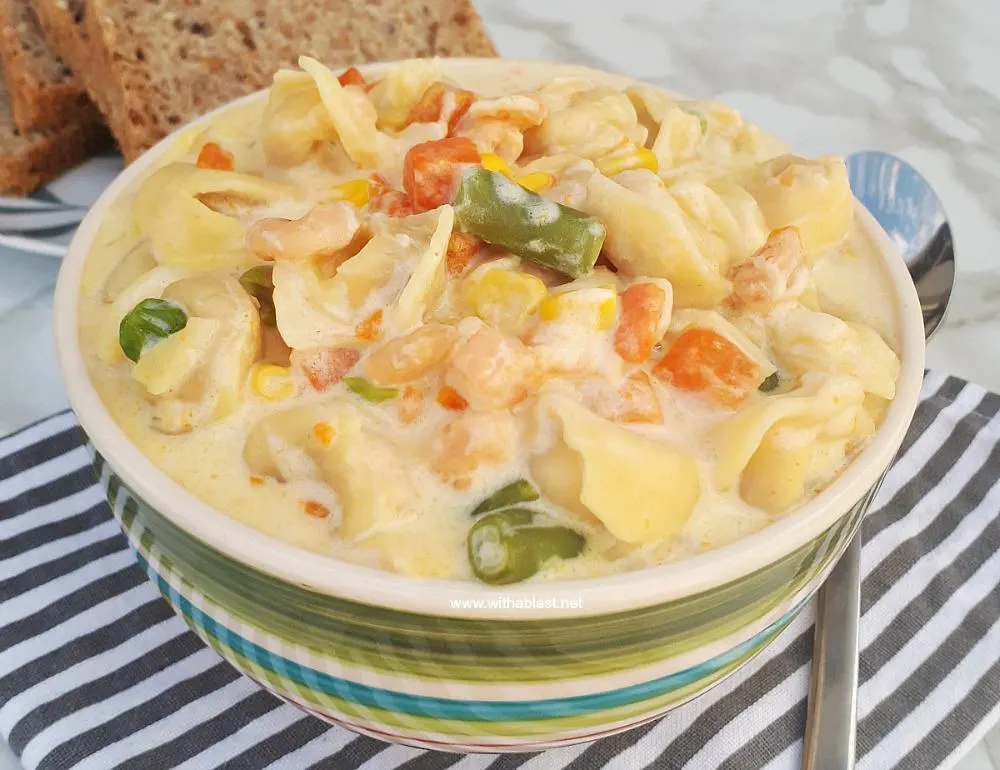 I love to play around with my favorite recipes ! We normally have a chicken and vegetable based soup, but it can be adapted to include (or exclude!) ingredients easily.
This time round I was looking for a more filling soup using some Shrimp I had in the freezer. I took my basic recipe for a creamy chicken and vegetable soup and made Creamy Shrimp Tortellini Soup.
I know I have mentioned it before, but we are really having strange weather nowadays. First almost a week of a full blown heatwave, and lo and behold, the other morning started out cold.
And by cold, I mean freezing cold. It was cloudy, misty and just miserable outside. Not much later during the morning we received a high alert for Gauteng for severe thunderstorms, high winds and possibly hail as well. And hail is something that scares the heck out of me – especially here in Gauteng on the East Rand.
We have had our (more than fair!) share of hail damage during the years, as the hail we are getting, is the size of golf balls and bigger !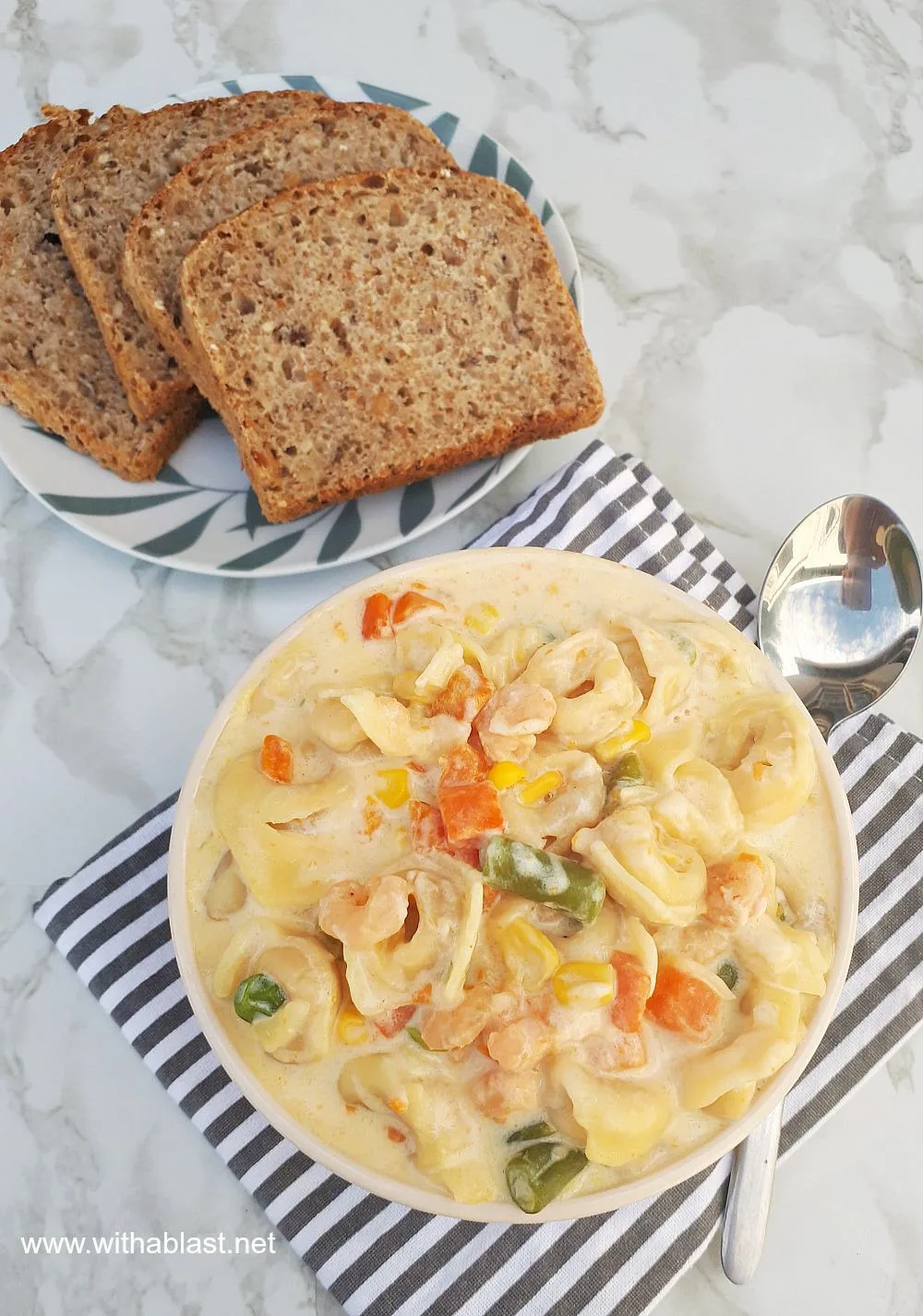 Right, so it was definitely a soup kinda day ! The creamy Shrimp and Tortellini soup turned out an instant winner and my family loved it.
Rich, thick, vegetable loaded, shrimp and with added cheese Tortellini ! How can this not be a new family favorite ? Not to mention that the soup is ready in under 30 minutes – perfect !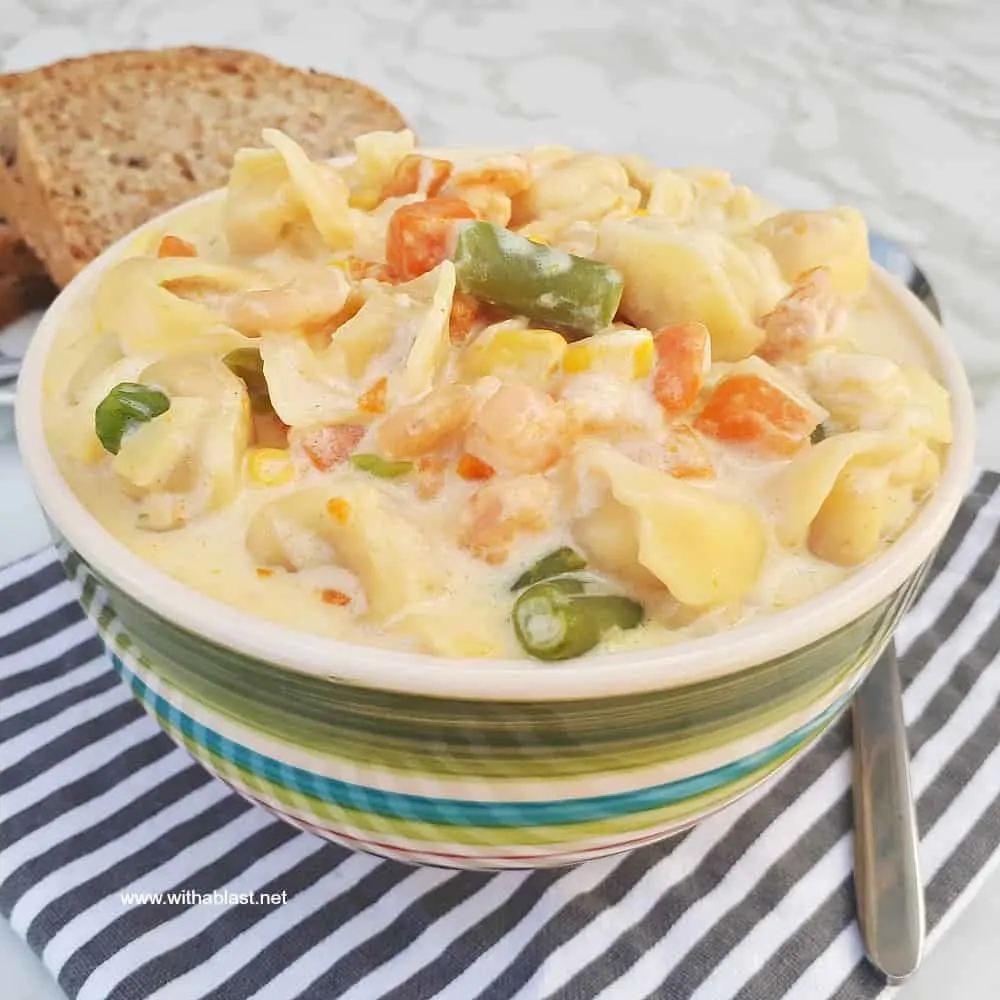 Don't get me wrong, I will take colder weather any day over a hot day. My son is the same, hubby.. well, he is content with any kind of weather.
I would happily move to Antarctica, even though I always mention that South-Africa has the perfect weather. This soup and my favorite Chicken Noodle Soup will get me through any cold weather !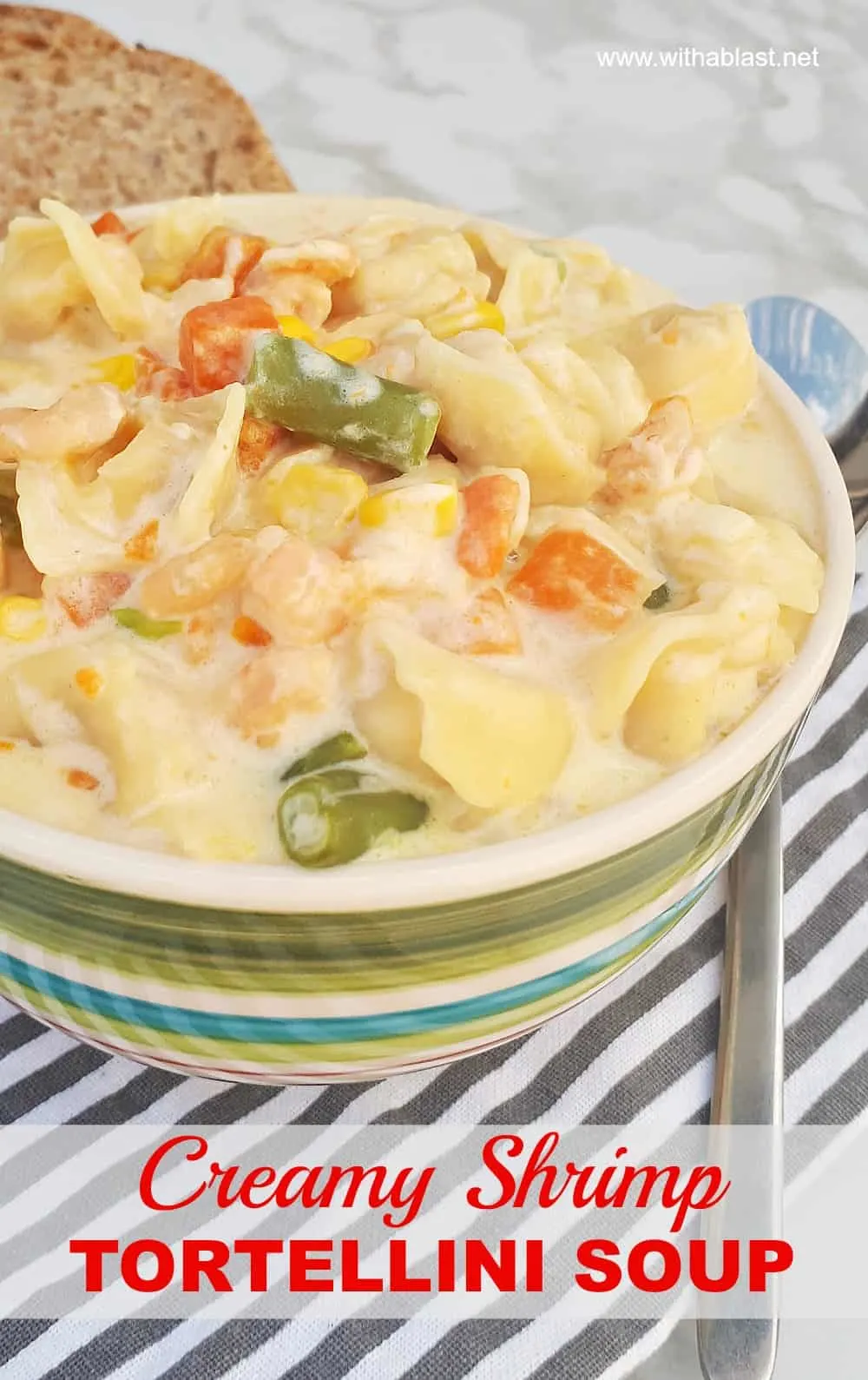 You can use just about any vegetable combination in this Shrimp Tortellini soup. The Chicken stock can also be substituted with Vegetable stock. Whichever flavor you use, try to use the KNORR stock pots – absolutely the best ! And of course homemade stock are always a great addition.
I have used cheese Tortellini but you can use whichever one you prefer. The spinach Tortellini will work just as well and add a tiny bit of veggies as well.
Creamy Shrimp Tortellini Soup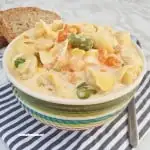 Creamy Shrimp Tortellini Soup
Creamy Shrimp Tortellini Soup is packed with vegetables, so filling and so comforting - ready in about 30 minutes
Ingredients
2

TB

Butter

2

cups

Frozen Vegetables

defrosted (small chopped type)

5

cups

Milk

1

KNORR Chicken Stock Pot

(dissolved in a little boiling water)

500

g

Tortellini

( 16 oz ) I used cheese Tortellini

250

g

Frozen Cooked Shrimp

defrosted (but not necessary) ( 8 oz )

Salt and Black Pepper

to taste
Instructions
Heat the Butter in a large saucepan (with a lid) - saute the mixed Vegetables until soft ( 5 - 8 minutes )

Add the Milk as well as the dissolved Chicken Stock and bring to the boil

Stir in the Tortellini, lower the heat and simmer, partially covered, until done ( about 15 minutes )

Add the Shrimp, cover partially, and simmer for 2 - 3 minutes to heat through

Season to taste with Salt and Black Pepper
Recipe Notes
If the soup is not thick enough to your preference - mix 1 teaspoonful Cornflour ( Cornstarch ) with a little Milk - stir into the soup - cook, whilst stirring until thickened - this will only take a minute or two.
Serve immediately as the soup will thicken on standing.
LINDA