No-Fuss Sausage and Vegetable Casserole is an all in one dinner and takes only minutes to prepare – loaded with vegetables and very versatile recipe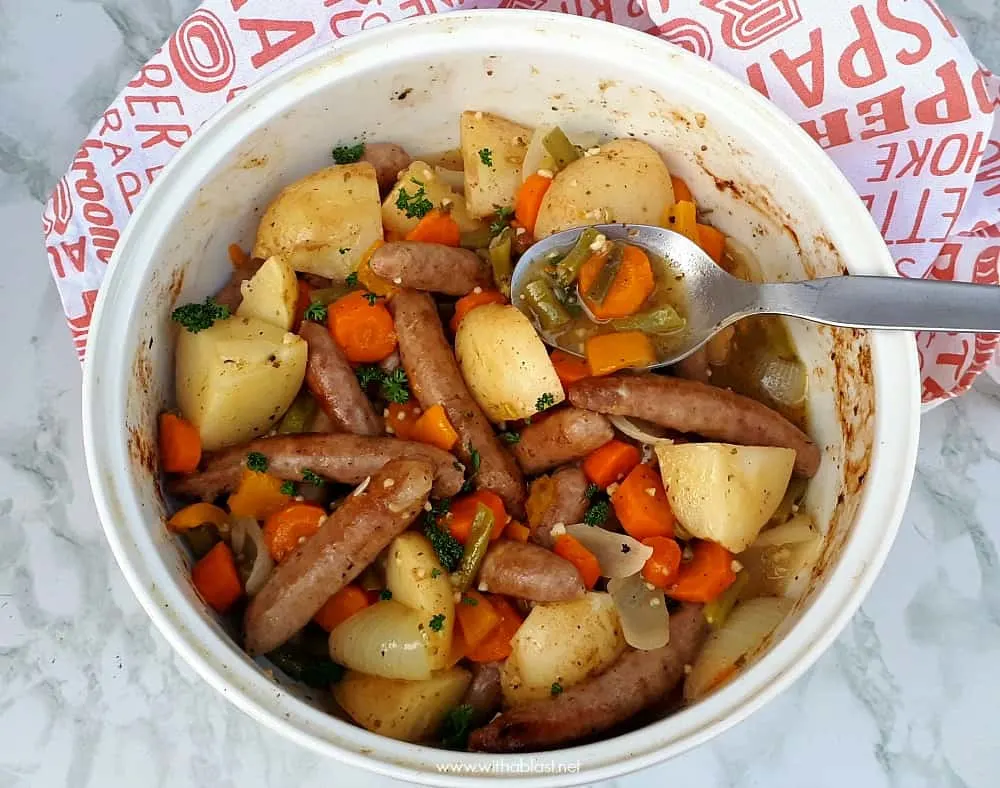 Post and images updated December 2018
This is one dish which I make over and over again. Or, I should say, different versions of this No-Fuss Sausage and Vegetable Casserole!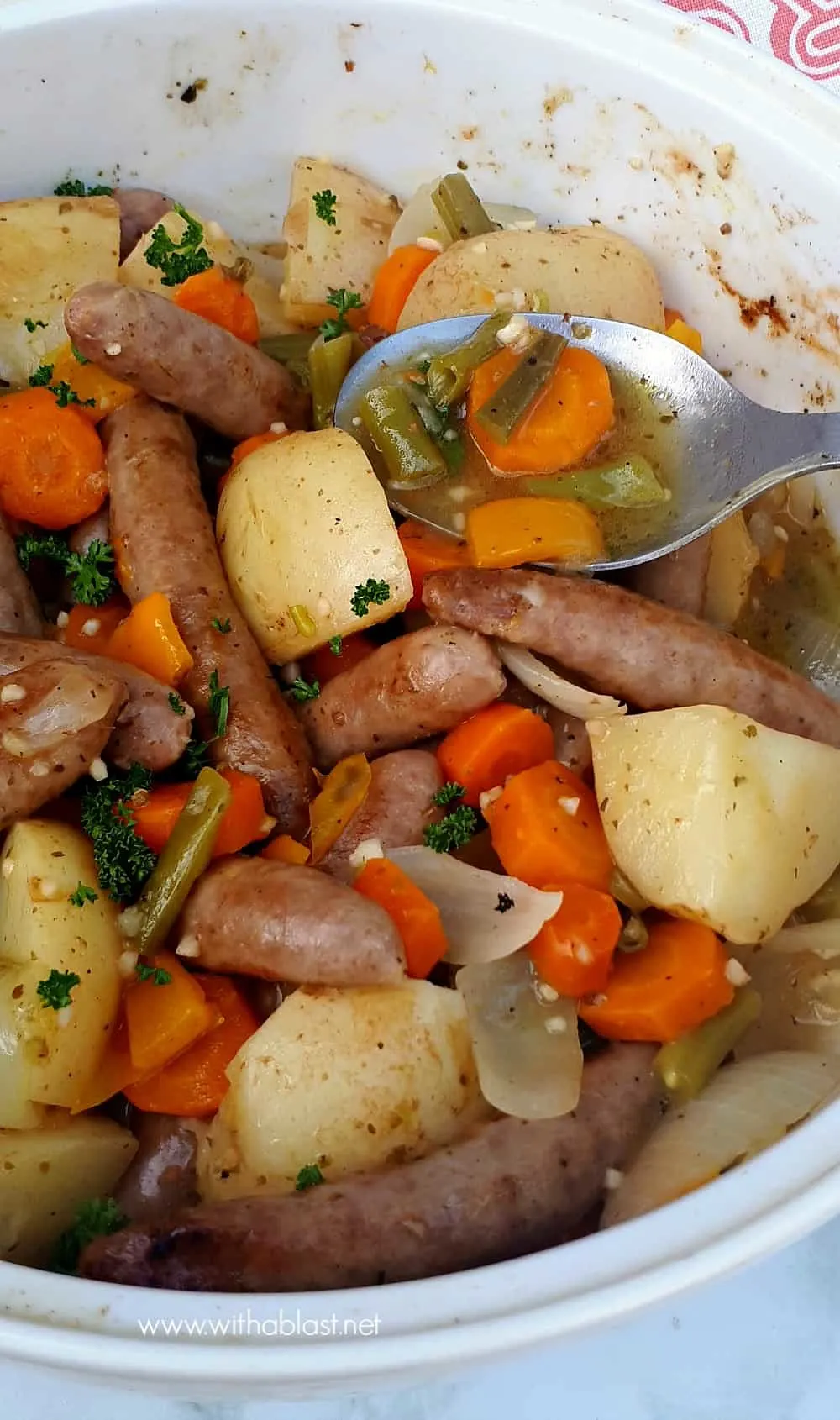 It is so versatile and the meat as well as the vegetables can be changed as to what you have in your refrigerator and pantry.
To prepare the Sausage and Vegetable Casserole literally takes minutes, browning the sausages take the longest, which is around 5 minutes.
Once in the oven there is not really much else to do, except adding the sausages and turning the vegetables once.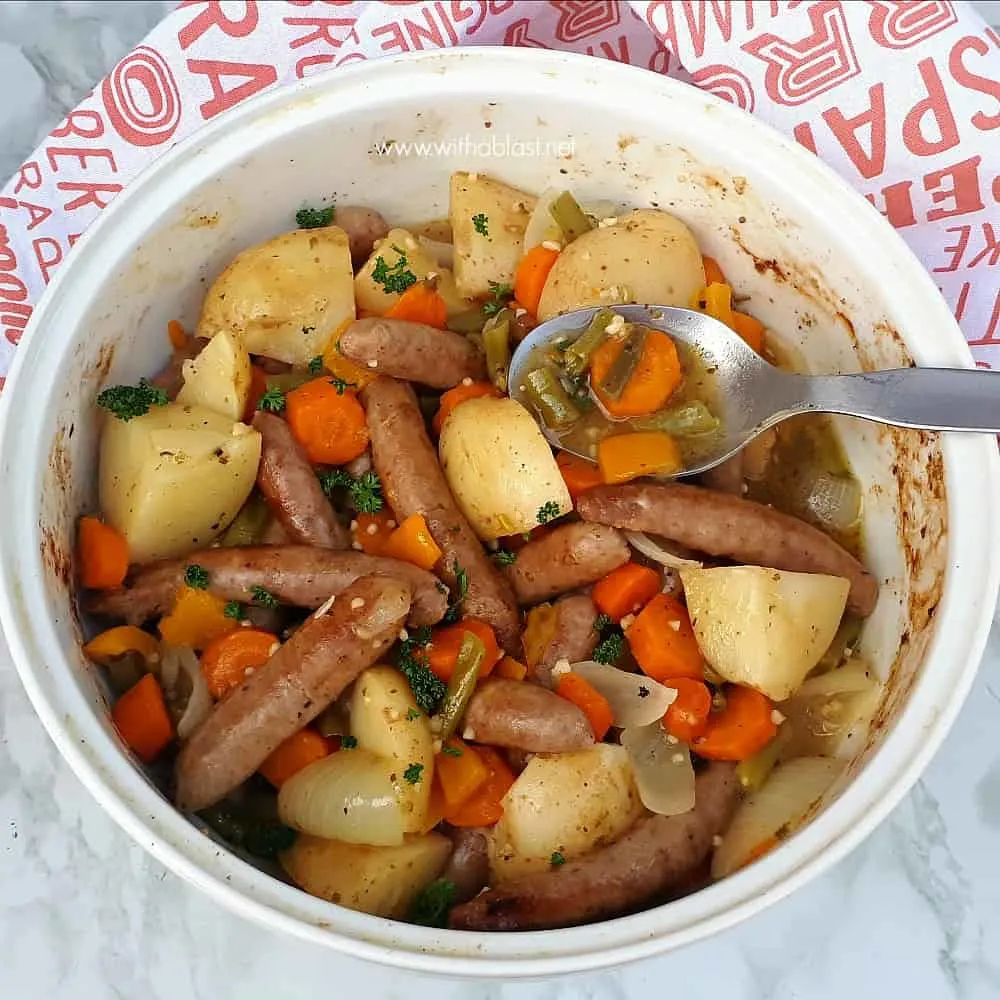 Prefer a thick sauce ?
However, I like to pour the sauce in a microwavable bowl once the casserole has finished baking. A little sauce, then about one tablespoon of Cornflour (Cornstarch), mix well and pour the remaining sauce into the bowl.
Pop into the microwave for 30 seconds, stir through and repeat once or twice. Pour the thickened sauce back over the casserole or serve on the side.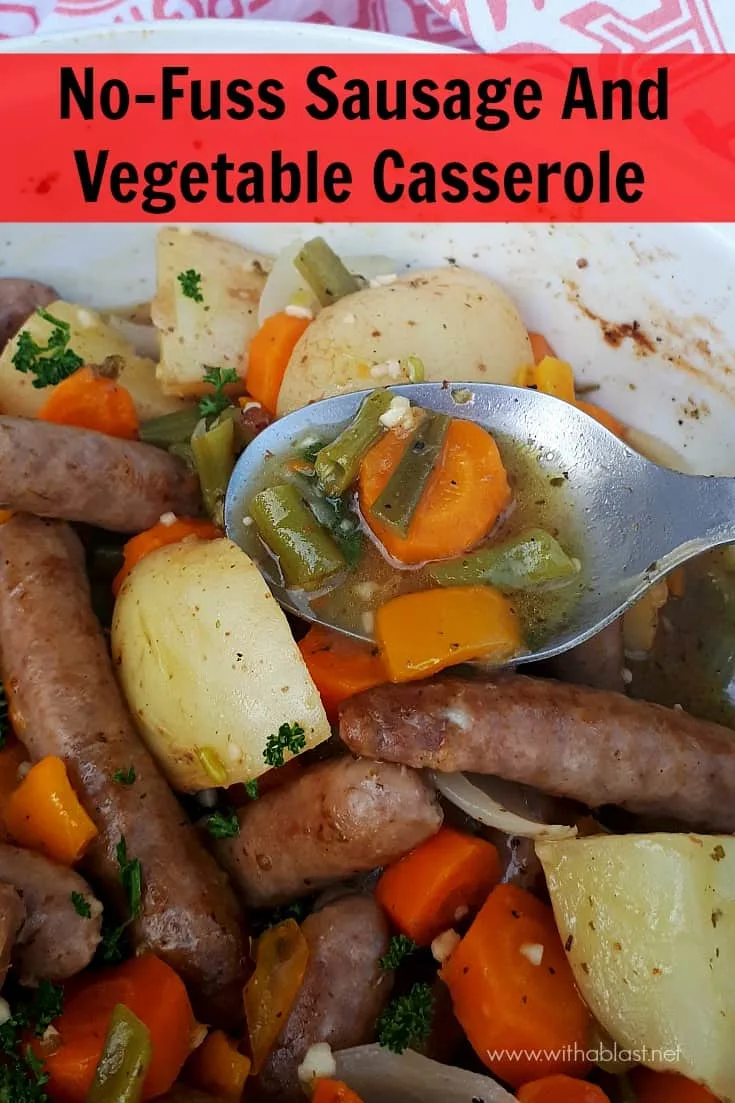 More Dinner recipes you might like:
Connect with us :
PINTEREST TWITTER FACEBOOK INSTAGRAM
Sausage And Vegetable Casserole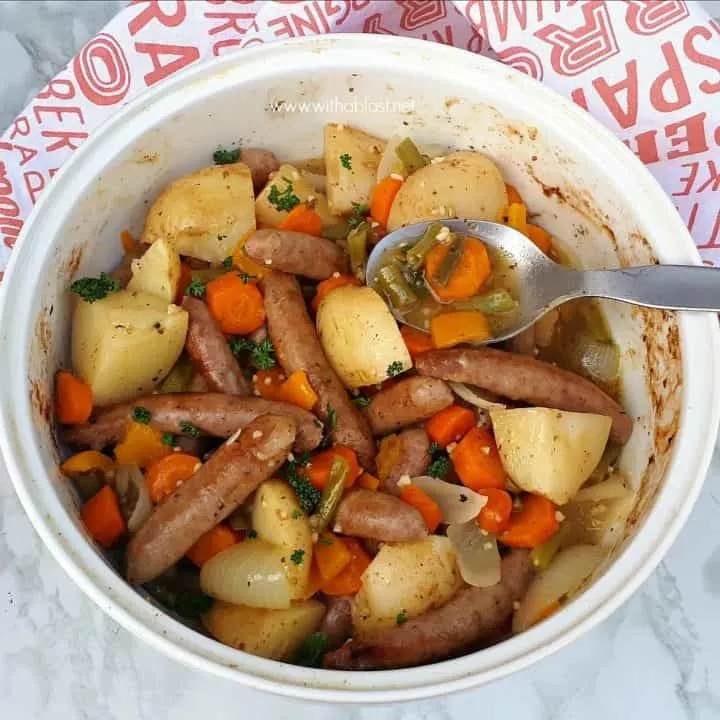 No-Fuss Sausage and Vegetable Casserole
Cook Time:
1 hour
10 minutes
Total Time:
1 hour
20 minutes
No-Fuss Sausage and Vegetable Casserole is an all in one dinner and takes only minutes to prepare - loaded with vegetables and very versatile recipe
Ingredients
900 g Pork Sausages, or Beef ( 2 pounds )
4 Potatoes, peeled or not and quartered
4 Carrots, peeled and cut into chunks
1 Yellow Bell Pepper, chopped or sliced
1 1/2 cups Green Beans, chopped
2 Onions, quartered and loosened
2 TB Olive Oil, extra-virgin
1 TB Garlic, crushed or minced
1 1/2 t Dried Italian Herbs
2 cups Chicken Stock (use Beef Stock if using Beef Sausages)
Salt and Black Pepper, to taste
2 TB Balsamic Vinegar
1 TB Parsley, to garnish (optional)
Instructions
Pre-heat the oven to 225 deg C (450 deg F) – spray a large oven dish with a lid with cooking oil

Brown the Sausages quickly – do not cook through – cut in half (if using large) and set aside

Place the Potatoes, Carrots, Bell Pepper, Green Beans and Onions in the prepared oven dish – stir to mix

Combine the Olive Oil, Garlic, Herbs, Stock and Salt and Pepper in a small mixing bowl – pour over the vegetables – cover with a lid (or aluminum foil) and bake for 45 minutes or until tender

Remove the dish from the oven – give the vegetables a gentle stir – insert the Sausages in between the vegetables – sprinkle with the Balsamic Vinegar and bake, uncovered, for 25 – 30 minutes until the Sausages are fully cooked

Remove from the oven and serve sprinkled with Parsley (if using)
Notes
See note in post if you prefer a thicker sauce
Recipe yields 6 x Adult sized servings
Nutrition Information
Yield

6
Amount Per Serving
Calories

754.5
Total Fat

52g
Saturated Fat

17.1g
Unsaturated Fat

30.7g
Carbohydrates

37.1g
Fiber

6.7g
Sugar

8g
Protein

33.8g
Nutrition value is not always accurate
A Crunchy green salad goes well with this dish.
LINDA