Easy, pasta and vegetables recipe for this Stir Fried Pasta Side Dish ! Serve a bit of a different type of starch rich side dish to your next main meal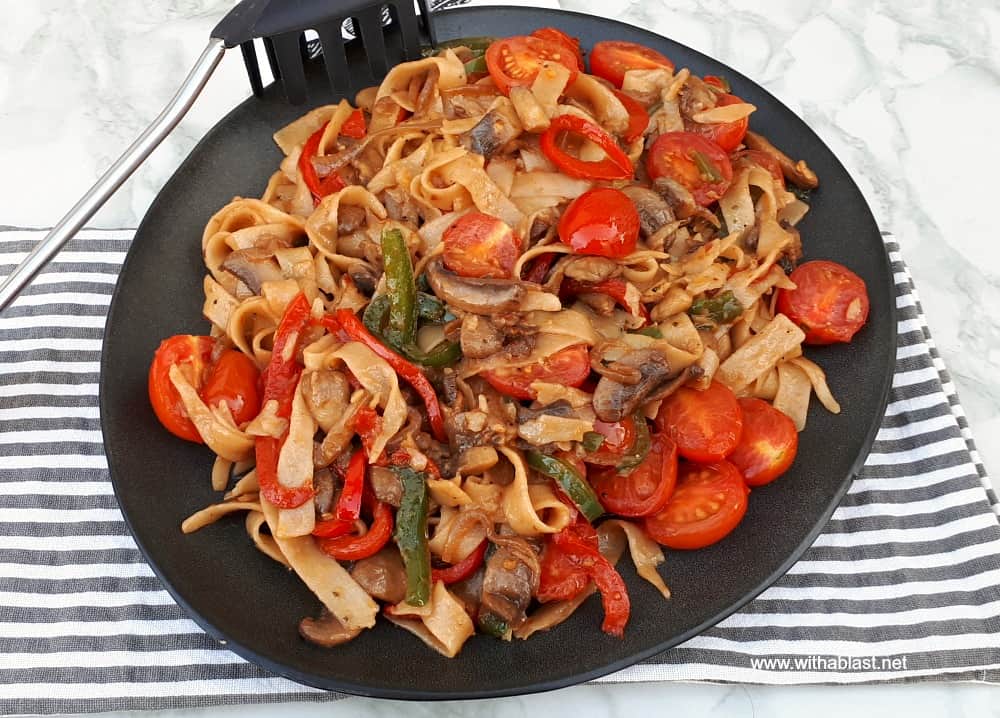 I think we can all say 2020 has been a difficult year. And that is putting it mildly !
One of the dishes from our favorite restaurant, is a side dish, which is not the usual fries, baked potato or rice we get to choose from.
When all the restaurants closed back in March, I already knew I had to recreate this Stir Fried Pasta Side Dish.
This is my version (use less tomatoes if you so wish). It has been a hit from the start with my family !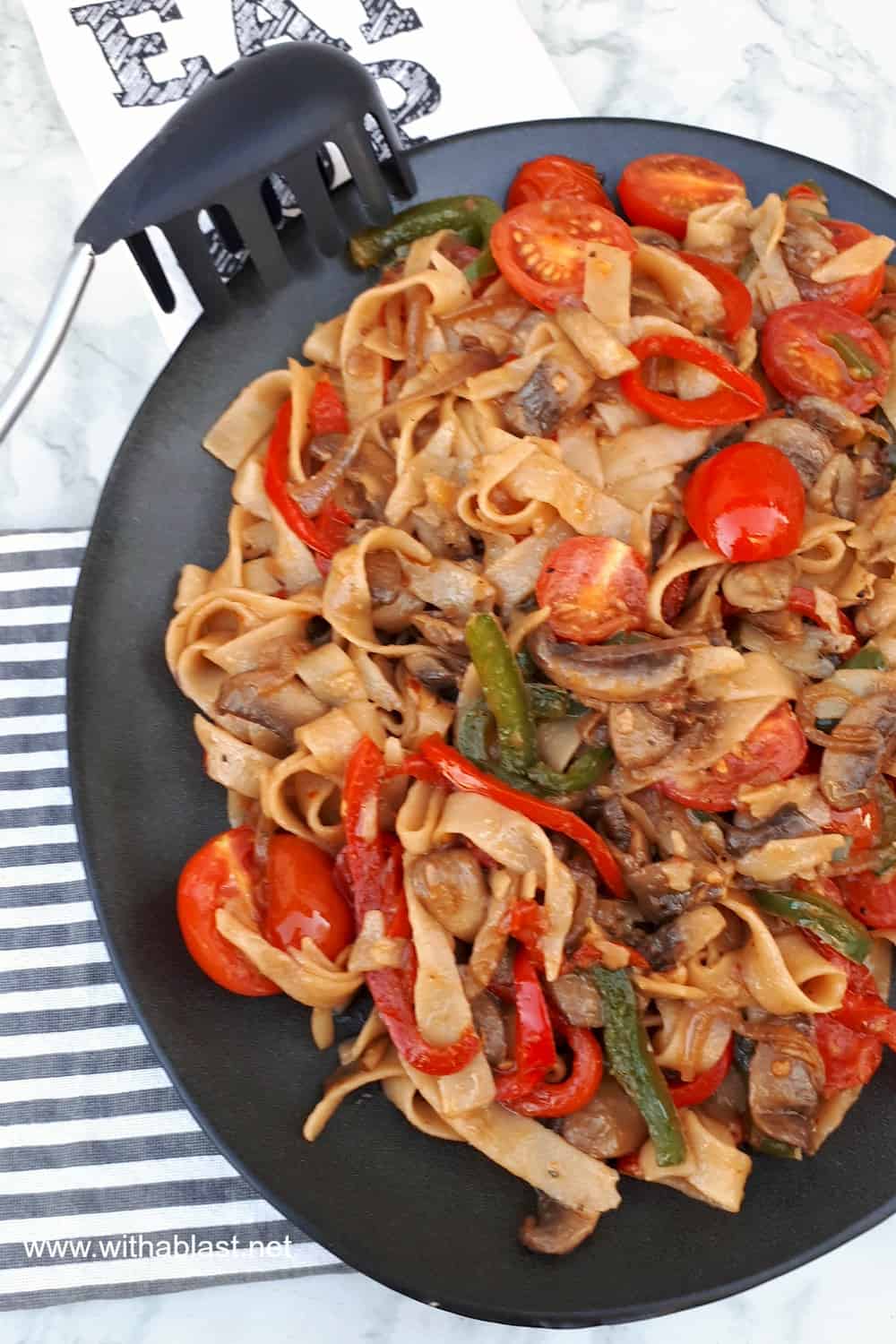 Pasta with loads of vegetables also mean this could be your meatless Monday main meal.
Serving as a main meal I would say this recipe is enough for two to three adults.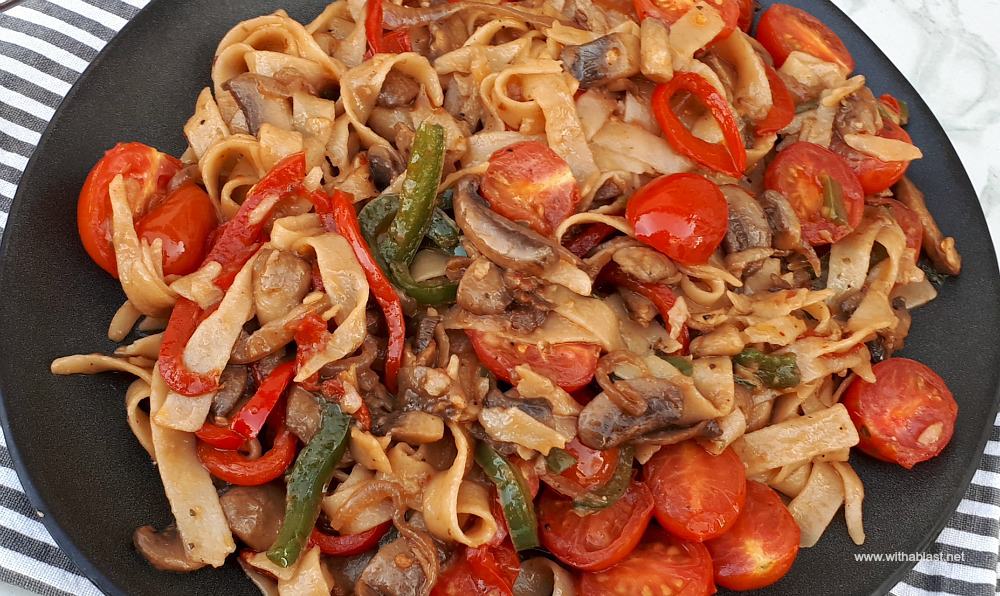 Here is the ingredients for a Stir Fried Pasta Side Dish:
250 grams Fettuccini Pasta ( 8 oz )
2 TB Peanut Oil
1 TB Chili Infused Avocado Oil (or similar)
1 Red Onion, sliced thinly
1 Red Bell Pepper, sliced
1 Green Bell Pepper, sliced
250 grams Mushrooms, chopped in half or quarters ( 8 oz )
10 Cherry Tomatoes, halved (you can use less)
1 TB Soy Sauce, or to taste
2 t Dried Chilies, crushed
Black Pepper, to taste
Scroll down a bit for the full printable recipe with the directions as well.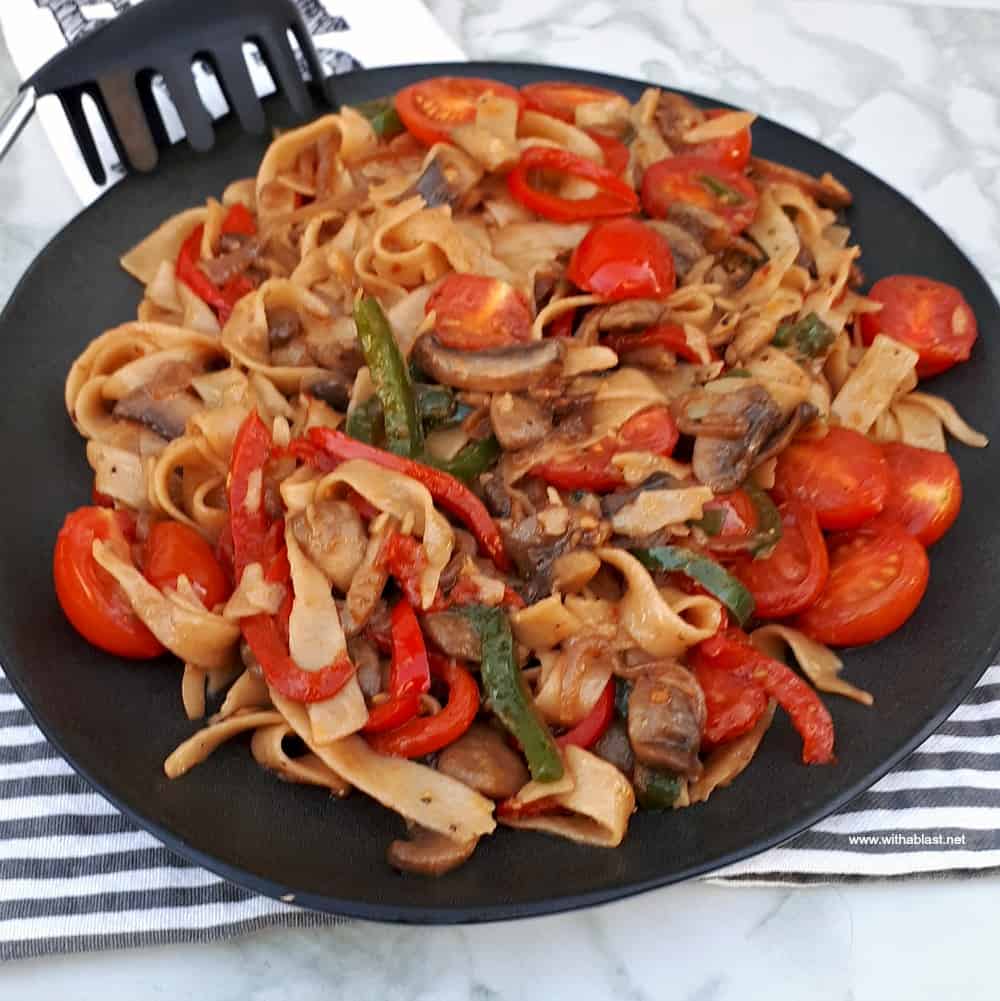 Next time you want a bit of a different kind of starchy side dish, do keep this recipe in mind.
It is actually the main reason I love ordering anything from the grill side at this particular restaurant. The pasta side dish just goes so well with anything !
And to be able to make my own at home now, is a plus as we are still wary of going to restaurants. Cheaper meal too !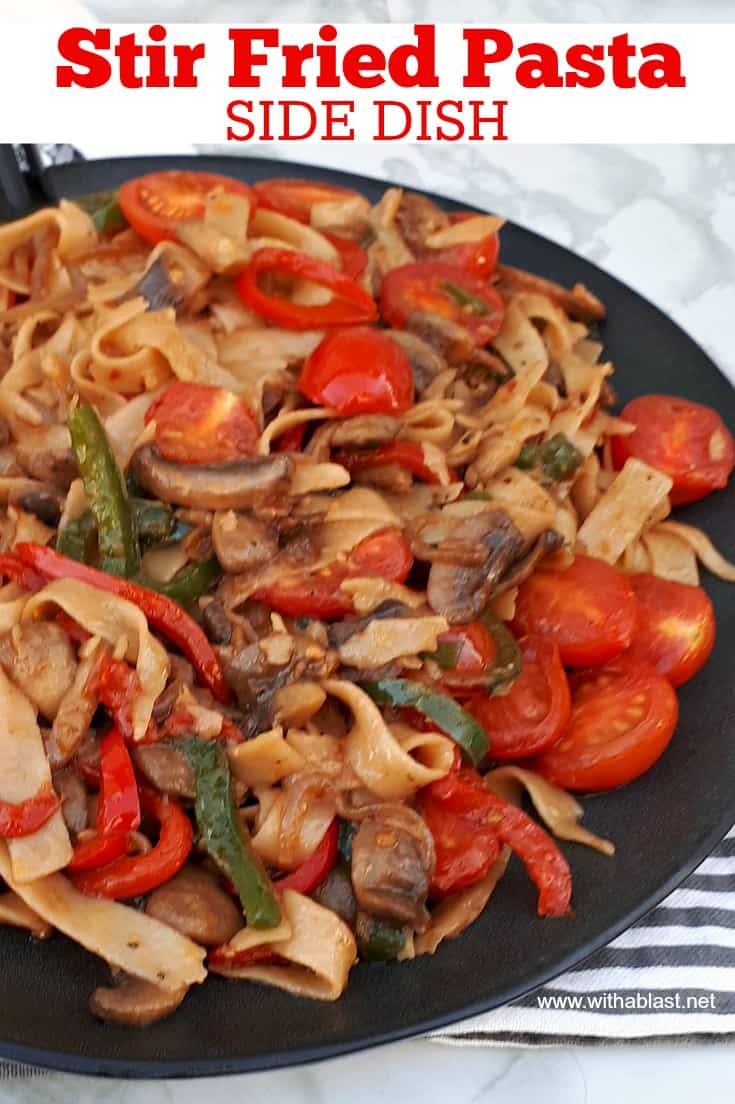 More Side Dish recipes you might like:
Connect with us :
PINTEREST TWITTER FACEBOOK INSTAGRAM
Stir Fried Pasta Side Dish
Yield: 6 Servings
Stir Fried Pasta Side Dish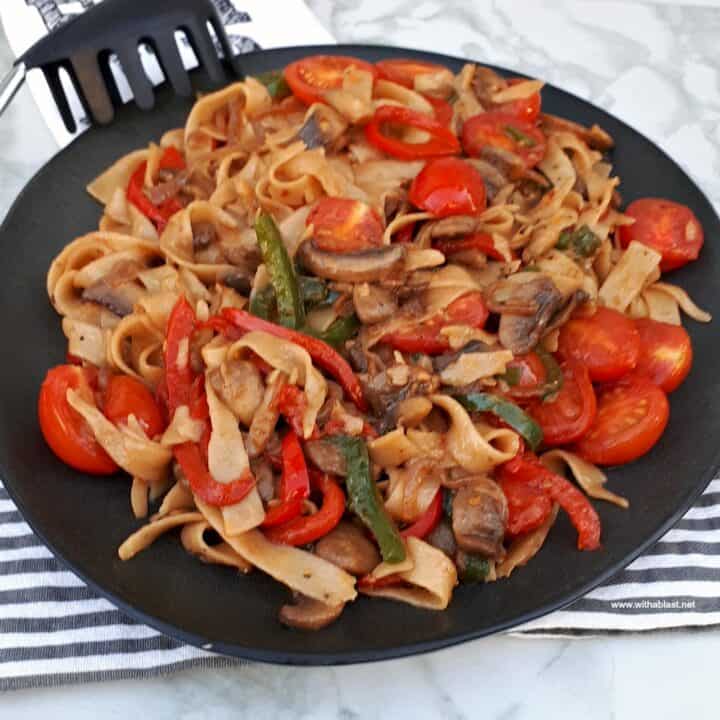 Easy, pasta and vegetables recipe for this Stir Fried Pasta Side Dish ! Serve a bit of a different type of starch rich side dish to your next main meal
Ingredients
250 grams Fettuccini Pasta ( 8 oz )
2 TB Peanut Oil
1 TB Chili Infused Avocado Oil (or similar)
1 Red Onion, sliced thinly
1 Red Bell Pepper, sliced
1 Green Bell Pepper, sliced
250 grams Mushrooms, chopped in half or quarters ( 8 oz )
10 Cherry Tomatoes, halved (you can use less)
1 TB Soy Sauce, or to taste
2 t Dried Chilies, crushed
Black Pepper, to taste
Instructions
Cook the Pasta according to the instructions on the pack/box - drain and keep aside
Heat the Peanut and Avocado Oil in a large wok (or similar) - Stir fry the Red Onion, Bell Peppers and Mushrooms until just soft
Add the Tomatoes, Soy Sauce and Dried Chilies - stir through - add the cooked, drained Pasta and stir fry for a minute or two
Season to taste with Black Pepper and serve
Nutrition Information
Yield
6 Servings
Amount Per Serving
Calories

196
Total Fat

8g
Saturated Fat

1g
Trans Fat

0g
Unsaturated Fat

6g
Cholesterol

1mg
Sodium

162mg
Carbohydrates

27g
Fiber

3g
Sugar

5g
Protein

6g
Nutrition value is not always accurate