How to make Instant Pot Cilantro Coconut Rice is so easy with pressure cooking set on only THREE minutes ! No coconut milk means a lighter rice in this recipe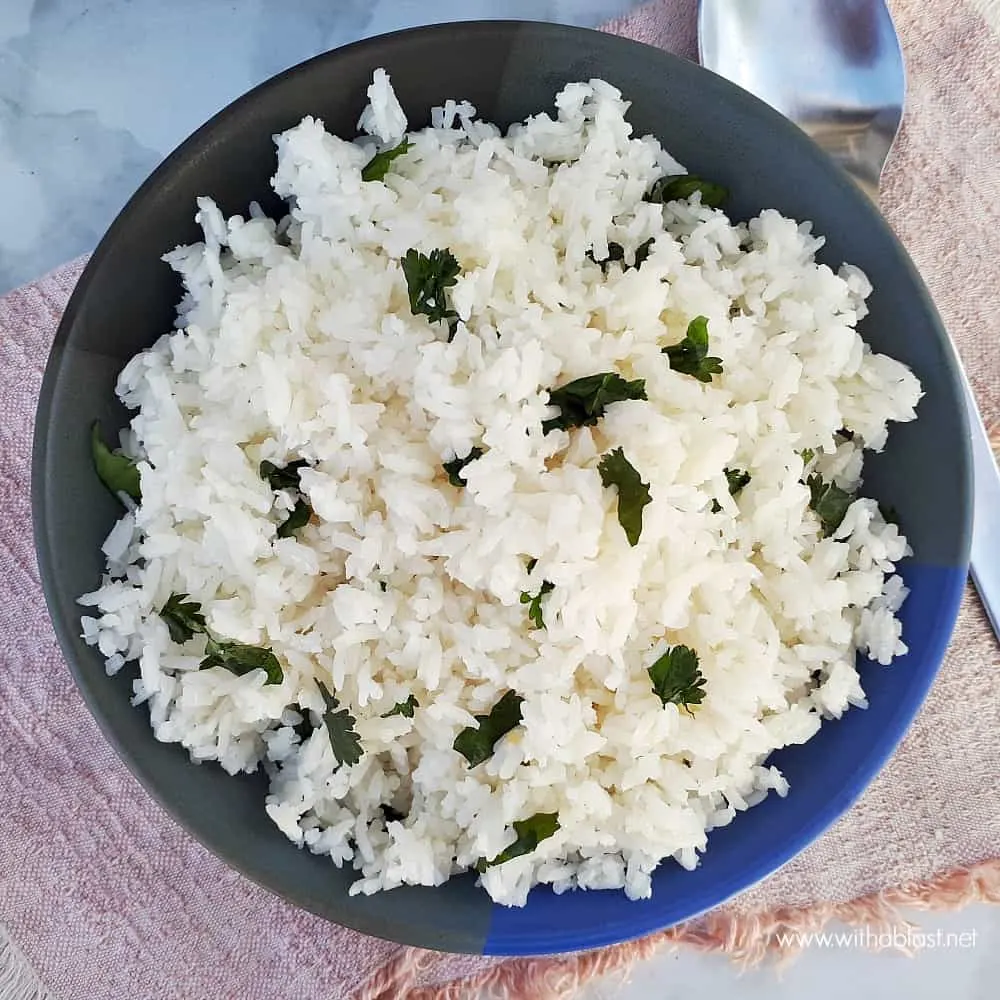 I am thoroughly enjoying my new Instant Pot ! Making Instant Pot Coconut Cilantro Rice was one of the first recipes I added to my list when I just received my Instant Pot.
Rice (any kind!) cooking and I have never been friends ! Before I bought an actual Rice Cooker years ago, all my family always had, was burnt rice.
And the burnt rice was always, but always a result of me not watching the time ! I am fairly okay with cooking vegetables .. weird but true.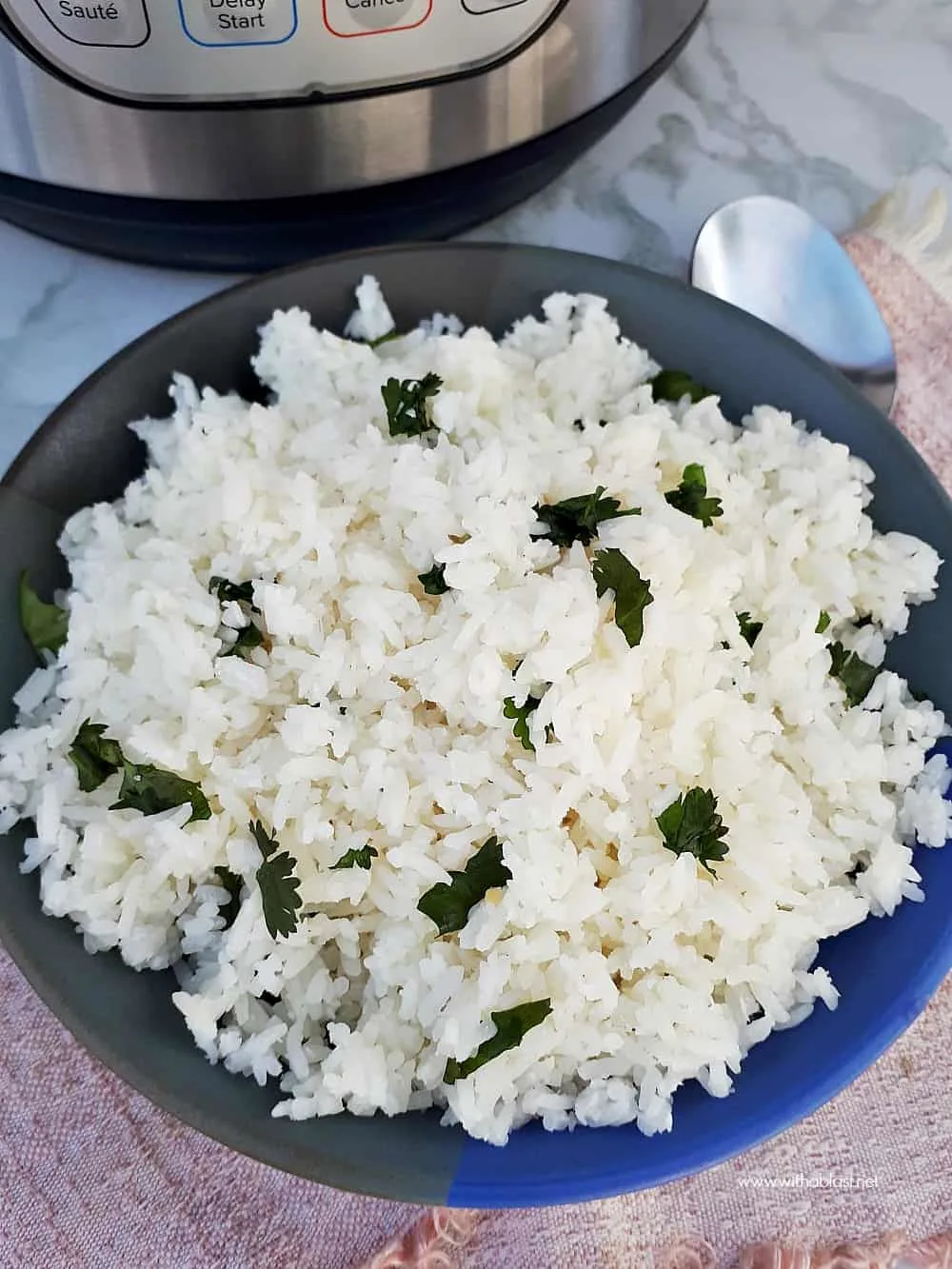 For me ditching (but still keeping!) my old trusty Rice Cooker was huge. But I just had to try cooking rice in my Instant Pot.
Amazing ! Honestly, I did not expect the rice to turn out fully cooked and fluffy. AND not burnt at all.
We have load shedding in South-Africa (that is when there is, very frequently!) some or other problem at the power plants.
Fortunately, we do have a generator which powers just about everything in the house. Except for my electric oven. We have a gas geyser, so no problems there.
Now, we can use small appliances i.e. the kettle, toaster etc for a small amount of time. It does add additional strain to the generator but only for minutes at a time.
Saving on electricity usage when cooking
That is where my Instant Pot definitely trumps over the Rice Cooker. I mean, only THREE minutes of actual electricity used ? Totally do-able !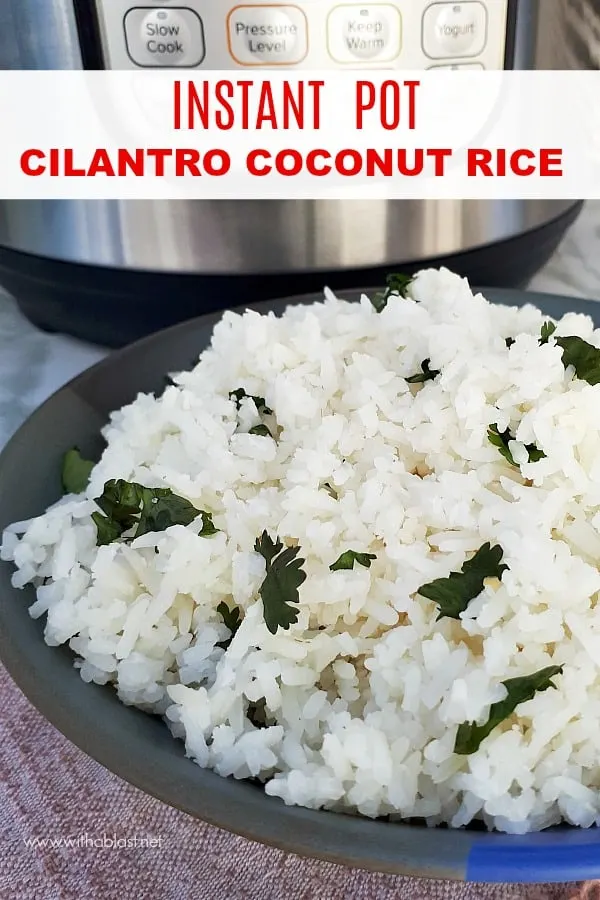 However, the 3 minutes of electricity usage is only applicable when you do not use the Keep Warm function on the Instant Pot.
If you are in the same electricity (load shedding) situation as us, or just want to save on your electrical bill, make the Rice right before serving.
Do keep in mind though, the pressure release time.
More Side Dish recipes you might like:
Connect with us :
PINTEREST TWITTER FACEBOOK INSTAGRAM
Instant Pot Cilantro Coconut Rice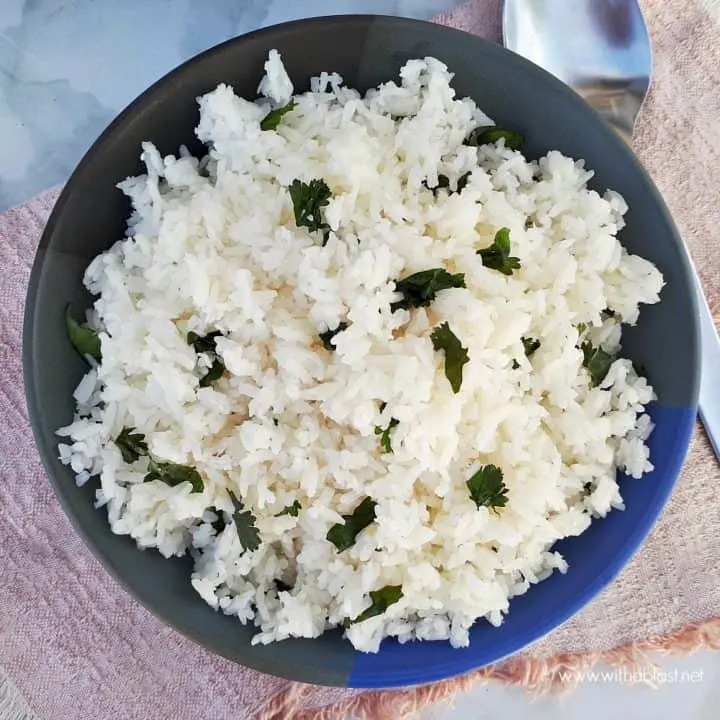 Instant Pot Cilantro Coconut Rice
Pressure Releasing Time:
15 minutes
How to make Instant Pot Cilantro Coconut Rice is so easy with pressure cooking set on only THREE minutes ! No coconut milk means a lighter rice in this recipe
Ingredients
6 cups Jasmine Rice, rinsed
6 cups Boiling Water
Salt, to taste
1/4 cup Desiccated Coconut
1 cup Cilantro, chopped (Coriander leaves)
Instructions
Place the rinsed Rice into your inner pot in the Instant Pot
Add the boiling Water, Salt and Coconut - stir through and close with lid - turn the steam release handle to Sealing
Set the Instant Pot on Pressure Cooking - three minutes
Once cooked, leave the Instant Pot to naturally release pressure (do not turn the knob to release pressure as the Rice also still cooks during this period)
When the pressure cooking float valve pops up - open the Instant Pot and fluff the Rice using a fork
Stir in the Cilantro just before serving
Notes
Natural release can take from 10 - 25 minutes
I set my Instant Pot on the Keep Warm setting - this will keep the Rice warm without drying out until I am ready to serve (no need to do this if you serve the Rice straight after cooking)
Want a Cilantro Coconut Lime Rice ? Simply add one tablespoon Lime juice with the boiling Water and once cooked add another one tablespoon Lime juice as well as the finely grated zest of 1 Lime
Nutrition Information
Yield

8
Amount Per Serving
Calories

178.8
Total Fat

2.6g
Saturated Fat

2.3g
Carbohydrates

34.4g
Fiber

1g
Sugar

0.3g
Protein

3.4g
LINDA