Smoked Salmon Wrapped Melon Skewers are quick, easy and ideal to serve as an appetizer. Dill Mascarpone and Arugula completes these very tasty, elegant skewers.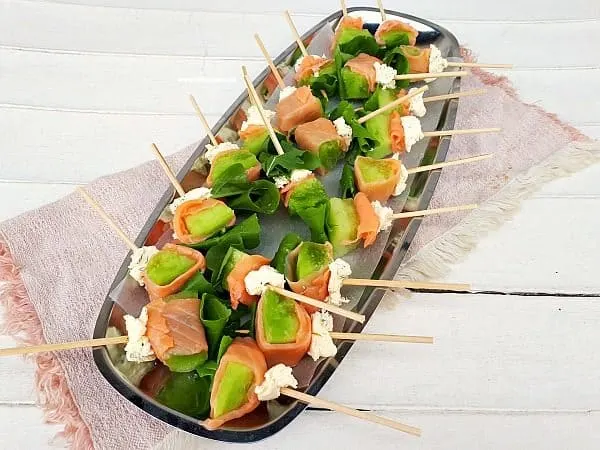 This is the month of all things Festive ! Year end office parties, Christmas, (birthdays!) and of course New Years Eve parties.
These Smoked Salmon Wrapped Melon Skewers are the perfect appetizer to serve at any of these parties.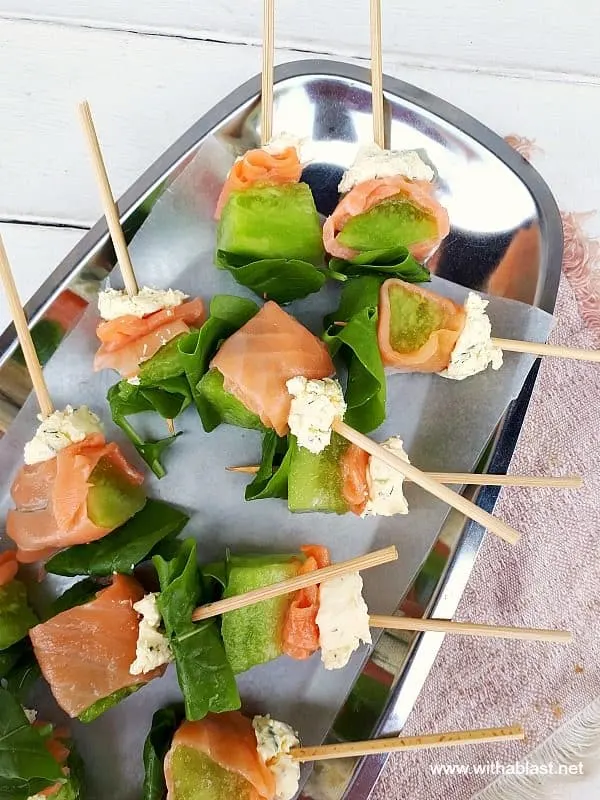 I have been making these, oh so tasty! little appetizer bites for a couple of years now. And they are always on the menu on New Years Eve !
You also know you have a winner when the dish has hardly hit your dinner table (or trays, if you serve them that way), and is gone before you even had one.
That is exactly what happened to me twice already ! After that, I cheated and made some extra for myself (about 3-4) and left them in the kitchen.
Sneaky yes ! But well, if your guests are anything like mine, yours will disappear just as quickly.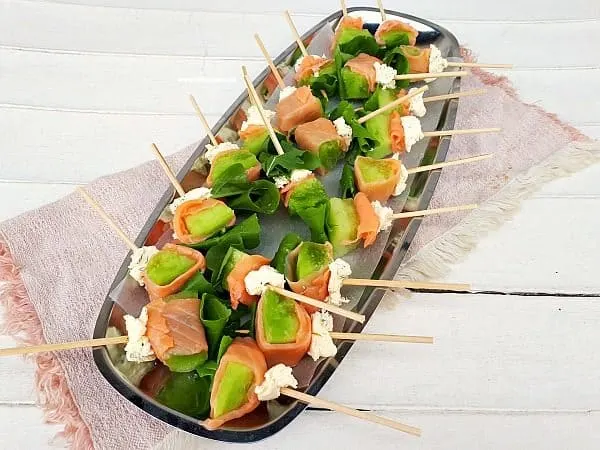 And to think this recipe has come into existence (and now a firm favorite!) all by pure luck, is just amazing. I have found over the years, the accidental winners are always the best.
I remember clearly when I first made them, I had some snacks for appetizers, but just before our celebration started, I felt the need to have just one more !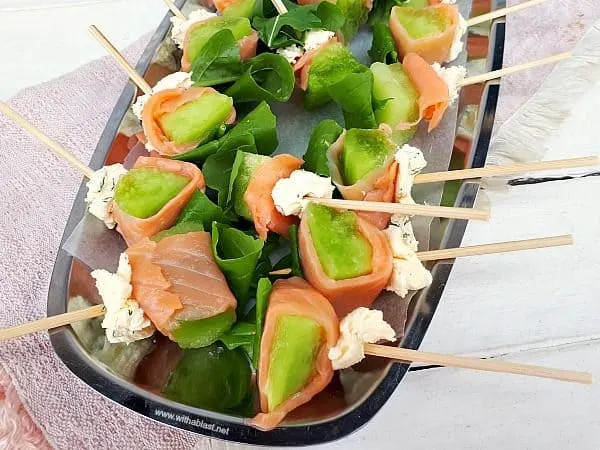 This is it – Creamy Dill, Melon and Salmon. And these Smoked Salmon Wrapped Melon Skewers go so perfectly with a glass of champagne ! (just saying, but highly recommended!).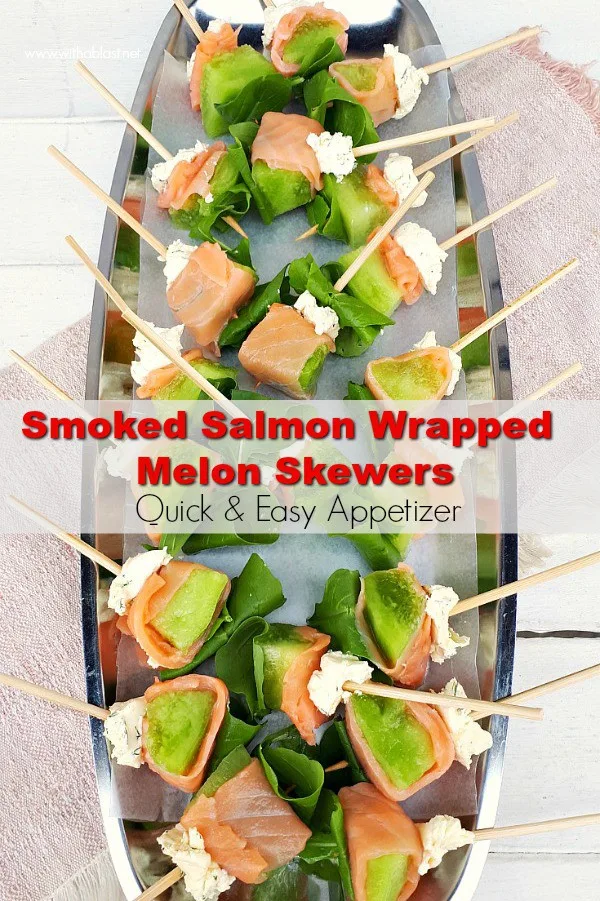 More Appetizer recipes you might like:
Connect with us :
PINTEREST TWITTER FACEBOOK INSTAGRAM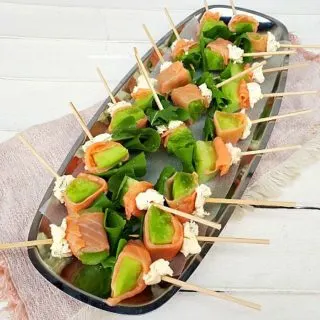 Smoked Salmon Wrapped Melon Skewers
Melon cubes wrapped in Smoked Salmon, topped with Dill Mascarpone makes an elegant Appetizer for all occasions
Ingredients
1/4 cup Mascarpone
2 t Lemon Juice
1 t Dill, fresh, chopped finely
Salt and Black Pepper, to taste
1 Honeydew Melon, peeled, cleaned and cubed into 24 bite sized pieces
100 g Smoked Salmon, shaved, thinly sliced ( 3.5 oz )
24 Arugula Leaves
Instructions
Combine the Mascarpone, Lemon Juice and Dill in a small bowl - season to taste with Salt and Black Pepper.
Wrap each Melon cube in a slice of Salmon - add a small dollop of the Mascarpone on top of each.
Using medium skewers ( 10 cm / 4 inch ) and skewer through the top of the Mascarpone down to the wrapped Melon cube.
Roll up an Arugula leaf and add to the bottom of the skewer.
Notes
Arrange on a serving platter, keep chilled (up to 1 - 2 hours), or serve immediately.
Nutrition Information
Yield

24
Serving Size

1 skewer
Amount Per Serving
Calories

18.5
Total Fat

1.2g
Saturated Fat

0.5g
Trans Fat

0g
Unsaturated Fat

0.2g
Cholesterol

4.3mg
Sodium

85.6mg
Carbohydrates

0.9g
Fiber

0.1g
Sugar

0.7g
Protein

0.9g
Nutrition value is not always accurate
LINDA