Amish Country Casserole is an economical, creamy dinner, perfect for a crowd. Make-ahead and freezer friendly recipe too ! This casserole is perfect to ease into Fall or out of Winter, beginning Spring.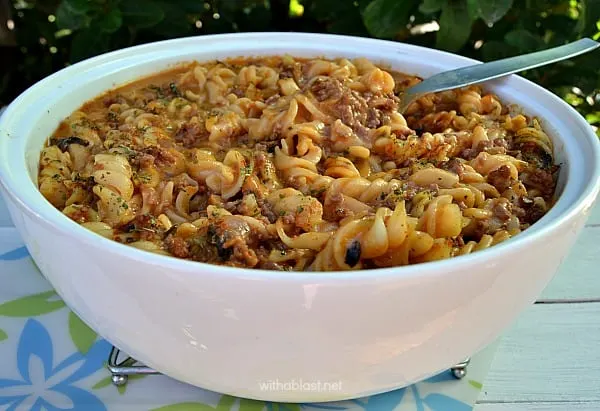 Creamy, comforting Amish food ! A Recipe also known as an old fashioned hamburger noodle casserole.
Many people prefer noodles, but I do love my Fussili or screw-shaped pasta. You can however choose to use whichever pasta you prefer.
The recipe is so easy to make and can be doubled or even tripled easily. Vegetables can also be added to give the dish that little extra stretch.
Amish Country Casserole loaded with vegetables !
Ever since I have started to make the Amish Country Casserole, I have added lightly fried Mushrooms, Broccoli, Peas and once I even added Carrots.
However, the Carrots took a bit longer to cook and my family did not really like the end result.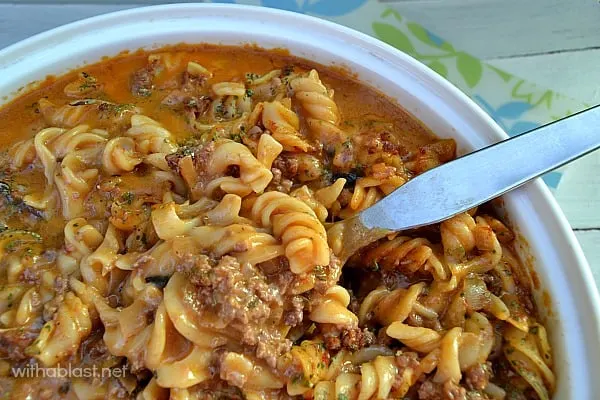 We all love the added Mushrooms though ! And I try to add some every time I make the casserole, if I happen to have a punnet of Mushrooms available.
Which I normally do have, by the way. Saute the Mushrooms just before adding the ground beef to the heated oil and carry on with the recipe.
I was curious about one thing, though. Going back a few (and I mean quite a few) Amish generations, did they have canned soup already, homemade and bottled ?
Or would the cooks have made a batch of Tomato- and a batch of Mushroom Soup specially for this dish ??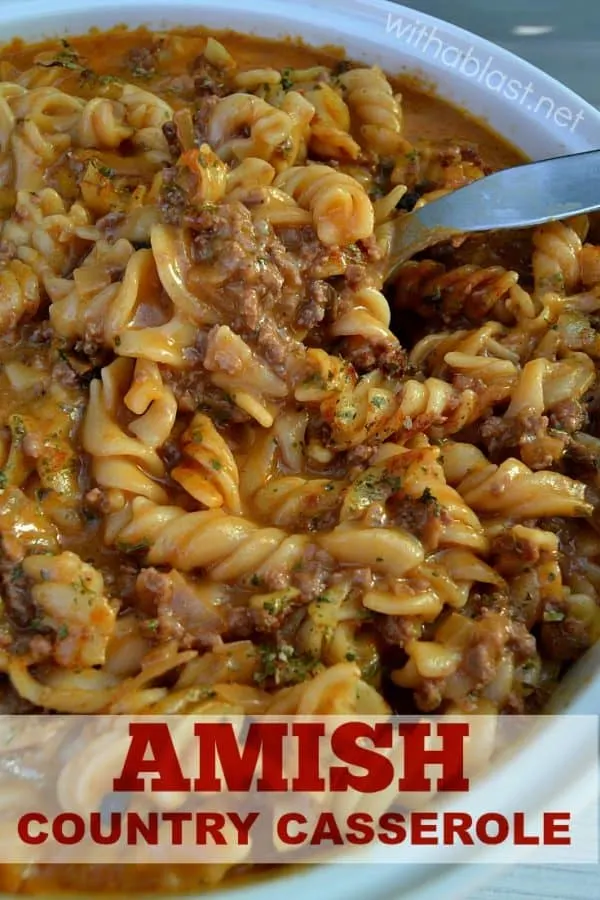 Anyhow, back to the recipe ~ it's quite a large dish, but so tasty, all of us always have second helpings.
Since my daughter moved into her own house and my son is not always home for dinner, I started to freeze half the dish.
How to freeze the Amish Country Casserole :
Follow all steps to just before baking.
Transfer to one or two, depending on the portion size you prefer, freezer dishes which you can pop into the oven later when needed.
Cool completely and place in the freezer. Do make sure to have an airtight lid on or even platic wrap will work.
The container should be big enough for the leftovers, otherwise on defrosting it might turn out a bit watery.
Defrost in the refrigerator overnight and simply pop into the oven when required.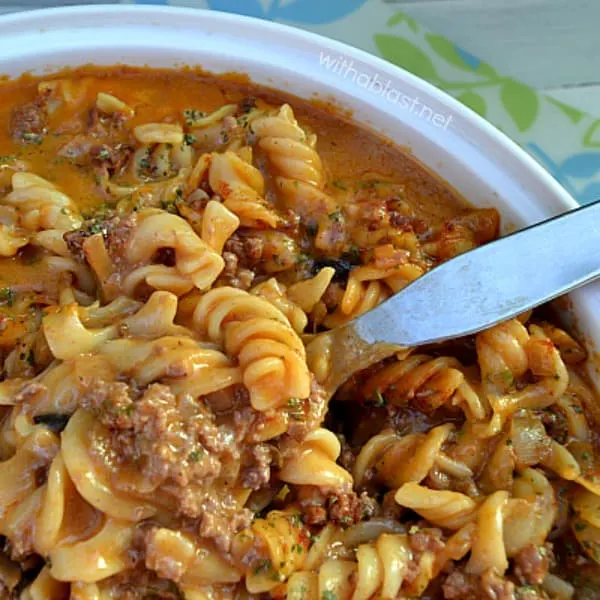 **NOTE (very Important): Use thick cream of soups (the condensed type). And only the best quality you can get as this is what gives this casserole most of it's flavor.
Easy Pasta recipes you might like:
Update: I have since started to alternate the ground beef with chicken strips (or cubed) and the end result is just as delicious ! No other changes to the recipe required.
Remember : You can make this Amish Casserole with egg noodles too ! ( This was the casserole known as the old fashioned hamburger noodle casserole )
Amish Country Casserole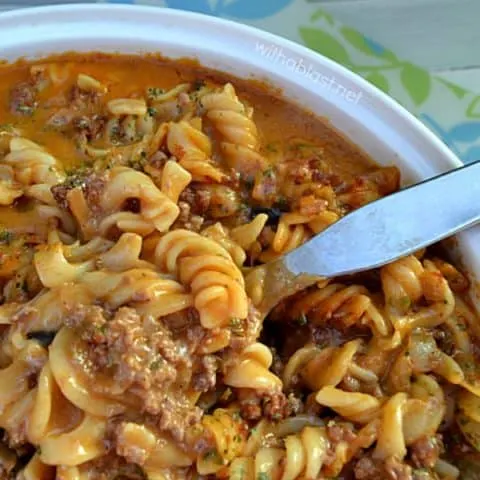 Amish Country Casserole
Delicious, creamy Amish Country Casserole is an economical recipe enough for 8 - 10 servings. Make-ahead and freezer friendly recipe !
Ingredients
500 g Pasta, your choice ( 16 oz )
1 TB Olive Oil extra-virgin
1 Onion, chopped
2 t Garlic, crushed
750 grams Lean Ground Beef, ( 1 1/2 pounds )
600 grams canned Tomato Soup, condensed **See note in post** ( 22.6 oz )
600 grams canned Mushroom Soup, condensed **See note in post** (22.6 oz )
1 cup Milk, ( 250 ml / 8.45 fl oz )
Salt and Black Pepper, to taste
1/2 t Paprika
1/2 t Dried Parsley
Instructions
Pre-heat the oven to 180 deg C (350 deg F) – spray a large oven dish with cooking spray.
Cook the Pasta, in a large pot, as per the instructions on the packet.
Meanwhile, saute the Onion and Garlic in the Olive Oil until soft – add the Ground Beef and cook until done.
As soon as the Pasta is done – drain and return to the pot.
Add the cooked Meat, Tomato and Mushroom Soups and Milk to the Pasta – stir through – season to taste with Salt and Pepper.
Transfer to the prepared oven dish – sprinkle with Paprika and Parsley – bake 25 – 30 minutes.

Notes
See in post for vegetable addition recommendations
Recipe updated: July 2021
See in post recommedations for type of soup to use
Nutrition Information
Yield

8 Servings
Amount Per Serving
Calories

410
Total Fat

15g
Saturated Fat

5g
Trans Fat

0g
Unsaturated Fat

7g
Cholesterol

87mg
Sodium

708mg
Carbohydrates

32g
Fiber

4g
Sugar

4g
Protein

35g
Nutrition value is not always accurate. Please also check your ingredient labels.
Serve with a salad or a side dish.
LINKED UP AT:WEEKEND POTLUCK