Cinnamon Apple Enchiladas are syrup drenched sweet treats, ideal to serve for dessert especially during Fall or Winter.
These Cinnamon Apple Enchiladas are delicious! Most definitely a dessert which will be served over and over again in our home.
Soft, syrup drenched bottoms with a crisp baked top and even more syrup drizzled over after baking !
After baking, the tops of the Enchiladas were nice and crispy. I drizzled some of the sauce over and served it with loads of lightly sweetened whipped cream.
This is a quick and easy recipe and no one will even suspect the prepping/baking and decorating took around 30 minutes.
I used canned tart/pie apples – there is no liquid to drain, it's all just packed with soft sliced pieces of apple.
Mentioning this, as I used the same kind before and had a few readers asking me whether to drain the apples or not. Well, I have never used or seen cans of Tart Apples which needed to be drained in our usual stores.
Therefore, if you do need to drain the kind you're using, you will have to use larger cans or an extra can.
As long as you have around 600 – 700 grams ( 1 1/2 pounds ) of apple pieces.
You also do not need to add Sugar to the Apples before rolling up, the Cinnamon will give enough flavor. Besides, the syrup provides all the sweetness you need for a totally decadent dessert.
You might also like:
Cinnamon Apple Enchiladas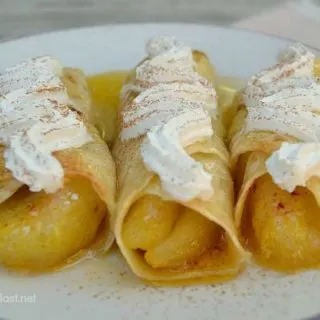 Cinnamon Apple Enchiladas
Cinnamon Apple Enchiladas are syrup drenched sweet treats, ideal to serve for dessert especially during Fall or Winter
Ingredients
2 cans (385g ea) Pie Apples (21 oz)
6 Large Tortillas
1 t Ground Cinnamon plus extra to sprinkle
1/3 cup Butter
1/2 cup White Sugar
1/2 cup packed Brown Sugar
1/2 cup Water
Whipped Cream to serve
Instructions
Pre-heat the oven to 180 deg C (350 deg F) – spray a 20 x 30cm ( 8 x 12 inch ) oven dish with cooking oil
Divide the Apple Pieces between the 6 Tortillas – place in the center of each Tortilla – sprinkle with the 1 teaspoonful Cinnamon – roll up the Tortillas and pack tightly into the prepared oven dish – I had my seams facing upwards and kept everything together with a toothpick
Bring the Butter, White and Brown Sugar and the Water to the boil – boil for 3 minutes – pour over the Enchiladas
Bake for 20 minutes until crispy on top – using a spoon drizzle some of the syrup over the tops two or three times during baking
Nutrition Information
Yield

6
Amount Per Serving
Calories

557.2
Total Fat

15.4g
Saturated Fat

7.7g
Unsaturated Fat

6.7g
Carbohydrates

107.5g
Fiber

3.7g
Sugar

48.1g
Protein

6.5g
Serve with Whipped Cream and a dusting of extra Cinnamon.
Enjoy – this is a keeper !
LINDA