Scrumptious Skillet Bread with Onion Corn kernels and Cheese! All with a delicious dark, salty, buttery topping ~ breakfast, brunch, lunch or serve as a snack
A couple of days ago I had something small planned for dinner as it was only myself, hubby and my mom-in-law home for the day.
Since she moved in with us, I have not really changed much to our daily sized cooking as she eats like a little bird.
The kids normally tell me ahead of time when they would be home for dinner. But late the previous day my daughter mentioned that they were coming over to catch up on some updates and downloads needed for their phones.
Even though she confirmed that they would not have dinner here, I still decided to make this Onion Corn and Cheese Skillet Bread.

On Sundays we have our dinner earlier than usual, but I never like to eat and everyone is not joining in.
Therefore on this particular Sunday we had dinner a bit later. We had already enjoyed this scrumptious and ever so delicious Skillet Bread, which was more like a rich snack I served around lunch time and the kids had some as well.
Eaten on it's own, is more than enough to fill an empty tummy gap between meals and we never have lunch on a Sunday anyhow. We finished the Bread in no time at all !
Delicious caramelized Onion, whole Corn kernels all mixed into a coarsely textured bread with a salty, buttery topping poured over the top.
There are two things I need to point out in today's recipe:
1) I used Maize meal, which is a staple in South-Africa, in addition to Flour – this added the lovely coarse texture.
2) Marmite is mainly a British and South-African delicacy and I had to google what can be used instead as I now lots of you are from countries who have never even heard of Marmite.
At the same time, I did a little research on the Maize meal too and this is what I found. You can use coarse Cornmeal (not Cornstarch) in place of the Maize meal.
The Marmite was not that easy ! My Australian friends whom have tasted both Marmite and Vegemite (I have never had Vegemite), swears high and low that Vegemite is way better than Marmite.
I have no idea which taste better, but it did come up as a substitution.
Getting to the US version, the closest I could find was a replacement for Bovril (which we also have in SA, but it has a beefy and richer taste). The US version of Bovril is called Bovrite which I have read about HERE.
Marmite is extremely salty and I know Bovril is even more so. Therefore whichever you use, keep that in mind if you are not very partial to salty breads.
You might even decide to skip the Marmite. Only drizzle over the melted Butter, which would still make an absolutely delicious Onion Corn and Cheese Skillet Bread. For this same reason, no additional Butter or spreads are needed to enjoy this delightful Bread.
More Bread recipes you might like:
Onion Corn And Cheese Skillet Bread
Yield: 8 Servings
Onion Corn And Cheese Skillet Bread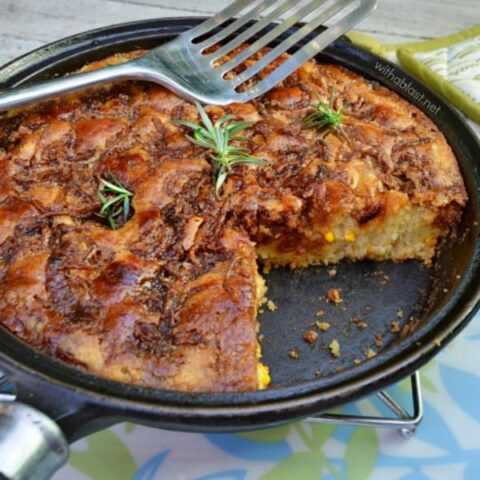 Scrumptious Skillet Bread with Onion Corn kernels and Cheese - all with a delicious dark, salty, buttery topping ~ breakfast, brunch, lunch or serve as a snack
Ingredients
BREAD:
2 TB Vegetable Oil
1 Onion, thinly sliced
3 TB Dark Brown Sugar
1 cup Flour
1 cup Maize Meal, (or Coarse Cornmeal)
1/4 cup Light Brown Sugar
1 TB Baking Powder
1/2 t Salt
1/2 t Cayenne Pepper
1 cup Buttermilk
2 large Eggs
3 TB Butter, melted
1 can (410g) Whole Kernel Corn, drained, rinsed
1 cup Cheddar Cheese, grated
TOPPING:
1/4 cup Butter
3 TB Marmite Spread, (or Bovril/Bovrite)
Rosemary Sprigs, to garnish (optional)
Instructions
Pre-heat the oven to 200 deg C (400 deg F) – grease a large oven proof skillet, or similar dish, well
Heat the Oil in a smaller skillet – add the Onion and saute until soft – add the Dark Brown Sugar and stir until caramelized – set aside
In a large mixing bowl, combine the Flour, Maize Meal (or Cornflour), Light Brown Sugar, Baking Powder, Salt and Cayenne Pepper
In a separate bowl, beat together the Buttermilk, Eggs and melted Butter until smooth – pour into the Flour mixture followed by the Corn and Cheddar – stir until just combined
Pour the batter into the prepared skillet – scoop the Onion on top of the batter – bake 20 – 25 minutes or until done
TOPPING:
As soon as the Bread comes out of the oven, melt together the Butter and Marmite (or substitute) – mix well and pour over the hot bread – let stand 5 – 10 minutes – garnish with the Rosemary
Nutrition Information
Yield
8
Amount Per Serving
Calories

332
Total Fat

20g
Saturated Fat

10g
Trans Fat

1g
Unsaturated Fat

9g
Cholesterol

88mg
Sodium

808mg
Carbohydrates

29g
Fiber

1g
Sugar

12g
Protein

10g
Nutrition value is not always accurate
Serve on it's own or with a good chili.