Easy Banana Donuts – How to make your own Banana Donuts ~ perfect recipe for Donut making beginners and the recipe never fails !
I have never made Donuts other than in my little Donut maker and thought it would be a great idea to learn how to make them myself !
Thinking the Donut maker is a bit of cheating. Well, can not help if technology helps us through some difficulties, right?
Anyhow, I wanted to make the old-fashioned, somewhat oily donuts. With only a simple topping and these easy Banana Donuts fit the bill perfectly.

For a beginner in making Donuts, this is the ideal recipe ! Now I am not planning on keeping the beginner status for too long, since my first batch was such a success.
Some more deep-fried Donuts in the near future and then I will move on to the healthier, baked Donuts.
Today's post would have been something else. But I learned this morning that it is National Donut Day in the United States.
And also where most of my readers are from, so at the last minute, I decided to post this recipe for easy Banana Donuts instead.
I could not possibly be the only one whom have never made the old-fashioned Donuts (not yeast based, which I believe a proper Donut is made of).
Well, I certainly hope I am not the only one living under a rock, or rather hiding behind a rock as I had always been afraid of making these from scratch, deep-fried and the whole caboodle.
Right, why Banana ? I love Banana desserts and I know Banana adds a lot of moistness to just about any baked or fried desserts.
Seeing as I first decided on the simplest topping ever, this all worked out fine. Moist, soft and flavorful Banana Donuts, with a slightly crispy outer, which are quick and easy to make. Absolutely ideal for us first time Donut makers !
Easy Banana Desserts :
Easy Banana Donuts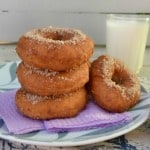 Easy Banana Donuts
Easy Banana Donuts - How to make your own Banana Donuts ~ perfect recipe for Donut making beginners and the recipe never fails !
Ingredients
1

extra-large

Egg

1/2

cup

Sugar

1/4

cup

Unsalted Butter

melted

3 3/4

cups

Flour

1

TB

Baking Powder

1

t

Salt

1/4

t

Bicarbonate of Soda

1/2

t

Ground Cinnamon

1/4

t

Ground Nutmeg

1/4

t

Ground Cloves

1

cup

Bananas

mashed

2

TB

Lemon Juice

Oil

for deep-fry

Cinnamon Sugar

for topping
Instructions
Beat together the Egg, Sugar and Butter in a small bowl

In a larger bowl, sift together the Flour, Baking Powder, Salt, Baking Soda, Cinnamon, Nutmeg and Cloves

Stir in the Lemon Juice to the mashed Bananas – add the Bananas, alternatively with the Egg mixture, to the dry ingredients – mix until just combined – the dough should be easy to handle (if not, add little by little extra Flour until you are happy)

Sprinkle extra Flour onto the surface where you plan to roll out the dough – Roll out the dough to a thickness of about 7.5mm – 10mm ( 2 1/2 – 4 inch ) – use a cookie cutter to cut out rounds and then a smaller cookie cutter to cut out the Donut hole

Heat the Oil to medium and fry 3 – 4 Donuts at a time until golden and cooked (it takes only 3- 4 minutes per batch) – turn over as soon as the Donut turns golden on the bottom – place on paper towel to drain and then press one side into Cinnamon Sugar
Serve warm or cold – but I am sure I need not tell you how to enjoy a Donut !
LINDA