Potato Bacon and Leek Soup is tasty, comforting, filling and the added Bacon makes an old favorite just better and more nourishing !
This is my husband's favorite soup, although I used to make it without the bacon.
Since we added bacon, the Potato Bacon and Leek Soup is not only his favorite but a huge hit with my whole family.

The soup screams comfort food and again, as I like my recipes, quick and easy too.
We have kind of a strange weather pattern (or no pattern really!) going on in Gauteng at the moment. After a couple of weeks of an extreme heatwave, the cold from the Cape area's snow has hit us now.
Yeah, we only get the cold and never the good stuff, like snow in Gauteng ! I know lots of you may even detest snow, but it really is a rarity in our area.
Since we never know how the day will end, it could be hot as heck, or we might sit covered with blankets watching a movie or two. That is when I like to grab a quick and easy recipe like this Potato Bacon and Leek Soup.
The soup can be made at last minutes' notice and you should already have all the ingredients on hand. A quick jump out from under the blanket and you can get back to being warm and comfy.
AND have one delicious mug or bowl of soup in hand and finish your watching your movie … or getting the kids ready for bed.
Tasty, comforting, filling and Bacon ! Yep, that's comfort food everyone will enjoy.
More Soup recipes you might like:
Potato Bacon and Leek Soup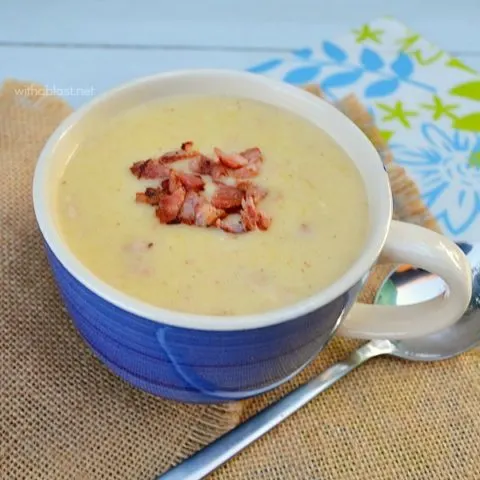 Potato Bacon And Leek Soup
Potato Bacon and Leek Soup is tasty, comforting, filling and the added Bacon makes an old favorite just better and more nourishing !
Ingredients
3 TB Butter
3 Leeks, sliced
250 g Bacon, finely chopped ( 8 oz )
2 t Fresh Garlic, crushed
4 Large Potatoes, peeled and cubed into small pieces
4 cups Chicken Stock
1/2 cup Fresh Cream, (double cream)
Salt and Black Pepper, to taste
Bacon, crispy (extra topping, optional)
Instructions
Melt the Butter in a large saucepan with a lid – add the Leeks, Bacon and Garlic – stir-fry for a minute or two – lower heat to medium, cover and cook 12 – 15 minutes until soft, stirring occasionally.
Add the Potatoes and Chicken Stock, cover, bring to the boil, then reduce heat and simmer until Potatoes are soft – remove from heat and cool – once cooled, place in a blender, blitz until creamy and return to saucepan.
Bring back to boiling point, remove from stove and stir in the Cream – season to taste.
Nutrition Information
Yield

6
Amount Per Serving
Calories

452.4
Total Fat

18.8g
Saturated Fat

10g
Trans Fat

0g
Unsaturated Fat

8.8g
Cholesterol

71.6mg
Sodium

1362.9mg
Carbohydrates

52.1g
Fiber

6.7g
Sugar

6.9g
Protein

19.5g
Serve with extra crispy Bacon (optional) and a crusty dinner roll or a grilled cheese sandwich on the side.