Salisbury Steak with an amazing Mushroom sauce ! This *makes* this Salisbury Steak a wonderful, comfort food – perfect dinner on a cold day or when you are craving old-fashioned goodness !
We love a good Salisbury Steak and the gravy in today's recipe is most delicious and really makes this a winner.
To me, a Salisbury Steak is something between a meatball and a meatloaf. This recipe is so easy and quick to make, both the steaks and the gravy.
The gravy is more a sauce as it is not as meaty and rich as a gravy, but however you see the topping, gravy or sauce, this is a must try recipe.
I had my first taste of a Salisbury Steak about 4 or 5 years ago. And I must confess, it was not what I expected at all.
Firstly it is not a steak as we know it in South-Africa, but simply formed in the shape of a steak.
Secondly, I thought it must be a dish which originated in the old Salisbury, now Harare in Zimbabwe. But again, I was wrong. An American physician, Dr JH Salisbury invented this dish.
Now, I know you are not here for a history lesson, but for the recipe. (I just find the oddest things curious!)
As with meatballs and meatloaf, this is one of the best comfort foods around.
Served with creamy mashed potatoes, a vegetable side or two and dinner is set.
The mushroom sauce is really out of this world delicious !
And can be served with just about any meat, as a topping for burgers, a sauce over vegetables and whatever else you can think of.
More Comfort Food recipes you might like:
Salisbury Steak
Yield: 4 Servings
Salisbury Steak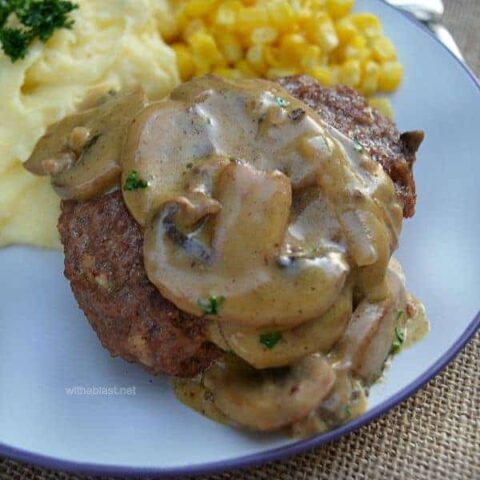 With an amazing Mushroom sauce - this *makes* this Salisbury Steak a wonderful, comfort food - perfect or when you are craving old-fashioned goodness !
Ingredients
STEAKS:
450 g Lean Ground Beef, ( 1 pound )
1/2 cup Fresh Bread Crumbs
2 TB Milk
Salt and Black Pepper, to taste
2 t Fresh Garlic, crushed
1 Egg, lightly beaten
MUSHROOM SAUCE:
2 TB Unsalted Butter, divided
1 TB Olive Oil, extra virgin
1 Onion, finely sliced
250 g Mushrooms, sliced ( 8 oz )
1 1/4 cup Boiling Water
1 KNORR Beef Stock Pot
1/2 cup Sour Cream
1 TB Parsley, chopped
Instructions
STEAKS:
Combine the Ground Beef, Bread Crumbs, Milk, Salt and Pepper, Garlic and Egg in a mixing bowl – mix well – form 4 equal sized oval patties
Melt 1 TB Butter in a large frying pan – brown the steaks both sides for 5 minutes – remove from pan and keep warm
MUSHROOM SAUCE:
Melt remaining Butter and the Oil in the same pan over medium heat – add the Onions and cook 2 – 3 minutes
Add the Mushrooms and stir-fry until soft and light brown
Dissolve the Beef Stock Pot in the Boiling Water (or use 1 1/4 cup plain Beef Stock) – add to the Onion and Mushroom mixture – bring to the boil
TO FINISH:
Return the steaks to the pan, reduce heat and simmer 10 -12 minutes or until the steaks are fully cooked
Remove from heat, stir in the Sour Cream and Parsley
Nutrition Information
Yield
4 Servings
Serving Size
1 Steak
Amount Per Serving
Calories

511
Total Fat

31g
Saturated Fat

13g
Trans Fat

1g
Unsaturated Fat

14g
Cholesterol

179mg
Sodium

498mg
Carbohydrates

19g
Fiber

3g
Sugar

5g
Protein

39g
Nutrition value is not always accurate
Serve immediately with mashed potatoes and vegetables or salads.