These Turkish Meatballs are made with ground beef and lamb, hugged in an easy to make tomato based sauce. Perfect for dinner and quick to make too.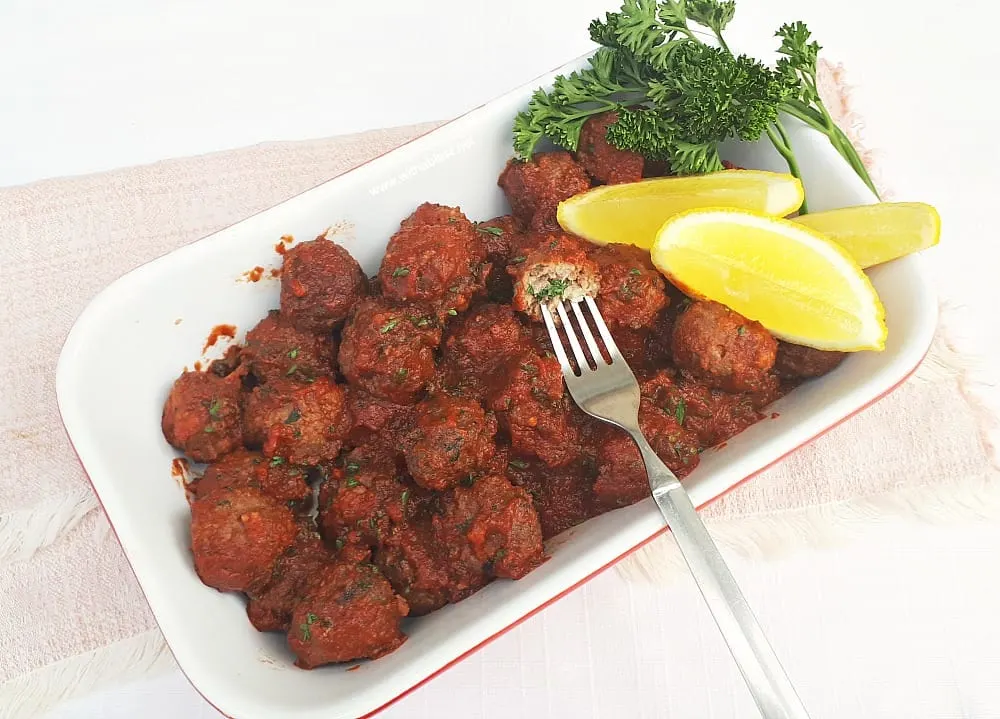 By now you should know we love our meatballs and these Turkish Meatballs are a new(-ish) favorite ! The combination of beef and lamb is just amazing.
I barely ever combine two different types of meat, but this recipe just works. Before sharing the recipe with you, I tried all the variants, both meats, only beef and then only lamb.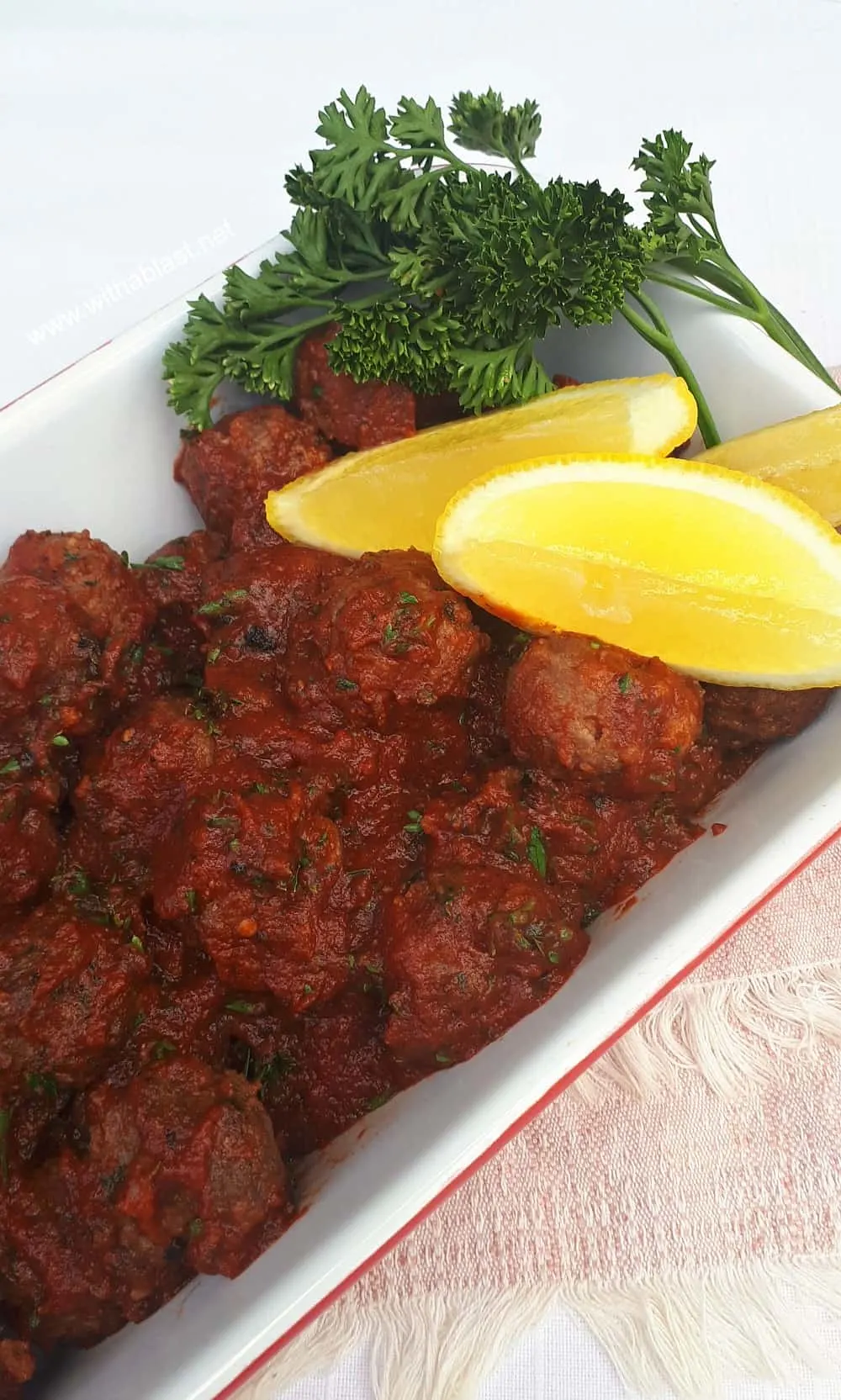 Using both ground beef and lamb was the winner by far. Only ground lamb in the Turkish Meatballs came in second.
Lamb (all types, ground, roast etc) has become very expensive over the years. But a packet of ground Lamb mixed in with the ground Beef made the dish a little more economical as well.
I used to make Leg of Lamb roasts so often, but haven't made one in years – because of the price ! However, the other day we had a promotion at our local butcher and I grabbed one.
Absolutely still the best Sunday roast !
No one really knows the origin of meatballs, but I do remember my granny used to make them, using leftover meats. She also had a meat mincer, which means she could have used just about any meat in a meatball.
Can you freeze meatballs ?
Meatballs are also freezer friendly, unless a specific recipe indicates otherwise. I prefer to only freeze the meatballs and make the sauce on the day of serving.
The reason I (mostly) freeze the meatballs only, is because I freeze them uncooked, which lasts longer in the freezer.
Uncooked meatballs – around three months (my preference), but can be stored for up to four months
Cooked meatballs – two months
How do you thaw meatballs ?
Overnight in the refrigerator is always best.
Besides the two meats, the spices works so well together in this recipe, it is always a winner. You will notice I use a lot of Parsley as well and I chop the Parsley fairly rough, both – for the meatballs as well as the sauce.
Not only does the Parsley add a bit of color, but it adds taste as well.
The sauce is only enough to hug each and every meatball nicely, therefore not a saucy meatball dish. However, you can always double up on the sauce ingredients.
I serve these meatballs mainly as dinner over pasta or even rice, but now and then I'd stick in a toothpick or something similar and add them to my savory platters.
More Meatball recipes you might like:
Connect with us :
PINTEREST TWITTER FACEBOOK INSTAGRAM
Turkish Meatballs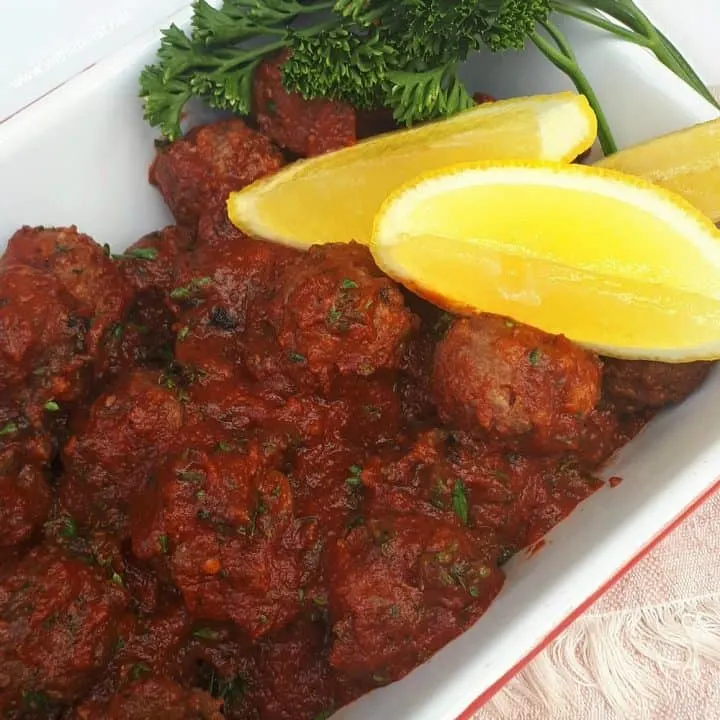 Turkish Meatballs
These Turkish Meatballs are made with ground beef and lamb, hugged in an easy to make tomato based sauce (one meat only can also be used)
Ingredients
MEATBALLS:
1 Onion, small, finely chopped
2 t Garlic, fresh, crushed
2 t Ground Cumin
2 t Ground Coriander
1/8 t Ground Cinnamon
350 grams Lean Ground Beef ( 12 oz ) - see note below
350 grams Ground Lamb ( 12 oz ) - see note below
1 cup Breadcrumbs, fresh
1 large Egg, lightly beaten
1/2 cup Parsley, roughly chopped
Salt and Black Pepper, to taste
TOMATO SAUCE:
1 can (400g) Tomato Puree ( 14 oz )
1 TB Sugar
1 t Garlic Salt
1/2 t Dried Chilies
Salt and Black Pepper, to taste
1/2 cup Parsley, chopped
TO SERVE:
Instructions
Heat 1 - 2 teaspoons Olive Oil in a large skillet - saute the Onion (also add the Garlic, Ground Cumin, Coriander and Cinnamon) until soft - remove from heat and cool
Combine the Onion mixture with the Ground meat, Breadcrumbs, Egg, Parsley and season to taste with Salt and Pepper - roll into smallish balls (approximately 2.5 cm / 1 inch )
Heat the remaining Oil in the same skillet and fry the meatballs until done, stir-frying style (in batches) - transfer to a plate lined with paper towel to absorb any excessive Oil
Meanwhile make the Tomato Sauce - use a medium saucepan with a lid - add the Tomato Puree, Sugar, Garlic Salt and Dried Chilies - simmer 20 minutes - season to taste with Salt and Pepper
Stir in the Parsley and pour the Sauce over the cooked Meatballs
Serve with Lemon wedges on the side
Notes
You can use a combination of Beef and Lamb or only one meat, although I highly recommend the Beef/Lamb combo !
Double all the ingredients for the Tomato Sauce if you prefer a saucier dish
Nutrition Information
Yield

4
Amount Per Serving
Calories

635.4
Total Fat

37g
Saturated Fat

13g
Trans Fat

0g
Unsaturated Fat

21g
Carbohydrates

16.7g
Fiber

1g
Sugar

11g
Protein

34.3g
Nutrition value is not always accurate