A Rum based marinade turns this Drunken Chicken Stir-Fry into a tender, juicy dish, best served over pasta. This is the perfect quick and easy dinner recipe !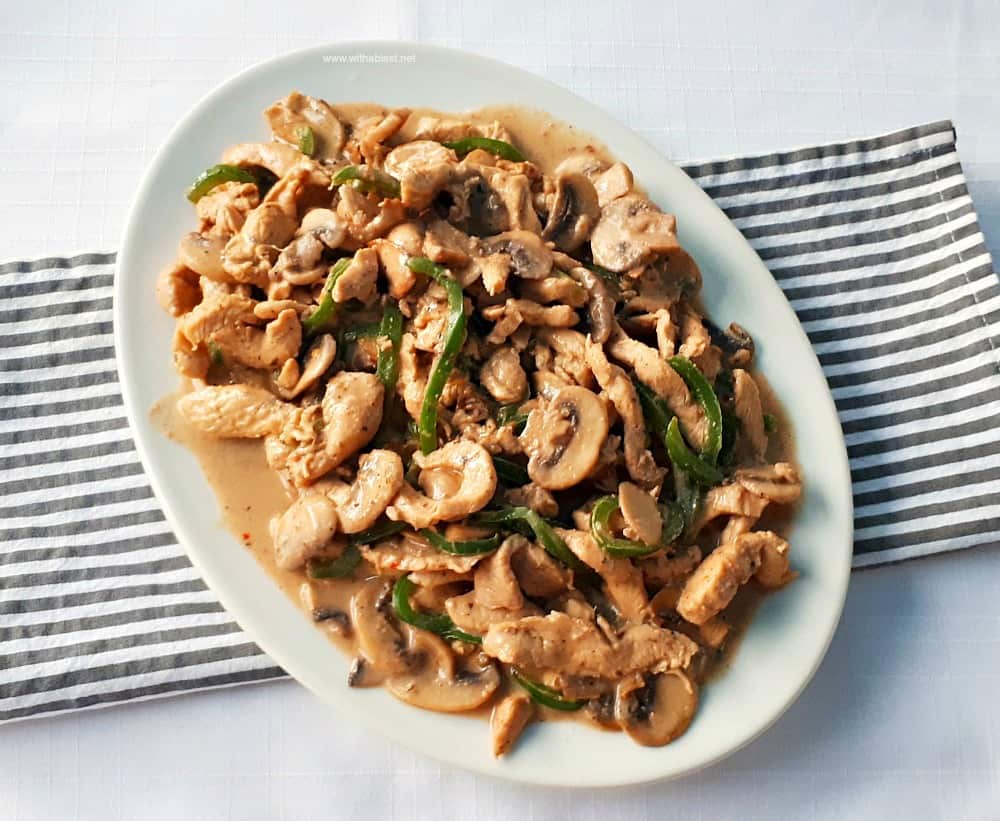 As I have mentioned numerous times before, we love stir-fries ! This Drunken Chicken Stir-Fry is one of our favorites and is perfect to make if you prefer a lighter (not too vegetable loaded) stir-fry.
Stir-Fries are just so quick and easy to make and always perfect for a busy week night dinner.
By using ingredients your family loves, you can also be sure they will enjoy whichever stir-fry you decide to make. Fortunately my family loves all kinds/versions of stir-fries.
However, we do have a couple of favorites (see my links further down) which we make on a regular basis.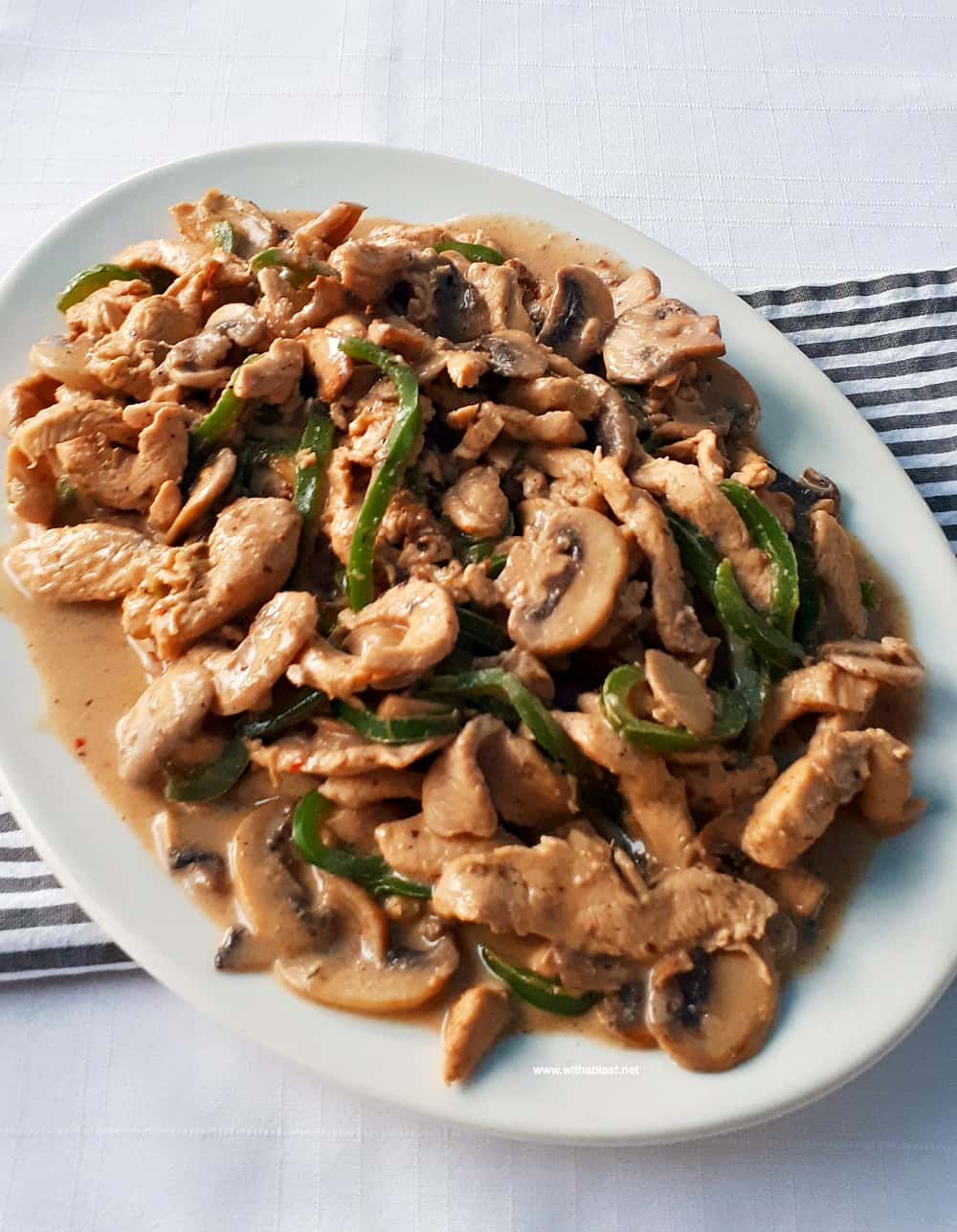 What is a Stir-Fry ?
A Stir-Fry is a dish which is cooked quickly and over high heat by stirring the ingredients rapidly. This can be meat, poultry, seafood or only vegetables, but usually a mixture of meat and vegetables
Stir-Fries are also best served as soon as it has been cooked, therefore make the stir-fry right before serving time. Marinating can also be done way in advance and you do not have to stick to the exact times given, unless the recipe states this
Ingredients, meats etc and vegetables are cut or sliced into smallish chunks or strips, which makes the cooking process very quick
Sauces are (usually) added last and only requires a couple of minutes of simmering mainly to flavor the dish
What IS Drunken Chicken ?
For starters it will not make you drunk ! It simply means that the food (in this recipe, the Chicken) has been prepared by using an alcoholic beverage.
There are also countless varieties of making, not only Drunken Chicken, but using other meats and alcoholic beverages as well.
Years ago the Beer can Chicken was a huge thing here in South-Africa, but has since seemed to have disappeared from (especially) barbecue menus.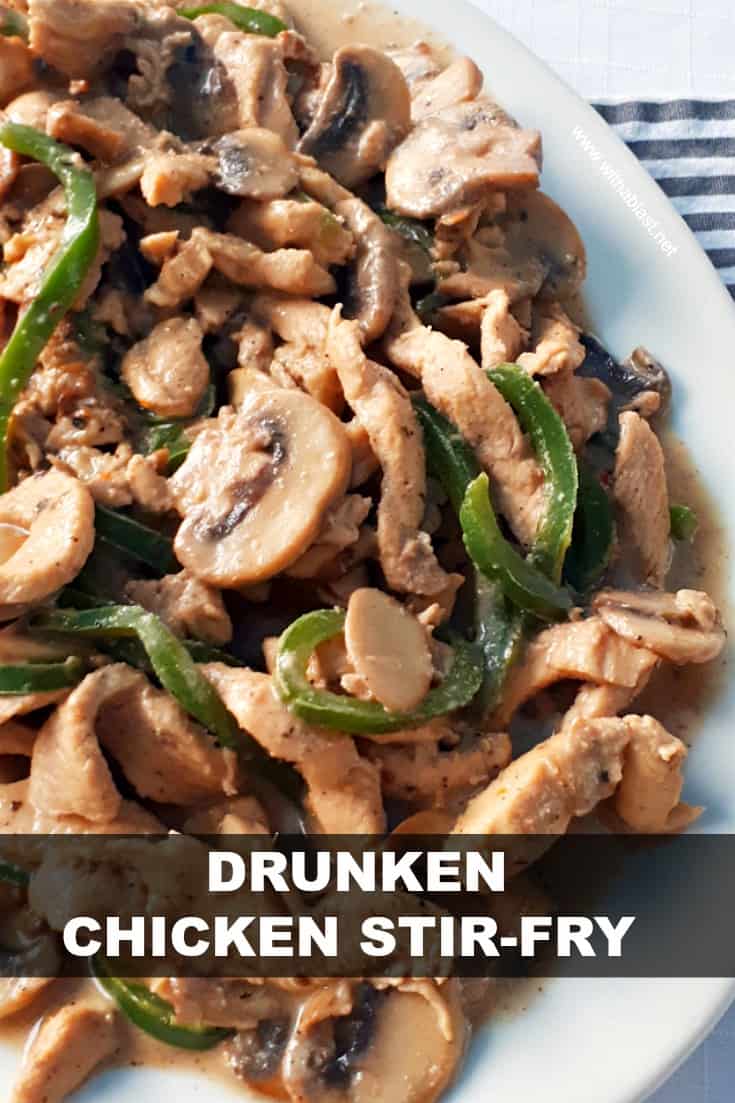 I prefer to use Malibu Rum in this recipe as it plays so well together with the Coconut Cream. Besides I am a huge fan of Malibu and everything Coconut !
Although the marinating time is only 30 minutes, you can leave this Chicken for much longer. Which makes it great as a partially make-ahead dish.
Once the marinating is done, you need only a few minutes to cook and finish the Drunken Chicken Stir-Fry !
More Stir-Fry recipes you might like:
Connect with us :
PINTEREST TWITTER FACEBOOK INSTAGRAM
Drunken Chicken Stir-Fry
Yield: 4 Servings
Drunken Chicken Stir-Fry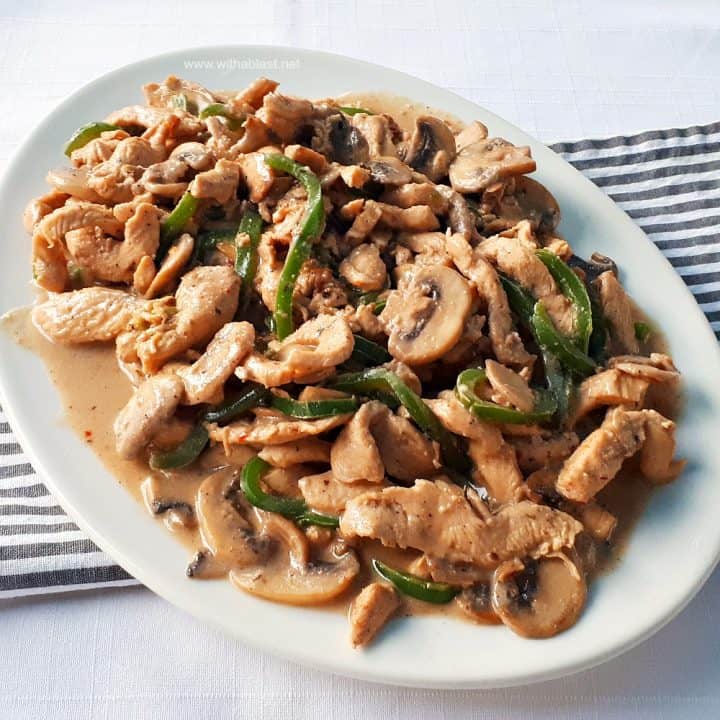 A Rum based marinade turns this Drunken Chicken Stir-Fry into a tender, juicy dish, best served over pasta
Ingredients
675 g Chicken Fillets, cut into strips ( 1 1/2 pounds )
1/4 cup Malibu Rum, or any light Rum
1/4 t Ground Nutmeg
1 TB Soy Sauce
1 TB Lime Juice
1 TB Soft Brown Sugar
1/2 t Crushed Dried Chilies (add more if you prefer)
1/4 t Ground Ginger
2 TB Vegetable Oil
1 Green Bell Pepper, thinly sliced
250 g Mushrooms, sliced ( 8 oz )
1 cup Coconut Cream
1/4 t Black Pepper
Salt, to taste (only if necessary)
Instructions
Combine the Rum, Nutmeg, Soy Sauce, Lime Juice, Sugar, Dried Chilies and Ginger in a small bowl
Place the Chicken strips in a marinating bowl and pour over the marinade - marinate the Chicken for at least 30 minutes, turning over after 15 minutes
Heat the Oil in a wok or large skillet - add the Chicken (retain leftover marinade) and stir-fry over medium to high heat until done - remove from wok/skillet and keep aside
Using the same wok/pan (add more Oil if necessary) and stir-fry the Green Bell Pepper strips together with the Mushrooms until just tender and the Mushrooms a light golden color
Return the cooked Chicken to the Pepper and Mushrooms in the wok/skillet
Mix together the retained marinade and the Coconut Cream - pour over the Chicken mixture and simmer 5 - 10 minutes until the sauce has reduced a bit and has thickened slightly
Serve over pasta of your choice (or rice)
Nutrition Information
Yield
4
Amount Per Serving
Calories

438.9
Total Fat

25.2g
Saturated Fat

18.3g
Unsaturated Fat

1.6g
Carbohydrates

18.7g
Fiber

3g
Sugar

10.4g
Protein

37g
Nutrition value is not always accurate
LINDA
Linked up at: WEEKEND POTLUCK – Sweet Little Bluebird