Delicious and so simple to make Teriyaki Beef and Greens Stir-Fry is ready in under 20 minutes – the perfect busy week night dinner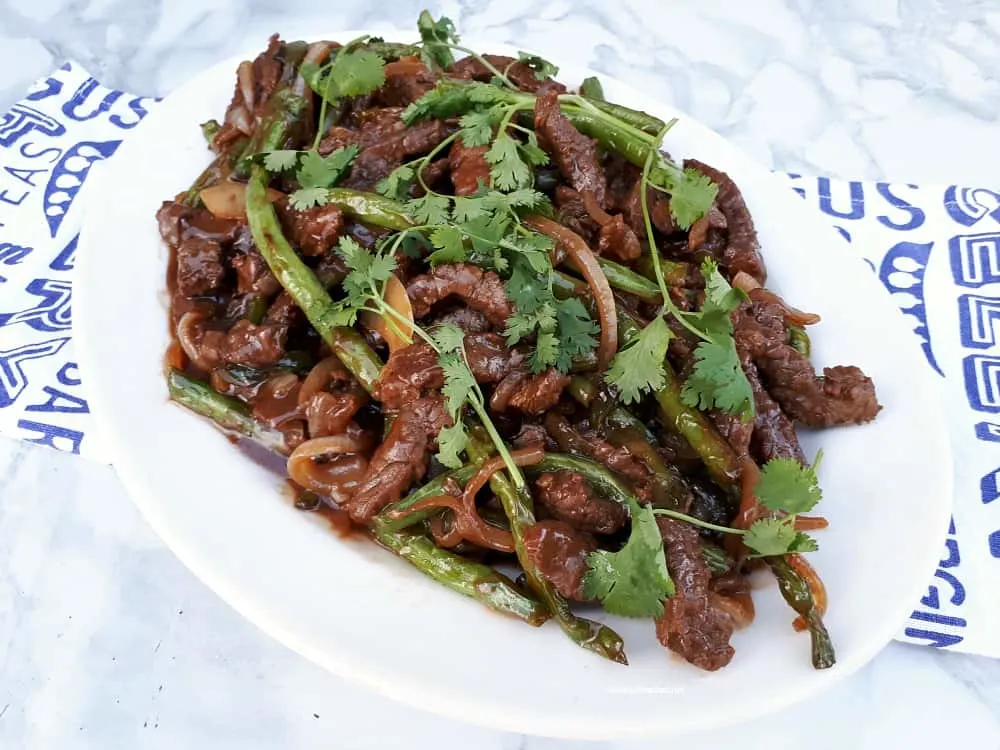 Stir fries are among my favorite go-to dinners when I need to whip up something quickly. I love the crunchiness of the vegetables and the tender meat. Especially in this Teriyaki Beef and Greens Stir-Fry.
The beef gets marinated in the Teriyaki Sauce at first and then I stir-fry the meat in the sauce as well.
Each and every ingredient is hugged in a rich, thick Teriyaki sauce, and so good over rice, pasta or even mashed potatoes.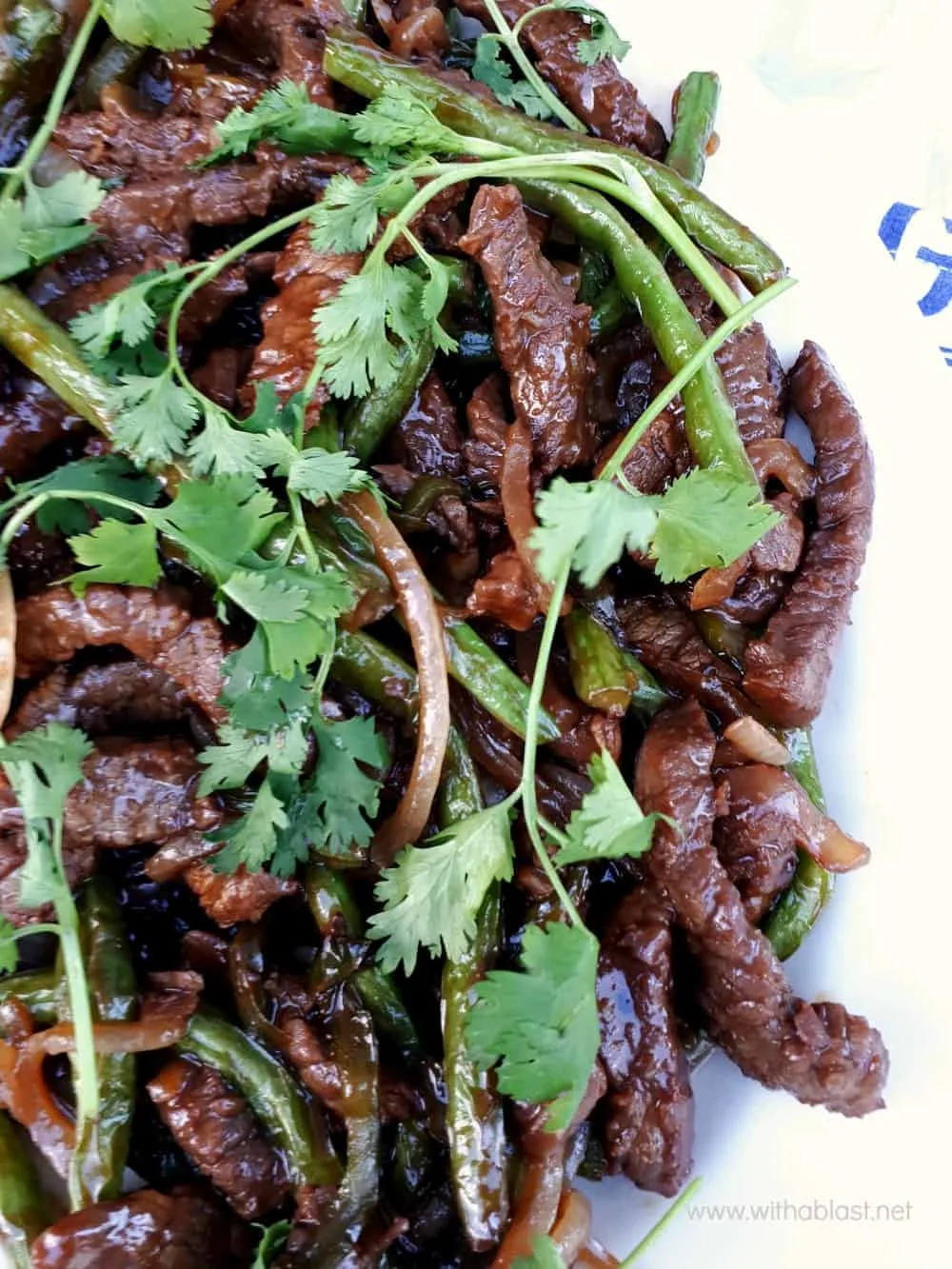 However, I do not serve this stir-fry too often with mashed potatoes, as my family prefers it over rice.
I think this is one of the prettiest stir-fry recipes I make. The dark, rich meat color and green just look so inviting !
Mostly I do like the usual multi-color stir-fry recipes. But now and then I want to serve something which looks just that little bit different.
Simple, but quick and delicious especially when you are in a hurry to get dinner on the table.
If you have the time, rather buy a good quality whole beef steak and slice the beef into strips. I have noticed lately that the already cut into strips beef are quite tough.
And seeing as the beef goes through a machine, about half of the beef is not even cut straight through !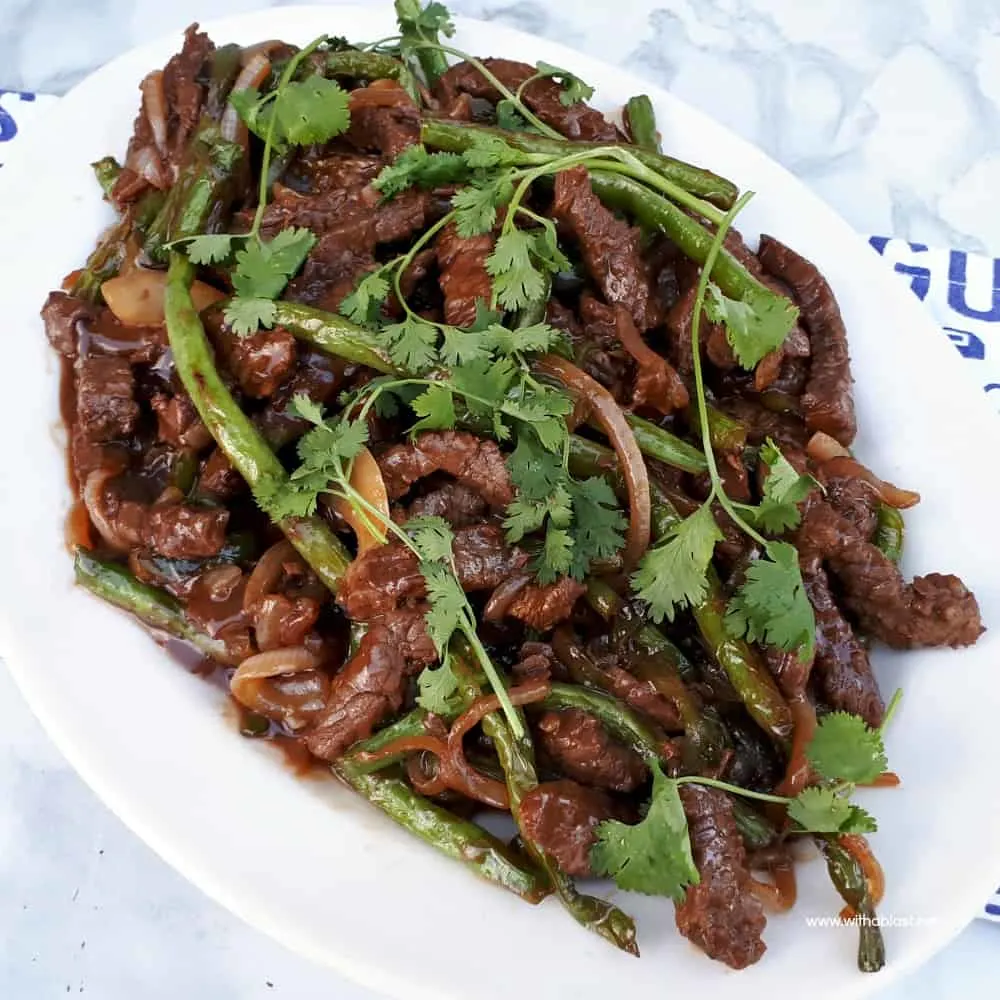 To add a Side or not ?
Depending on the season, you might want to add either a salad (Summer time) or a vegetable (Winter time) on the side.
I have found it not necessary at all as the recipe yields six large servings already and we are normally only four at home for dinner.
But, for larger families or when you have guests over, add a side dish. Nothing too rich though !
As I have mentioned above, this Teriyaki Beef and Greens Stir-Fry is quite rich and filling served only with a starch.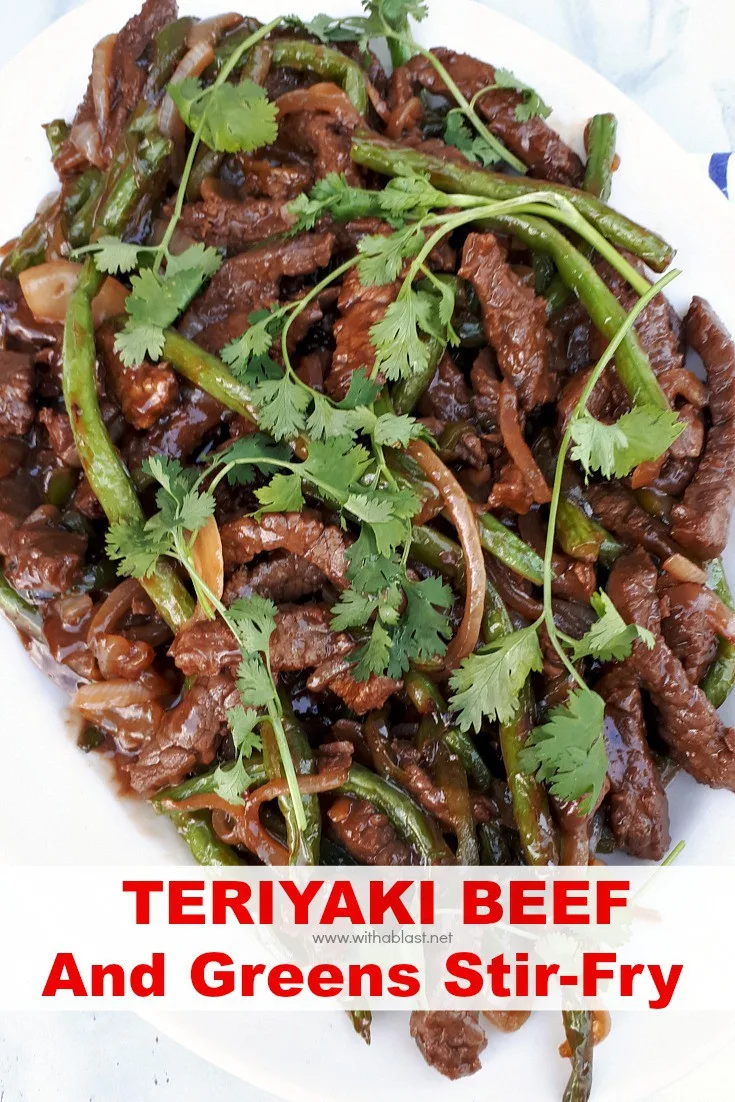 More Stir-Fry recipes you might like:
Teriyaki Beef and Greens Stir-Fry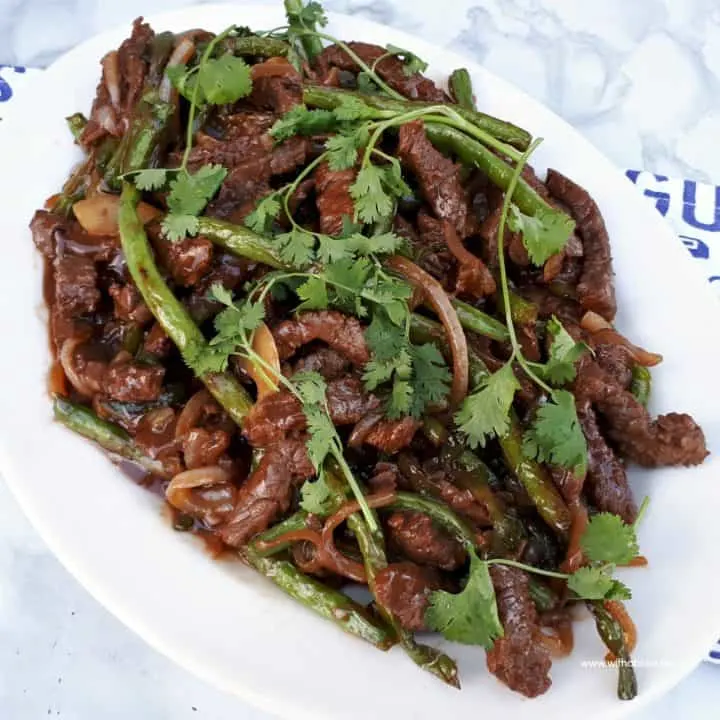 Teriyaki Beef And Greens Stir-Fry
Delicious and so simple to make Teriyaki Beef and Greens Stir-Fry is ready in under 20 minutes - the perfect busy week night dinner
Ingredients
4/5 cup Teriyaki Sauce ( 200 ml / 6.5 fl oz )
4 t Cornflour (Cornstarch)
900 g Beef, cut into strips ( 2 pounds )
4 TB Vegetable Oil, divided, approximately
2 Onions, halved and thinly sliced
2 Green Bell Pepper, sliced
500 g Green Beans, fresh, ends clipped ( 16 oz )
1/2 cup Cilantro, to serve (optional)
Instructions
Combine the Teriyaki Sauce and the Cornflour – add the Beef strips – keep aside to marinate while you carry on with the recipe

Heat 2 TB Oil in a large wok/skillet – add the Onions and saute until light brown and soft – remove from pan and keep aside

Using the same wok/skillet – add more Oil (if needed) and stir-fry the Green Bell Pepper and Green Beans for 5 – 8 minutes (the Beans must still be crunchy) – remove – add to the Onion which is kept aside

Add more Oil (if necessary) to the wok/skillet – cook the Beef strips until done and the sauce has reduced by about 50% – add back the vegetables and heat through

Serve over rice or pasta and garnish with Cilantro (if using)
Notes
Nutrition value does not include starch
Nutrition value isn't always accurate
Nutrition Information
Yield

6
Amount Per Serving
Calories

482.5
Total Fat

21.4g
Saturated Fat

11.3g
Unsaturated Fat

5.6g
Carbohydrates

19.5g
Fiber

4.6g
Sugar

10.6g
Protein

50.1g
LINDA