Chocolate Coconut Rum Desserts have a slightly chewy bottom layer with a smooth, creamy top layer and a hint of Rum throughout the dessert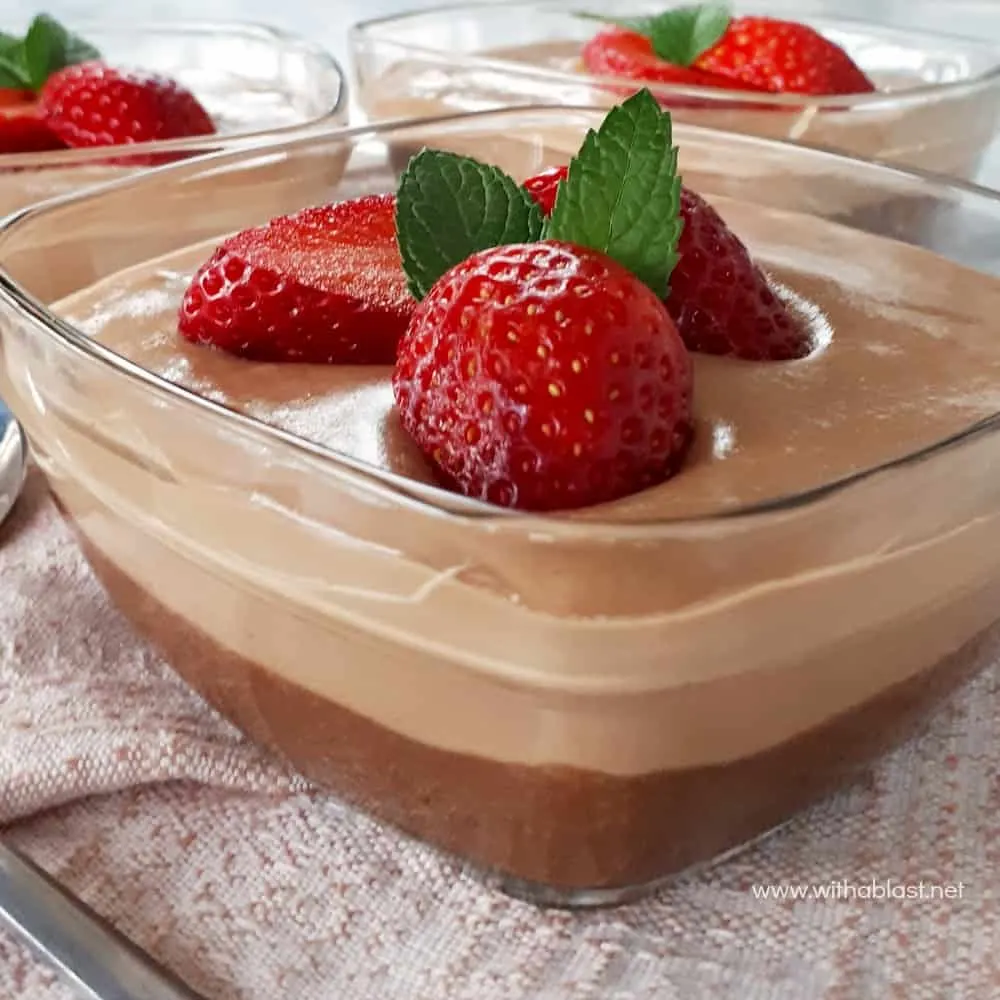 About time I share a Coconut dessert again! What could be better than combining Chocolate with Coconut?
These Chocolate Coconut Rum Desserts are most divine and unbelievably easy to make.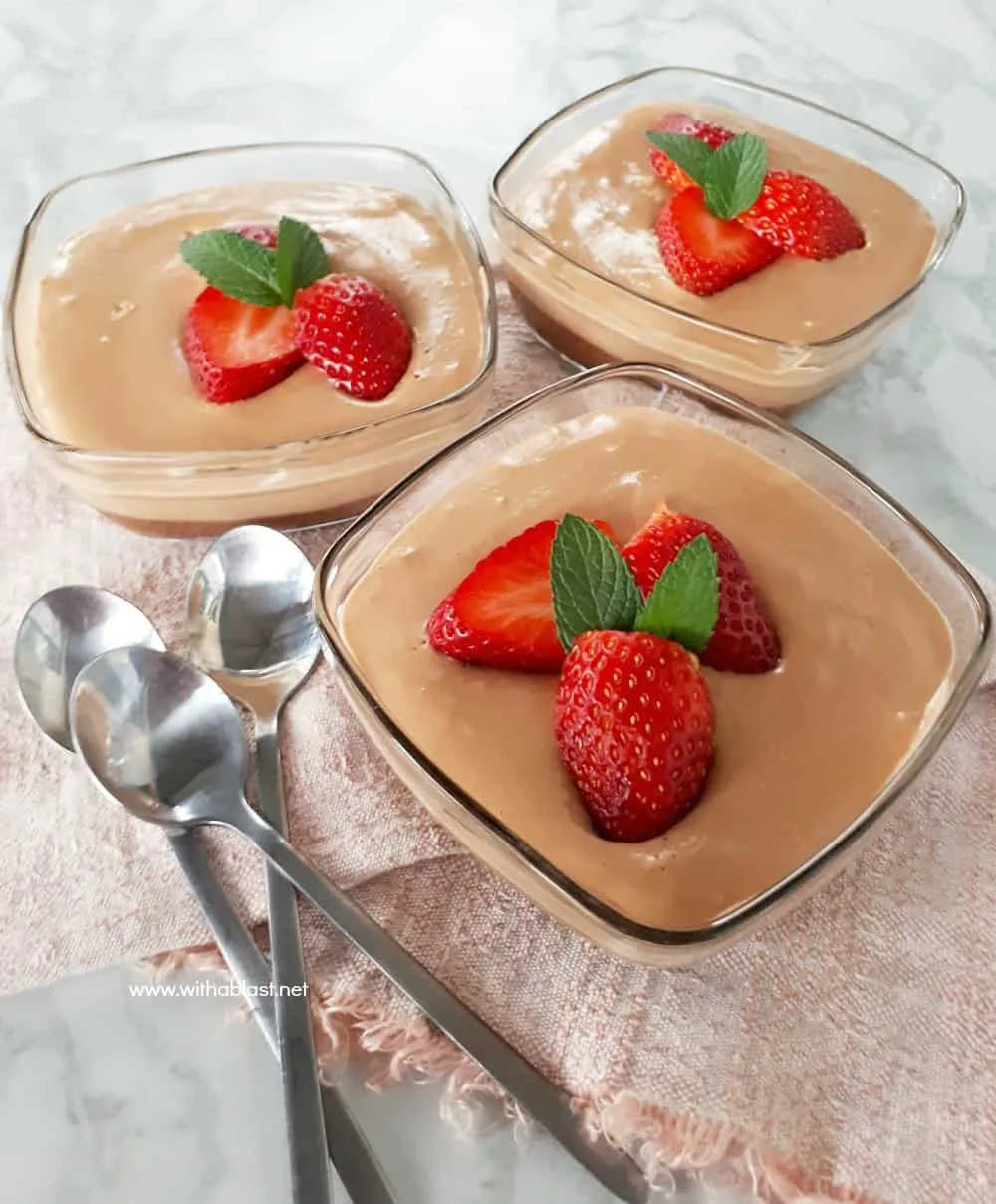 This dessert turns out perfectly each and every time. It is quick to prepare and does not even take that long to set in the refrigerator.
I serve these in small shallow bowls as the dessert is very rich. However that did not stop me from having a second helping ! What can I say? I am a Coconut addict and that's it !
Before I used to make the desserts in 6 equal sizes, which was around a three quarter cup size. However, most of my eaters can not finish the dessert as it is so rich.
Rather make each a third cup size, which I have found to be more than enough to satisfy any sweet tooth.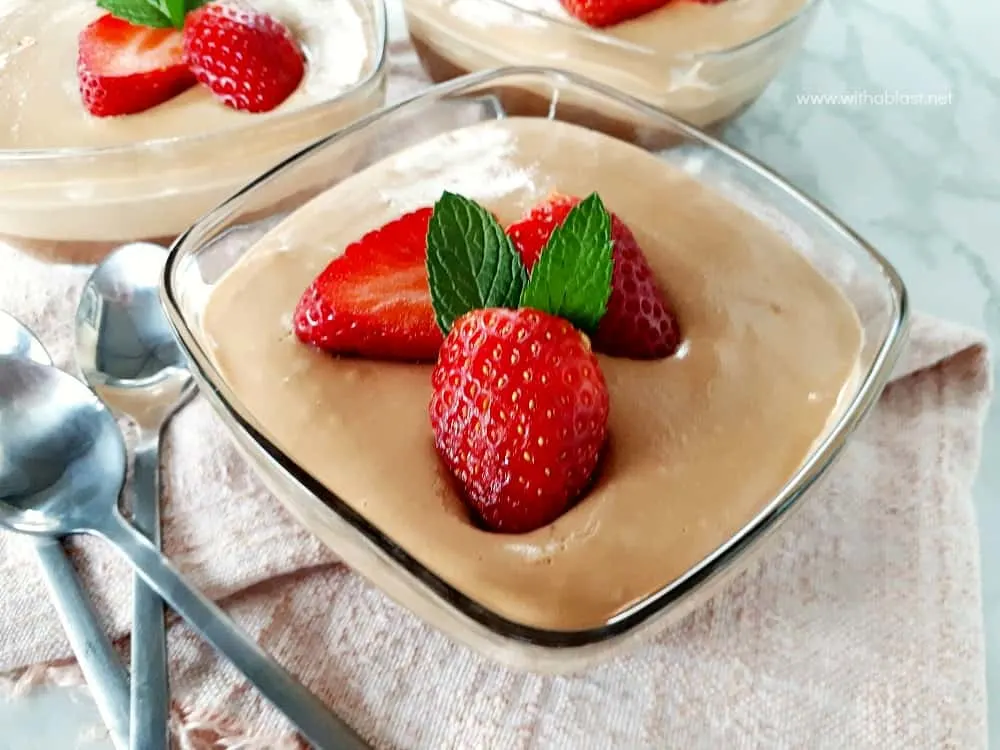 The Chocolate Coconut Rum desserts only gets a small amount of Rum added into the mixture, but the taste is most definitely there.
Definitely a dessert for all boozy-dessert lovers ! The bottom layer of the dessert is slightly chewy, whereas the top layer is smooth and very creamy.
The taste and texture of the bottom half reminded me somehow of NIKI bars – delicious!
Not sure which part is my favorite but as a whole, this is one of our top five desserts ever.
Always a bonus is that these Chocolate Coconut Rum desserts are make-ahead friendly, quick and easy to make and it does not take too long to set.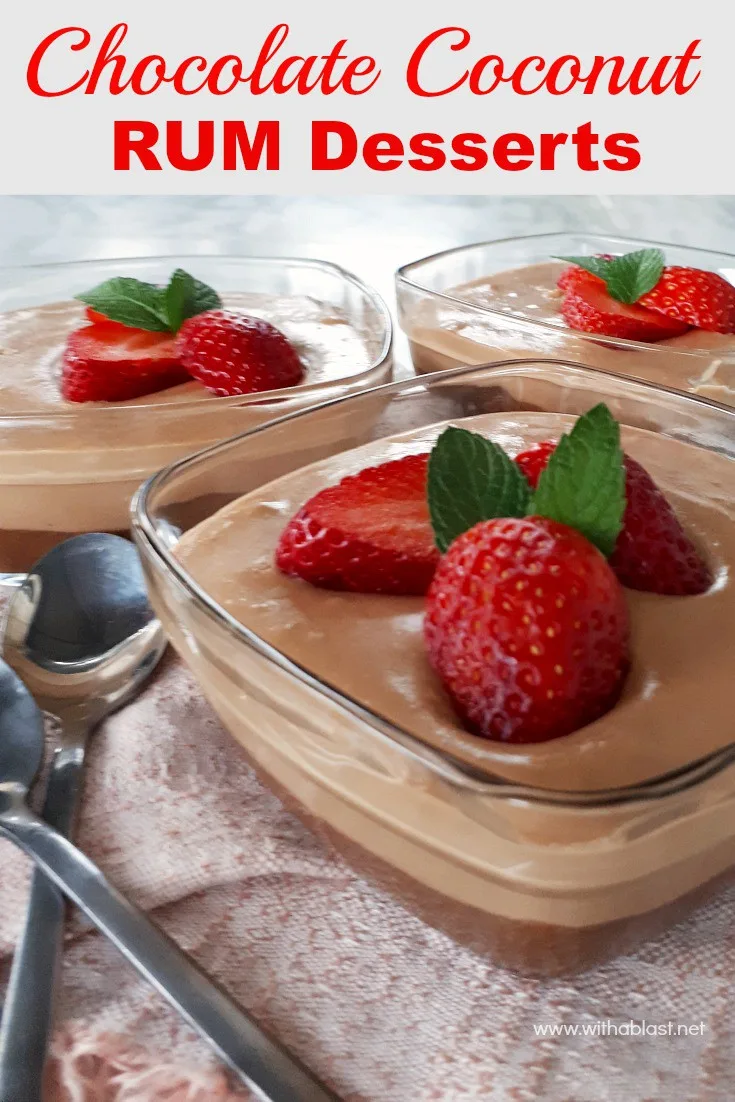 Therefore, whether you want to make it a day or even two in advance (covered in the refrigerator), or serve as a week night dessert, this recipe is for you.
More Chocolate recipes you might like:
Connect with us :
PINTEREST TWITTER FACEBOOK INSTAGRAM
Chocolate Coconut Rum Desserts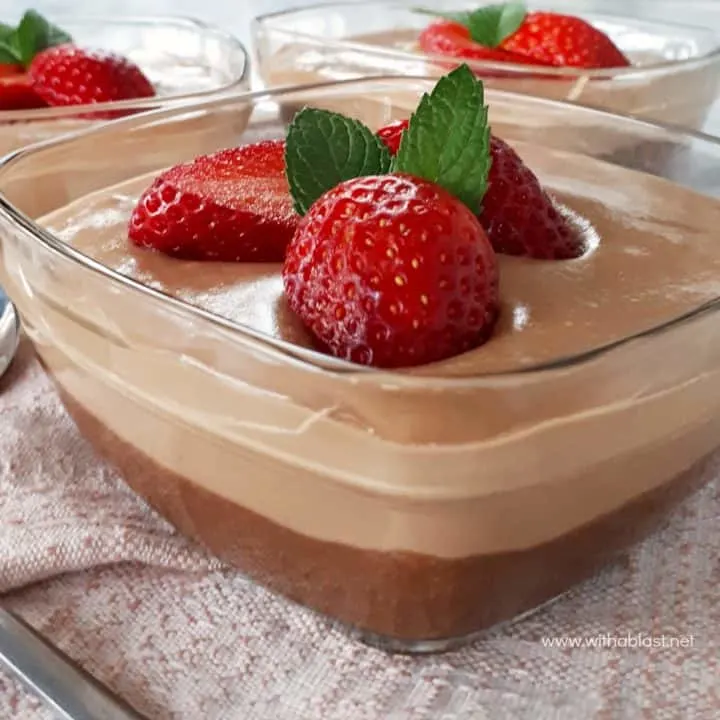 Chocolate Coconut Rum Desserts
Chocolate Coconut Rum Desserts have a slightly chewy bottom layer with a smooth, creamy top layer and a hint of Rum throughout the dessert
Ingredients
400 g Dark Chocolate, melted, good eating quality ( 16 oz )
3 TB Coconut Rum, or regular (optional – but recommended!)
1 cup Coconut Cream
1 cup Desiccated Coconut
2 Egg-Whites, stiffly beaten
1 cup Fresh Cream, beaten until stiff peaks form (double cream/whipping cream)
TO SERVE:
Fresh Berries, to decorate (optional)
Mint Leaves, to decorate (optional)
Instructions
Beat together the melted Dark Chocolate, Rum and Coconut Cream until smooth – divide the mixture in half

Add the Coconut to the one half, stir to combine – divide between serving bowls – place in the refrigerator

Meanwhile, fold in the Egg-Whites and whipped Cream to the remaining Chocolate mixture

As soon as the mixture in the serving bowls start to set (takes around 10 minutes to be firm enough) – spoon the Chocolate/Whipped Cream mixture over – chill at least 30 minutes

OPTIONAL:

Decorate with Fresh Berries and Mint leaves and serve
Notes
Nutrition value isn't always accurate
Nutrition Information
Yield

12
Serving Size

1/3 cup
Amount Per Serving
Calories

368.1
Total Fat

27.6g
Saturated Fat

20.3g
Unsaturated Fat

2.4g
Carbohydrates

24.7g
Fiber

1.9g
Sugar

21.9g
Protein

4.4g
LINDA