Decadent ! Mix and bake, so easy to make this Magic Chocolate Custard Cake
This Magic Chocolate Custard Cake is not only magic through the baking process, but pure magic to your taste buds as well !
I made the desserts (this and an Amarula Cake of which you can find the recipe HERE) yesterday as my sweet daughter had come over for Mother's Day to cook dinner for us
Absolutely decadent and if you have never tried a Magic cake recipe yet, you are missing out big time. I am always surprised how these cakes, or is it bars ? turn out – never fails
It really is a mix-n-bake recipe and voila ! turns out as you can see in the photos. The very bottom layer is a little chewy, and by that I mean really very little
The next layer is Custard, soft and slightly spongy, but almost melt-in-the-mouth. To top it off, a delicious crunchy cake layer.
I get 15 servings from the recipe, although no one ever only has one serving of this Magic Chocolate Custard Cake ! The slices are around 5 x 5cm (2 x 2 inches) when sliced, which is not too shabby, but let me repeat myself – ONE slice is not enough ? especially for chocolate lovers
You will also taste the Nutella, only a hint, but it is definitely there and to my reasoning Nutella is a winner in or on anything
A huge plus is that the Cake can be made ahead of time, a day or even two days, as long as it is kept in a sealed container in the refrigerator. Leave the slicing till just before serving, oh and the slicing is a breeze ! Perfect slices each and every time
Magic Chocolate Custard Cake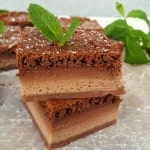 Magic Chocolate Custard Cake
Decadent ! Mix and bake, so easy to make this Magic Chocolate Custard Cake
Ingredients
4

Extra-Large

Eggs

room temperature, separated

1

t

Vanilla Essence

1 1/4

cup

Sugar

1/2

cup

Butter

melted

1/2

cup

Flour

1/4

t

Salt

1/2

cup

Cocoa Powder

2

TB

Nutella

2

cups

Milk

Icing Sugar

for dusting

Mint Leaves

to garnish (optional)
Instructions
Pre-heat the oven to 160 deg C ( 320 deg F ) – line a 20 x 30cm ( 13 x 9 inch ) baking pan with baking paper

Beat the Egg Whites until stiff – keep aside

Whisk the Egg Yolks, Vanilla and Sugar until creamy – add the melted Butter and whisk until combined

Sift together the Flour, Salt and Cocoa Powder – add to the Egg/Butter mixture and beat 1 – 2 minutes

Add the Nutella and beat until well mixed in

Gradually pour in the Milk and beat until smooth

Add the Egg Whites and gently mix through using a spatula – Pour mixture into the prepared pan and bake 1 hour – cool to room temperature and then refrigerate at least one hour or until set
Dust with Icing Sugar, garnish with Mint leaves, slice and serve – Leftovers to be stored in a sealed container in the refrigerator
LINDA