Thai Chicken Stir-Fry is so quick and easy to make for dinner on a busy week night ! Loaded with vegetables and with the distinct Thai taste this dish is always a winner.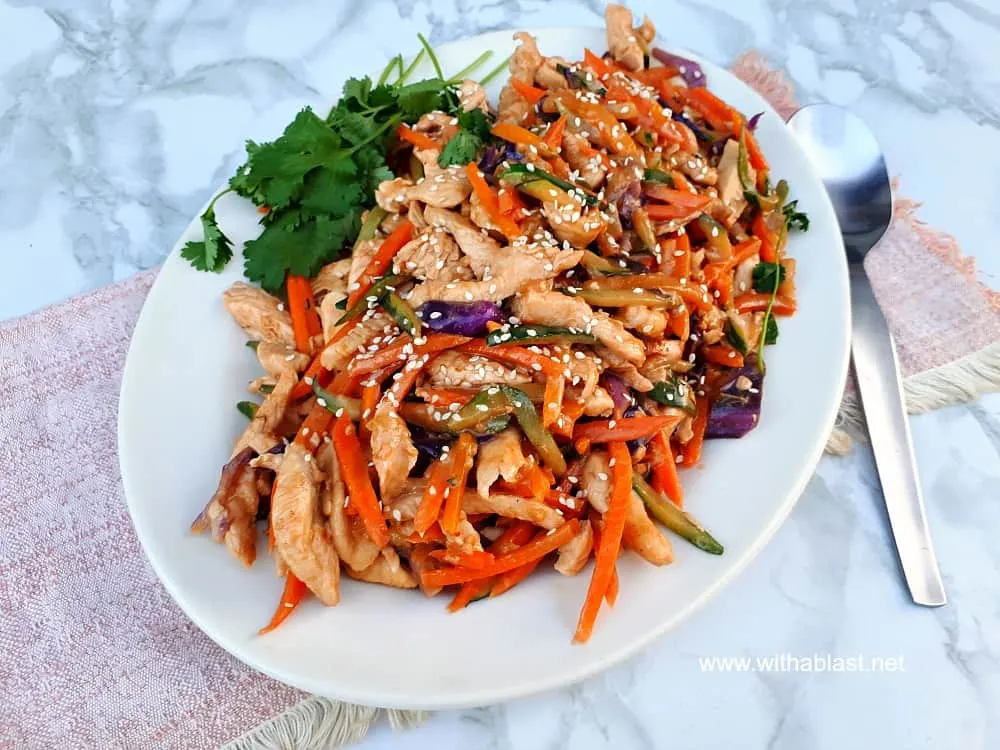 What's not to love about stir-fries ? They are quick, easy and loaded with vegetables !
This Thai Chicken Stir-Fry is on the table in 25 minutes. Perfect for a busy week night dinner.
I think after meat/chicken etc loaded salads, stir-fries are our most go-to dinner recipes. Hubby still needs to help me in the kitchen, and when is called out for a job, I never know (or usually don't!) what time he will be home.
Therefore, quick and easy recipes are the thing in our kitchen !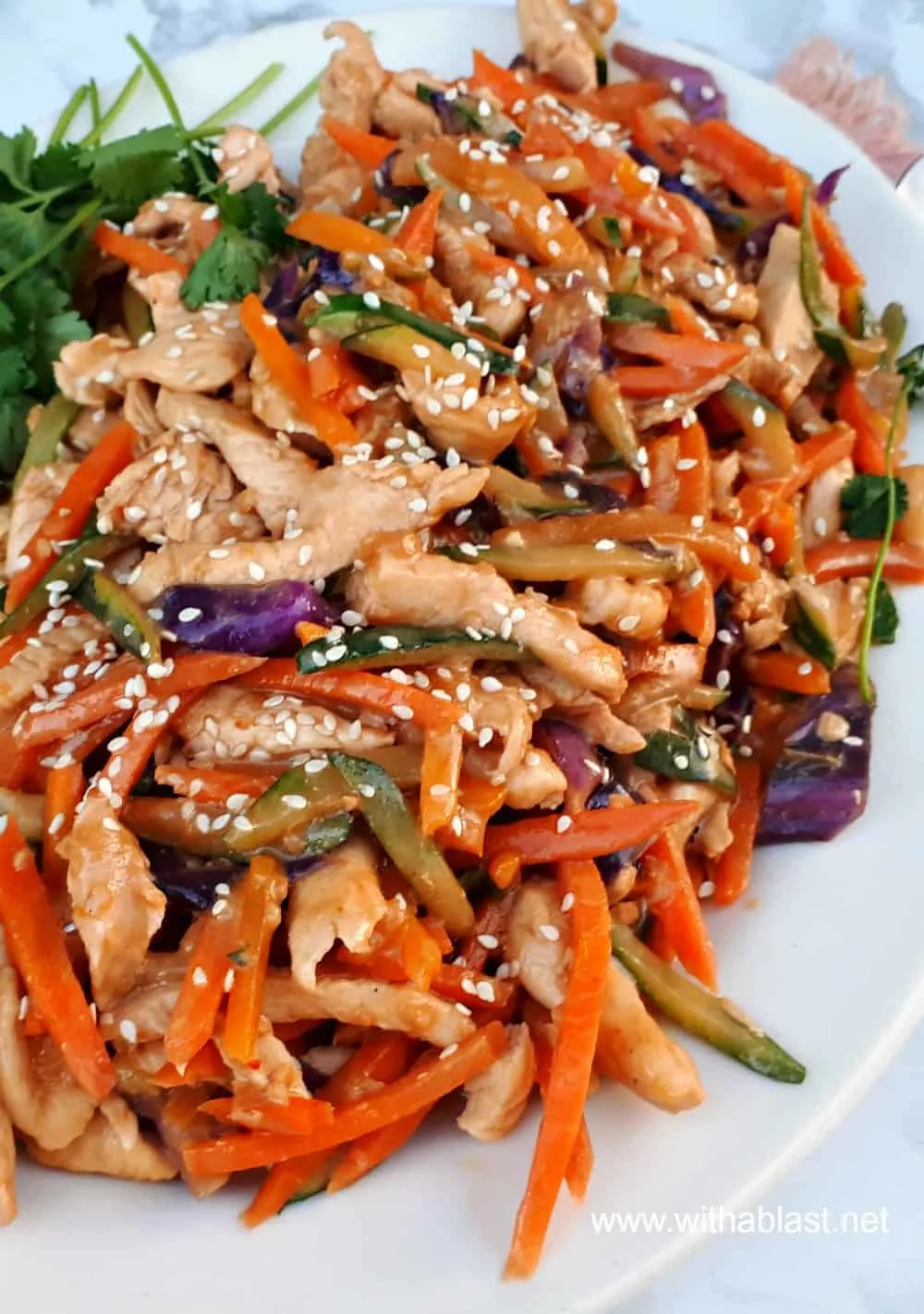 My son is also always on the go and as much as he tries, giving a time to be home for dinner is not always the case. Fortunately a stir-fry can stand a while.
Simply a matter of re-heating the dish. The pasta is another story, obviously. But also not a train smash, I stir through a little bit of extra virgin Olive Oil and keep the pasta covered.
A quick re-heat when he gets home and the Stir-Fry is just as delicious as when served immediately after cooking.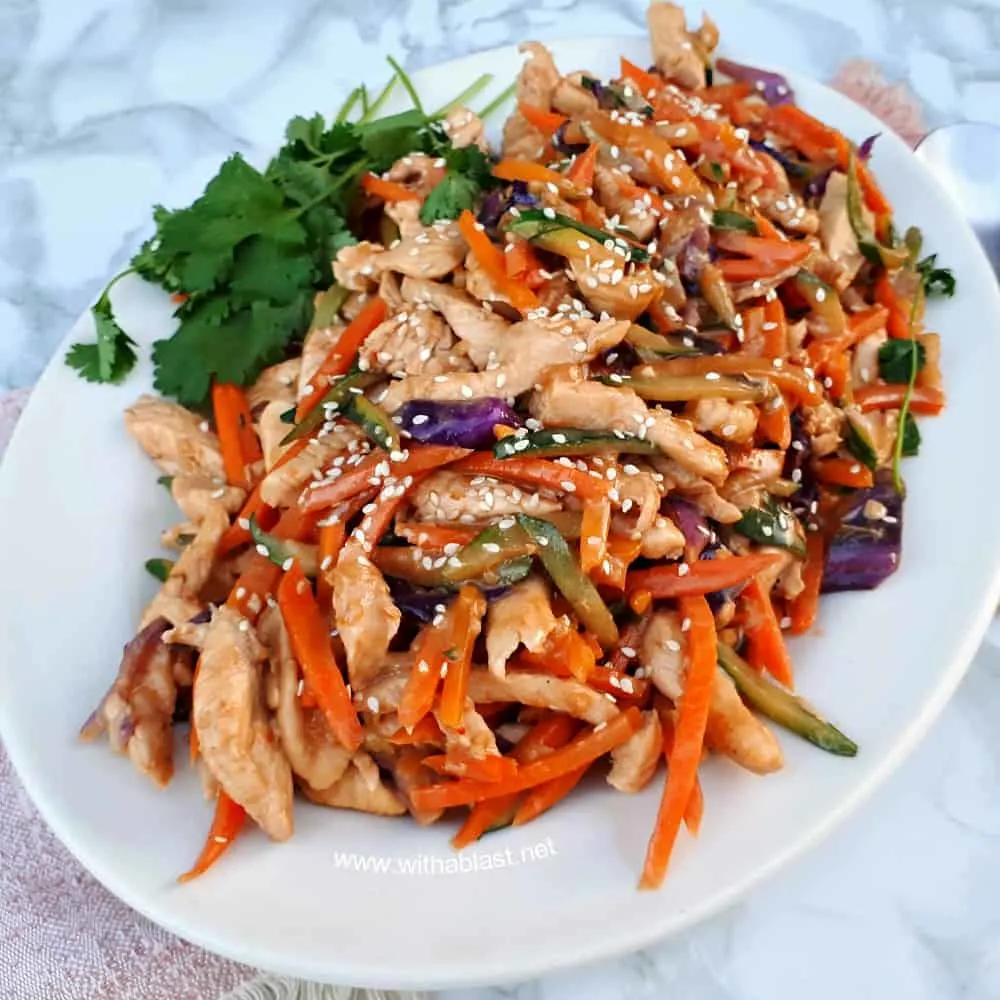 Can you use any vegetables in a stir-fry ?
Absolutely ! The only thing to keep in mind is to choose vegetables which will go well with your sauce. Most do in fact, so you do have a very wide variety to choose from. And that means, no two meals ever need be the same.
Does a stir-fry have to be saucy ?
Yes, and no. This is really a personal preference. You can always double a sauce recipe if you like a saucier stir-fry, or use as per the recipe. My own preference is that all the stir-fry ingredients need to be hugged in the sauce with a little bit left to drizzle over.
Do you have to use a wok ?
No, you don't. I prefer a wok, whether it be an electric wok or a stove top wok. However, for years I have used a standard, large and deep-ish, skillet to cook my stir-fries in. (Cast iron is the best !). As long as there is enough space to stir-fry your ingredients comfortably, it will be fine.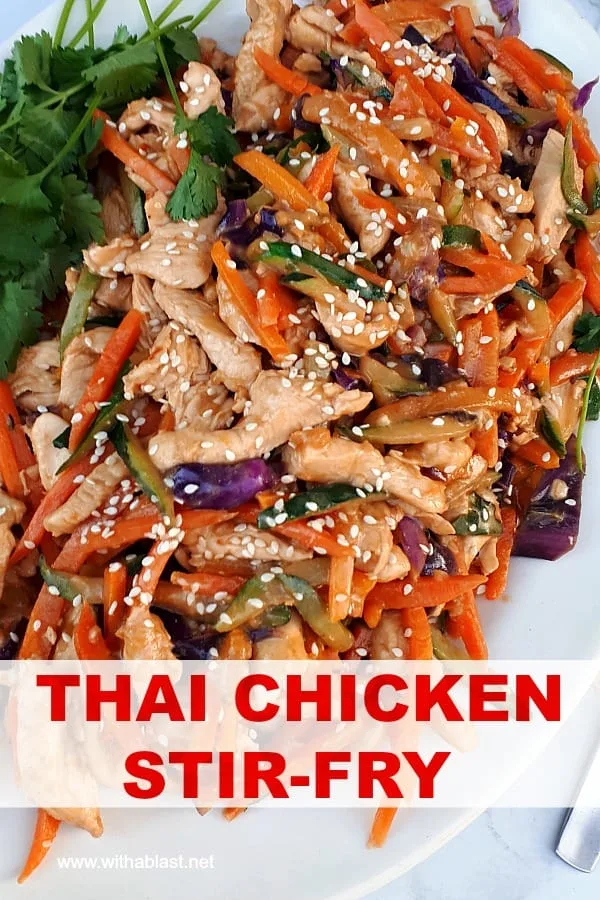 If you have never made a stir-fry, you are really missing out ! Start with this easy Thai Chicken Stir-Fry and you will be hooked, and will most definitely start to try out your own vegetable (and meat!) varieties too.
4 Servings/People indicate adult sized servings. The stir-fry is more than enough for up to 6 people – 2 adults and up to 4 younger kids.
A Stir-Fry is also very simple to double or even triple the ingredients. Have friends over during the warmer months ? Try out your barbecue's wok attachment! Cut out the pasta, and serve the stir-fry with one or two simple salads. Nothing too much, as you want the stir-fry to be the star dish, right ?
You might also like these Stir-Fry recipes :
Thai Chicken Stir-Fry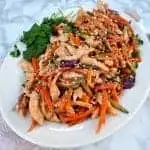 Thai Chicken Stir-Fry
Thai Chicken Stir-Fry is so quick and easy to make for dinner on a busy week night ! Loaded with vegetables and with the distinct Thai taste this dish is always a winner.
Ingredients
SAUCE:
2 TB Butter, softened
2 t Fresh Ginger, finely grated
2 t Fresh Garlic, crushed
2 TB Soy Sauce
2 TB Sweet Chili Sauce, ( homemade or store-bought )
2 TB Smooth Peanut Butter
1 TB Lime Juice, freshly squeezed
2/3 cup Coconut Cream
STIR-FRY:
3 TB Peanut Oil, divided, ( or Sesame Oil )
450 g Chicken Fillets, cut into strips ( = 1 pound - boneless, skinless breast )
300 g Stir-Fry Vegetables, julienned ( 10 oz ) see note below
TO SERVE:
Sesame Seeds, to sprinkle over ( optional )
sprigs Fresh Cilantro, ( optional )
Instructions
SAUCE:
Combine all the Sauce ingredients and whisk until smooth - keep aside
STIR-FRY:
Heat 2 tablespoons Oil in a wok or large skillet over high heat - add the Chicken strips and stir-fry until done and just turning brown - pour over half of the Sauce and cook one more minute - remove from wok / skillet and keep aside
Use the remaining Oil in the wok / skillet and stir-fry the Vegetables 3-4 minutes - add the remaining Sauce and cook another minute
Add back the cooked Chicken and heat through
TO SERVE:
Sprinkle over the Sesame seeds and garnish with fresh Coriander sprigs (optional) - Serve !
Notes
Stir-Fry vegetables I prefer in this recipe :
Carrots
Zucchini
Purple Cabbage
You can use just about any variety of vegetables which will go well with the Thai Sauce
Recommended Products
As an Amazon Associate and member of other affiliate programs, I earn from qualifying purchases.
Nutrition Information
Yield

4
Amount Per Serving
Calories

463.9
Total Fat

30.6g
Saturated Fat

7.6g
Unsaturated Fat

23g
Cholesterol

80.5mg
Sodium

1063.9mg
Carbohydrates

18.3g
Fiber

4.3g
Sugar

9.9g
Protein

31.7g
Serve over noodles or pasta of your choice.
LINDA
Linking up at: WEEKEND POTLUCK – The Country Cook