Mountain Meatballs are giant, stuffed with Cheddar Cheese meatballs, nestled in a rich, tasty sauce make the most delicious comfort dinner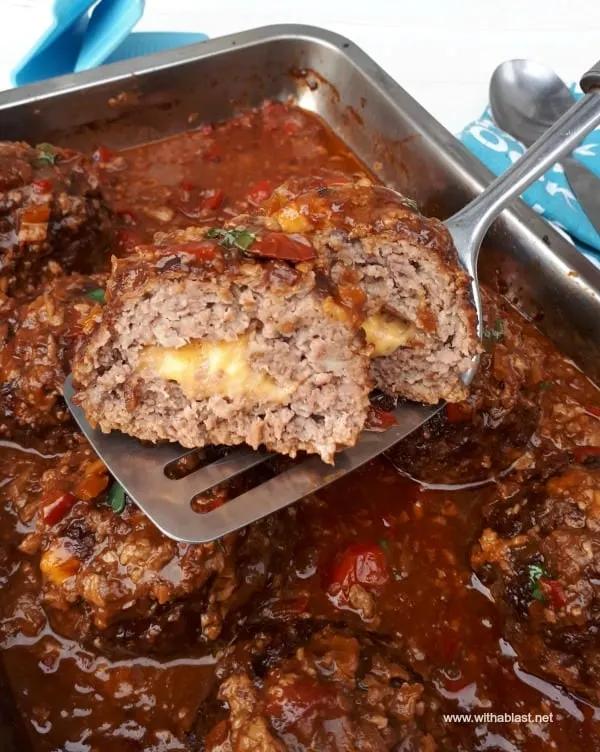 These Mountain Meatballs are the perfect comfort food, especially when accompanied with mashed potatoes (or rice) and a vegetable or two on the side.

We are a meatball loving family and I am yet to find a recipe which my family does not like. I have never bought frozen meatballs and honestly do not even know whether it is still available in our stores.
Many years ago, when we just got married, I remember seeing them in a freezer in one or two of our supermarkets.
Homemade is best !
But, same as with hamburger patties, I like to make my own from scratch.
Now and then I will buy a packet or two of freshly made patties from our local butchery, as I know they only sell quality products.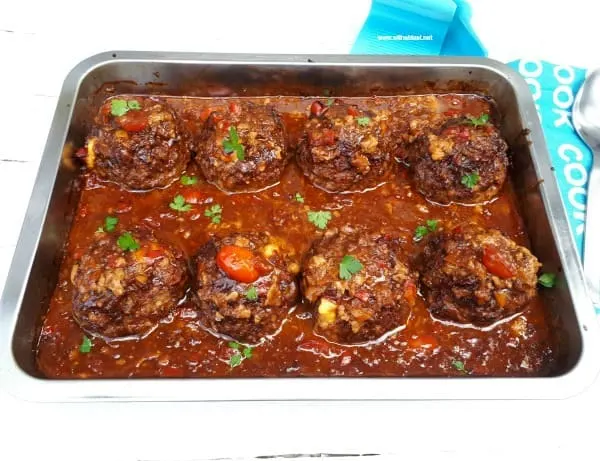 Most meatballs can also be rolled into smaller balls and once cooked stick them on an appetizer stick or toothpick and you have an appetizer or an addition to your savory platter which is always great to serve when you have friends over.
Many of the sauces in which these meatballs were cooked can be served alongside the small meatballs as a dip.
A bit more work in rolling the meatballs smaller for appetizers or snacks, but so worth it. They are always the first to go !
Don't go small here !
However, these Mountain Meatballs will not fare very well with the cheese filling in such small rolled balls, as the cheese would only leak out.
There is of course nothing that prevents you from making the meatballs for appetizers, but leaving out the cheese.
The sauce is also a little too chunky (which is absolutely delightful if served for dinner as per the recipe!). But a quick blitz in the blender will have you sorted out quickly.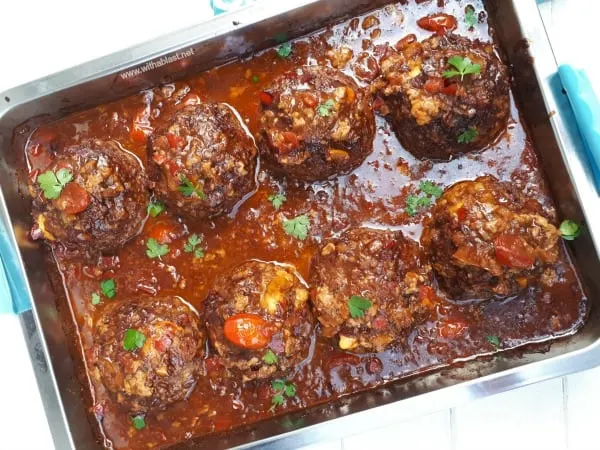 Years ago when I had to stop my full time job due to health reasons. I suddenly found myself at home all by myself, not having a lot to keep my mind busy.
This was now in the mornings and most afternoons, as the kids were still in primary school when I left my job and they always had sport practice after school.
Favorite TV Cooking Shows
I began to watch cooking shows on television. Even though there were so many shows to choose from, and most chefs making the most delicious dishes, my favorite show was the Jamie Oliver cooking show.
Isn't he just the funniest guy ?! And then of course I also loved watching the South-African, Justin Bonello who is such a fun person, always cooking up a storm for his friends !
Nowadays, things have changed so much. I do not watch television anymore, only movies and series' on Netflix and Showmax.
I get the News via my reader and as for the cooking shows I used to watch, I now follow their blogs.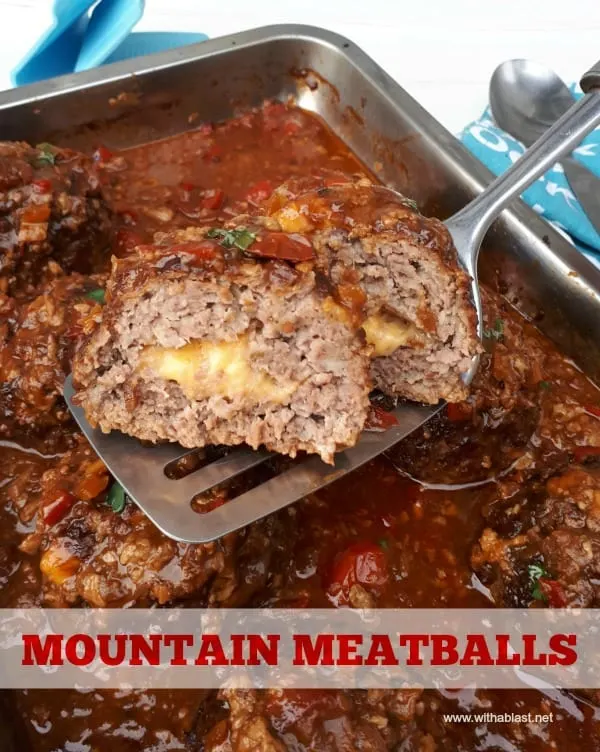 I pinned this recipe for Mountain Meatballs from Jamie Oliver's site quite a while ago already. But just did not seem to have the time to make them until recently. You can find his original recipe post here.
Do jump on over, especially if you are not familiar with his recipes, or I should say, his cooking instructions ! I always enjoy the way he describes what he makes and the how is even better !
At first glance I thought this is a long and complicated recipe. Which might be why I subconsciously kept skipping over it. It is not complicated and it definitely does not take long to make !
Do not let the ingredients list scare you off as it did me for a while !
All the ingredients for the Mountain Meatballs are everyday pantry stock, and it will only take you a bit over an hour to have dinner on the table.
I made very few changes to Jamie Oliver's original recipe. Definitely not anything major which has an impact on the taste or texture.
One thing I do like to highlight is, when chopping the ingredients for the Meatballs itself, chop everything as finely as you can.
I use my mixer to chop the Onion superfine, as it is usually these that make Meatballs come apart when cooking them.
The sauce however is another story. Here I like to chop all the vegetable ingredients (except the Tomatoes) finely, but not superfine as we like a bit of a chunky sauce.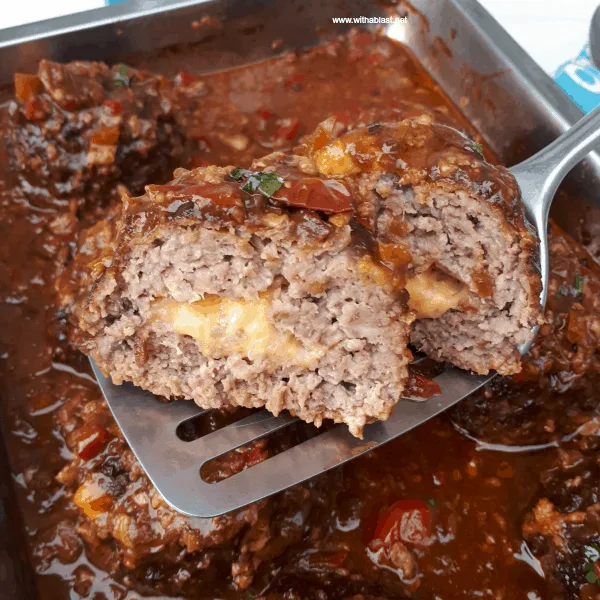 Once I have the Meatballs in the oven, I start on the sauce which is done long before the Meatballs are cooked.
And just before I remove the Meatballs from the oven, I quickly heat through the sauce again. Pour over the Meatballs and back into the oven for about 5 minutes.
These are huge Meatballs, I myself could only finish one. My hubby and son almost finished two ( they did finish them a little later though! ).
And we still had a couple leftover! Which my son took to work for lunch. Therefore, keep in mind how many servings you need, and whether the leftovers will be used.
More Meatball recipes you might like:
Mountain Meatballs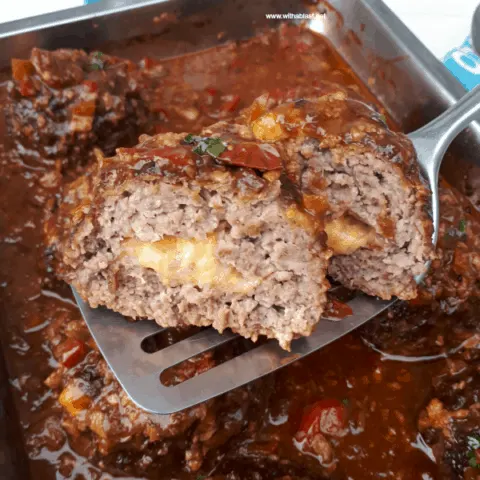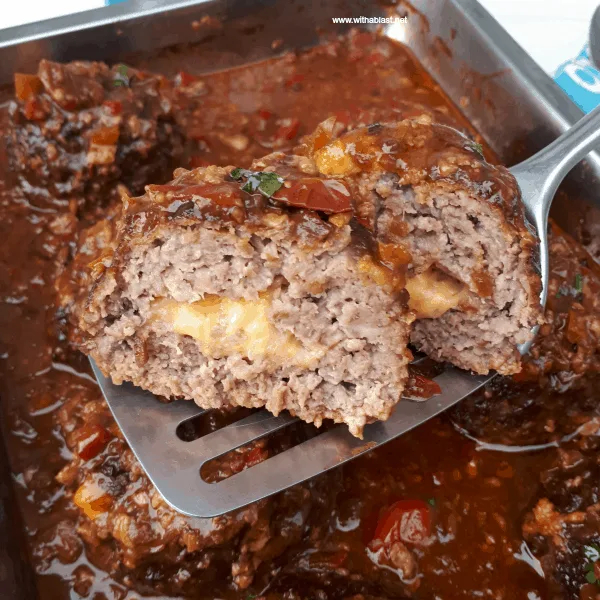 Mountain Meatballs
Total Time:
1 hour
15 minutes
Mountain Meatballs are giant, stuffed with Cheddar Cheese meatballs, nestled in a rich, tasty sauce make the most delicious comfort dinner
Ingredients
MEATBALLS:
2 t Olive Oil
2 Red Onions finely chopped
1.3 kg Lean Ground Beef ( 3 pounds )
1 t Dijon Mustard
1 t Dried Oregano
1/4 t Ground Cumin
1 t Coriander Seeds crushed
2 cups Breadcrumbs fresh
3 Eggs large
Salt and Black Pepper to taste
2/3 cup Cheddar Cheese grated
SAUCE:
1 TB Olive Oil
1 Red Onion finely chopped
1 Red Bell Pepper chopped
1 Yellow Bell Pepper chopped
2 TB Fresh Garlic crushed
2 Red Chilies de-seeded and finely chopped
1/2 t Paprika
1/3 cup Tomato Sauce (Ketch-Up)
1/3 cup Worcestershire Sauce
1/3 cup Cider Vinegar
1/3 cup Molasses
2 TB Dijon Mustard
1.5 cups Coffee hot, strong
1 cup Cherry Tomatoes halved
1 TB Parsley chopped
Instructions
Pre-heat the oven to 240 deg C ( 460 deg F ) – spray a large roasting dish with cooking oil
Meatballs: Heat the Oil in a large skillet – saute the Red Onion until soft – remove from skillet and leave to cool completely
Place the Ground Beef, Mustard, Oregano, Cumin, Coriander seeds, Breadcrumbs and the Eggs in a large mixing bowl – add the cooled Onion – season to taste with Salt and Black Pepper and mix thoroughly
Divide the Meatball mixture in eight equal portions – roll into balls (the balls will be slightly bigger than a Tennis ball) – make and indentation in each Meatball – divide the Cheese in eight and press into the indentations – press the Meatballs to close securely
Arrange the Meatballs in the prepared roasting dish – bake 30 – 45 minutes or until golden – remove from the oven
Sauce: Meanwhile, using the same skillet – heat the Oil for the sauce – saute the Onion, both Bell Peppers, Garlic, Chili and Paprika until soft stir in the Tomato Sauce, Worcestershire Sauce, Cider Vinegar, Molasses, Mustard, Coffee and Tomatoes – reduce heat to medium low and simmer until the sauce has thickened ( about 20 minutes )
Spoon away most of the fat in the Meatball roasting pan – pour over the Sauce and return to the oven for 5 minutes or until heated through
Remove from the oven – sprinkle with Parsley and serve
Nutrition Information
Yield

8
Amount Per Serving
Calories

680.8
Total Fat

42g
Saturated Fat

16.5g
Unsaturated Fat

20.5g
Carbohydrates

37.5g
Sugar

19.2g
Protein

36.7g
Best served over mashed potatoes, rice or even pasta with a side dish ( vegetable or salad ) or two.
LINDA
Linking up at: WEEKEND POTLUCK – Sweet Little Bluebird
Don't forget to PIN !