Spicy Beef Hash is the perfect, hearty breakfast on a chilly morning and can be served for dinner as well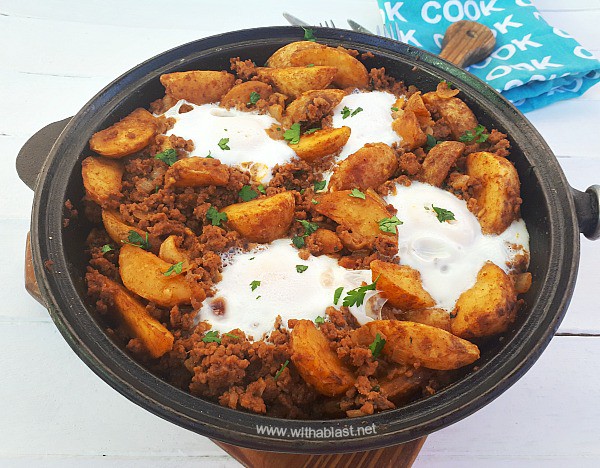 This Spicy Beef Hash will not only warm you on a chilly morning, but is hearty enough to keep you going until lunch time. Some fresh fruit, a yogurt and a glass of freshly squeezed Orange Juice on the side, and your breakfast / brunch is sorted.

I would be lying if I told you we enjoy this spicy dish for breakfast. We just are not breakfast people, or rather early morning eaters.
But brunch on the other hand is what keeps us going. Week days, but especially over weekends !
I am home all day and my hubby is fortunate enough to keep his own working hours, therefore we will have our first meal around 9 am or even 10 am during the week.
Weekends differ so much, our brunch is mostly eaten around noon, or just before, usually depending on who is home to join us.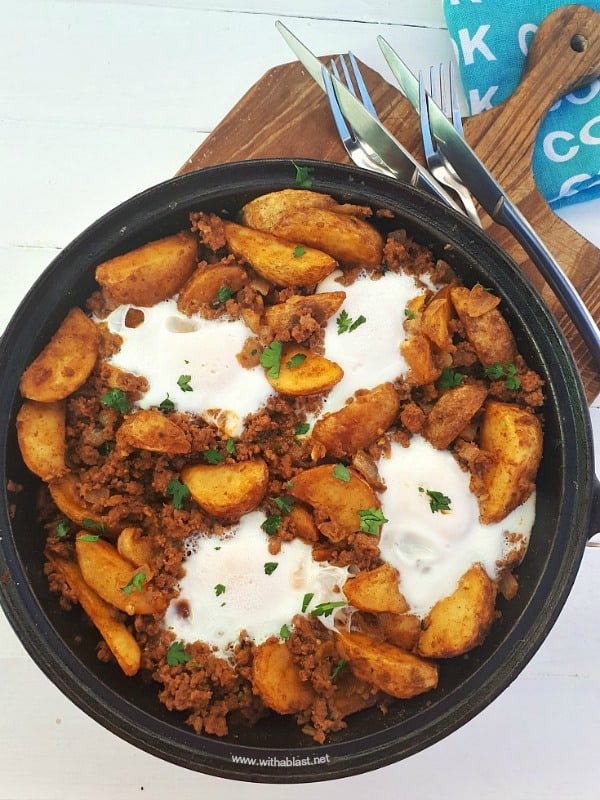 The spices in this spicy Beef hash work so well together. I would not say I am a huge fan of curry, but I do enjoy a good curry every now and then.
The curry used in this recipe is very little, just enough to add that bit of additional flavor you can only get from curry powder. I only use a medium strength curry, but I know a lot of people who would prefer the hottest type available.
Personal preference again ! Use stronger if you so choose, or even milder, but try not to omit the curry as it is really a great flavor addition.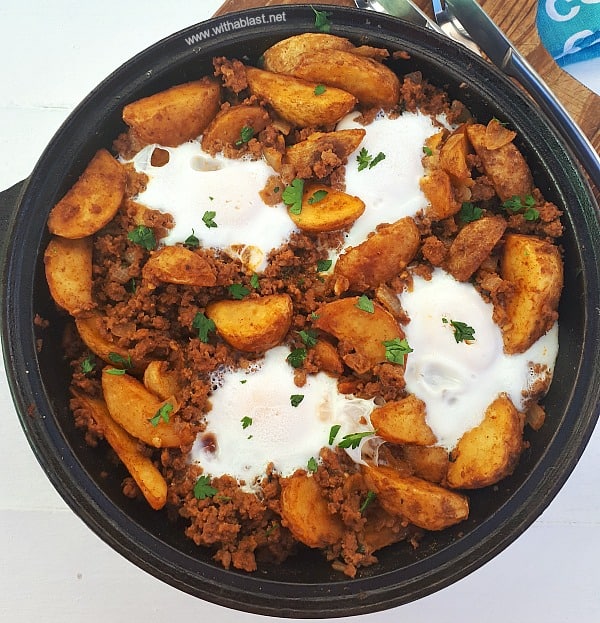 I always keep a couple of bags of frozen Potato Wedges in the freezer as they are so versatile and are bake straight from the bag. No defrosting – time saver !
Normally Potato Wedges would be our side, instead of fries, to burgers, hot dogs and even a cooked dinner.
The Wedges I buy and use, are already spiced, therefore if you are using plain Potato Wedges, add Salt and Pepper when baking.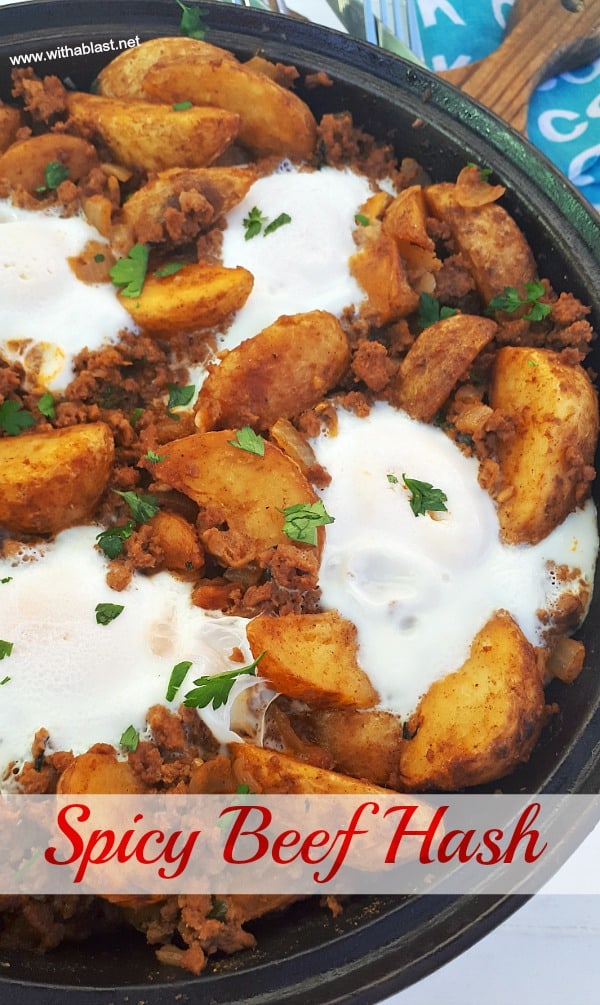 There is naturally nothing stopping you from using fresh Potatoes, cut into Wedges. It might only take a little longer to cook, depending on how you prefer to cook them.
Which reminds me, I have been wanting to buy an Airfryer for some time now. I am hearing great stuff about them, most of all the health benefit of a fried dish, in this case Potatoes, but without the Oil. And I believe the Airfryers are quite fast in cooking food.
Right one of these days, I will be back sharing an Airfryer, or three, recipe ! Any brand recomendations ?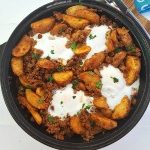 Spicy Beef Hash
Spicy Beef Hash is the perfect, hearty breakfast on a chilly morning and can be served for dinner as well
Ingredients
450

g

Frozen Potato Wedges

( 1 pound )

1

TB

Olive Oil

1

Onion

chopped

4

t

Fresh Garlic

crushed

450

g

Lean Ground Beef

( 1 pound )

1

TB

Tomato Paste

1

TB

Curry Powder

1

t

Ground Cumin

1

t

Ground Coriander

2

t

Paprika

1

cup

Water

1/4

cup

Parsley

chopped

Salt and Pepper

to taste

4

Eggs
Instructions
Bake the Potato Wedges as per the instructions.

Meanwhile, heat the Olive Oil in a large skillet – saute the Onion and Garlic until soft – add the Ground Beef and cook until done.

Add the Tomato Paste, Curry, Cumin, Coriander and Paprika – stir through and fry 1 minute.

Add the Water and simmer 20 – 25 minutes.

Stir through the Parsley (keep 1 teaspoonful aside) and season to taste with Salt and Pepper.

Add the cooked Potato Wedges and gently stir through – make 4 holes and break open an Egg into each – cover and simmer until Eggs are done to your preference.
Sprinkle over the remaining Parsley and serve immediately.
LINDA