Rich Tomato based Soup with Mozzarella stuffed Meatballs make a hearty, warming dinner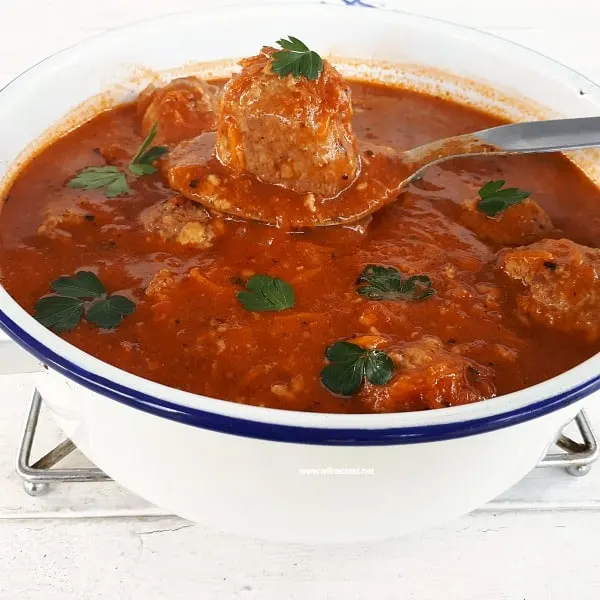 Some days I think I have the weather figured out perfectly. But, whether you believe the weather man or not, a typical Spring week does not always mean great weather !
Then it is time for a hearty, comforting bowl of this Mozzarella Stuffed Meatball Soup.
For a couple of weeks the weather was around 25 – 30 degrees Celsius ( mid 70 – mid 80 degrees Fahrenheit ) every single day.
Suddenly, and I do mean overnight, the temperatures dropped to under 18 degrees Celsius ( 65 degrees Fahrenheit ) ! And lots of thunderstorms, rain and golf ball sized hail.
Thunderstorms, rain and hail is common during Spring in Gauteng, especially on the East Rand, but not really cold weather.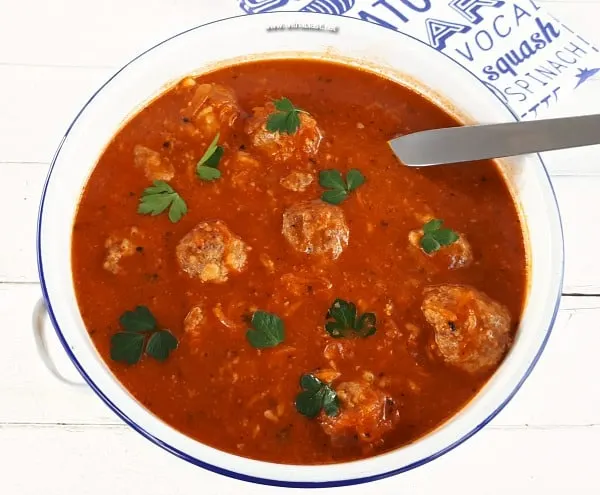 Fortunately I was planning on making meatballs, over pasta, but at the last minute decided to make a Soup instead.
The Soup is rich, thick, so tomato-ey and very filling with the stuffed Meatballs. Three Meatballs per adult served with a generous scoop of Soup is more than enough for each of us.
Actually, I only managed to finish two Meatballs and the Soup itself, but the rest of the family just about licked clean their bowls !
Only two of the Meatballs did not want to play a fair game with the Mozzarella leaking out a bit — I know, it is not the Meatball, but the person rolling, stuffing the Meatball. Two out of eighteen ? Not bad at all, I'd say.
But do make sure the Meatballs are sealed nicely once the Mozzarella is stuffed in the center.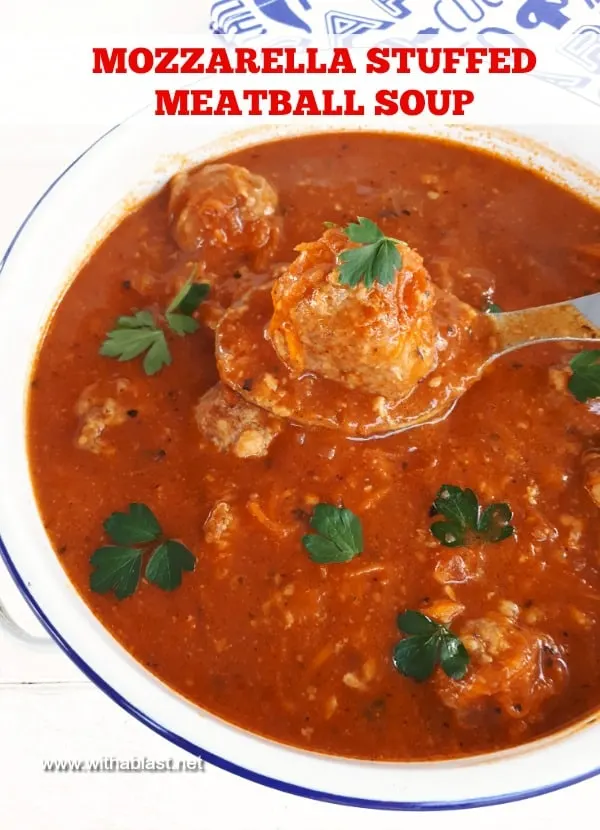 The grated Carrots not only adds additional nutrition, but gives the Soup a delicious, thick texture as well. If you prefer a thinnish soup, add more Beef Stock until you are happy.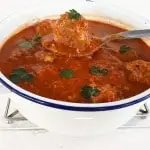 Mozzarella Stuffed Meatball Soup
Rich Tomato based Soup with Mozzarella stuffed Meatballs make a hearty, warming dinner
Ingredients
450

g

Lean Ground Beef

( 1 pound )

3/4

cup

Fresh Breadcrumbs

1/2

cup

Parmesan Cheese

finely grated

1/2

cup

Water

1

Extra-Large

Egg

lightly beaten

2

t

Garlic Powder

1

t

Salt

Black Pepper

to taste

180

g

Mozzarella Cheese

( 6.5 oz ) cubed into 18 equal pieces

1.5

cups

Pasta Sauce

any Tomato based (Homemade or store-bought)

1.5

cups

Beef Stock

(KNORR Stock Pots are my favorite to use)

1

cup

Carrots

finely grated

Fresh Parsley

chopped
Instructions
Pre-heat the oven to 180 deg C ( 350 deg F ) – spray a baking sheet/tray with cooking oil.

Combine the Beef, Breadcrumbs, Parmesan, Water, Egg, Garlic Powder, Salt and Pepper in a mixing bowl – form 18 equal sized meatballs.

Make an indentation in each meatball and press in a Mozzarella cube – pinch close the meatball, making sure all sides are closed.

Arrange the stuffed Meatballs on the prepared baking sheet/tray and bake 20- 25 minutes.

Meanwhile, bring the Pasta Sauce, Beef Stock and Carrots to a boil – reduce heat and simmer 10 minutes.

Add the partially cooked meatballs to the sauce – simmer another 15 – 20 minutes, stirring regularly, until the meatballs are fully cooked – transfer to a serving bowl and sprinkle over the Parsley.
Serve with crusty bread.
LINDA
Linking up at: WEEKEND POTLUCK – Sweet Little Bluebird
You might also like :