Fall Chicken And Apple Salad is a filling, fruity salad, packed with fruit and perfect to serve as a light dinner or lunch – ready in 15 minutes !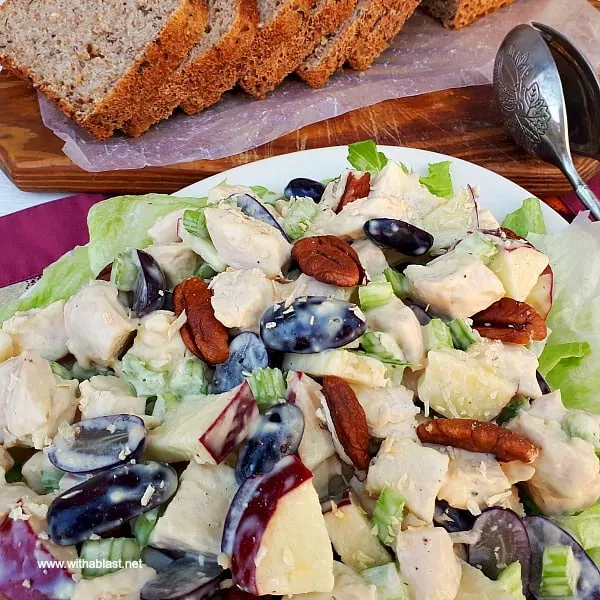 It is almost weekend ! And if you are not entertaining, or going out to dinner, a cookout or something along that line, you most likely just want to be home, relaxing. Anyhow, that is how it works in our household.
Making this Fall Chicken and Apple Salad is perfect to serve for lunch on a Saturday or a light dinner, depending on what your weather is up to this weekend.
This recipe is also perfect to use up any leftover cooked Chicken, or buy a Rotisserie Chicken. I normally buy a few Chicken fillets, cook them in advance and cool until I need it.
Half the world is enjoying Spring right now. Whereas the other half has just entered Fall (Autumn). And no matter the name, or whether you are in Spring mode or Fall, this is the perfect salad to enjoy.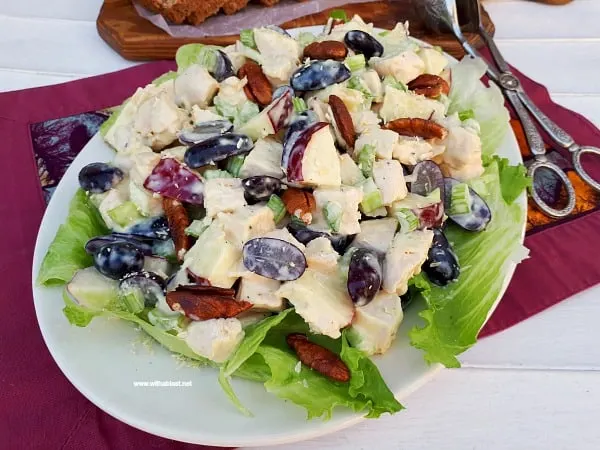 We had a couple of weeks where I thought we must have skipped Spring and have jumped straight into Summer, until a few days ago.
In SA we get Spring rains, which brings cooler evenings, not chilly cold, but somewhere in between, as is the same with Fall in most parts of the world.
I have mentioned before that our family can really survive on salads alone, throughout the year, bar the two weeks we have of really cold weather in Winter.
What to serve with a Chicken and Apple salad ?
This Chicken and Apple Salad is definitely to be served as the main meal, with maybe one more salad, like a Carrot Salad or Coleslaw and most definitely wholewheat bread.
Rye bread is another favorite, but my personal choice is a dense, seeded wholewheat bread.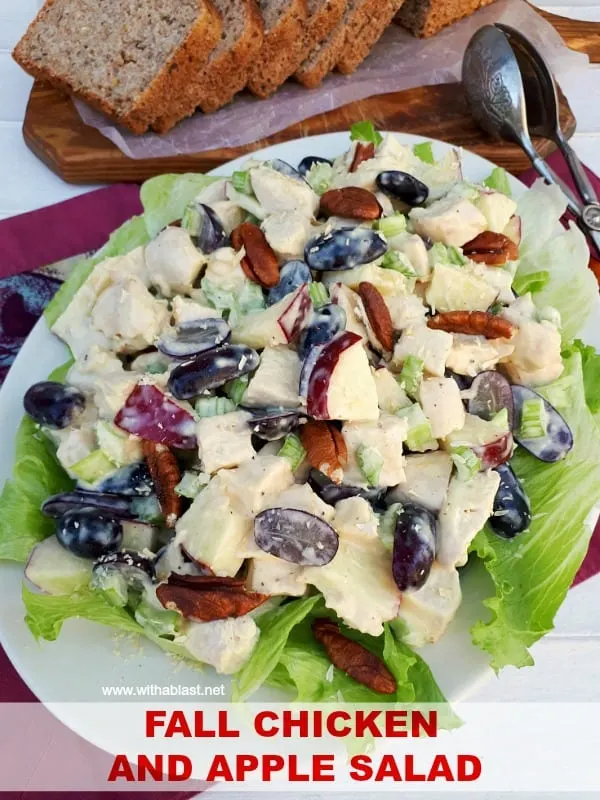 The salad is also a delicious filling for wraps, pitas or in a wholewheat roll. Salad and wholewheat breads or rolls just work great together.
Once you have your cooked Chicken cubed, you only need a couple of minutes to get this salad ready and on the table.
The salad keeps well in a sealed container for 2 – 3 days which is great if you want to make it in advance or have any leftovers (lunchbox idea !).
But if making the salad in advance, leave the Lettuce until you are ready so serve. Leftovers – spoon the Chicken filling into a sealed container, but discard the Lettuce as it will go all soggy.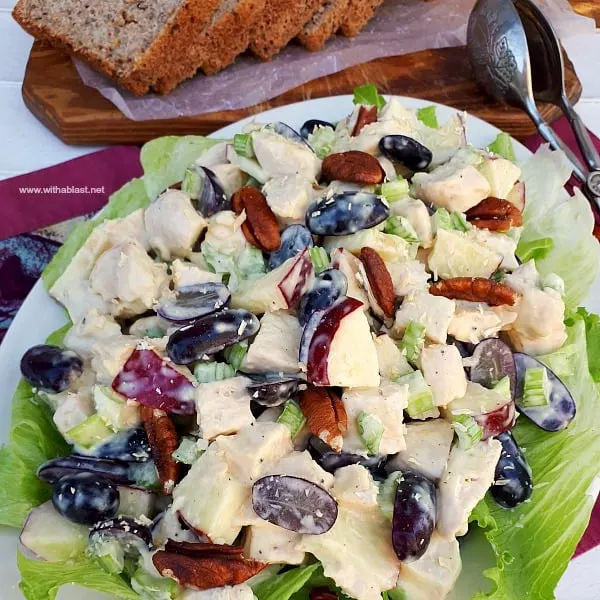 The recipe is more than enough for four adults, or two adults and four small kids. Speaking of kids, they absolutely love this fruity salad and do not even seem bothered with the Celery bits, as some kids do not like Celery.
I think they are too overjoyed at all the Apple and Grapes in the salad to even realize there are anything else added to the salad.
When I make this salad as a light dinner for us, I up the recipe by a half, meaning I am making one and a half of the recipe (all ingredients are easy to double or even triple), as I love having a plateful the next day for lunch.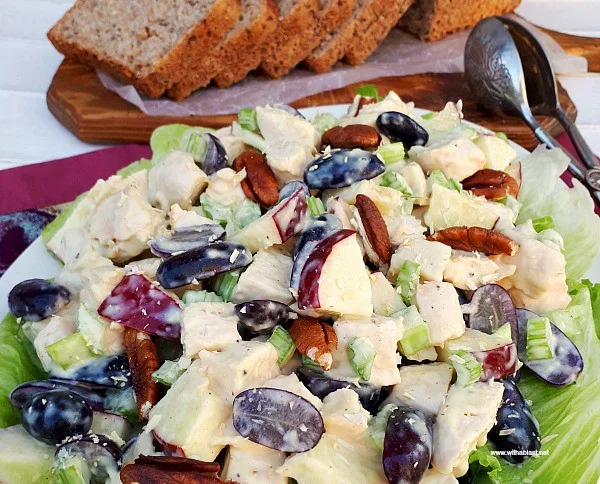 More Chicken Salad recipes !
and another Apple Salad !
Fall Chicken and Apple Salad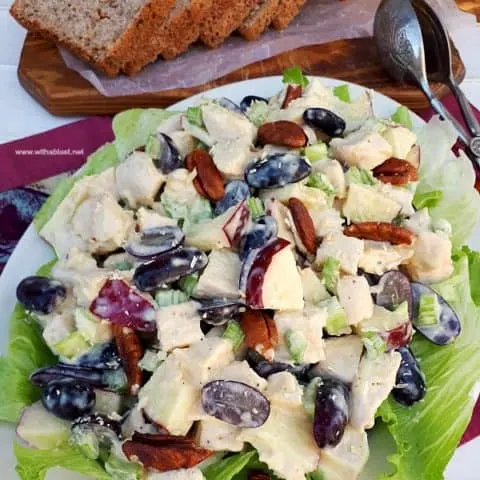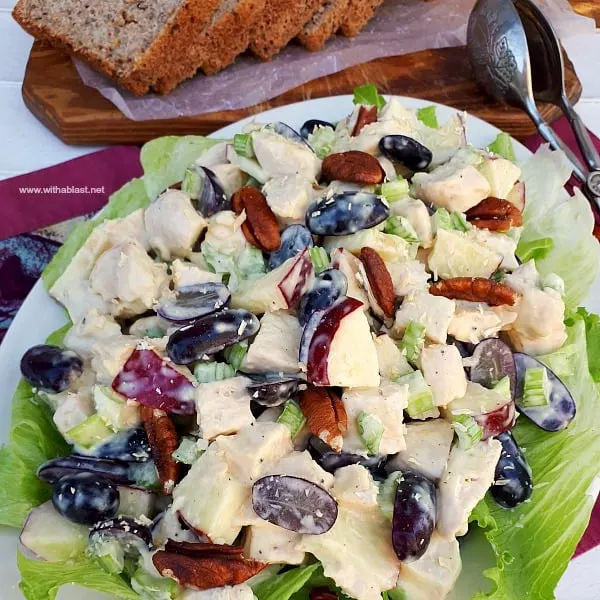 Fall Chicken And Apple Salad
Fall Chicken And Apple Salad is a filling, fruity salad, packed with fruit and perfect to serve as a light dinner or lunch
Ingredients
3 cups Chicken, cooked, cubed
1 cup Red Grapes, seedless, halved
1 cup Celery Stalks, chopped
1 Red Apple, cored, chopped
1/4 cup Mayonnaise
1 TB Dijon Mustard
2 t Honey
Salt and Black Pepper, to taste
1/2 Lettuce, leaves torn smaller
1 t Dried Onion Flakes, slightly crushed
1/2 cup Pecan Nuts
Instructions
Toss together the Chicken, Grapes, Celery and Apples in a medium mixing bowl
Combine the Mayonnaise, Mustard and Honey – season to taste with Salt and Pepper – pour over Chicken mixture and stir through
Arrange the Lettuce on a serving plate – spoon the Chicken Salad over – sprinkle over the Dried Onion Flakes and Pecan Nuts
Nutrition Information
Yield

4
Amount Per Serving
Calories

473.6
Total Fat

24.6g
Saturated Fat

3.6g
Unsaturated Fat

11g
Carbohydrates

20.2g
Fiber

3.9g
Sugar

16.3g
Protein

42.6g
Chill until ready to serve. Seeded Wholewheat bread is most delicious with this salad !
LINDA
Remember to PIN !