Creamy Ranch Cauliflower, Mushroom and Ham Bake is the perfect comfort dinner, or can be served without the Ham as a side dish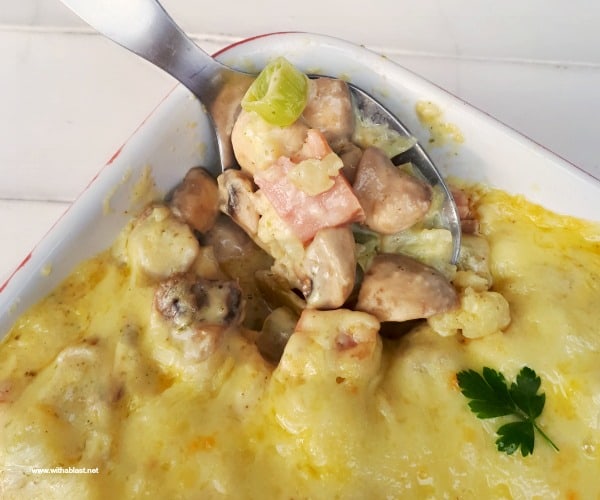 I buy my fresh produce on a weekly base from one of our most popular supermarkets, who specializes in especially fresh fruit, vegetables and herbs and by the end of last week I had some Cauliflower and Mushrooms leftover to use up before we went shopping for fresh produce again.
I had just made a fresh batch of dry Ranch mix as well and that is how this creamy Ranch Cauliflower, Mushroom and Ham dinner came to life !
Ranch mix is one of my most favorite herb mixtures and I love using the Dry mix in casseroles, and the saucier and cheesier the casserole, the better.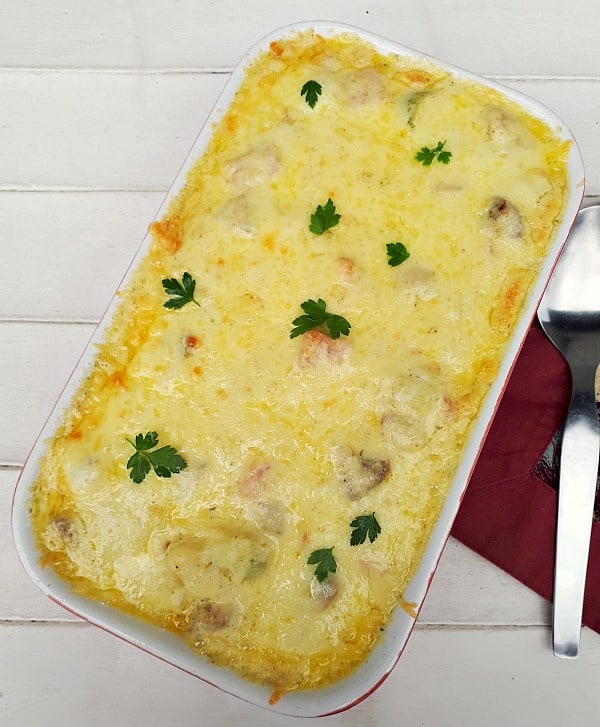 During the warmer seasons I combine the dry Ranch mix with (usually) buttermilk for a delicious dressing over salads.
My first choice was to add Chicken to the Cauliflower and Mushrooms, but I had some Deli meat on hand and decided to go with the Ham option.
We seriously could not stop eating until the casserole was all finished ! I served a crunchy green salad on the side as well as dinner rolls, which made this a very filling dinner.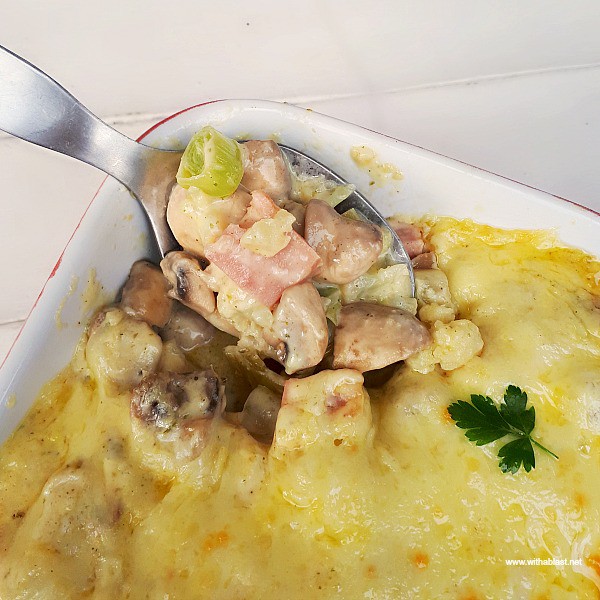 When I switched on the oven, I dumped the Cauliflower florets into a saucepan and got that cooking.
Whilst the Cauliflower was boiling, I sauteed the Mushrooms and Leeks and by the time the vegetables were cooked and drained, the sauce made, the oven temperature was also ready for the casserole.
All the ingredients bake into a wonderful flavor combination, which all compliments each other. The Vegetables and Ham enveloped in the creamiest, most delicious sauce, all topped with a gooey White Cheddar cheese layer.
The sauce also gets a good helping of cheese mixed into it, before topped with the additional cheese. Nowadays I prefer to use White Cheddar over plain Cheddar, but if your first choice is plain Cheddar, by all means, go for it!
Or use a combination of the two Cheeses which have surprised me before, with the final outcome of the tastiness.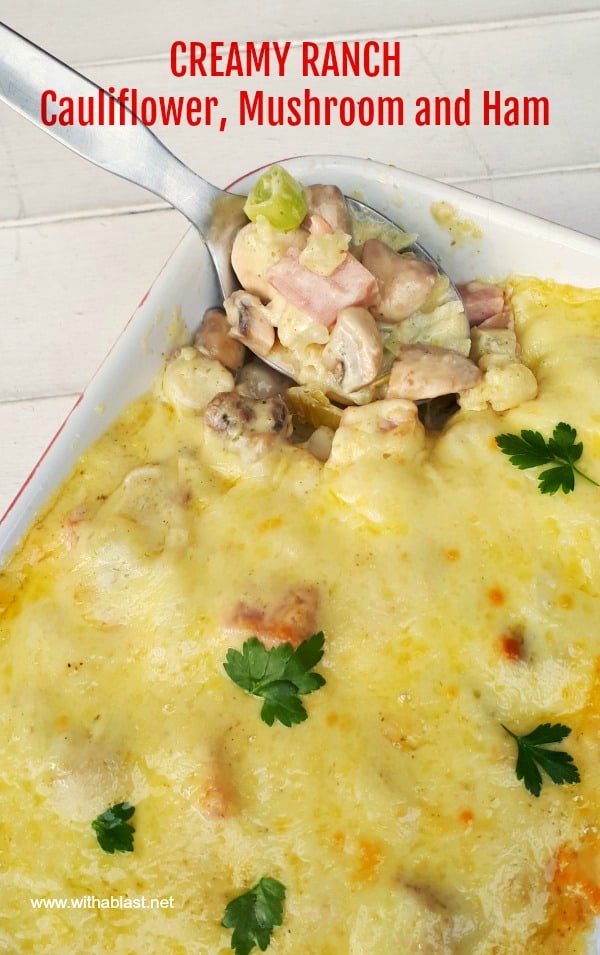 This recipe will also work with substituting the Cauliflower with Broccoli and the Ham could really be replaced with just about any cooked (have any leftovers ?) meats – think Chicken, as was my first choice, Turkey or Fish. Oh, and let us not forget the ever popular Bacon !
Also do remember by leaving out the Ham (or any type of meat), this creamy casserole makes a most delicious side dish as well.
Great recipe to have on hand with all the upcoming holidays all over the world, where everyone always seem to have their main dish, also known as the Meat, all figured out weeks, and even months ahead, but are always looking for a new side dish or two, especially if you are asked to bring with the side dish.
I know that when we have these family get-togethers and I have to take along either a side dish, or salad, I always think someone else will bring the same, which has happened, believe me !
There are usually three or four of us taking with the sides, but I can almost guarantee you, no one will have the same if you choose to take along this creamy Cauliflower casserole.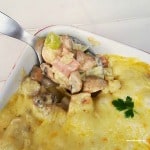 Creamy Ranch Cauliflower Mushroom And Ham
Creamy Ranch Cauliflower, Mushroom and Ham Bake is the perfect comfort dinner, or can be served without the Ham as a side dish.
Ingredients
1

Medium

Cauliflower

broken into florets

2

TB

Butter

250

g

Mushrooms

halved or quartered if large ( 8 oz )

4

Medium

Leeks

sliced

1.5

cups

Cooked Ham

cubed
SAUCE:
2

TB

Butter

2

TB

Flour

1

cup

Milk

1

cup

Fresh Cream

(double cream/whipping cream)

1

TB

Dry Ranch Mix

1.5

cups

White Cheddar Cheese

grated

Parsley

chopped, to garnish
Instructions
Pre-heat the oven to 180 deg C ( 350 deg F ) – spray a 20 x 20 cm ( 8 x 8 inch ) – or similar – with cooking oil.

Boil the Cauliflower in salted water for 5 – 7 minutes (must still feel crunchy) – drain and keep aside.

Meanwhile heat the Butter in a large skillet – saute the Mushrooms and Leeks until soft – drain (if necessary) and keep aside with the Cauliflower – add the Ham and gently mix through.

Using the same skillet melt the Butter for the Sauce – sprinkle over the Flour and stir (off heat) until a paste forms – add the Milk little by little, stirring after each addition – Pour in the Cream and stir in the Dry Ranch Mix – simmer over low heat, stirring continuously until the sauce has thickened – remove from heat and add 1 cup of the Cheese – stir until melted and smooth.

Transfer the Vegetables and Ham to the prepared oven dish – pour over the Cheese Sauce and sprinkle over the remaining 1/2 cup Cheese.

Bake 15 – 20 minutes or until bubbly and the Cheese has melted.
Serve with crusty dinner rolls ( to mop up all the creamy sauce! ) and a side salad or two.
LINDA
You Might Also Like:
Another delicious light dinner !