Delicious, moist Apple and Carrot Cake, topped with silky smooth Caramel Cheesecake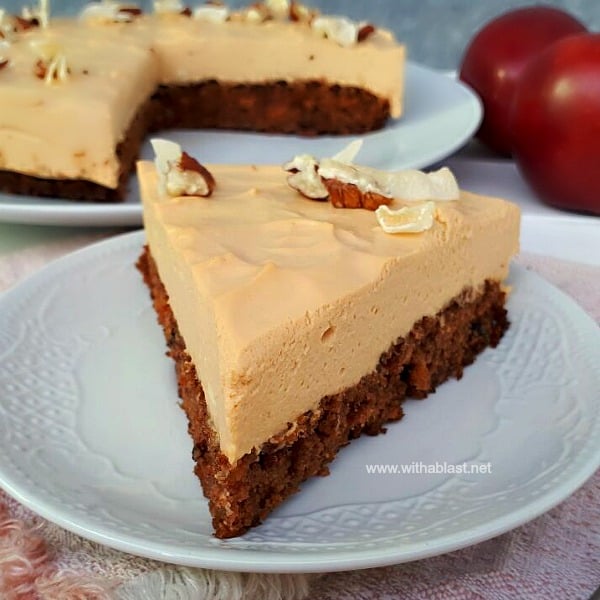 Apple Carrot Caramel Cheesecake is a "best of two worlds" dessert ! The base is a moist Apple Carrot Cake, with a silky smooth Caramel Cheesecake layer on top.

I have always loved Carrot cakes and adding Apples only make it better – way better ! When my kids were little I always had to leave out any Nuts in Carrot cakes, as they did not like it at all.
And according to me, and I take it most Carrot cake lovers, Nuts are a must in this kind of cake.
Fortunately it seems my kids have outgrown their aversion of Nuts in a cake, and now they enjoy the cake as it should be.
They are especially fond of this Caramel Cheesecake topped Carrot, Apple Cake.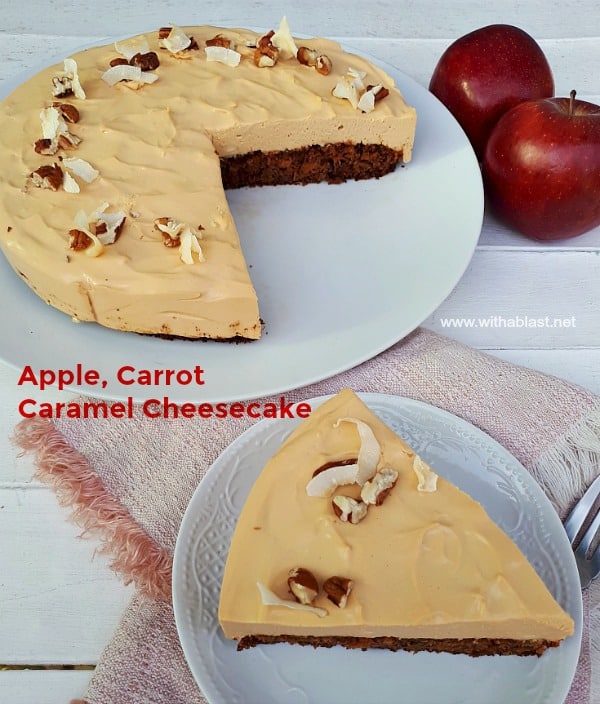 The Cake layer is quick to throw together and by the time I am finished mixing the batter, the oven is ready – 30 minutes in the oven and most of the hard work is done.
Although, I should not really call it hard work at all ! The Cake is low, like a single layer of a layer cake, and it is left in the springform pan to cool completely.
Preparing the Caramel Cheesecake layer is also a breeze. A bit of beating the ingredients together and it is ready to go on top of the Cake layer.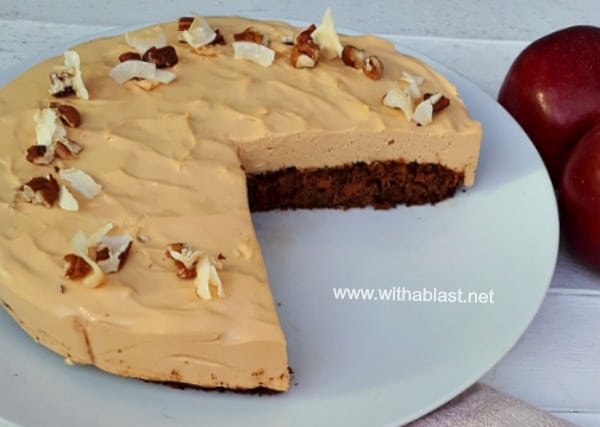 This is also a perfect way to use up any leftover Carrots. I always seem to have a few Carrots leftover from a previous recipe, which is too little to use in a side dish ( vegetable or salad ).
Leftover Carrots are not only great for Carrot cakes, but I also like using them in some of my juicing recipes. It gives a wonderful, sweet taste to whatever juice I am making.
Besides, Carrots are packed with beta-carotene and various types of vitamins, of which Carrots are one of the highest Vitamin A contributors.
And an Apple or two that is a little past their prime time, is ideal to use in a Cake recipe !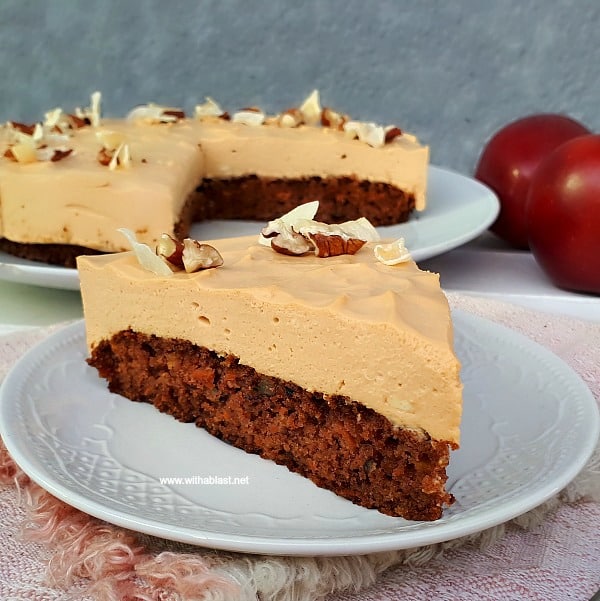 I serve this Cheesecake throughout the year, but with all the Fall flavors and spices it is definitely high on the list during Fall. So, next time you crave a Fall dessert, why not give this decadent dessert a try ? Highly recommended by myself and my family !
NOTE: I know Caramel Treat is not available in all countries, not sure why not, as this is a standard ingredient in almost all South-African pantries. To make your own Google " How to make Homemade Caramel Condensed Milk " and you will find many tutorials on the internet.
Apple Carrot Caramel Cheesecake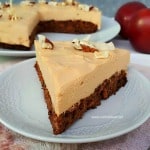 Apple Carrot Caramel Cheesecake
Delicious, moist Apple and Carrot Cake, topped with silky smooth Caramel Cheesecake
Ingredients
1

cup

Flour

1

t

Bicarbonate of Soda

1

t

Ground Cinnamon

1/2

t

Mixed Spice

1/2

cup

Soft Brown Sugar

tightly packed

1

cup

Carrots

peeled, finely grated

1

cup

Apples

cored, peeled, finely grated

1/2

cup

Pecan Nuts

chopped

1/2

cup

Vegetable Oil

1

Extra-Large

Egg

1/2

t

Vanilla Essence
CHEESECAKE LAYER:
500

g

Cream Cheese

softened ( 16 oz )

1

can (385g)

Caramel Treat

(See NOTE above recipe)

1

TB

Gelatin

2

TB

Cold Water
TOPPING:
1/4

cup

Coconut Flakes

1/4

cup

Pecan Nuts

roughly chopped
Instructions
Pre-heat the oven to 180 deg C ( 350 deg F ) – spray a 20 cm ( 8 inch ) springform pan with cooking oil.




CAKE: Sift together the Flour, Bicarbonate of Soda, Cinnamon and Mixed Spice – add the Sugar and stir through – add Carrots, Apples and Pecan nuts – stir to combine

Beat the Oil, Egg and Vanilla in a small bowl – add to the Flour mixture and mix well – spoon into the prepared springform pan and place on a baking sheet

Bake 30 minutes – remove from the oven and leave cake to cool completely in the pan
CHEESECAKE LAYER:
CHEESECAKE: Beat together the Cream Cheese and Caramel Treat

Sprinkle the Gelatin over the cold Water in a small microwavable bowl – let stand 3 minutes – microwave 10 – 15 seconds – stir and cool slightly

Whisk melted Gelatin into the Cream Cheese mixture – spoon on top of the baked Cake – tap pan lightly to even out and release air bubbles

Refrigerate at least 2 hours or until set
TO FINISH:
Transfer Cake to a serving plate – top with Coconut Flakes and roughly chopped Pecan Nuts
Recipe Notes
Times given above excludes chilling time
Slice and serve ! Keep leftovers covered in the refrigerator.
LINDA
Linking up at: WEEKEND POTLUCK – The Country Cook