Shrimp, Bacon, Avocado and Potatoes makes a delicious, filling Salad for lunch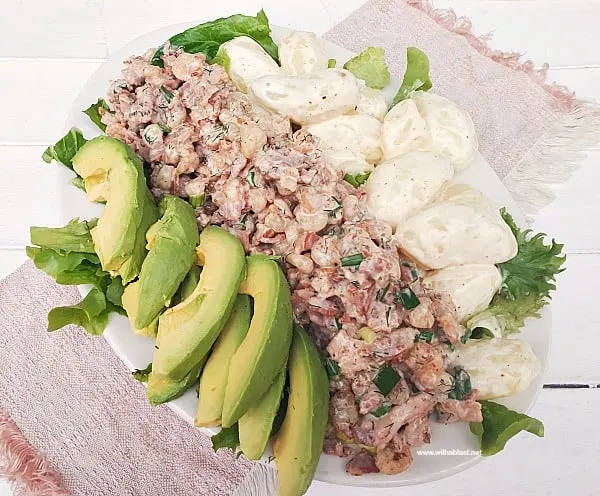 Shrimp Bacon Avocado Potato Salad is a mouthful for a recipe name, but so is the Salad (literally!). This Salad makes the most wonderful lunch and it can be served completely cooled or slightly warm.
The Salad also has some of my most favorite ingredients in, therefore if you also like the main ingredients you are sure to love this Salad !
It also helps a lot that all the ingredients are my family's favorites as well. And all the flavors compliments one another beautifully, to make it an easy eating, filling dish for lunch, or hey, even as a quick light dinner.
I also love that this Shrimp Bacon Avocado Potato Salad can be served at room temperature or warm, just off the stove – that is the Shrimp/Bacon mixture and the baby Potatoes of course.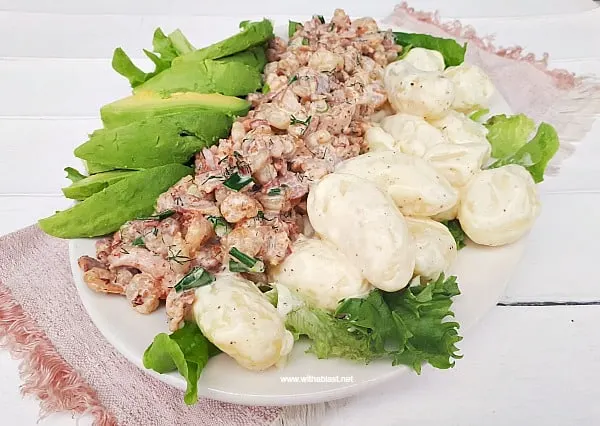 Just looking at the photos makes my mouth water again ! I used a simple Mayonnaise dressing with the Potatoes and the Shrimp, so as to leave the main flavors dominant.
The original recipe called for Chives (which we all adore as well!), but when I made the Salad a second time around, I only had fresh Dill on hand.
We now prefer the Dill, but you can always substitute the Dill for chopped Chives, if that is more to your liking.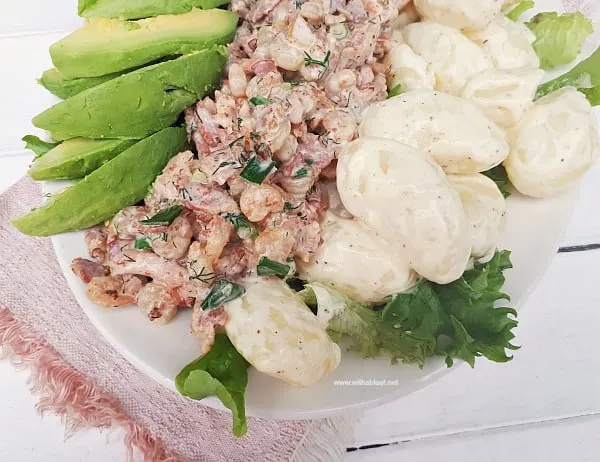 The Salad leaves can hardly be seen in the photos, but I promise there is a bed of lettuce on which I arranged the rest of the Salad ingredients.
Single servings can also be served. Or,,, think maybe as an appetizer ( which would then be smaller portions and can easily be stretched to 8 servings )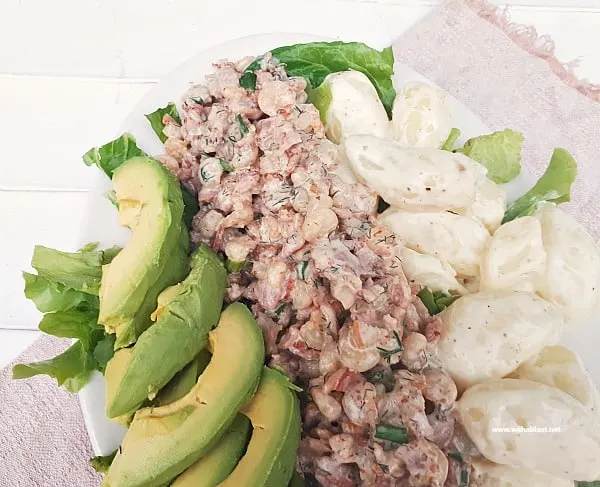 My daughter and her fiance stopped by, just as I was arranging the Salad on a serving plate, and she mentioned that it smelled great when they walked through the front door ! That would now be the Shrimp / Bacon mixture, and she just had to taste it. Got a thumbs up from her.
Unfortunately, they could not join us for lunch as it was only a quick stop for them, dropping off their doggie girl, Nahla, who lives with us during the week and my little Dachshund, Dex, who had gone visiting for the weekend.
But I plan on making the Salad soon again and have them over for a proper lunch !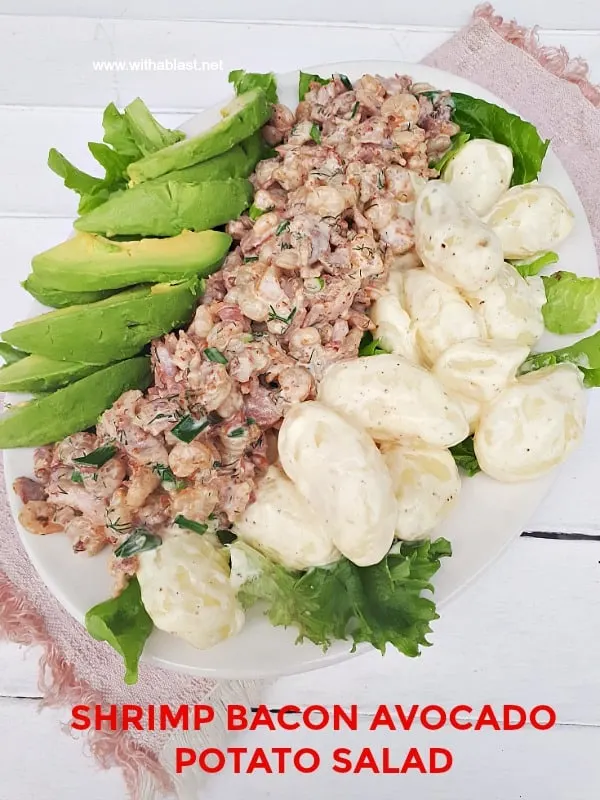 I do not season the Avocado, but instead leave it to each person to season as per their preference – Some like only salt over their avocado, others, salt and black pepper, and someone like myself, avocado without any seasoning.
Shrimp Bacon Avocado Potato Salad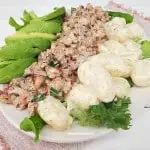 Shrimp Bacon Avocado Potato Salad
Shrimp, Bacon, Avocado and Potatoes makes a delicious, filling Salad for lunch
Ingredients
1/2

cup

Mayonnaise

2

TB

Milk

1

t

Dijon Mustard
SALAD:
200

g

Bacon Bits

( 7 oz )

250

g

Baby Shrimp

ready to cook ( 8 oz )

1

t

Fresh Garlic

crushed

1/4

cup

Spring Onions

chopped

2

TB

Fresh Dill

chopped

4

cups

Lettuce

leaves (mixed, herb or micro)

1

Avocado

peeled, sliced

16

Baby

Potatoes

peeled, cooked

Black Pepper

to taste
Instructions
Dressing : Combine the Mayonnaise, Milk and Mustard – keep aside until needed
SALAD:
Cook the Bacon Bits (in it's own fat) in a skillet until crispy – add the Shrimp and Garlic, continue to cook ( about 3 minutes ) until the Shrimp is done – remove from heat

Stir in the Spring Onions and Dill (cool slightly or use warm)

Add half the Dressing to the Shrimp mixture and stir-through – add the remaining Dressing to the cooked Potatoes – season the Potatoes with Black Pepper and stir gently

Arrange the Lettuce on a large servings platter (or individual plates) – place the Potatoes on the side, followed by the Shrimp/Bacon mixture and end off with the Avocado slices
Recipe Notes
adapted by me from: source
LINDA
Linking up at: WEEKEND POTLUCK – The Country Cook