Tender, juicy Coca-Cola Chicken in a rich, slightly sweet sauce, served over noodles is the perfect quick dinner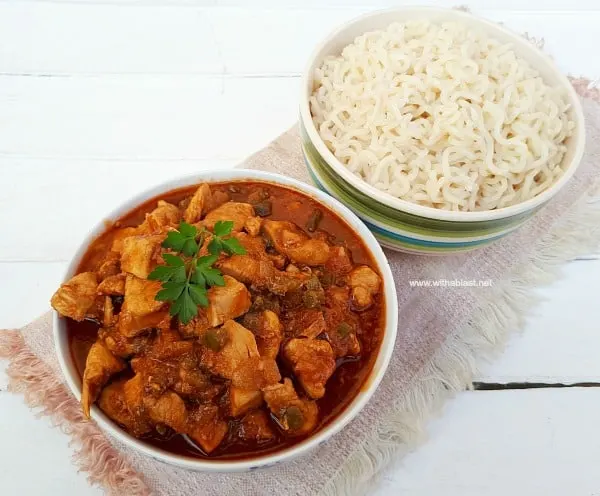 Coca-Cola Chicken which is also known as Hong Kong Chicken is a quick and easy dinner, especially if you serve the Chicken over two minute noodles.

I only keep two minute noodles in my pantry to use the noodles only, which I normally dump a few packets ( 1 – 2 per person ) into a saucepan, cook up and it is ready to be served in minutes. It is a real time saver when I have to make dinner after a hectic day.
We use the flavor packets to make a pour over sauce for the dogs' dry food, which is a real treat for them.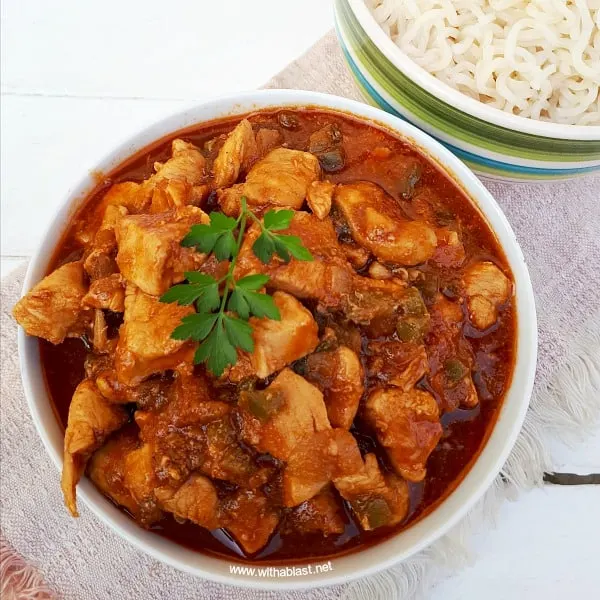 Besides two minute noodles (which is really a cheats dinner addition!), I prefer to use Spaghettini, Asian noodles or rice – rice is hubby's favorite with this Chicken.
The Coca-Cola tenderizes the Chicken as well as gives it a fuller taste, with a bit of sweetness added, which we absolutely love !
I do not marinate the Chicken in the Coca-Cola as in this recipe I use Chicken Fillets ( or as some call them Chicken Tenders ) and we all know these are the most tender parts of Chicken meat anyways.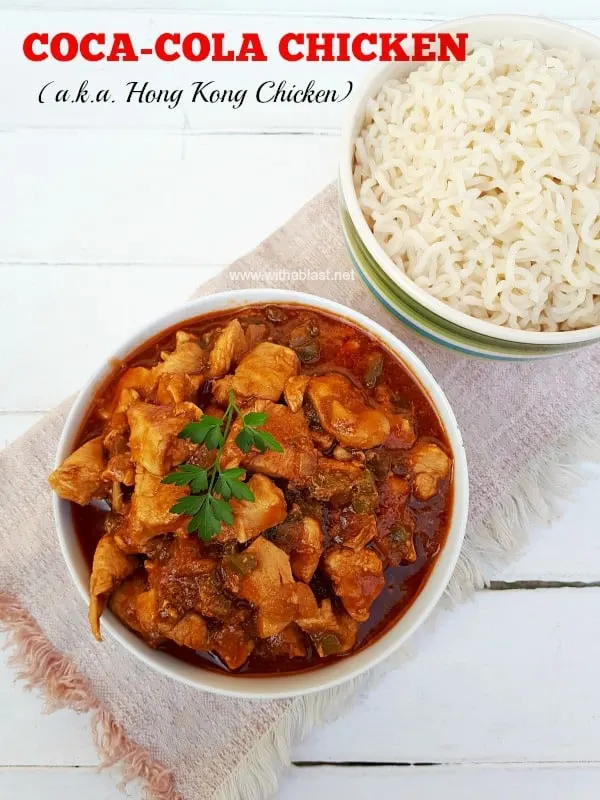 Not too sure where the name "Hong Kong Chicken" actually originates from, but it is quite a huge thing in South-Africa, especially in the Eastern Cape region. I have always known it as Hong Kong Chicken, but when I looked around on the internet, I could not get a definite answer.
One thing I do know is, this is not an authentic Chinese dish, despite the name ! And another thing is that not all Hong Kong Chicken contains Coca-Cola … mmm, I was quite surprised to learn that, seeing as the recipe I grew up with, always had Coca-Cola in.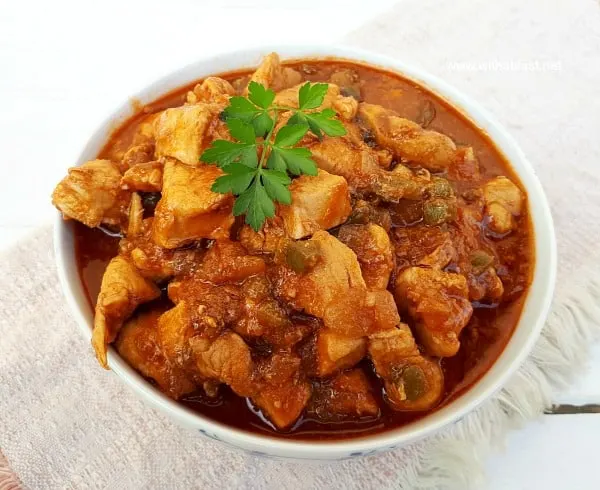 The dark color of the Chicken and sauce is from the Soy Sauce, which also adds most of the saltiness in the dish, therefore, be careful when adding additional Salt and Pepper at the end of cooking.
Years ago when I first made the Coca-Cola Chicken for my hubby, he at first mentioned it was a little too sweet to his taste, but it quickly grows on a person. It is now one of his favorite meals !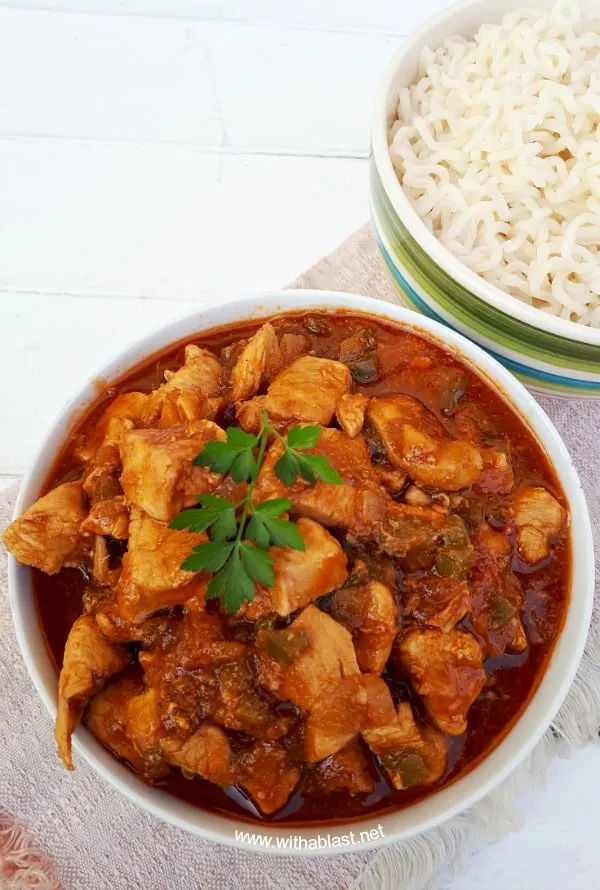 I often like to add mini Corn ( Baby Corn ), as well, but only towards the end, whilst the sauce is thickening, as I like the Corn crunchy.
Tender, juicy Chicken with lots of sauce, served over a bed of noodles ( not necessarily 2 minute noodles !), or rice, and maybe one or two sides (salads or vegetables ) makes a delicious all season dinner. Summer – add side salads / Winter – add vegetables on the side!
The Chicken is just as delicious served in a hamburger bun, but remember not to scoop in too much of the sauce as this will turn your whole sarmie into a soggy affair.
Coca-Cola Chicken (a.k.a. Hong Kong Chicken)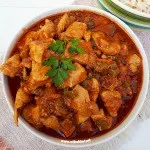 Coca-Cola Chicken (a.k.a. Hong Kong Chicken)
Tender, juicy Coca-Cola Chicken in a rich, slightly sweet sauce, served over noodles is the perfect quick dinner
Ingredients
2

TB

Olive Oil

1

Large

Onion

chopped

1

Large

Green Bell Pepper

chopped

2

t

Fresh Garlic

crushed

6

Chicken Fillets

cubed

2

TB

Soy Sauce

1

cup

Tomato Sauce

(thick ketch-up)

1 1/2

cups

Coca-Cola

regular, not diet/sugar-free

Salt and Pepper

to taste
Instructions
Heat the Oil in a large skillet – saute the Onion, Pepper and Garlic until soft – remove from skillet and keep aside

Using the same skillet, stir-fry the Chicken until done – add the Soy Sauce and stir through

Add the sauteed Vegetables, Tomato Sauce and Coca-Cola – stir gently, reduce heat and let simmer 5 – 10 minutes until sauce has thickened to your preference

Season to taste with Salt and Pepper (be careful, the Soy Sauce already added salt!)
Serve over noodles or rice
LINDA
Linking up at : WEEKEND POTLUCK – The Country Cook
You might also like:
COCA-COLA Meatballs ( dinner or appetizer )