The creamiest, rich No-Bake Tiramisu Cheesecake ever!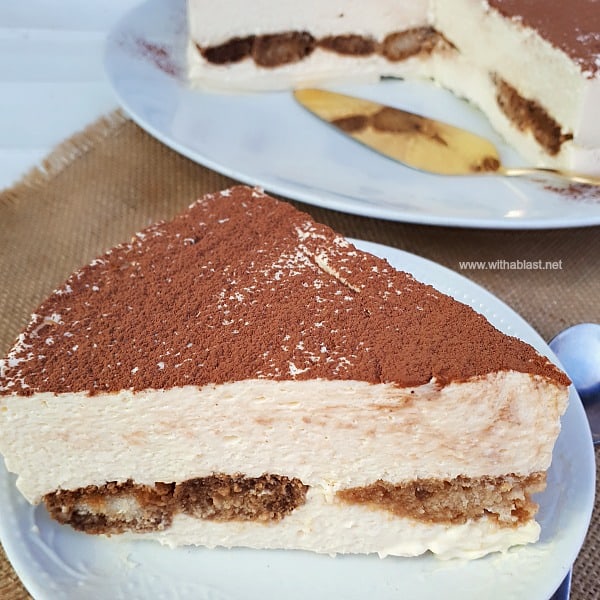 Tiamisu Cheesecake is a No-Bake, rich and so creamy dessert. You will want seconds fast !

I have quite a few Tiramisu recipes on the blog, but this is by far the most creamiest ever – no kidding ! My family loves this Cheesecake, not only to eat, but whenever the mood strikes, anyone of them can whip one up in no time at all.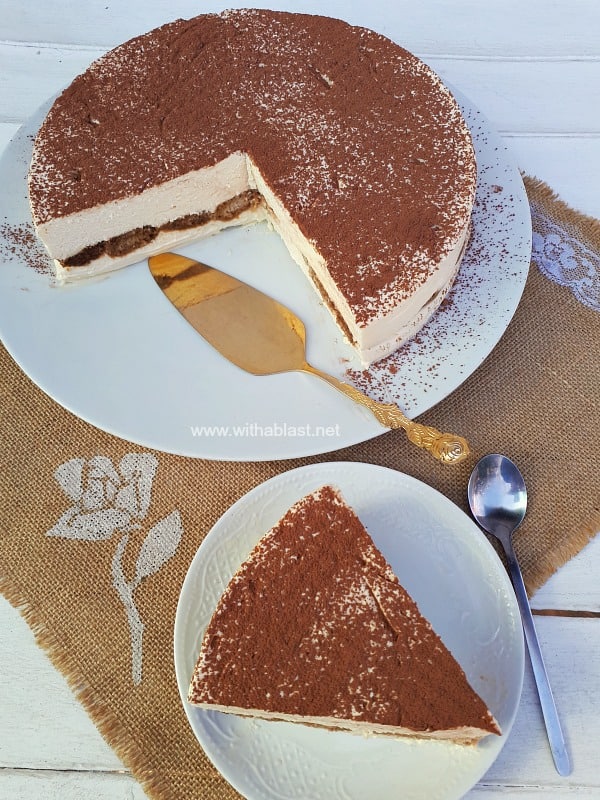 The recipe basically consists of some beating, dipping and layering the Cheesecake filling and the crust, which is not a crust here at all, but set deliciously in the middle of the Tiramisu Cheesecake.
Genius, right ? And the slices look so good with the Coffee/Brandy soaked Lady Finger cookies in the Cheesecake, rather than around or at the base of this as the usual.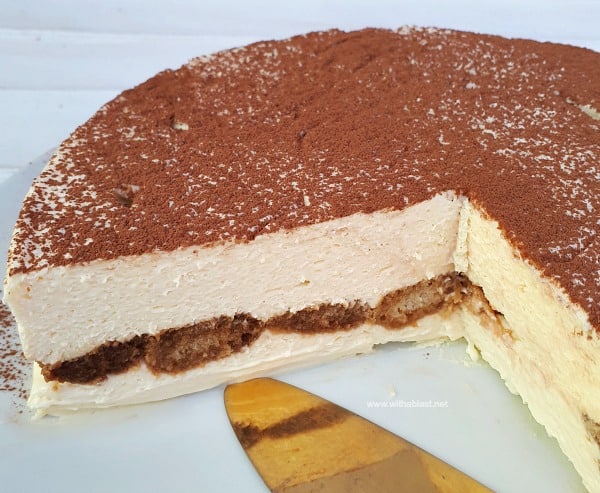 Once you have all your ingredients ready, it will only take you minutes to put this Cheesecake together. It literally took me 15 minutes and the Cheesecake was in the refrigerator on it's merry way to set !
I allowed an additional 5 minutes in the recipe below, but really this is ready before you'll even know everything is in the pan and ready for chilling.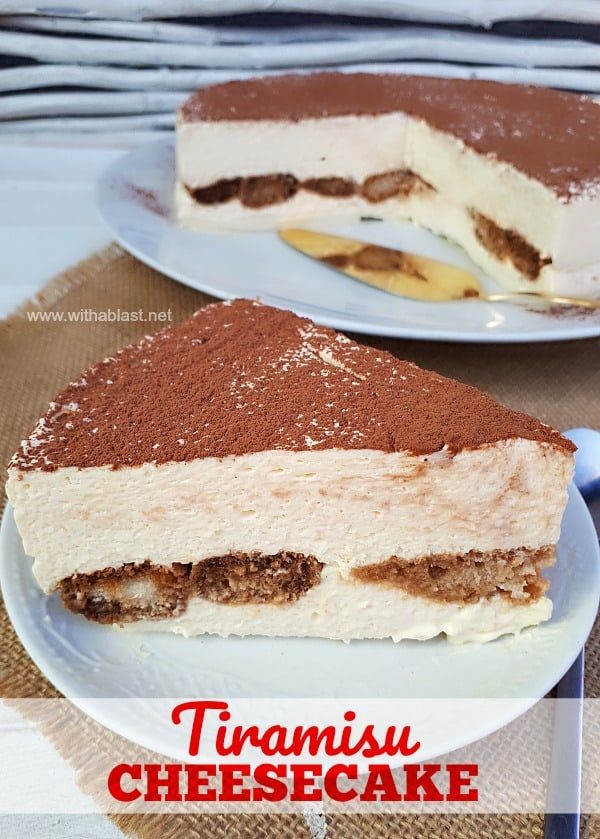 I played around with the Caster Sugar (super fine sugar) a bit over time, but am now happy with the sweetness of the Tiramisu.
Yes, we have had this Cheesecake for dessert a couple of times already and it is still a huge hit with everyone.
I have also tried layering a little different each time, in these photos I have used 2 thirds of the Cheesecake filling in the first layer (which is now on top after flipping over) and only a third of the filling (now at the base) – it does not matter, purely your own choice as to where you prefer the Lady Finger cookie layer.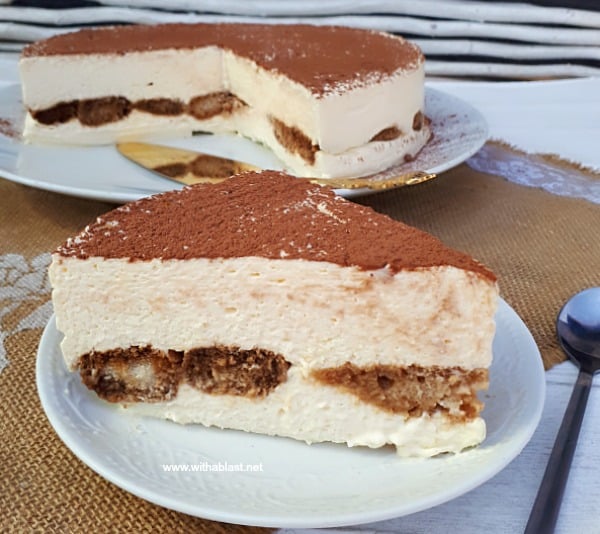 A small note of advice : Slice and serve smaller than your usual sized dessert portions – this Tiramisu Cheesecake is rich !
Tiramisu Cheesecake (No-Bake)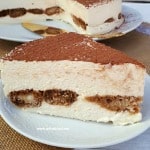 Tiramisu Cheesecake (No-Bake)
The creamiest, rich No-Bake Tiramisu Cheesecake ever!
Ingredients
500

g

Cream Cheese

plain, softened ( 16 oz )

1 1/2

cups

Caster Sugar

2

t

Vanilla Essence

500

g

Mascarpone

room temperature ( 16 oz )

1

cup

Fresh Cream

(double cream/whipping cream)

1

TB

Gelatin

plain

2

TB

Cold Water

15

Ladyfinger Cookies

3/4

cup

Strong Coffee

2

TB

Brandy

2

TB

Cocoa Powder

for dusting
Instructions
Cover the base of a 20 cm ( 8 inch ) springform pan with clingwrap – Ppsition ring and fasten clamp of springform pan – spray with cooking oil

Beat together the Cream Cheese, Caster Sugar and Vanilla until smooth – add the Mascarpone and Fresh Cream – beat again until smooth – set aside

Sprinkle the Gelatin over the Water in a small bowl – let stand 5 minutes – Microwave 10 seconds – remove and stir – repeat once more – let cool for 2 minutes

While beating, add the Gelatin slowly to the Cream Cheese filling – Spoon half the filling into the prepared pan – tap pan lightly to even out

Combine the Coffee and Brandy – dip the Ladyfinger cookies in the Coffee mixture – arrange on top of the filling layer in the pan – spoon remaining Cream Cheese filling over the cookie layer – tap pan gently to even out

Cover and refrigerate at least 3 hours – place a serving plate over the springform pan – Turn over and release the clamp to remove the pan – pull off the clingwrap

Dust with Cocoa Powder
Serve well chilled and keep leftovers covered in the refrigerator
LINDA