Creamy Dill Mushrooms are delicious as an appetizer or side dish and the sauce is to-die-for scrumptious, especially when mopped up with crusty bread !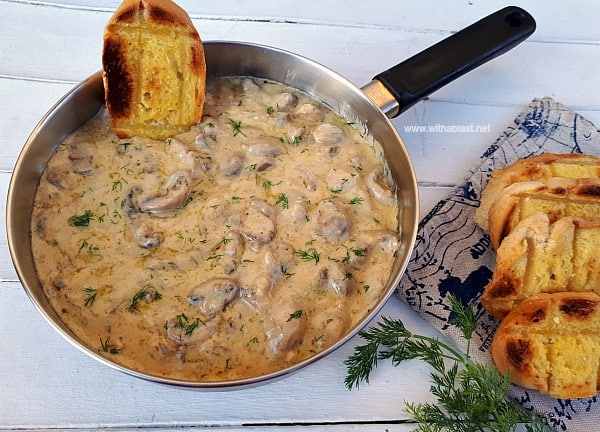 If you are a Mushroom lover, these Creamy Dill Mushrooms are definitely for you. Mushrooms in a Dill cream sauce, with a slice or two of Garlic toast and you are in heaven !
I always serve this Mushroom dish as an appetizer, but it will work equally well as a side dish.
Today is our last day of Winter, tomorrow Spring starts, but to be honest, it did not feel like we even had Winter this year.
Nights were a little chilly, but not much. And I can only remember one (yes, one single!) day when I wore a jersey.
Also no long sleeved blouses, but mostly Summer T-shirts and blouses. I must have mentioned our wonderful weather in Gauteng a thousand times already !
Anyhow, during Summer, we usually (most of the time !) have an appetizer, followed by a Chicken, red Meat or Seafood salad, which is more than enough for us at dinner time.
Of course we are also huge dessert lovers – I mean, who is not ?? Therefore a light dessert might follow the salad as well.
But getting back to the Creamy Dill Mushrooms recipe. I make the main dish, whether it is a salad or a cooked meal, first.
When to make the Creamy Dill Mushrooms ?
Depending on whether the meal can sit a while (whilst we enjoy the Mushrooms as an appetizer), or can cook on it's own with me not needing to run to the pots every 5 minutes, I make the Mushrooms last.
The Creamy Dill Mushrooms is not a dish that likes standing as with most Cream based dishes. As soon as it is done, I serve the Mushrooms immediately, whether as an appetizer or side dish.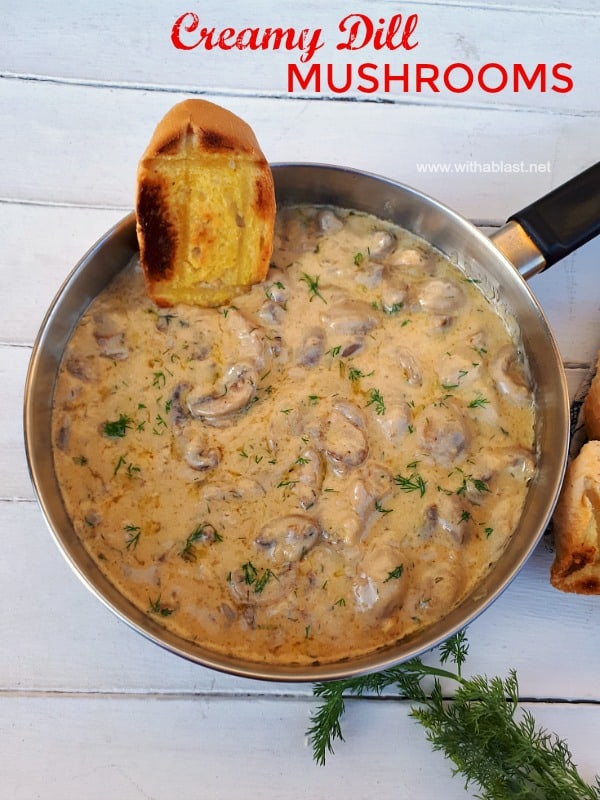 As with my Mussels in Lemon Garlic-Butter Sauce – link after recipe on this page, I serve the Mushrooms (as an Appetizer) in the skillet to my family. When we have friends over, I usually make small individual servings.
I like to use any kind of Mushroom, but the plain, everyday White Button Mushrooms are my favorite.
Now, depending on the size of the Mushrooms I use, I might leave smaller ones whole, cut larger ones in half or even quarters.
Do remember though, that Mushrooms shrink quite a bit whilst cooking and you want them to turn out just the right size to be able to scoop a piece (and sauce!) up with a slice of Garlic toast.
My favorite Garlic toast:
A French loaf, sliced, buttered and toasted ( I like to toast the bread in a BBQ clamp, like the ones used for Fish etc, over the coals).
After the slices are toasted, rub with a few pieces of Garlic, or use a Garlic spread – not too much, as the real taste must come from the Mushrooms and not the bread !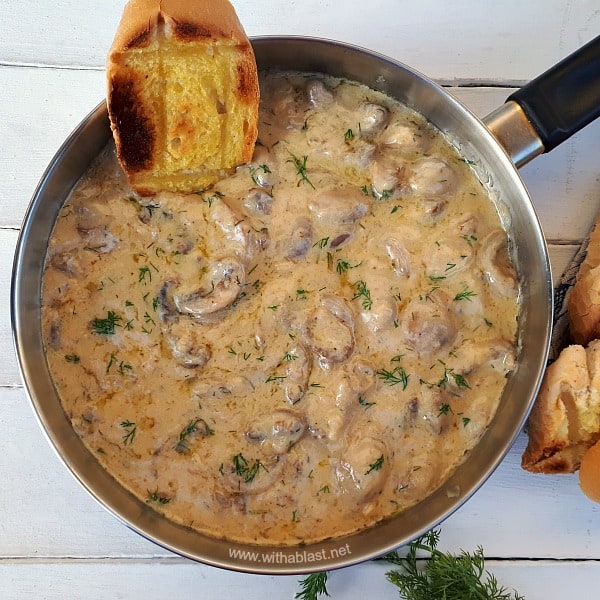 More Appetizer recipes you might like:
Creamy Dill Mushrooms
Yield: 4 Servings
Creamy Dill Mushrooms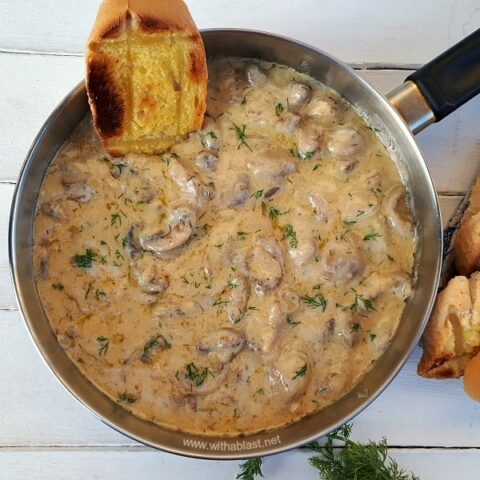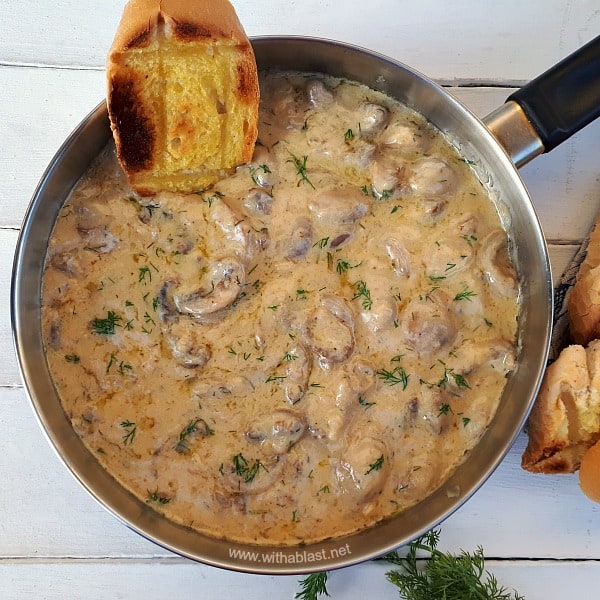 Serve these Creamy Dill Mushrooms as an appetizer or side dish
Ingredients
2 TB Olive Oil
1 Onion, finely chopped
2 t Fresh Garlic, crushed
500 g Mushrooms, whole, half or quartered ( 16 oz )
2 cups Fresh Cream, (double cream/whipping cream)
2 TB Fresh Dill, chopped
Salt and Black Pepper, to taste
Extra Fresh Dill, chopped, to garnish
Instructions
Heat the Oil in a large skillet – saute the Onion and Garlic until just soft – add the Mushrooms and stir-fry until soft (drain excessive liquid if necessary).
Add the Cream and Dill – simmer over low heat (do not boil) until sauce has reduced by about a third and thickened – season to taste with Salt and Pepper.
Nutrition Information
Yield
4
Amount Per Serving
Calories

507
Garnish with extra Dill and serve immediately as an appetizer with garlic toast or as a side dish.
LINDA
Linking up at: WEEKEND POTLUCK – The Country Cook