Perfectly marinated Tequila Lime Steak Enchiladas are loaded with steak, a delicious salsa, cheese and topped with chunky salsa sauce and more cheese !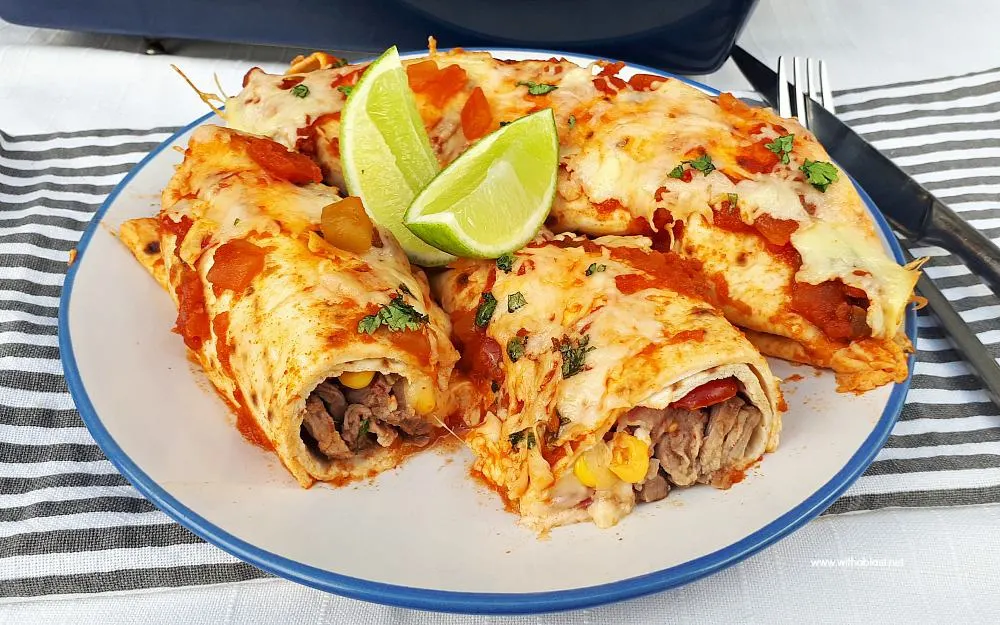 One of our favorite dinners, is most definitely enchiladas ! And these Tequila Lime Steak Enchiladas is the perfect recipe to use up those leftover corn and baby tomatoes, which I always seem to have half a punnet left in the refrigerator.
Most of our enchilada favorites normally have chicken as the main ingredient. But as soon as I had made these enchiladas, it was a hit.
The Tequila Lime marinade results in the most tender and juicy meat. And so flavorful as well !
This is also my go-to marinade when we have a barbecue and steaks are on the menu.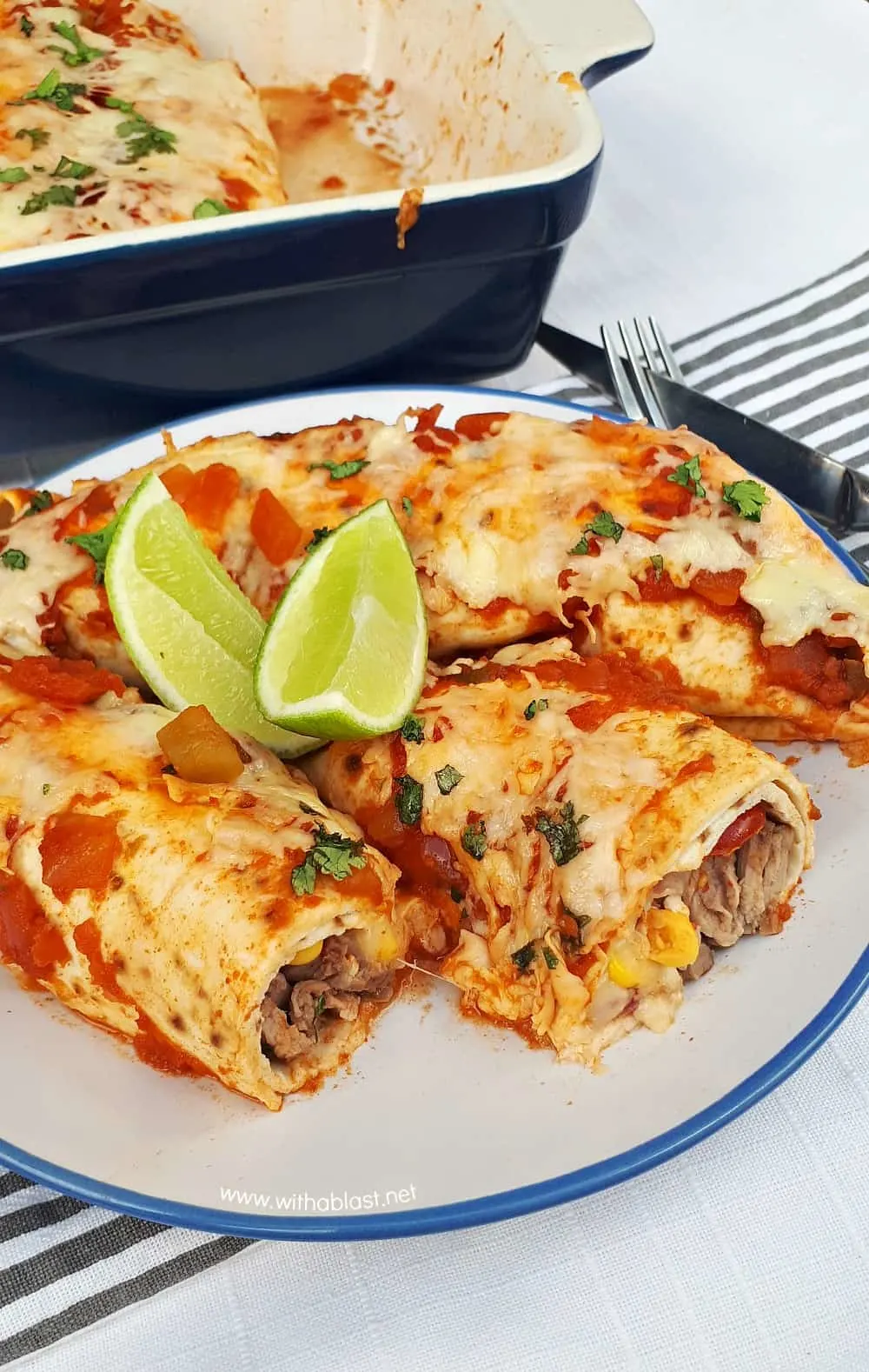 The coarse salsa is a tiny bit different, with the added corn, but a delicious flavor combination.
Also, if you prefer a stronger salsa with more bite, feel free to add more chilies. Red and green chilies can also be used together in this recipe.
We prefer a milder salsa and one chili is more than enough for us. When I first used chilies in my recipes (way, way back!), my kids were still little and since then we stuck to the milder side of things.
My son-in-law on the other hand,,,, the more chilies, the better !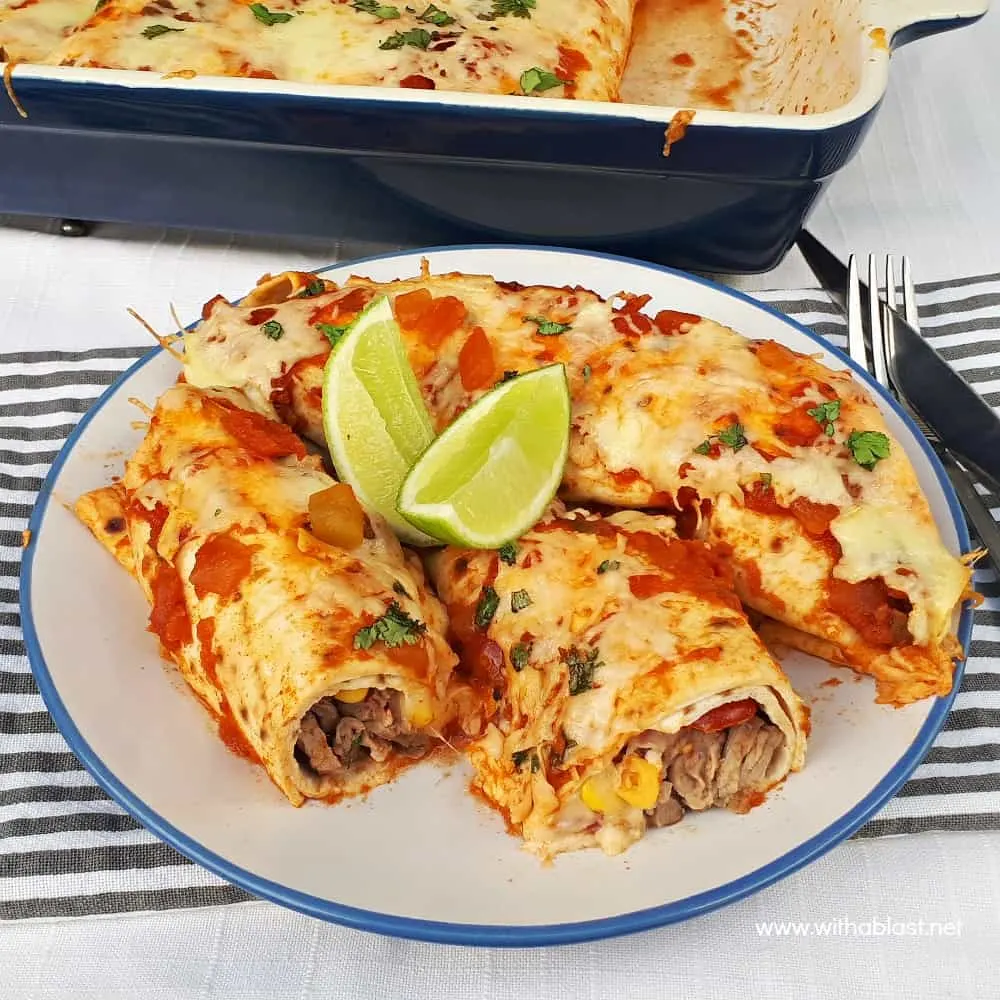 However, I have to point out one thing – do not skip the Lime wedges on the side ! I promise you, it makes these Tequila Lime Steak Enchiladas the winner it is.
Simply squeezed over the enchiladas and it gives that extra bit of taste as well as bring out the steak's taste more.
And we all know how well Tequila and Lime go together ! It is definitely no longer only a flavor combo reserved for drinks only !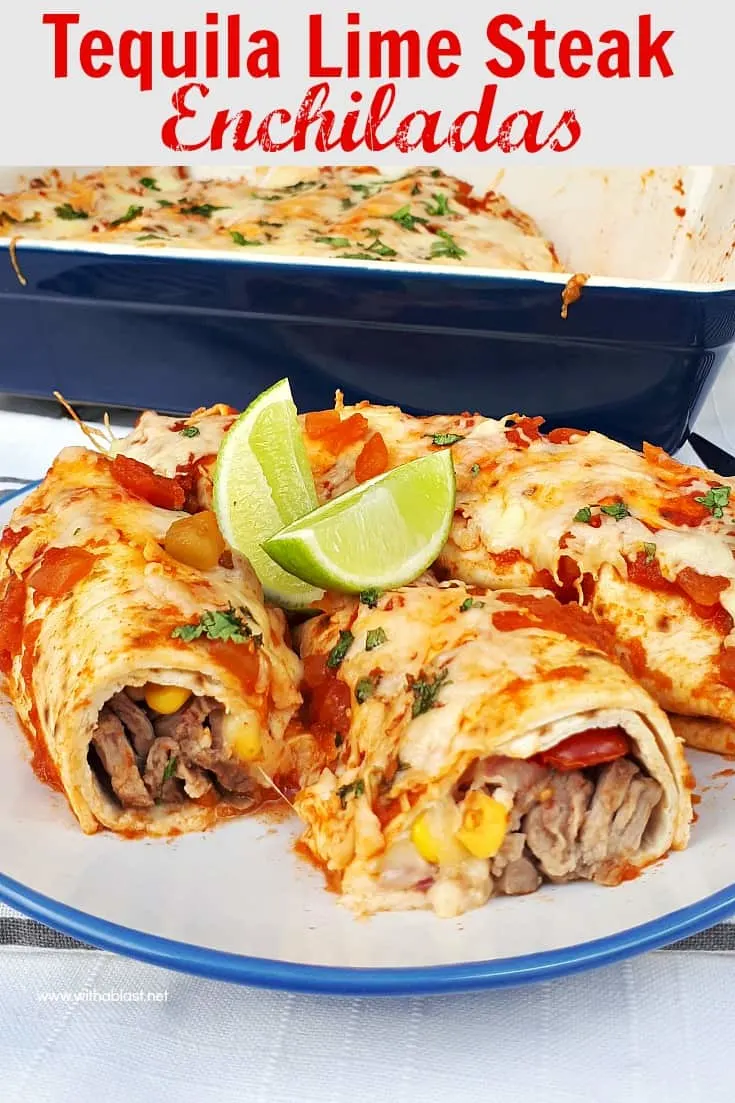 Marinating the Steaks:
Whenever I marinate meat, especially red meat (and of course tougher meat cuts), I try to marinate for as long as possible.
Since I am home all day, I throw together the marinade together and place the meat in a marinating bowl early in the morning. Whenever I am close to the refrigerator, I turn over the bowl.
If you are not home all day and either do not have that extra 30 minutes at dinner time, make the marinade the night before and pour over the Steaks. Turn over in the morning and by dinner time, the meat is already done with that part.
Good cuts of meat i.e rump, sirloin or fillet, only needs 30 minutes to get soaked in the Tequila Lime marinade.
More Dinner recipes you might like:
Connect with us :
PINTEREST TWITTER FACEBOOK INSTAGRAM
Tequila Lime Steak Enchiladas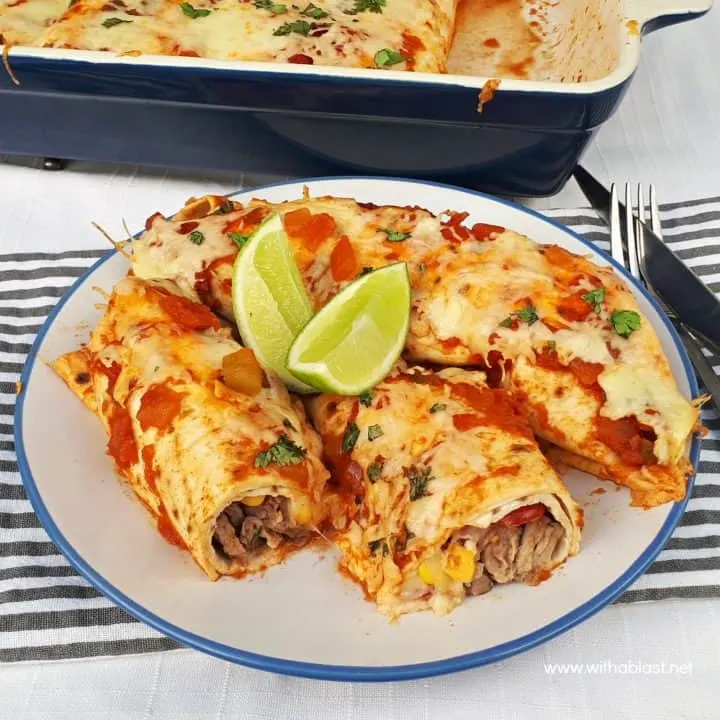 Tequila Lime Steak Enchiladas
Marinate Time:
30 minutes
Perfectly marinated Tequila Lime Steak Enchiladas are loaded with steak, a delicious salsa, cheese and topped with chunky salsa sauce and more cheese !
Ingredients
MARINADE:
2 TB Olive Oil, extra-virgin
2 TB Cilantro, chopped
1 TB Paprika
1/4 cup Tequila
2 large Limes, juice ( 1/4 cup) and finely grated zest
Salt and Pepper, to taste
4 Steaks, sirloin, rump, porterhouse (each approx 125 grams / 4 oz )
SALSA:
1 medium Red Onion, chopped finely
1 cup Corn Kernels, canned or leftover cooked
1 cup Baby Tomatoes, chopped
1 Red Chili, de-seeded and chopped finely
2 TB Lemon Juice, fresh
Salt and Pepper, to taste
TO FINISH:
3 cups Mozzarella Cheese, grated, divided
8 medium Tortillas, or 4 large
1 1/2 cups Chunky Salsa, homemade or store-bought
2 TB Cilantro, chopped
TO SERVE:
2 Lemons. sliced into wedges
Instructions
MARINADE: Combine all the ingredients for the marinade - place the Steaks in a marinating bowl and pour over the marinade - marinate for at least 30 minutes (longer is always better if possible)
SALSA: Toss together all the ingredients and keep aside
Once the Steaks are done marinating (retain leftover marinade) - heat a little Oil in a skillet and cook the Steaks to your preference - remove from skillet and let rest 5-10 minutes before slicing thinly
Pre-heat the oven to 180 deg c ( 350 deg F ) - spray a 20 x 30 cm ( 9 x 12 inch ) oven dish with cooking oil
TO FINISH: Divide the Steak slices between the Tortillas, top with the Salsa and half ( 1 1/2 cups ) Mozzarella cheese - roll up and pack tightly into the prepared oven dish
Combine the retained marinade with the Chunky Salsa - pour over the rolled up Tortillas and top with the remaining Mozzarella - sprinkle over the Cilantro and bake 15 - 20 minutes until heated through and the cheese has melted
Serve with Lime wedges on the side
Nutrition Information
Yield

4
Serving Size

2 Enchiladas
Amount Per Serving
Calories

893.1
Total Fat

46.8g
Saturated Fat

16.8g
Unsaturated Fat

19.6g
Carbohydrates

68g
Fiber

12.2g
Sugar

14.6g
Protein

61.4g
Nutrition value is not always accurate
LINDA
Linked up at Weekend Potluck – Sweet Little Bluebird
Don't forget to PIN to your favorite Pinterest board !