Red Prawns and Mussels are slightly spicy and nestled in a creamy paprika tomato sauce – so quick and easy to serve for dinner or as an appetizer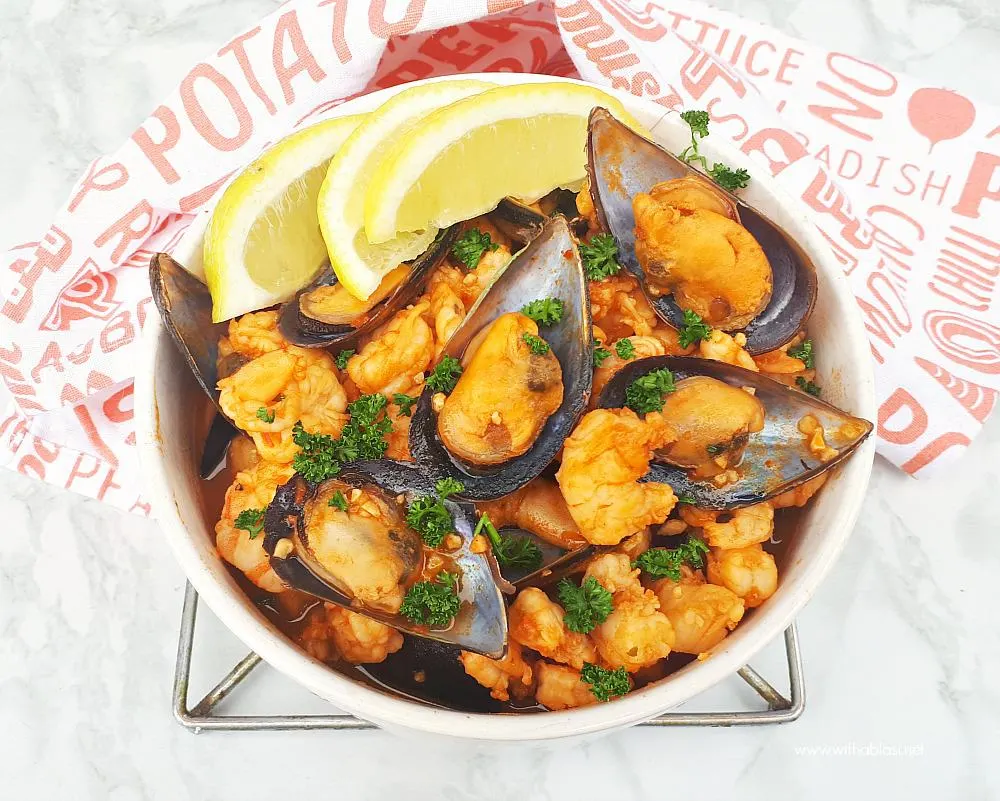 Some years ago (more like a decade plus!), Seafood was considered a luxury meal for us. Although, not the sustainable white fish varieties as those have always been affordable.
Nowadays, seafood are not that expensive anymore. However, red meat prices are going through the roof !
This Red Prawns and Mussels recipe is inexpensive and can be served as an appetizer or as the main meal.
In general we love both Prawns and Mussels, whether each on it's own or both in one dish.
This is absolutely the perfect dish to serve when entertaining or for a special occasion. Think Valentine's Day, which is coming up soon !
The recipe is for six adult main meal servings, but can easily be halved or doubled, whichever way you prefer.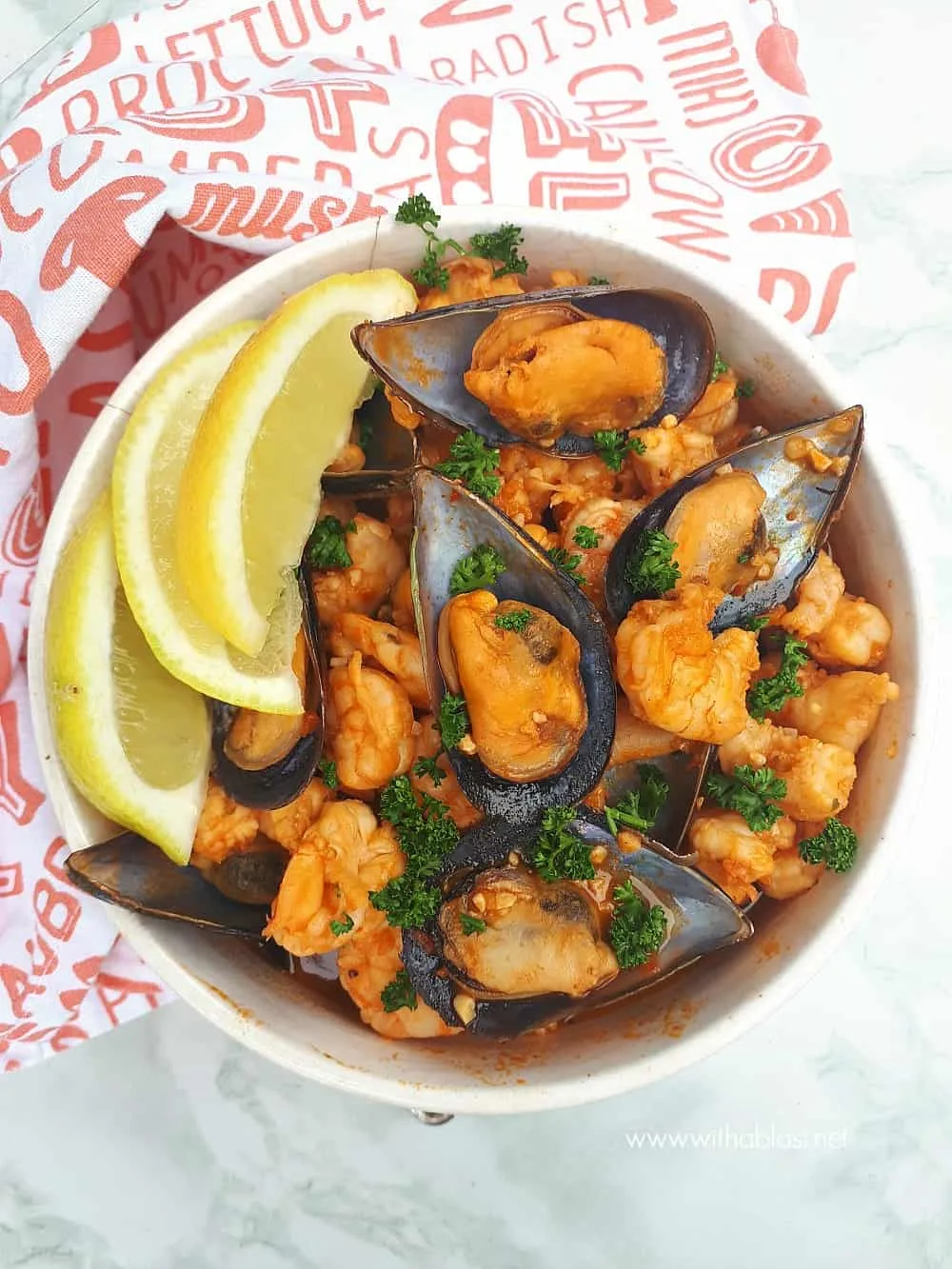 You only need 10 to 15 minutes to cook the dish, as marinating (which takes the longest) is done in advance. Also, no need to only marinate the Prawns and Mussels for only 30 minutes.
The longer the better ! This is really the case in most recipes which requires marinating.
Great, especially when you are going to be busy with the appetizer.
Besides, you need a little time between serving the appetizer and the main meal anyway. If serving as an appetizer, then you can even throw together the marinade and seafood during the morning already.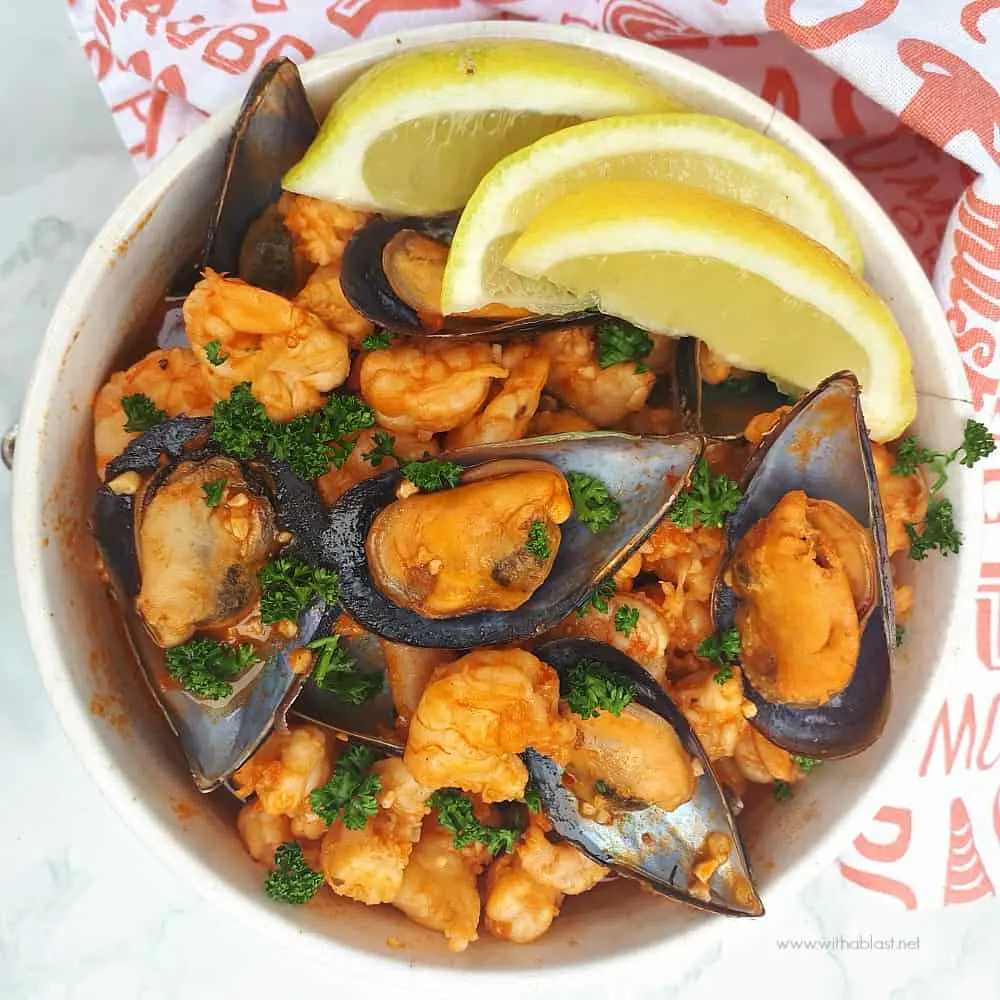 Why is it called Red Prawns and Mussels ?
Two reasons in this dish:
When most shellfish is cooked, the color changes to red – to me personally it sometimes look more pinkish
And the most obvious reason, the addition of tomato, in this recipe, tomato paste to be precise
Another reason this is one of the popular dishes to serve on Valentine's Day ! All things red and pink goes on this special, romantic day.
Shellfish Allergies ?
I am fortunate that no one in my immediate family is allergic to Shellfish, and it is such a pity that so many people are allergic to this tasty, wonderful type of food.
A little more insight to Shellfish allergies: (there are two types of Shellfish)
Crustaceans – these include Prawns, Shrimp (although in different suborders), Lobster and Crab
Mollusks – now these include Mussels, Clams, Oysters and even Scallops
Crustaceans causes the most severe allergic reactions. However, many (but NOT all) people can eat the Mollusk type Shellfish, even if they are allergic to the Crustacean types.
I would strongly recommend asking your guests whether anyone is allergic to either ahead of time.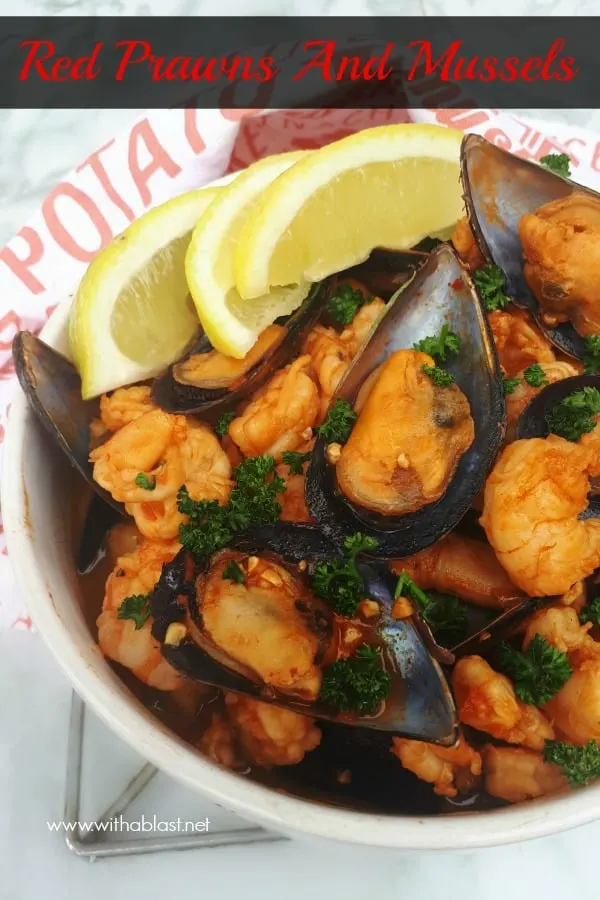 A very creamy, saucy dish which is most wonderful, especially served with toasted Garlic Bread to mop up all the sauce !
Only needs thickening if you really prefer a thicker sauce. We would sometimes thicken the sauce, and on other days enjoy the sauce as is.
Seeing as you only need to decide on the thickness you prefer at the end of cooking, it is up to you whether to thicken or not. And besides it only takes an additional minute or two of cooking.
More Seafood recipes you might like:
Red Prawns and Mussels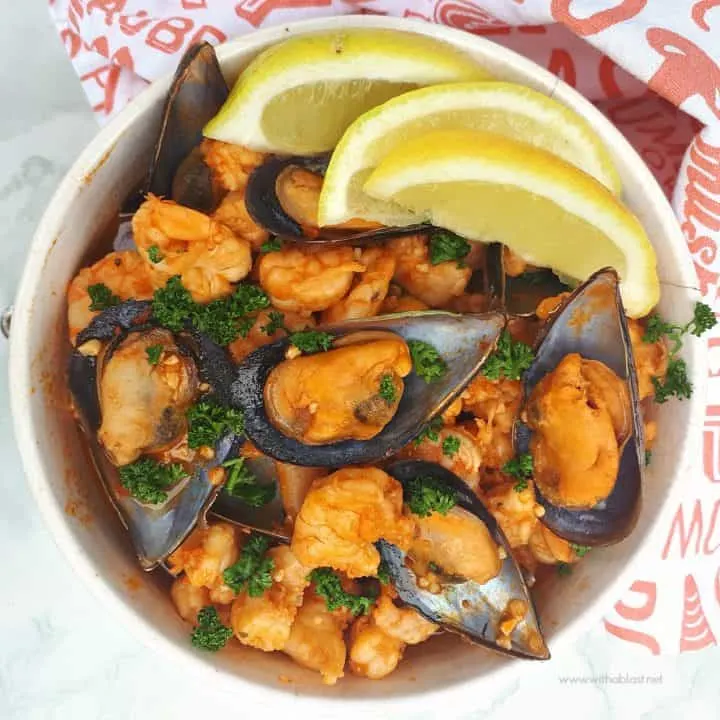 Red Prawns And Mussels
Marinate Time:
30 minutes
Red Prawns and Mussels are slightly spicy and nestled in a creamy paprika tomato sauce - so quick and easy to serve for dinner or as an appetizer
Ingredients
1/3 cup Olive Oil, extra-virgin
3 TB Tomato Paste
1 t Chili Flakes
2 t Garlic, minced
1/4 cup Lemon Juice
450 g Prawn Meat, defrosted if frozen ( 1 pound )
450 g Half Shell Mussels, defrosted if frozen ( 1 pound )
1 t Salt, or to taste
OPTIONAL:
1 TB Cornflour (Cornstarch)
2 TB Water
TO SERVE:
2 TB Parsley, chopped
1 Lemon, sliced into wedges
Instructions
Combine the Oil, Tomato Paste, Chili Flakes, Garlic and Lemon Juice in a small bowl - mix well
Place the Prawn Meat and Mussels in a marinating bowl - pour over the sauce and marinate for 30 minutes
Heat a wok with a little Oil - transfer the Prawn and Mussel mixture (with the marinade) and stir-fry until firm and fully cooked - season with Salt
OPTIONAL: (for a thicker sauce) Combine the Cornflour and Water - pour into the Prawn and Mussels - stir-fry another 1 - 2 minutes or until sauce has thickened
Transfer to a serving bowl - sprinkle over the Parsley and serve with Lemon wedges
Notes
To Serve:
over rice or pasta
with Garlic bread
add a side salad or vegetable if you prefer
Nutrition Information
Yield

6
Amount Per Serving
Calories

250.8
Total Fat

16g
Saturated Fat

2.6g
Unsaturated Fat

12g
Carbohydrates

5.1g
Fiber

1g
Sugar

1.9g
Protein

21.9g
Nutrition value is not always accurate
LINDA
Don't forget to PIN this recipe to your favorite Pinterest board !