Easy Charcuterie Board to make within minutes, which you can customize with ingredients you prefer or suits the occasion (Cheese Board). Substitutions given as well !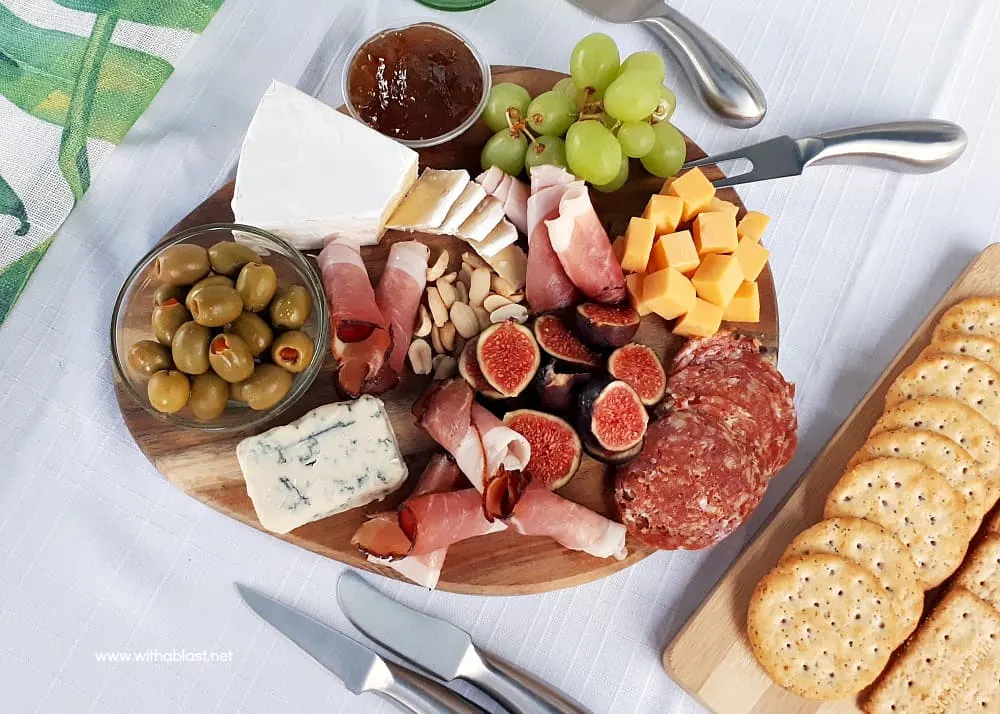 Looking for easy Charcuterie Board Ideas ?
Charcuterie Boards, also known as Cheese Boards, is one of my most made appetizer recipes ! In this post I will show you how to make an easy, simple Charcuterie Board within minutes.
There is no set recipe for a Charcuterie Board (or platter if you prefer). The possibilities of combining ingredients on a board is absolutely endless.
If you really want to follow the basic requirements to make one, you will most probably find a mixture of hard cheese, soft cheese, mature cheeses and just about always blue cheese.
I never stick to even suggested ingredients, but rather use cheeses, meats and fruits which I know my family and/or guests would like.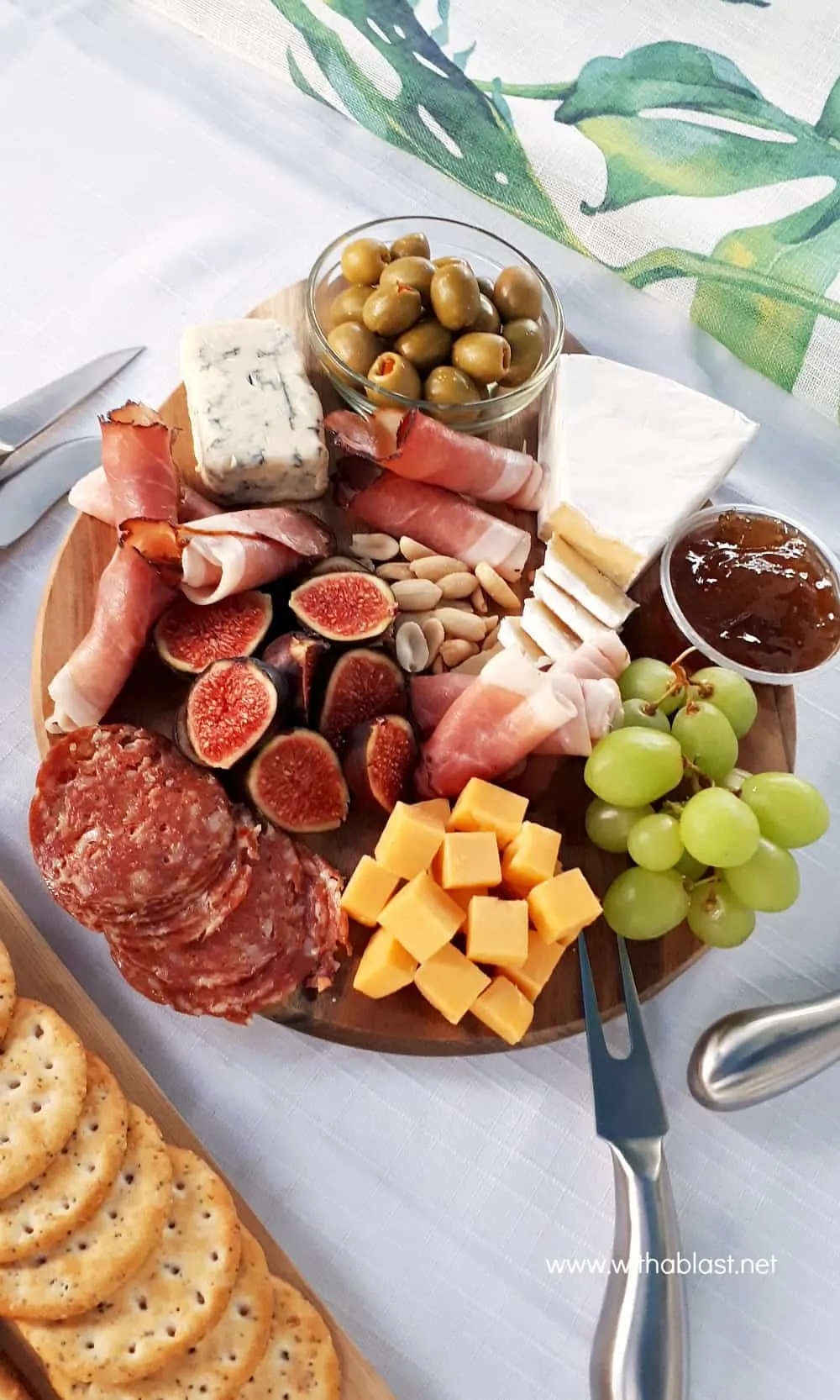 The recipe below is only for four people and the perfect guideline to follow when making a Charcuterie Board for special days. Think Valentine's Day !
I think when we are having a quiet Valentine's Day dinner at home, I have just about always made one of these. Usually for four people, because both my hubby as well as myself are nibblers.
We'll start with the Charcuterie Board, then the main meal and dessert. But will always go back to the oh so delicious cheeses, meats and fruit to nibble on some more.
Feel free to only half the recipe when you know you will only have it before dinner and you are two people.
Obviously if making for a crowd, double or triple the ingredients !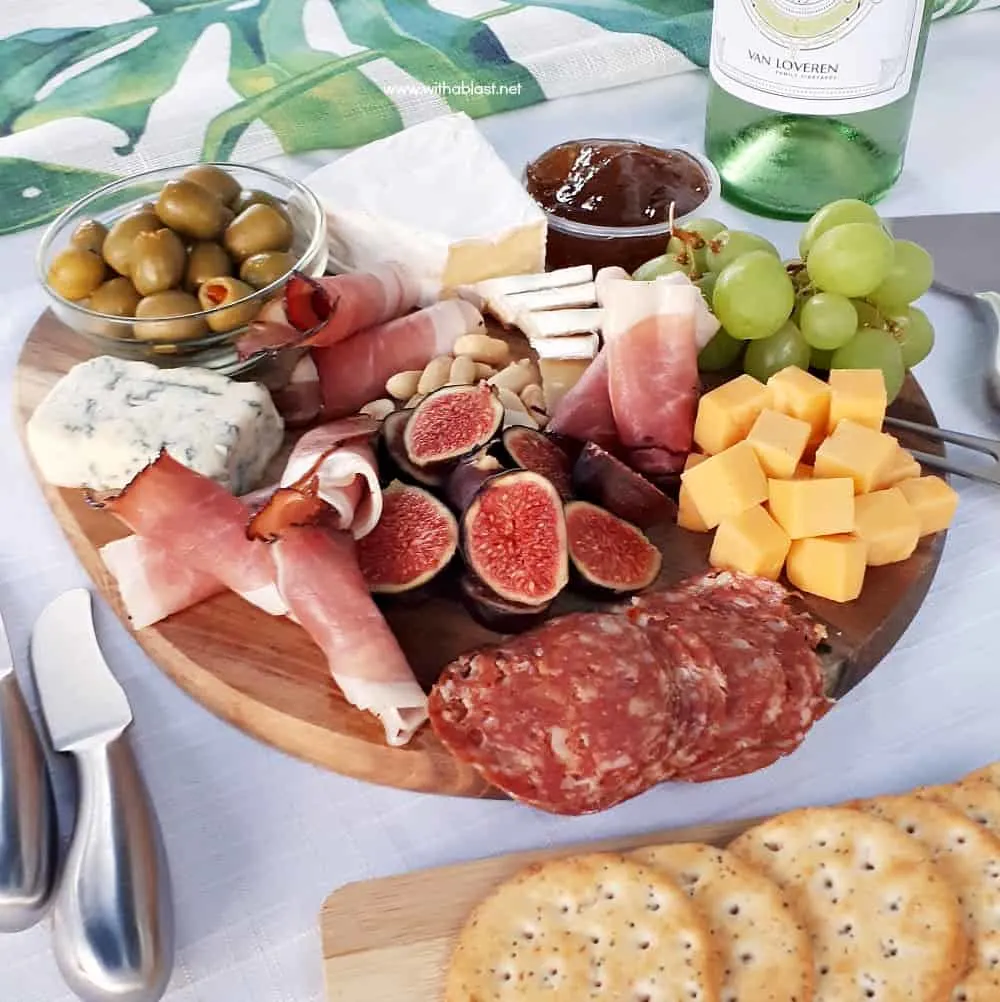 What is a Charcuterie Board ?
A lot of people simply call it a Cheese Board, which is totally okay ! But, the board does not only consist of cheeses.
Most Common ingredients on a Charcuterie Board includes:
Three, four or even more types of cheeses, which include soft cheeses ( Brie, Camembert, Chevre ), hard cheeses ( Pecorino Romano, Parmesan, Manchego, Cheddar, Swiss ) aged cheeses ( Mature Cheddar, Gruyere ) and my absolute favorite Blue cheese – available in various textures ( Danish Blue Cheese, Blue Cheshire, Roquefort, Stilton )
Meats – can be two, three, four or five different types which includes: Prosciutto, Salami, Mortadella, Black Forest Ham (basically just about any cured and/or smoked meats)
Fruit: Grapes, Figs, Apricots, Cherries, Pear slices and more (I add whatever is in season and I know my family likes)
Nuts: Just about any nut you like ! Nuts can be salty or sweet and a combination (placed separately on the board) is always welcome as many people either prefers a sweet nut and others salty
Crackers and breads: Most crackers go with a Charcuterie Board but you can also add Bread Sticks or an interesting bread, sliced smallish like a cracker size
Condiments: Definitely a must ! Honey is always a winner, jarred jams (especially those tiny pots!)
Pickled Fruits and Vegetables: Stuffed Olives, plain pitted Kalamata Olives, Carrot ribbons, Jalapenos (keep these in a separate bowl)
The list above is not complete, but will definitely give you an indication of ingredients to add to your Charcuterie Board.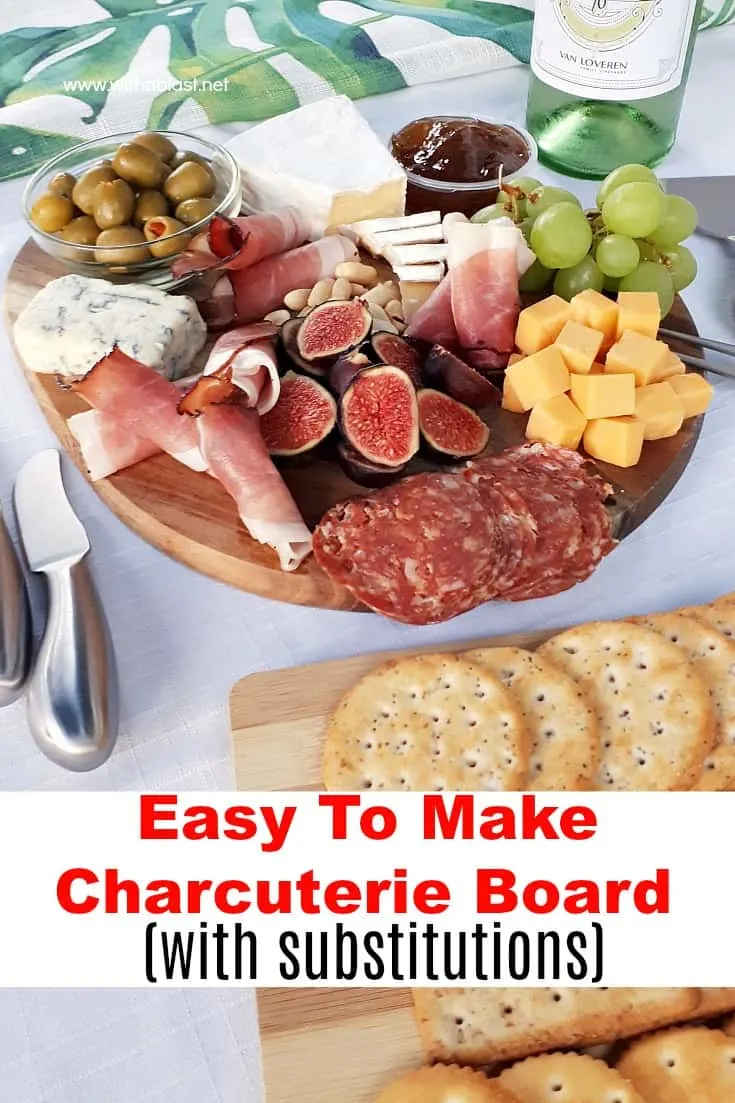 When do you start to assemble your Charcuterie Board ?
Me personally, as soon as the first guest arrive ! However, I do prep all the ingredients in advance. I like to serve the board when all the ingredients are still fresh and have not been standing a while.
In fact, back in December, I made a board, started in the kitchen using a large platter with wax paper extending way over both sides of the platter.
All the Cheeses, Meats, Olives, Condiments, Nuts and most of the Fruit were on the platter which I then took outside. (We had a fairly big get together with family and friends and the weather was perfect for outdoor eating.)
To finish the Charcuterie Board, I placed all the remaining ingredients on a plate and finished assembling the board outside. Remember I had the extended wax paper which created more space on both sides of the board.
A few minutes later (no more than 3 minutes!) and I had arranged the Crackers and remaining Fruits on the additional wax paper and was ready to serve to the guests.
Simply put : Make a Charcuterie Board with ingredients you like, pile them all on the board and serve !
How to make an easy Charcuterie Board without meat ?
Simply leave out any meats ! It really is as easy as that. Add more ingredients from the list above (which is not meat) and the board will still be enjoyed.
ps: Don't forget the cheese knives and tiny spoons (or something similar) for the jams etc.
Appetizer recipes you might like:
Easy Charcuterie Board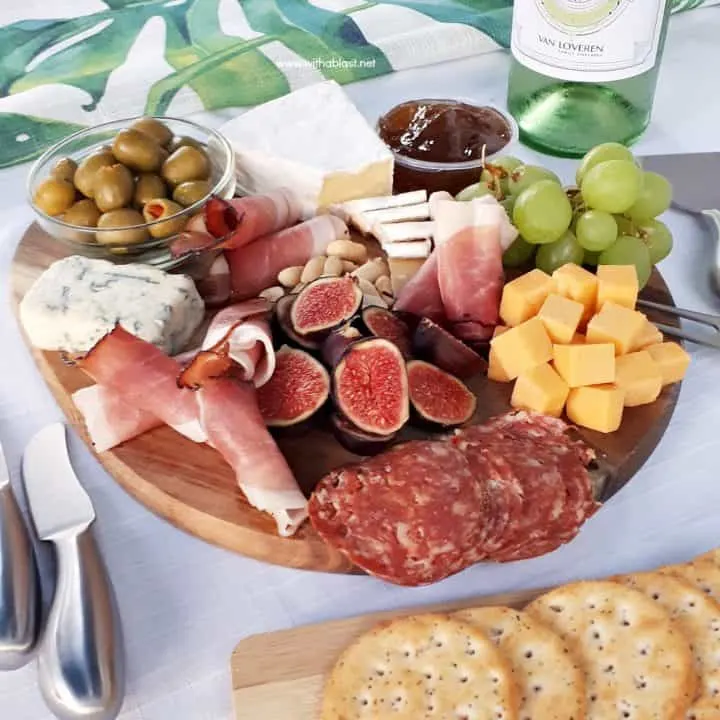 Easy Charcuterie Board
Easy Charcuterie Board to make within minutes, which you can customize with ingredients you prefer or suits the occasion (Cheese Board)
Ingredients
1/2 cup Olives, stuffed ( in a small bowl )
50 gr Blue Cheese, ( 2 oz )
1 Brie Cheese Wedge
1 cup Mature Cheddar Cheese, cubed
8 slices Black Forest Ham
12 slices Salami, ( whichever type you prefer )
1 1/2 cups Green Seedless Grapes
8 Baby Figs, washed and halved
3 TB Salted Nuts
1/4 cup Fig Jam ( in a small bowl )
24 Salty Crackers, ( different varieties )
Instructions
Start by arranging the cheeses on the board, I prefer them not next to one another, but rather in 3 areas on the board (for this specific recipe)
Add the fruits, also leaving spaces between
Fill up any empty spots with the remaining ingredients
Serve with a variety of salty crackers on the side
Notes
To make a larger Charcuterie board, simply double the quantities or add ingredients from the list in the post
Nutrition Information
Yield

4
Serving Size

1
Amount Per Serving
Calories

730
Total Fat

39g
Saturated Fat

16g
Trans Fat

1g
Unsaturated Fat

21g
Cholesterol

92mg
Sodium

1735mg
Carbohydrates

66g
Fiber

5g
Sugar

37g
Protein

32g
Nutrition value is not always accurate