Mexican Bean and Tomato Soup is a rich, hearty, loaded with veggies , spicy soup and of the best comfort foods on a cold day
There is nothing much better on a cold evening than a rich, hearty pot of soup on the stove.
Mexican Bean and Tomato Soup is one of our favorites as it combines all the best, and our preferred, flavors in one soup.

The soup is packed with protein loaded veggies and is not overly spicy, just the way we like it. A crusty bread roll, a mug of soup and a good book is really all I need on a chilly day.
I know some people do not like Cilantro, which of course I absolutely love, anytime of the year. My husband and son are not so much into Cilantro though.
They will eat it, and usually not even realize it. But as the Cilantro gets added right before serving, I serve the chopped Cilantro on the side in a smaller bowl.
This way whomever wants to add Cilantro, can easily do so.
Overall this is a delicious, hearty soup and you might want to make some extra as seconds are always requested.
My son also likes to take a small jug filled with the Mexican Bean and Tomato Soup to work to enjoy at lunch time.
Although he admits the soup does not last through the morning and is finished by lunch time !
The smell of the soup is heavenly ! And if your family is anything like mine, they will visit the kitchen a lot! Checking up on when exactly the soup will be ready and they can start to dig away.
More Soup recipes you might like:
Mexican Bean And Tomato Soup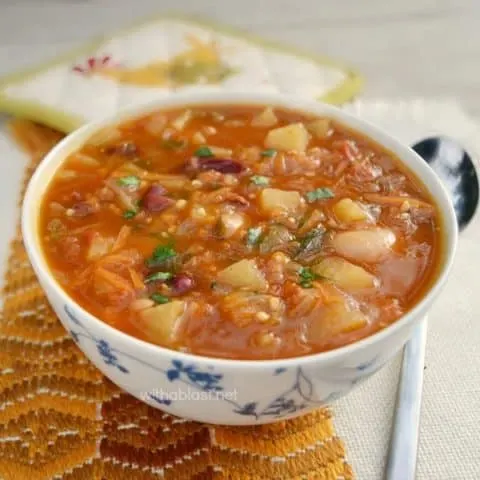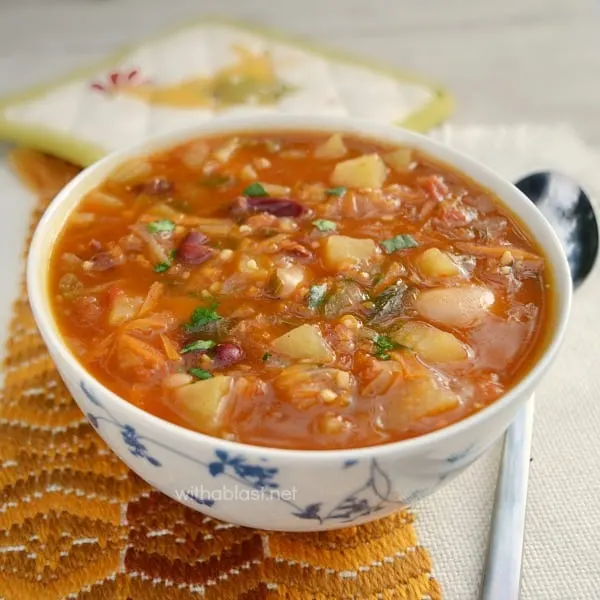 Mexican Bean And Tomato Soup
Rich, hearty and loaded with veggies makes this spicy Mexican Bean and Tomato Soup one of the best comfort foods on a cold day
Ingredients
2 TB extra-virgin Olive Oil
1 Red Onion, finely chopped
1 TB Fresh Garlic, crushed
1 TB Fresh Ginger, finely grated
1 TB Chili Paste
1 t Ground Cumin
2 t Ground Coriander
2 Carrots, peeled, grated
3 Celery Ribs, chopped
1 can (410g) Mexican-Style Tomatoes ( 15 oz )
2 Large Potatoes, peeled, finely diced
3 cups Chicken Stock
1 can (410g) Butter Beans, drained and rinsed ( 15 oz )
1 can (410g) Red Kidney Beans, drained and rinsed ( 15 oz )
1/4 t Salt
2 TB Cilantro, chopped
Instructions
Heat the Oil in a large pot – saute the Onion 3 minutes
Stir in the Garlic, Ginger, Chili Paste, Cumin, Coriander, Carrots and Celery – stir-fry 3 – 5 minutes
Add the Tomatoes, Potatoes and Chicken Stock – reduce heat and simmer, covered, until the vegetables are halfway cooked
Once halfway cooked, add the Butter Beans, Kidney Beans and the Salt – continue to cook until all the vegetables are soft and cooked through
Stir in the Cilantro
Nutrition Information
Yield

6
Amount Per Serving
Calories

270.6
Total Fat

7.2g
Saturated Fat

1.1g
Unsaturated Fat

5g
Cholesterol

4.4mg
Sodium

696.9mg
Carbohydrates

41.6g
Fiber

7.4g
Sugar

9.6g
Protein

10.2g
Serve with crusty dinner rolls.