Baked Banoffee is a spin on the very popular Banoffee Pie, with caramel, banana and custard all baked into one delicious, comforting dessert
These photos are from the second time round I made the baked Banoffee. Since my arms serve more like hanging ornaments than something useful these days, I drop a lot, and I mean a LOT of stuff.
Loads of unsavory words are being uttered by myself, especially when I am wasting food. Breaking an empty glass or plate is still okay, but I was taught not to waste food.
This is very difficult as my husband is already doing most of the cooking. Whether I ask him to make something specific, or he comes up with something of his own.
The difficult part (mentioned above) is being a food blogger … mmm, and then said food blogger does not even make most of the food she blogs about herself.
Time to slow down..
I am now in a spot where I found that I have lost any interest in food. Specifically trying out new recipes, and also since typing hurts my arms as well, I do not spend all that much time online anymore.
Let's rewind a little to where I made the baked Banoffee the first time.
As I removed the baked dessert from the oven, I have an eye-level oven, so I need to reach upwards a little, my arm just gave way and I could feel the dish slipping.
But instead of landing on the floor, half of the dessert fell into the oven due to the way I was trying to get a grip on it again.
I wanted to cry, not so much about the dessert, but me fighting a losing battle in the kitchen.
Thing is, I still have lots of recipes to share with you, ready for the final touches. But blogging is not a priority right now, resting my body is.
Hence the infrequent posting the last couple of weeks, which I do apologize for, but do know that there is more to come, only the frequency will change.
Back to today's recipe – and yes, true to With A Blast's recipe sharing – quick, easy and delicious !
Banana bread loaded with soft, melting Caramels, slices of baked Banana, all covered in a delicious baked-in Custard.
More baked sweet treats you might like:
Baked Banoffee
Yield: 6 Servings
Baked Banoffee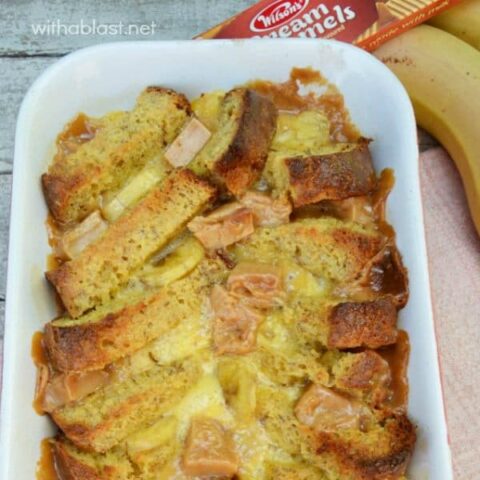 Baked Banoffee is a spin on the very popular Banoffee Pie, with caramel, banana and custard all baked into one delicious, comforting dessert
Ingredients
1 Banana Bread (homemade or store-bought)
1 Large Banana, peeled and sliced
1 cup Caramels (any kind, preferably easy melts)
1 cup Custard (homemade or store-bought)
1 large Egg
3/4 cup Fresh Cream (whipping cream/double cream)
Instructions
1.) Pre-heat the oven to 180 deg C (350 deg F) – spray a loaf shaped, but twice the size of the Banana Bread, oven dish with cooking oil
2.) Slice the Banana Bread in half lengthwise, then into finger strips – arrange the slices in a criss-cross kind of way, overlapping each other, leaving gaps in between and under
3.) Press the Banana slices and the Caramels into and under the bread slices, wherever you find an opening
4.) Beat together the Custard, Egg and Cream – pour over the dessert and let stand 10 minutes
5.) Bake covered with aluminum foil for 20 minutes, remove the aluminum foil and bake another 10 minutes until bubbly and the Caramels are soft, but not melted away
Nutrition Information
Yield
6
Amount Per Serving
Calories

339.1
Total Fat

18.9g
Saturated Fat

9.6g
Unsaturated Fat

5.7g
Cholesterol

119.3mg
Sodium

99.7mg
Carbohydrates

37.1g
Fiber

0.9g
Sugar

18.6g
Protein

6.6g
Serve warm with whipped cream or ice-cream.
LINDA