Chicken Noodle Soup is a very tasty, loaded with vegetables, healthy Chicken Soup which is ideal for the colder evenings.
Since I can remember my two favorite soups were and still are, Chicken Noodle Soup and Creamy Tomato Soup, not necessarily in that order.

My moods do change however when I add the Noodles, usually it will be about a cup of raw noodles.
But I would add more Noodles on occasion, either because I want a little more sustenance or when I need to stretch the servings from 8 to say 10 servings.
The servings given are all adult sized servings and kids under 10, would probably eat a lot less, as one serving is about 1 1/2 cups.
Make use of those 2 Minute noodles !
You can use any kind of Noodle, but I like to use those packets of 2-Minute Noodles. In fact that is mostly the reason I buy those packets, cheap, convenient and only one packet is needed for this recipe. Unless you like a more filling soup.
I do not add the little foil packets containing the flavorings, we keep that for our furry kids. Mix it with hot water and pour it over their dry dog food. Also only on colder days – they need some comfort food as well !
The defrosted Peas are ready within minutes and so is the Noodles. But I like mine soft, slightly overcooked and therefore simmer a bit longer.
Whenever the Noodles are cooked to your preference, you can turn down the heat, season and serve.
There is one more thing I need to mention, as you can see below, I use Chicken Fillets, no skin or bones.
And yes, I know that is where the most flavor comes from for a Chicken Stock (soup in this case) and you can use plain Chicken pieces, discard the skin and bones when shredding.
I simply try to use Chicken without any fat, which is in the skin and between the bones, therefore I am giving up on a little extra taste, but the soup is healthier.
More comforting Soup recipes you might like :
Chicken Noodle Soup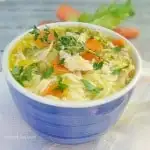 Chicken Noodle Soup
Chicken Noodle Soup is a very tasty, loaded with vegetables, healthy Chicken Soup which is ideal for the colder evenings
Ingredients
1 TB Olive Oil extra-virgin
1 Onion, chopped
3 Carrots, peeled, chopped or sliced
4 ribs Celery, chopped
3 Chicken Fillets
1 Bay Leaf
3 sprigs Thyme
6 Black Peppercorns
8 cups Water
1 cup Noodles, any
1 cup Frozen Peas, defrosted
Salt and Pepper, to taste
1/2 cup Parsley, chopped
Extra sprigs Thyme, to garnish (optional)
Instructions
Heat the Oil in a large saucepan – saute the Onion, Carrots and Celery until soft – remove and set aside
Using the same saucepan, add the Chicken, Bay Leaf, Thyme, Black Peppercorns and Water – bring to the boil, cover, reduce heat and simmer 25 – 30 minutes or until the Chicken is fully cooked
Remove Chicken and shred – pour the liquid through a sieve and discard the Bay Leaf, Thyme sprigs and Peppercorns – transfer back to the saucepan together with the Chicken
Add the sauteed Onion,Carrots and Celery – stir through
Add the Noodles and Peas – continue to cook for 8 – 10 minutes or until the Noodles are done – season to taste
Nutrition Information
Yield

8
Amount Per Serving
Calories

145.4
Total Fat

3.8g
Saturated Fat

1g
Unsaturated Fat

2.7g
Carbohydrates

15.2g
Fiber

2.5g
Sugar

3.8g
Protein

13g
Serve sprinkled with Parsley and a sprig of Thyme (if using).
LINDA