Delicious, thick, filling and warming low-fat Quick Chicken Orzo Soup is the best comfort food in a flash ! Loaded with vegetables too !
Instead of using the usual thin noodles, I used Orzo in this quick Chicken and Orzo Soup. And the soup turned out delicious and much more comforting than noodles.
As I have mentioned before, I do not like spending a lot of time in the kitchen when I am cold.
I much rather prefer a good bowl of quick homemade soup and curl up with my E-Reader.
This recipe is extremely quick to make which makes it perfect for a busy weeknight. And served with some fresh crusty dinner rolls – or a gooey grilled cheese! – you will have dinner ready in no time at all.
You can also decide exactly how thin or thick the Chicken and Orzo Soup should be. I sometimes prefer a little thinner, but on the colder nights, I like a nice thick soup.
Adjust the addition of Cornflour (Cornstarch) according to your preference, or you might not want to add it at all, which is also just fine.
This recipe is so easy to double or even triple and it would not take any longer to cook.
More Soup recipes you might like:
Quick Chicken Orzo Soup
Yield: 8 Servings
Quick Chicken Orzo Soup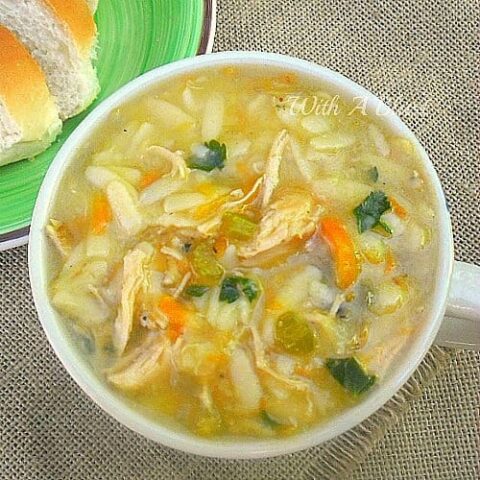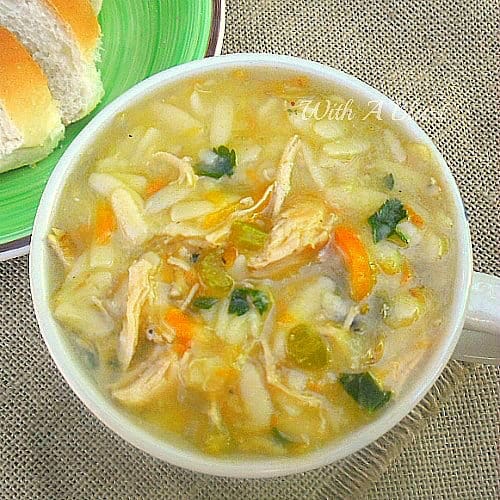 Delicious, thick, filling and warming Quick Chicken Orzo Soup is the best comfort food in a flash ! Loaded with vegetables too !
Ingredients
1 TB Olive Oil, extra-virgin
1/2 cup Onion, chopped
1/2 cup Celery, chopped
1/2 cup Carrots, peeled and grated
Salt and Black Pepper, to taste
4 cups Chicken Broth or Stock
1 cup Orzo Pasta
2 1/2 cups Cooked Chicken, shredded
2 TB Italian Parsley, chopped
1 TB Cornflour, (Cornstarch), optional
2 – 3 TB Water, optional
Instructions
Heat the Olive Oil in a large saucepan – saute the Onion, Celery and Carrots until almost tender – season to taste with Salt and Pepper (not too much – the Broth/Stock will be salty as well)
Add the Broth or Stock and the Orzo – bring to the boil and cook 10 minutes or until the Orzo is cooked through
Stir in the Chicken and cook through for a few minutes – stir in the Parsley
OPTIONAL: If the soup is not thick enough to your preference, mix the Cornflour and Water – add to the soup, when adding the Chicken – once thickened and cooked through, stir in the parsley
Nutrition Information
Yield
8
Amount Per Serving
Calories

193.2
Total Fat

4.7g
Saturated Fat

0.9g
Unsaturated Fat

3g
Carbohydrates

21.6g
Fiber

1.3g
Sugar

3.5g
Protein

14.8g
Serve with your choice of fresh bread, croutons or grilled cheese sandwiches.
LINDA