Chocolate Peppermint Crisp Cupcakes are rich, moist and filled with Caramel and a frosting which tastes just like a Peppermint Crisp Tart !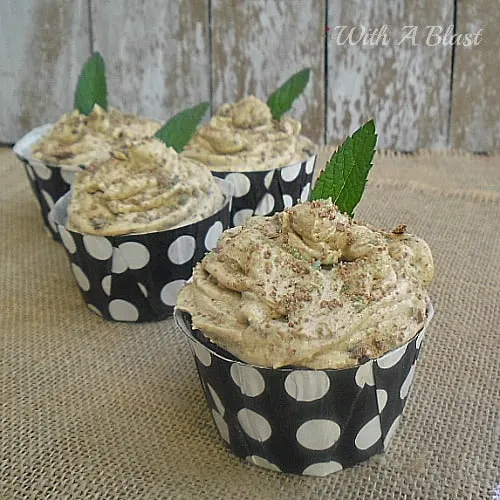 This is one of those recipes where you can not decide which is better !
The amazing Frosting or the Caramel stuffed Chocolate Cupcake. These Peppermint Crisp Cupcakes are always a big hit with our family.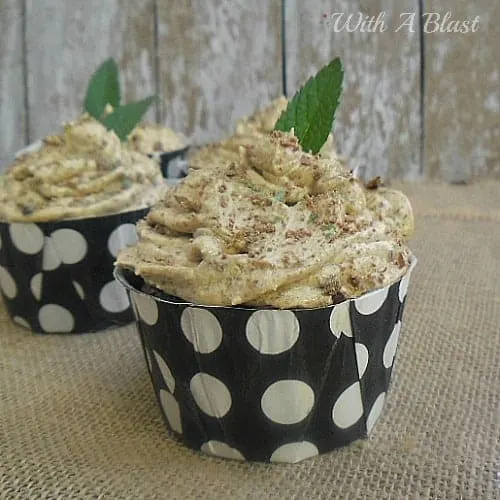 I have to confess … about a quarter of the Frosting never made it to the Cupcakes as intended, but rather straight to my mouth ! It tastes exactly as our very popular South-African Peppermint Crisp Tart.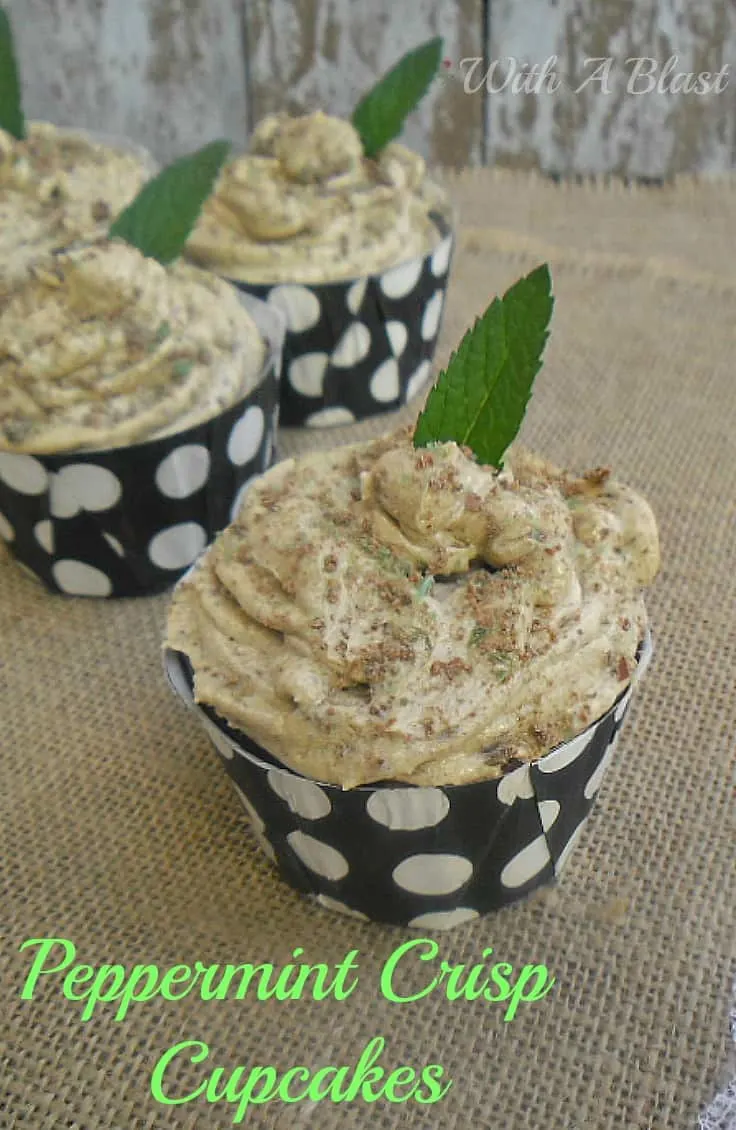 If the Caramel Condensed Milk is unavailable where you live, simply boil a can of Sweetened Condensed Milk for two hours.
That is how I did it before we were blessed with the ready-boiled Caramel Treat Condensed Milk ! Or check the Internet as I see there are lots of other ways to make your own Caramel Condensed Milk.
The Chocolate Cake part is moist, sweet and even slightly sticky – add some Caramel and you are halfway to heaven already !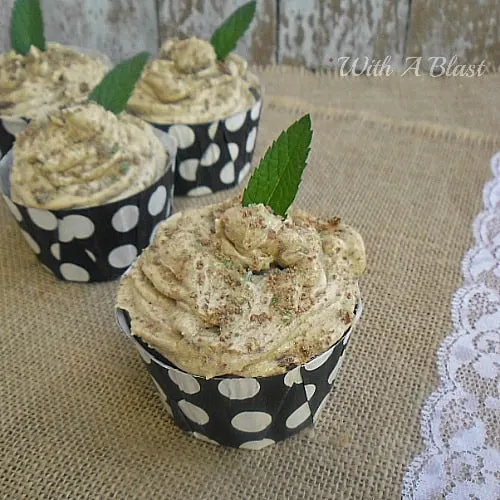 I found the recipe for these Peppermint Crisp Cupcakes on one of our online magazine or store sites.
Hoever, the thing which drew my attention immediately – for a change! – was not the recipe.
But the actual cupcake liners ! I cut mine down a bit, otherwise the cupcakes would have disappeared in the liner as it is quite high.
More Cupcake recipes you might like:
Peppermint Crisp Cupcakes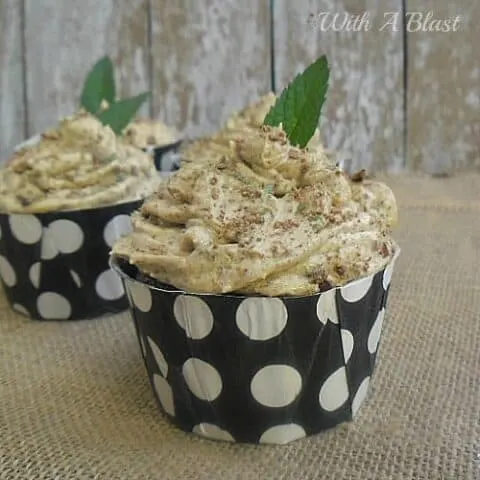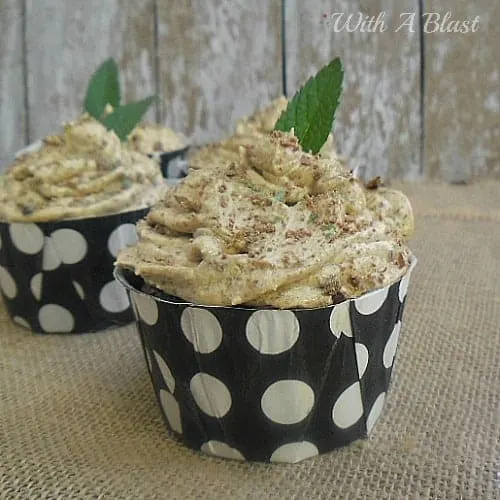 Peppermint Crisp Cupcakes
Frosting Time:
10 minutes
Chocolatey, rich, moist and filled with Caramel and a frosting which tastes just like a Peppermint Crisp Tart ! Peppermint Crisp Cupcakes are a great (individual treats) alternative to the very popular tart
Ingredients
CUPCAKES:
1/2 cup Cocoa Powder
1 cup Flour
1 cup Sugar
1 t Baking Powder
1/2 t Salt
1 Egg, extra-large
1/2 cup Luke Warm Water
1/2 cup Buttermilk
1/4 cup Vegetable Oil
1/2 t Vanilla Essence
FROSTING:
1 cup Soft Unsalted Butter
3 cups Icing Sugar (Powdered Sugar)
1/2 can (of a 397g can) Caramel Condensed Milk, divided
1 Large slab (100g) Peppermint Crisp Chocolate, grated finely ( 3 oz )
Fresh Mint Leaves, to garnish, 1 - 2 per cupcake
Instructions
CUPCAKES: Pre-heat the oven to 190 deg C (375 deg F) – line a 12 hole cupcake pan with liners
Sift together the Cocoa, Flour, Sugar, Baking Powder and Salt in a large mixing bowl
Add the Egg, Water, Buttermilk, Oil and Vanilla – beat together 3 minutes until well combined
Pour batter into the lined cupcake holes – bake 18 – 20 minutes or until done
Remove from oven and transfer to a cooling rack to cool completely
FROSTING: Beat together the Butter, Icing Sugar, 2 tablespoonfuls of the Caramel Condensed Milk and most of the grated Peppermint Crisp (keep some for sprinkling) in a medium mixing bowl – transfer to a piping bag and chill until needed
Once the Cupcakes have cooled, scoop out about one teaspoon of the top (center) of the cupcakes, creating a hole – fill with Caramel Condensed Milk
Pipe the Icing over the Cupcakes, sprinkle with extra grated Peppermint Crisp and garnish with a Mint leaf or two
Notes
Serve immediately or keep chilled until ready to serve
Nutrition Information
Yield

12 Servings
Serving Size

1 Cupcake
Amount Per Serving
Calories

480
Total Fat

24g
Saturated Fat

11g
Trans Fat

0g
Unsaturated Fat

12g
Cholesterol

62mg
Sodium

226mg
Carbohydrates

64g
Fiber

1g
Sugar

50g
Protein

4g
Nutrition value is not always accurate
Serve immediately or keep chilled until ready to serve.
Remember to PIN to your favorite Pinterest board !