Delicious Holiday flavors in these Ginger Bread Cupcakes (2 methods of baking) and the Cinnamon Cream Cheese Frosting is so decadent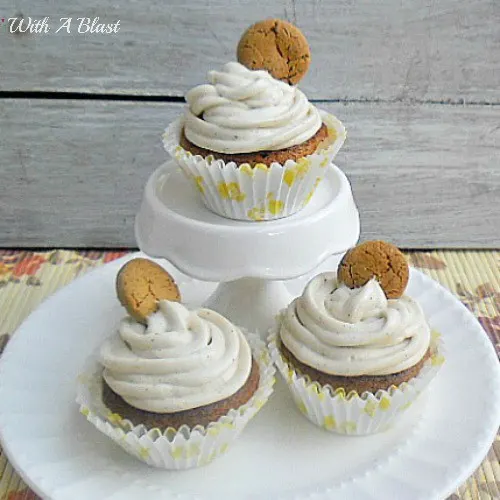 Our whole family loves Ginger Bread ! I have one specific recipe for a super-moist Ginger Bread recipe which we (that would be my son and myself, mostly) make all the time.
But, I wanted to change things up a bit and decided to make these Ginger Bread Cupcakes with a wonderful Cinnamon Cream Cheese Frosting.
Perfect for the Festive season or anytime you have a craving for Ginger Bread.
The cupcake is moist, soft and has a tinge of sweet stickiness to the top, which is totally delicious.
Topped with a rich, creamy Frosting, these Cupcakes can be served to a queen and would be loved immediately !
And the smell of the cupcakes baking is so mouthwatering. You would just want to dig in as soon as the Ginger Bread Cupcakes come out of the oven.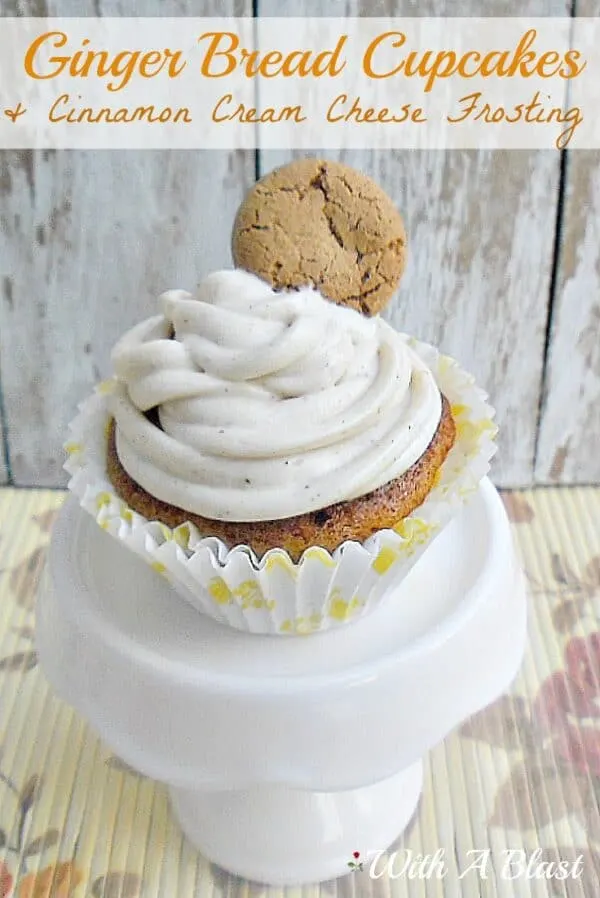 I added mini Gingersnap cookies to the topping, which adds a little more to the otherwise everyday look. It also adds a bit of a crunch to the ever so moist cupcakes.
Seeing as these are mini sized cupcakes, I would double up the recipe if I had to serve them at a party. Or at tea-time with a bunch of work colleagues.
But we are only 3 at home during the week, and 12 miniature cupcakes are more than enough for us for dessert. We might even have one or two leftover for my son to take to work as a lunch time treat.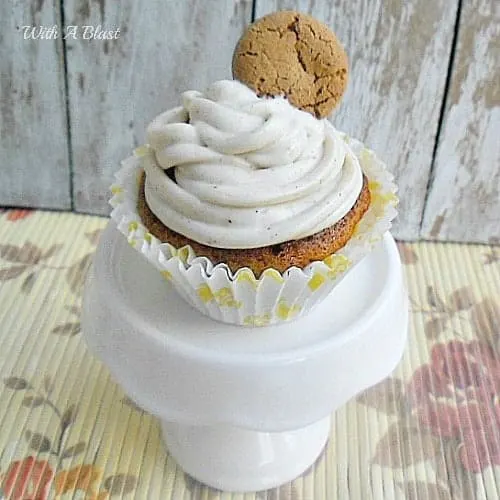 More Holiday treat recipes you might like:
Ginger Bread Cupcakes With Cinnamon Cream Cheese Frosting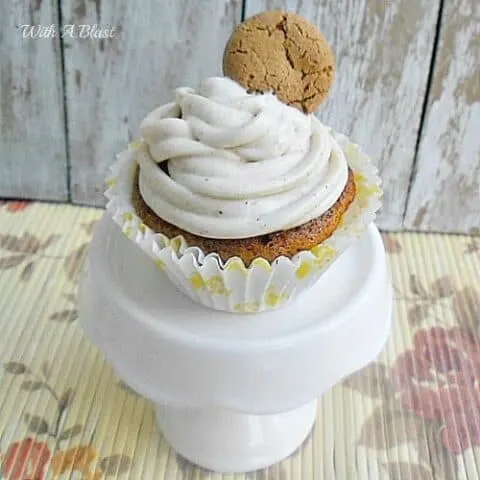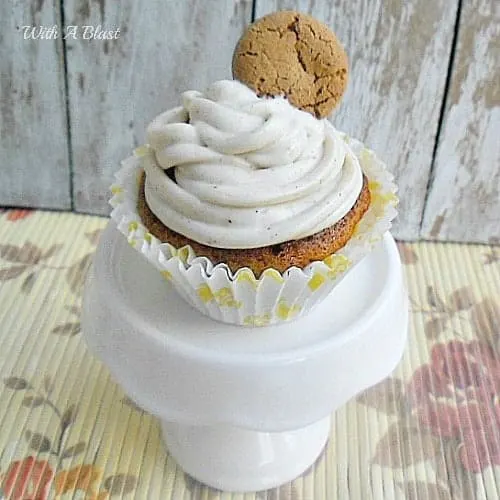 Ginger Bread Cupcakes with Cinnamon Cream Cheese Frosting
Delicious Holiday flavors in this Ginger Bread Cupcake (2 methods of baking) and the Cinnamon Cream Cheese Frosting is so decadent
Ingredients
CUPCAKES:
1 cup Flour
1 t Baking Powder
1 t Ground Ginger
1/2 t Baking Soda, (Bicarbonate of Soda)
1/2 t Ground Cinnamon
1/4 t Ground Cloves
1/4 t Salt
2 TB Unsalted Butter
2 TB Brown Sugar
2 TB Syrup, (I use Golden Syrup – Light Corn Syrup will be fine)
2 TB Molasses
3 TB Milk
1 Egg, lightly beaten
FROSTING:
125 g Cream Cheese, plain, softened ( 4 oz )
1 1/2 cups Icing Sugar
1 t Vanilla Essence
1 t Ground Cinnamon
OPTIONAL:
12 Mini Gingersnap Cookies
Instructions
Sift together the 1st seven dry ingredients in a medium mixing bowl
Place the Butter, Brown Sugar, Syrup and Molasses in a small saucepan – heat over medium heat and stir until the Sugar has dissolved – pour over the dry, sifted ingredients and stir to combine – add the Milk and Egg – stir until well mixed
If using the Babycakes Cupcake Maker – fill each cupcake hole about halfway full with batter {following the machines directions} and cook until done – mine took 5 minutes per batch
If using the oven – fill mini cupcake liners/holders halfway full with batter – bake in a pre-heated 180 deg C (350 deg F) oven for 12 – 15 minutes
Remove from machine/oven and let cool completely
FROSTING:
Beat together the Cream Cheese and Icing Sugar (add cup-by-cup whilst beating) until smooth – add the Vanilla and Cinnamon – mix until combined
Spread or pipe the Frosting over the cooled Cupcakes - add a mini Gingersnap cookie (if using)
Nutrition Information
Yield

12 Servings
Serving Size

1 Cupcake
Amount Per Serving
Calories

210
Total Fat

7g
Saturated Fat

4g
Trans Fat

0g
Unsaturated Fat

3g
Cholesterol

31mg
Sodium

222mg
Carbohydrates

35g
Fiber

1g
Sugar

21g
Protein

3g
Nutrition value is not always accurate