Mini Cassata Pies are the perfect, make-ahead frozen dessert to end of a rich meal – packed with Cranberries, Nuts, Chocolate pieces and more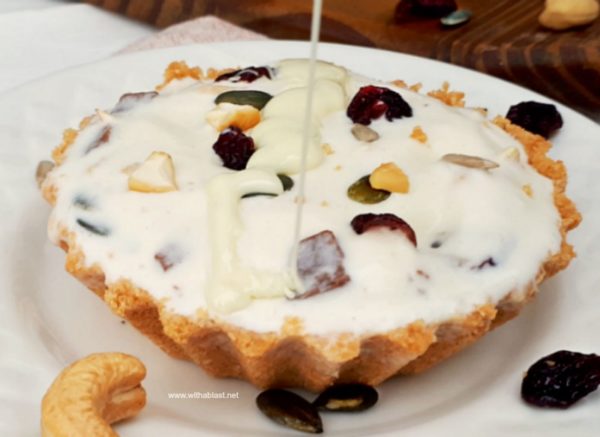 I am a huge ice-cream lover ! These Mini Cassata Pies stole our hearts immediately.
They are perfect to serve after a rich meal, especially during the Festive Season.
The Cranberries, Nuts, Chocolates and just the whole little frozen treat screams Christmas to me.
This is most definitely not a traditional version of the Italian Cassata, but a divine (cheat's!) take on a very popular dessert.
I am not sure what is wrong with me this Holiday season. It is as if I just can not get into the culinary mood, for lack of a better description !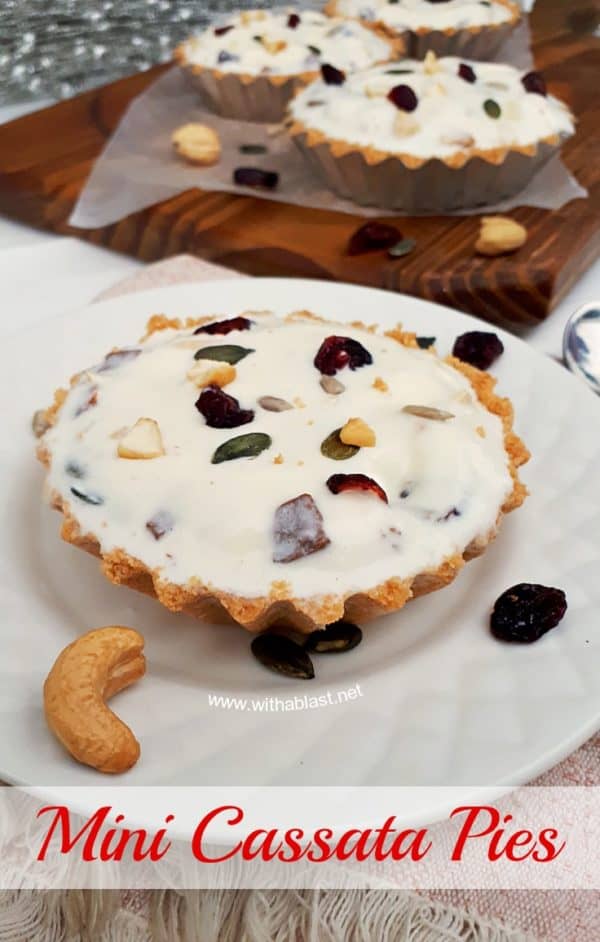 It might be because the kids are all away on holiday for ten days, which includes not only Christmas Day, but also my daughter's birthday.
Another reason might be that I always planned Christmas weeks, if not months, in advance. The food, decor, where, when, whether we have an at home Christmas or go to a restaurant.
This year I have done just about nothing yet. We did invite my mom-in-law and hubby's sister to spend the day with us, though. No details given, except that it might be at home or we might go to a restaurant.
Now that is bad planning ! Fortunately they are not the fussy type and really just enjoy good food and company. (Read – catching up on gossiping!).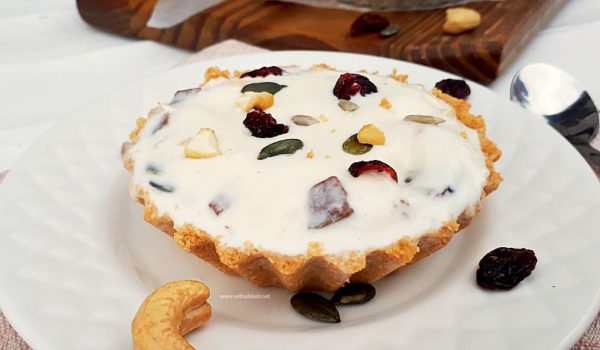 However, I have done all my shopping, except for a couple of small things we might need throughout the Festive season. Oh, and of course whenever a too-good-to miss promotion pops up !
I was leafing through this month's Fresh Living magazine the other day, and my eye caught these Cassata pies. Of course I immediately bookmarked the page as I have not had Cassata in ages.
Ideally, I would have loved to use Gelato, but could not find any.
Oh well, the plain old Vanilla ice-cream did the trick, and we totally enjoyed these mini Cassata pies.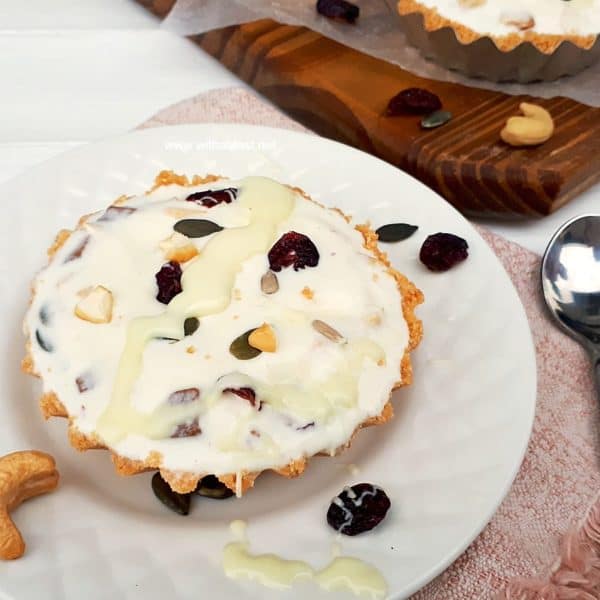 What other ingredients can be used in a Cassata recipe ?
You can of course use your own, preferred add-ons in the filling. Maybe candied fruit, fruit mincemeat or whatever you like. Same with the Nuts. I used a mix of cashew nuts and seeds.
The number one bonus with these (or most frozen desserts) is that it is make-ahead friendly. Once frozen, simply wrap them tightly (still in the tin pan or not) in clingwrap and pop back into the freezer.
Melt the White Chocolate just before serving and drizzle over.
More Sweet Treat recipes you might like:
Mini Cassata Pies
Yield: 6 Servings
Mini Cassata Pies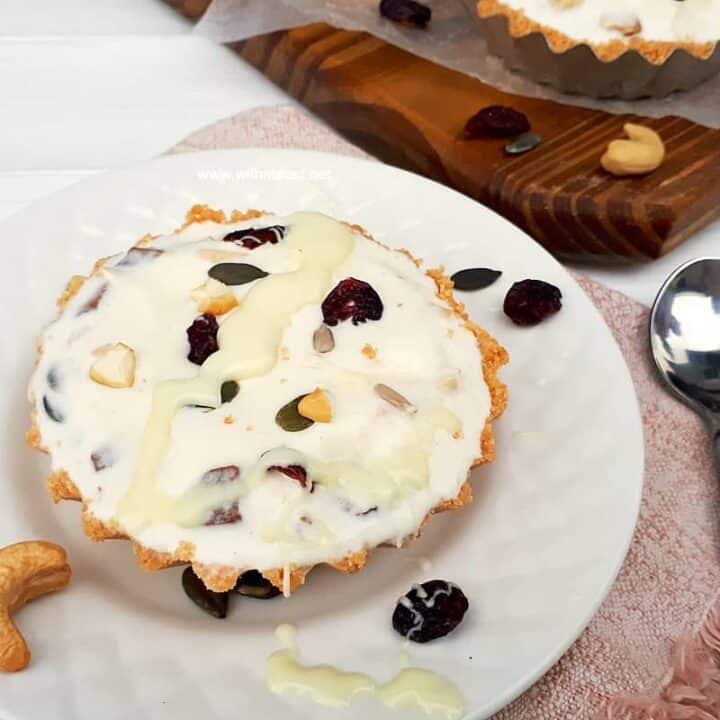 Perfect, make-ahead frozen dessert to end of a rich meal - packed with Cranberries, Nuts, Chocolate pieces and more
Ingredients
CRUST:
200 g Tennis Biscuits, or Graham Crackers, finely crushed ( 7 oz )
1/2 cup Unsalted Butter, melted
ICE-CREAM FILLING:
2 1/2 cups Vanilla Ice-Cream, softened
1/3 cup Dried Cranberries
1/3 cup Nuts, chopped (use a mixture of Nuts and Seeds if you prefer)
1/4 cup Milk Chocolate, chopped
TO SERVE:
1/4 cup White Chocolate, melted, to drizzle
Instructions
Combine the Biscuit crumbs with the melted Butter - press into 6 ( 1/2 cup size ) tart tin pans - place in the refrigerator until needed
ICE-CREAM FILLING:
Add the Cranberries, Nuts and Chocolate pieces to the softened Ice-Cream - mix trough thoroughly
Spoon into the prepared crusts and place in the freezer to set (about 1/2 hour and it will be frozen)
TO SERVE:
Remove the Cassata Pies from the freezer - let stand 5 minutes - remove from the tin pans and place on a serving plate - Drizzle with melted White Chocolate and serve immediately
Notes
If making in advance - once the Pies are frozen, cover with clingfilm and keep in the freezer compartment until ready to serve
Nutrition Information
Yield
6
Serving Size
1 Mini Pie
Amount Per Serving
Calories

525
Total Fat

36g
Saturated Fat

18g
Trans Fat

0g
Unsaturated Fat

15g
Cholesterol

69mg
Sodium

283mg
Carbohydrates

47g
Fiber

2g
Sugar

28g
Protein

7g
Nutrition value is not always accurate