Tender, juicy Honey Lemon Pork Loin With Roasted Lemon Orzo is a quick, filling and delicious week night dinner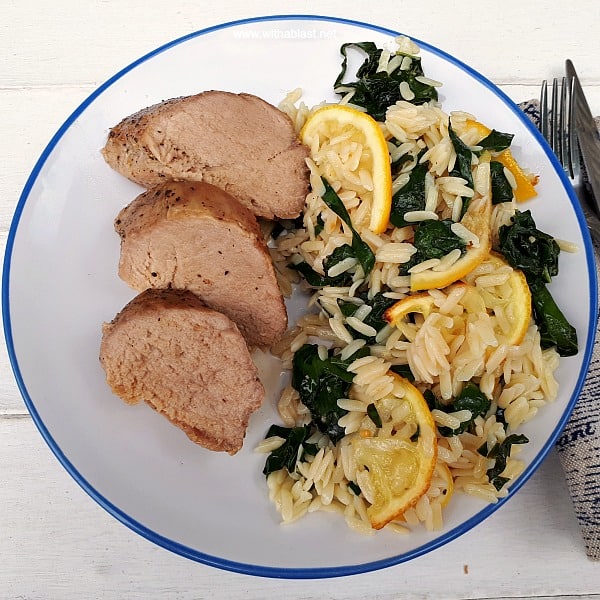 It is a new week and I am sure everyone is already busy or making plans for the Festive month ahead. I know I am quite busy, stocking up on pantry essentials, especially baking ingredients etc.
Not a lot of time for cooking on some days and this Honey Lemon Pork Loin with Roasted Lemon Orzo is just perfect to make on a week night. A complete meal ready in around 35 – 40 minutes !
This past weekend I took stock of our pantry, which was fairly quick and easy as I try to keep the pantry as organized as it could be.
The deep freezer chest was a little more challenging though ! Hubby and I unpacked everything, took note of what we had, as well as the "best before" dates. All of which I jotted down as we were going along.
I was quite surprised at just how many bags of stir-fry frozen vegetables we had ! We do love our stir-fries, but somewhere along the line I went a little overboard.
Do you ever take stock and find that you have way more of one (or more!) ingredient than you really need ?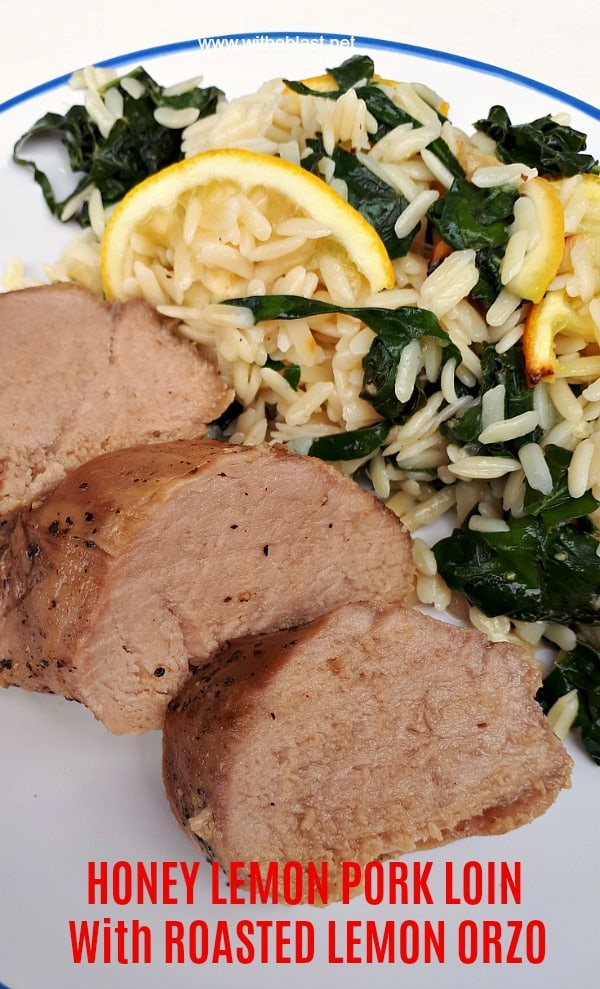 Oh well, I suppose we will have a lot of stir-fries during the next couple of weeks. Which is not bad, as we do love our stir-fries like this Sweet and Sour Chicken Stir-Fry or this Teriyaki Chicken Stir-Fry. Stir-Fries are also so quick and easy to make and most recipes are very customizable.
Today's dish is such a simple recipe, using everyday ingredients and the complete meal is ready in a flash. I served a crunchy side salad with it and it was more than filling.
The first of December marked the start of our Summer in South-Africa, therefore this meal was perfect with only the side salad. However, I would make a vegetable, or two, sides during cooler weather.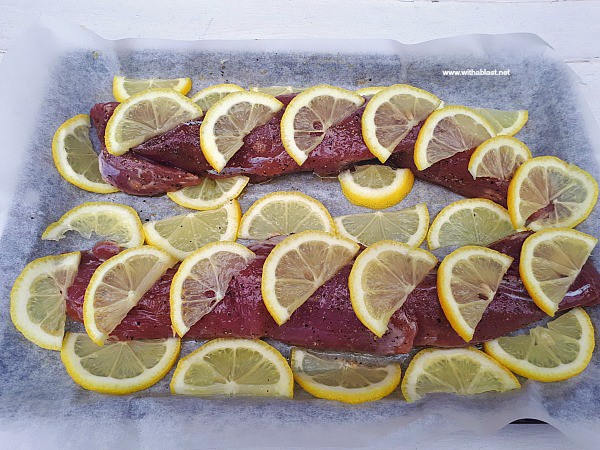 An easy, simple start to a delicious meal ! The seasoned Pork Loin, brushed with the Honey-Lemon-Oil mixture, all topped and surrounded with sliced Lemon. Ready to go into the oven, and time to start with the rest of the easy recipe.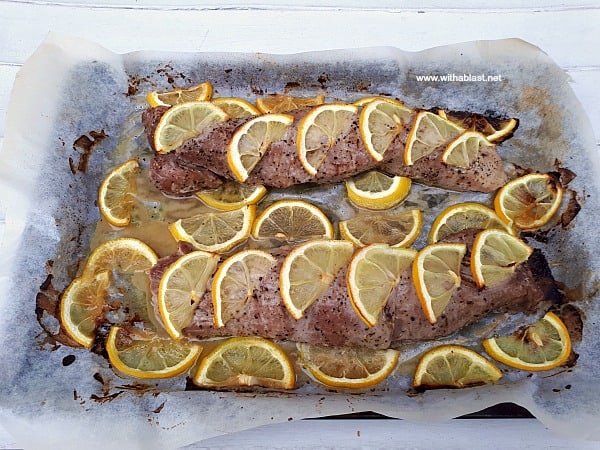 All done, tender and juicy Pork after only 30 minutes in the oven. By this time the Orzo would also be ready ( do remember to keep the roasted Lemon slices to toss through the Orzo ).
The Lemon-Honey which I bushed over the Pork is just enough to give a tasty, sweet-sour taste and the Pork goes so well with the tangy Orzo.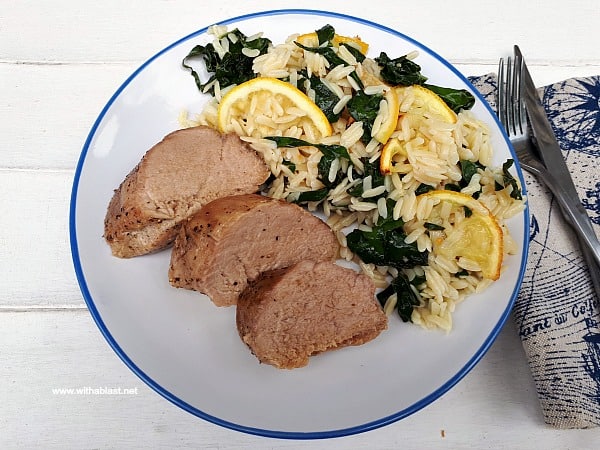 I thought of making a gravy, or some kind of sauce to serve over the Pork, but it really is not necessary. To repeat myself, the Pork turns out super tender and ever so juicy, no sauces are necessary.
Honey Lemon Pork Loin With Roasted Lemon Orzo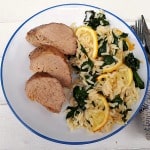 Honey Lemon Pork Loin With Roasted Lemon Orzo
Tender, juicy Honey Lemon Pork Loin With Roasted Lemon Orzo is a quick, filling and delicious week night dinner
Ingredients
2

450g

Pork Tenderloin

( 2 x 1 pound )

Salt and Black Pepper

to taste

2

TB

Olive Oil

2

TB

Honey

1

TB

Lemon Juice

2

Lemons

sliced
ORZO:
1

cup

Orzo

( Risoni )

1

TB

Olive Oil

2

t

Fresh Garlic

crushed

6

cups

Spinach

chopped

Salt and Pepper

to taste (optional)
Instructions
Pre-heat the oven to 220 deg C ( 440 deg F ) - line a baking sheet with baking paper

Season the Pork Loins to taste with Salt and Black Pepper

In a small Bowl, combine the Oil, Honey and Lemon Juice - brush over the Pork Loins and place on the lined baking sheet

Arrange the Lemon slices over the Pork as well as on the sides - bake 30 minutes or until cooked through - remove from oven and let rest 5 minutes before slicing
ORZO:
Cook the Orzo as per the instructions on the packet - drain and keep warm

Meanwhile, heat the 1 tablespoon Olive Oil in a small saucepan - saute the Garlic 1 - 2 minutes - lower the heat to medium and add the Spinach, cover and cook 5 - 7 minutes until soft

Add the Garlic / Spinach to the Orzo, together with the roasted Lemons and stir through

Season to taste with Salt and Pepper (optional)
Recipe Notes
Serve the Lemon Orzo alongside the Pork Tenderloin
LINDA