Only 10 Minutes to prep and cook these Microwave Berries Cheesecake individual servings ! Quick, easy and perfect make ahead dessert for a busy week night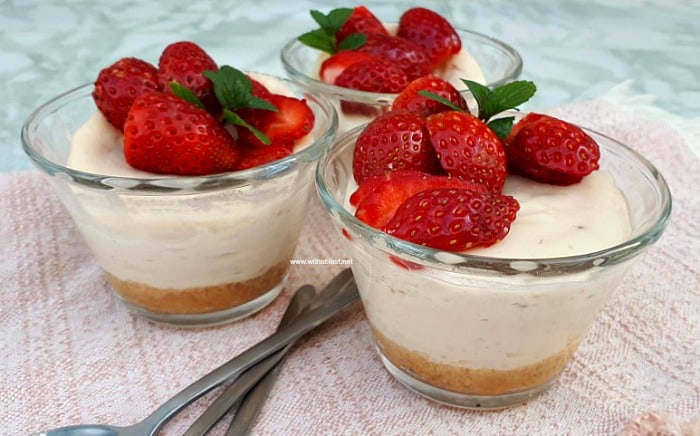 If there is an appliance I hardly ever use for actually cooking food, it is my microwave. These Microwave Berries Cheesecake in individual servings were a first in a long time.
I mainly use my microwave for making white sauce (or cheese sauce) as I can not for the life of me make it on the stove top !
My daughter is the opposite again, stove top for her when making the sauces.
Other than that I only use the microwave for re-heating food. Since I am taking care of my granddaughter, she is just over 3 months now, I also use it to sterilize her bottles etc.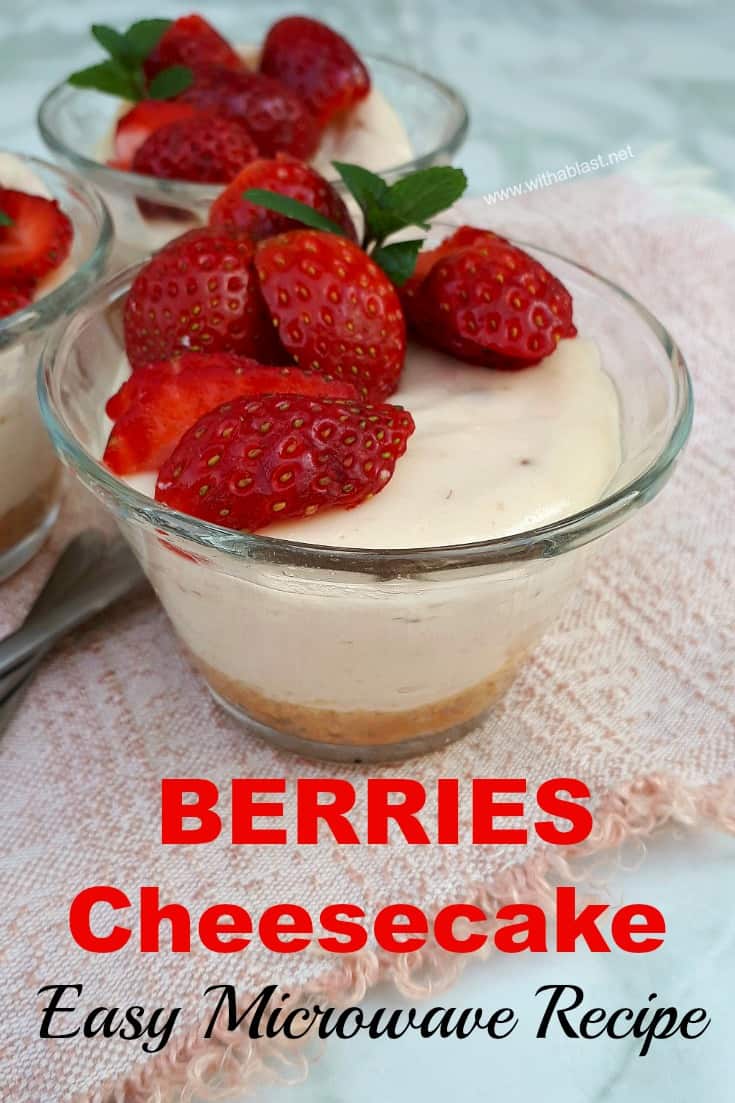 After trying this recipe, which I found in a dairy brand's booklet, I decided to use my microwave more.
Actually went as far as buying a brand spanking new microwave ! But, I have to admit, my old one was around 15 plus years old.
I am definitely going to make more dishes using the microwave, even if it is only the dessert.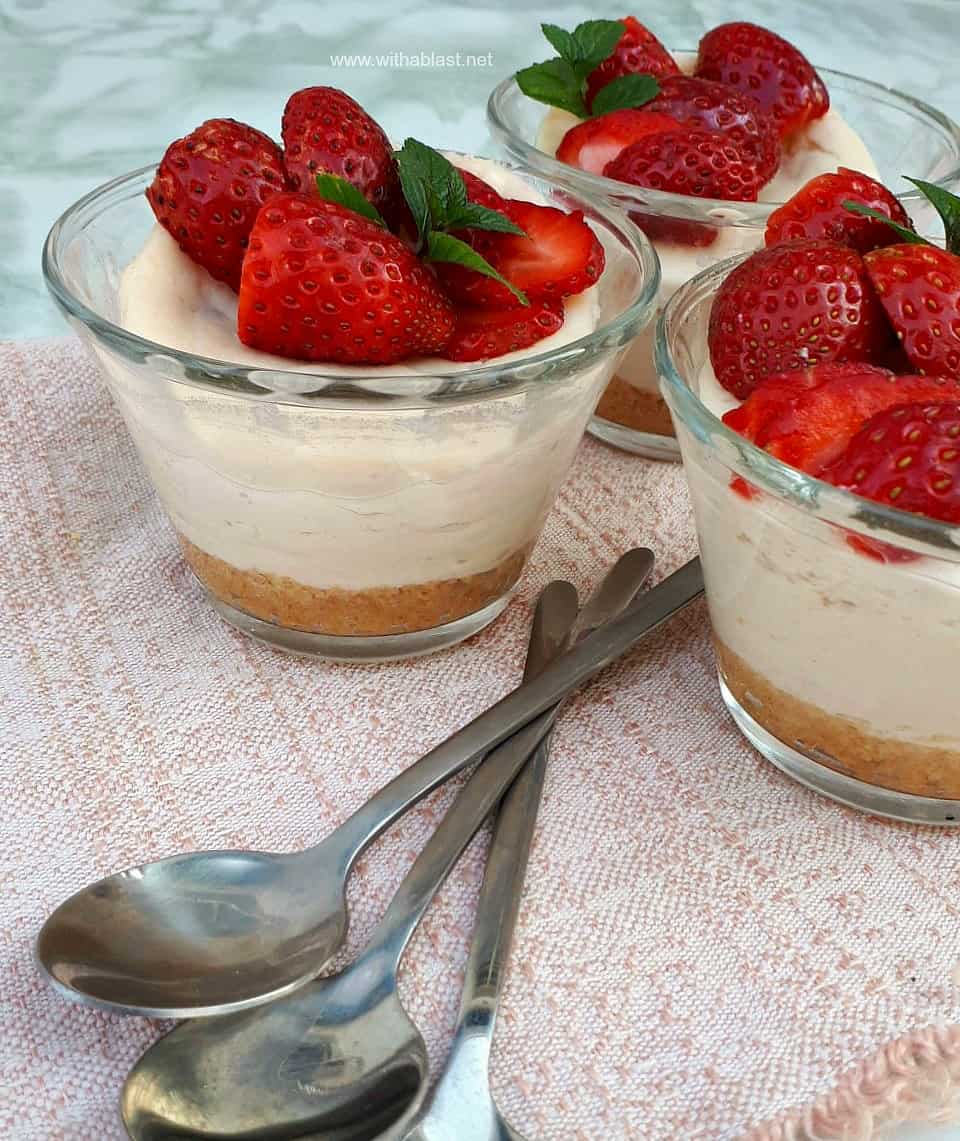 Anyhow, back to the recipe ! The first batch I made, I used too small serving dishes and the filling boiled over.
What a mess ! However, lesson learned and now I know not to fill the dish more than two thirds. Leave at least a third open at the top. You can always add more fruit, or a variety of Berries.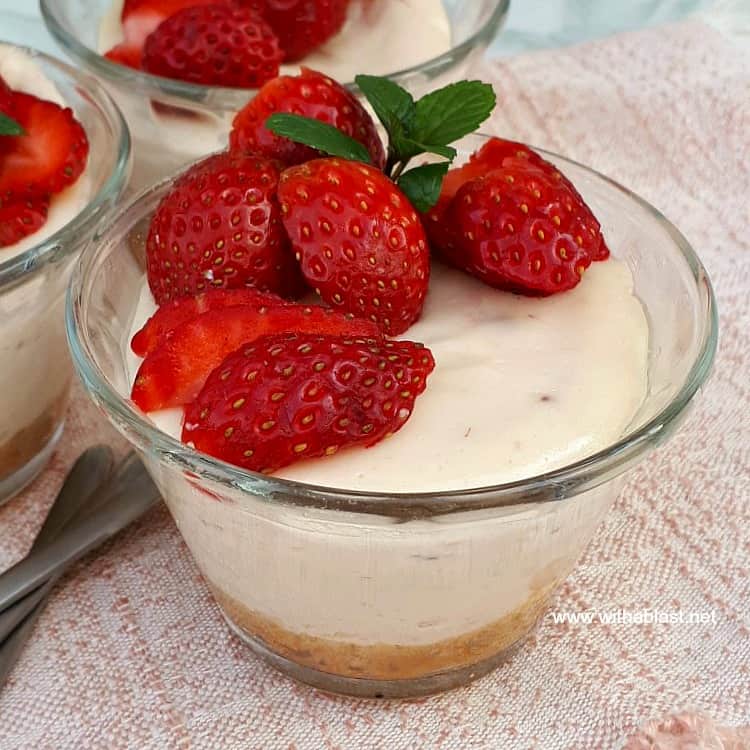 Once the Berries Cheesecake bowls cooled down, I covered them in plastic cling wrap and into the refrigerator.
Make-Ahead friendly cheesecake recipe !
This also means the Cheesecakes are perfect to make ahead (even a day or three should be fine). As long as you then keep them covered with plastic cling wrap.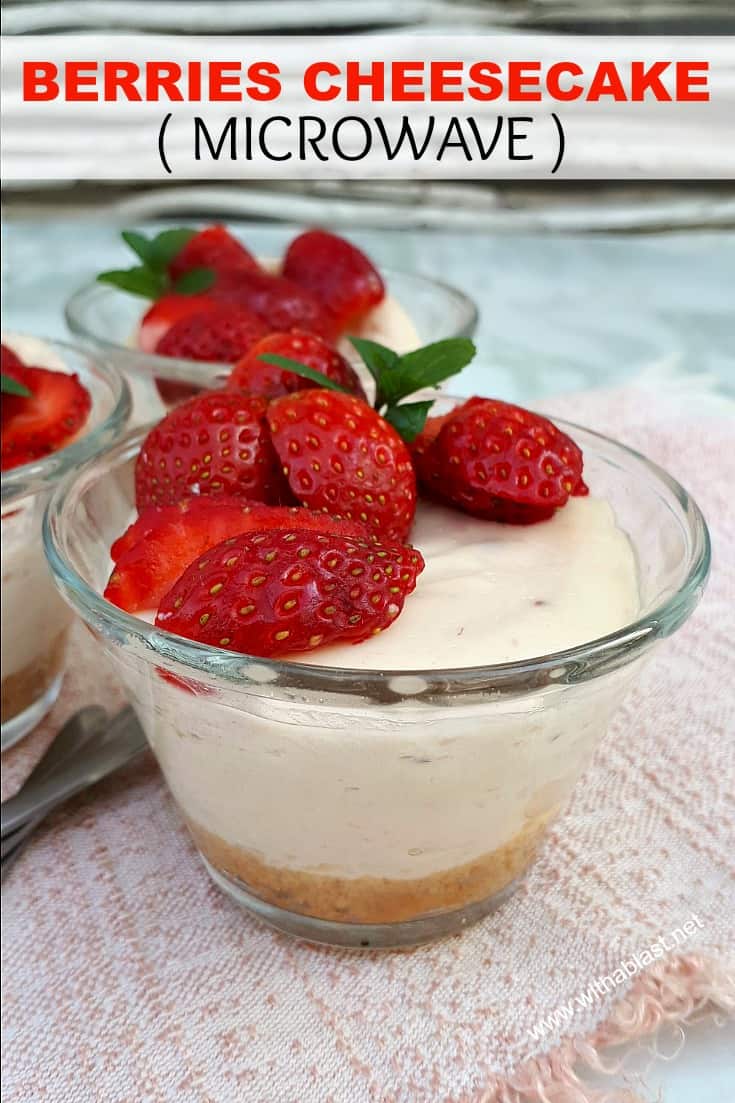 This was also the first time I made cheesecake which did not actually have any cream cheese as the main ingredient. Yogurt instead is the main ingredient and I believe it is more commonly known as a yogurt cheesecake.
More Cheesecake recipes you might like:
Connect with us :
PINTEREST TWITTER FACEBOOK INSTAGRAM
Berries Cheesecake (Microwave)
Microwave Berries Cheesecake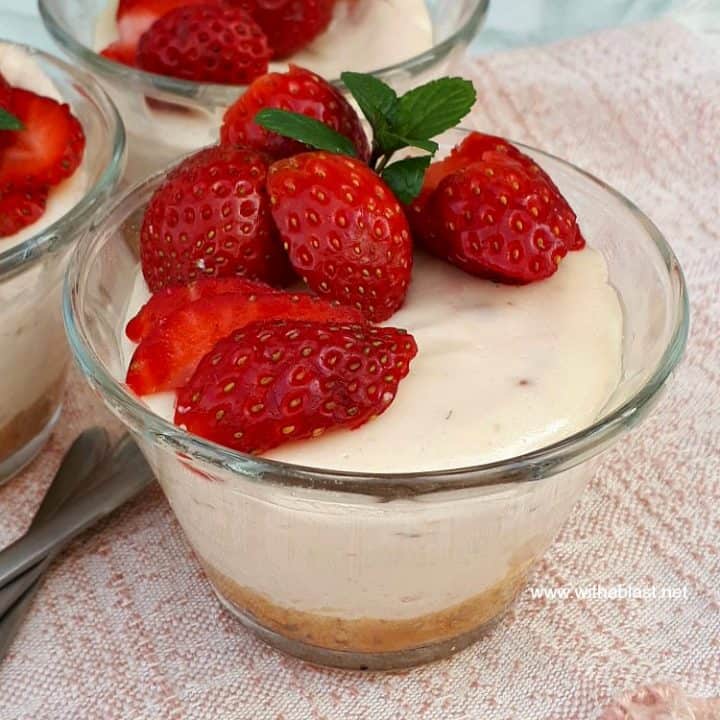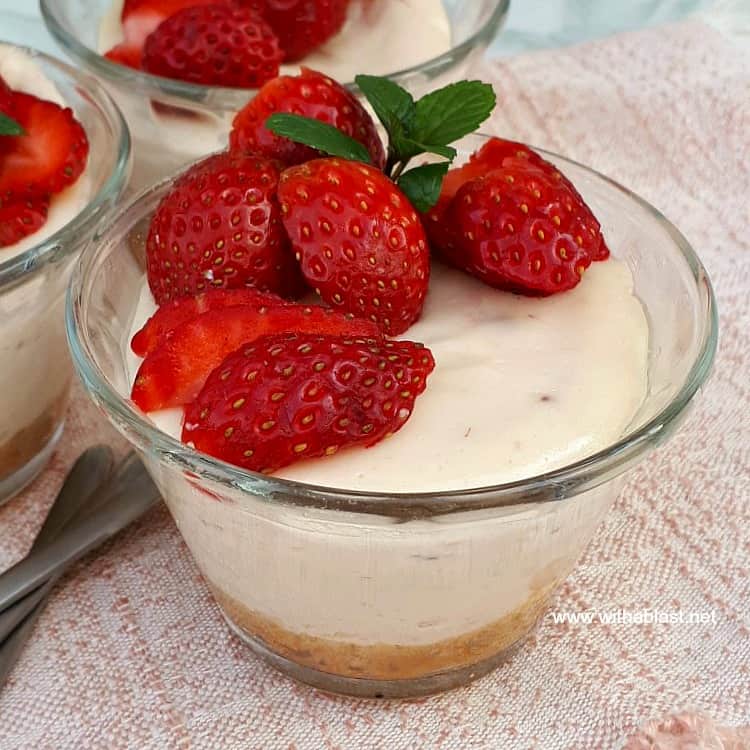 Only 10 Minutes to prep and cook these Microwave Berries Cheesecake individual servings ! Quick, easy and perfect make ahead dessert for a busy week night
Total Time
2 hours
10 minutes
Ingredients
CRUST:
1/2 cup Cookies, crushed ( Graham Crackers/Tennis Biscuits etc )
1/4 cup Unsalted Butter, melted
FILLING:
2 cups Double Cream Yogurt, Berries flavor ( see notes )
1 can (385g) Sweetened Condensed Milk ( 13.5 oz )
1/3 cup Lemon Juice ( freshly squeezed works best )
1 Lemon, zest only, finely grated
1 t Vanilla Essence
TOPPING:
6 Strawberries, sliced or chopped
6 - 12 Mint Leaves, to garnish
Instructions
CRUST: Combine the Cookie crumbs and the melted Butter - divide the mixture into 6 portions and press onto the bottom of 6 ramekins or any microwavable bowls/mugs - keep aside
FILLING: Whisk together the Yogurt, Condensed Milk, Lemon Juice, Zest and Vanilla Essence until smooth - Pour into the prepared bowls/mugs - do not fill the bowls/mugs more than 2/3 as the filling boils and rises quite a bit whilst in the microwave
Set your Microwave on HIGH ( 1000 watt - please adjust your times if using a lower wattage microwave ) for 6 minutes - place the 6 cheesecakes in a circle on the microwave turntable and cook
Remove carefully from the microwave and cool completely
Chill at least 2 hours in the refrigerator before serving
TOPPING: Arrange one sliced Strawberry and a Mint leaf or two on top of the Cheesecakes and serve
Notes
You can also use any yogurt flavor and use toppings to match - i.e. Coconut Yogurt with coconut shavings, Vanilla Yogurt with Chocolate shavings (or basically any topping will go with Vanilla!)
Nutrition Information
Yield
6
Serving Size
1
Amount Per Serving
Calories

437
Total Fat

35g
Saturated Fat

21g
Trans Fat

1g
Unsaturated Fat

12g
Cholesterol

95mg
Sodium

119mg
Carbohydrates

27g
Fiber

3g
Sugar

17g
Protein

6g
Nutrition value is not always accurate