Light Lemon Cheesecake Bars are easy to make and always a welcome dessert treat. Only 6 ingredients in this easy, basic cheesecake recipe
I have been making these light Lemon Cheesecake bars for years now. And recently my son mentioned that it had been some time since the last batch I baked.
My family, especially the kids, absolutely love these Cheesecake bars and I should really make them more often.
But, when I checked the blog (I like to update my photos every now and then), I could not find the recipe here !
Totally weird as this is the number one dessert in our house, even though I need a gentle prompt to make them.
Never mind that it is such a simple and easy recipe too, as that is what With A Blast is about – mostly quick, easy, delicious recipes.
If Cream Cheese is a standard pantry (refrigerator) ingredient in your kitchen as it is in mine, you might already have all the ingredients on hand and you can start baking up a batch.
There is of course nothing better than freshly squeezed Lemon juice to use in this recipe. But if you really crave these and you only have bottled Lemon juice, that works too !
The Lemon flavor will be a little less intense, but I know first hand what people will give up once a craving has flared up ?
Add more zest to the Cheesecake mixture !
You might also want to finely grate the Lemon rind (of one Lemon) and add that into the mixture which makes it more tart.
Due to my family's dislike of Lemon rind mixed into the creaminess, I always leave it out. I did add rind once, but was subtly asked to please not to do that again !
Which is why I call this a "Light" Lemon Cheesecake as there is only a hint of tartness.
More Cheesecake recipes you might like:
Light Lemon Cheesecake Bars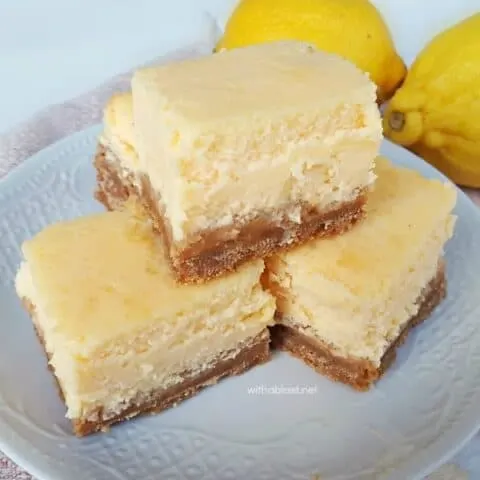 Light Lemon Cheesecake Bars
Total Time:
1 hour
10 minutes
Light Lemon Cheesecake Bars are easy to make and always a welcome dessert treat - only 6 ingredients in this easy, basic cheesecake recipe
Ingredients
200 g Tennis Biscuits, finely crumbled (or Graham Crackers - 7 oz )
1/2 cup Unsalted Butter, melted
500 g Cream Cheese, plain, softened ( 16 oz )
3/4 cup Caster Sugar (Superfine Sugar)
3 Extra-Large Eggs
1/4 cup Lemon Juice, freshly squeezed is best
Instructions
Pre-heat the oven to 160 deg F (325 deg F) – line a 20 x 20cm (8 x 8 inch) oven dish with baking paper – let the paper hang over the edges for easy removal later
Combine the Biscuits and Butter – press onto the bottom of the lined oven dish – set aside
Beat together the Cream Cheese and Caster Sugar until smooth
Add the Eggs one by one – beating after each addition
Add the Lemon Juice and beat another minute
Pour mixture onto the crust – bake 1 hour (the center of the Cheesecake will still be a little wobbly) – switch off the oven and leave the door slightly ajar – cool for 30 minutes in the oven
Remove from the oven – set aside until cool enough to transfer to the refrigerator
Chill for 4 hours or until set – remove the Cheesecake from the baking dish
Notes
Total time does not include cooling / chilling time
Nutrition Information
Yield

16 Servings
Serving Size

1 Bar
Amount Per Serving
Calories

255
Total Fat

19g
Saturated Fat

11g
Trans Fat

0g
Unsaturated Fat

7g
Cholesterol

82mg
Sodium

186mg
Carbohydrates

17g
Fiber

0g
Sugar

11g
Protein

4g
Nutrition value is not always accurate
Slice into bars and serve – keep leftovers in a sealed container in the refrigerator.