Korean Rice Bowl (Bibimbap) is a must try dinner recipe, loaded with vegetables and ready in around 25 minutes
This Korean Rice Bowl, known as Bibimbap, is a quick, easy and most delicious week night dinner. Besides cooking the rice (unless you have leftovers from a previous meal), the rest of the ingredients in this Rice Bowl, are all extremely quick to prepare.

Some years ago, I was addicted to buying magazines. And I do not mean that lightly, I bought anything, from recipe magazines to decor magazines to DIY / Gardening magazines. And I kept them all !
Since we started to give the house a bit of a makeover, I have been throwing stuff out like crazy and was really surprised when I realized just how many magazines I have gathered over the years.
Most of those I have read over and over again, but in recent years I started to spend more time online than I have reading actual books and magazines.
So, most ( I could not get myself to get rid of all of them! ) I gave to my son to place in the re-cycling bin at work.
BUT, there is one magazine I have never stopped buying – one of our preferred supermarkets' own (mostly) recipe magazines. Plus, as I have a Smart Shopper card at the store, I get the magazine free of charge.
Anyhow, I was thinking about trying out new Bowl meals a couple of weeks ago, and that was just about the time I picked up the latest copy of the magazine – with a couple of Bowl meal recipes.
The Korean Rice Bowl ( Bibimbap ) immediately caught my attention. Not only because it looked so good, but also because I noticed how quick the recipe would be, as I had some rice leftover from the night before. I only made a few small changes to the quantities of the ingredients to suit our taste.
Served the way I have it in the photos, makes the Rice Bowl so interesting (for lack of a better word!) to eat. I took a bit of rice, meat and carrots in one mouth full, and changed it up again with the next bite.
A similar, yet different taste with each bite ! My son on the other hand, mixed up the bowl and he said he enjoyed eating it more that way.
Bibimbap literally means Mixed Rice , meaning Rice is the main ingredient (yep, not the Beef) which gets different toppings, or meat/vegetables mixed into the Rice. I read up a bit on this and even though there is an authentic list of toppings, one could really add whatever you prefer.
You could arrange all the Rice at the bottom of the bowl and top it with the Beef and Vegetables, or if you have a large enough bowl, place all the ingredients in a circle and top with the Egg.
Or simply place each ingredient in a separate serving dish and let everyone help themselves ! Great idea for a Friday night dinner ☺
Korean Rice Bowl (Bibimbap)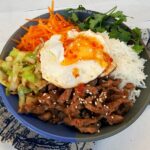 Korean Rice Bowl (Bibimbap)
Korean Rice Bowl (Bibimbap) is a must try dinner recipe, loaded with vegetables and ready in around 25 minutes
Course:
Light Dinner, Main Course
Ingredients
3

TB

Olive Oil

divided

900

g

Beef Strips

( 2 pounds )

1/3

cup

Sweet Chili Sauce

homemade or store-bought

3

TB

Soy Sauce

2

cups

Cabbage

shredded

4

Eggs

3

Carrots

peeled and finely grated

2

cups

Basmati Rice

cooked
EXTRAS:
Sweet Chili Sauce or Sriracha

to serve

handful

Fresh Cilantro

1

t

Sesame Seeds
Instructions
Heat 2 TB Oil in a large skillet – Brown the Beef Strips until just done – add the Sweet Chili Sauce and the Soy Sauce – stir-fry 2 minutes – remove the Beef from the Skillet and keep aside

Using the same skillet, saute the Cabbage 1 – 2 minutes until just starting to wilt – remove and keep aside

Heat the remaining 1 TB Oil and fry the Eggs to your preference – serve immediately
TO SERVE:
– Place the ingredients in serving bowls (including the Cilantro) either on top of the Rice OR arrange (including the cooked Rice) in a circle and top with an Egg – serve with extra Sweet Chili Sauce or Sriracha drizzled over and sprinkle with Sesame Seed
LINDA
You Might Also Like: