The best of two desserts in this Lemon Meringue Cheesecake ! Tart, sweet and always on request for dessert – perfect for Spring and Summer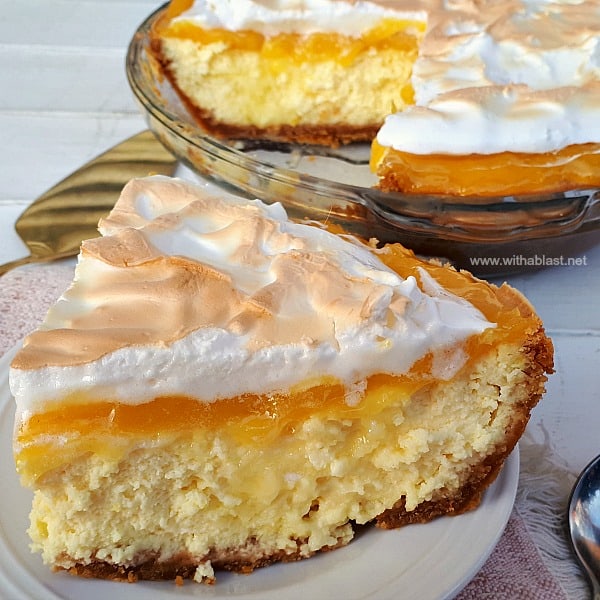 Lemon Meringue Cheesecake is a creamy, tart, delectable dessert. Perfect to serve for dessert, tea time treats and especially great when you have to take with a dessert to a family gathering.
A simple crust, easy filling, homemade Lemon Curd and all topped with a thin Meringue layer – what's not to love !
Lemon Cheesecake is one of my family's favorites and just about always a first request when I am out of ideas.
But, as a food blogger, I also like to try out new (or sometimes decades old!) recipes for Lemon Cheesecakes.
I found this recipe for a Lemon Meringue Cheesecake in a leaflet from one of the Cheese brands I absolutely love. And knew immediately it will be a good one ! And it was .. is !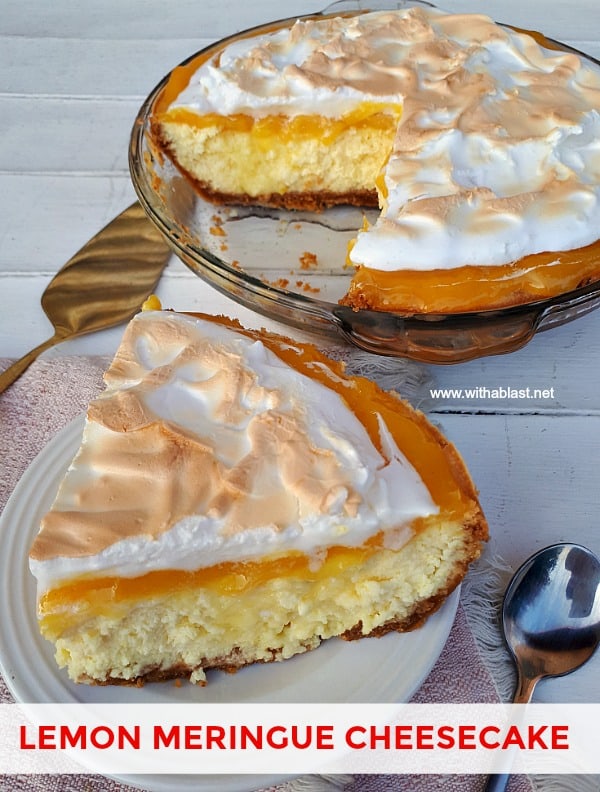 Not sure whether I have a favorite part of the Cheesecake, as one, especially myself, usually would say the Cheesecake filling, or oh the Curd makes all the difference !
This Lemon Meringue Cheesecake just works with all the flavors combined in one bite – another reason I like lower Cheesecakes (see more below)
I baked this particular Cheesecake in a round pie dish (I have an unusual size dish, which is much bigger than the popular 20cm ( 8 inch ) dish).
Why ? Because I prefer Cheesecakes a little lower than the usual baked Cheesecakes where a springform pan is used.
As I know my non-standard dish is not easily available. I therefore recommend using a springform pan.
Unless you have a pie dish which is around 30cm ( 14 inch ) in diameter. The recipe and baking times remain the same.
Now, this Cheesecake might look like a lot of work but once you get started you will see it is not all that much. Only the layers which are prepared (and cooked / baked) in various stages take a little time.
As with all baked Cheesecakes the cooling down period is always the worst, don't you agree ? It is pure agonizing having smelled the Cheesecake baking and then you have to wait for it to cool.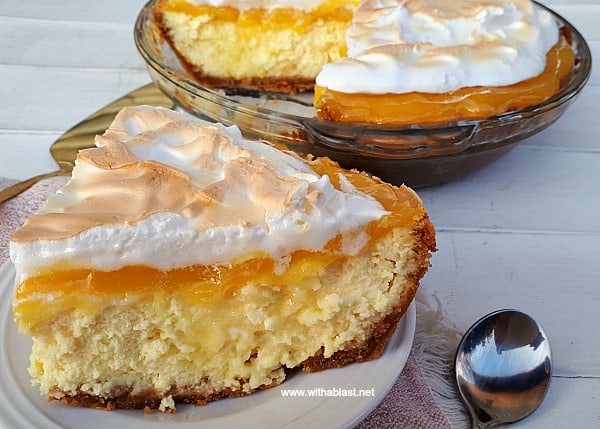 That being said, if you want to treat your family and friends with a decadent treat, this Lemon Meringue Cheesecake is just the sweet treat you are after !
NOTE: Decrease the Lemon Zest in the Filling and/or the Curd for a less tart Cheesecake if that is your preference. You could also use store-bought Lemon Curd, instead of the Homemade version below, of which you will need about one cup.
More Cheesecake recipes you might like:
Connect with us :
PINTEREST TWITTER FACEBOOK INSTAGRAM
Lemon Meringue Cheesecake
Yield: 12 Servings
Lemon Meringue Cheesecake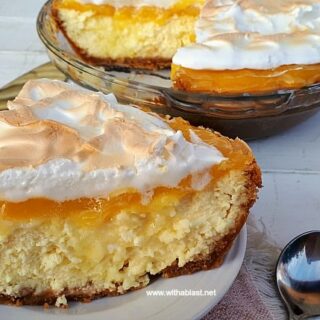 The best of two desserts in this Lemon Meringue Cheesecake ! Tart, sweet and always on request for dessert - perfect for Spring and Summer
Total Time
1 hour
45 minutes
Ingredients
CRUST:
200 g Digestive Biscuits, finely crushed ( 7 oz )
1/2 cup Unsalted Butter, melted
FILLING:
500 g Cream Cheese, plain, softened ( 16 oz )
1 cup Caster Sugar (Superfine Sugar)
2 TB Flour
3 Extra-Large Eggs
1 cup Sour Cream, room temperature
1/2 cup Lemon Juice, freshly squeezed
2 Lemons, zest only – finely grated
LEMON CURD:
1 cup Caster Sugar (Superfine Sugar)
1/2 cup Lemon Juice, freshly squeezed
1 Lemon, zest only, finely grated
1/4 cup Unsalted Butter
1 Extra-Large Egg, PLUS 2 Egg-Yolks, beaten together in a small bowl
MERINGUE:
2 Egg Whites, (use leftover from Curd)
1 cup Caster Sugar (Superfine Sugar)
Instructions
Pre-heat the oven to 180 deg c (350 deg F) – spray a 20cm ( 8 inch ) springform pan with cooking oil
CRUST:
Combine the crushed Biscuits and melted Butter – press onto base and up the sides of the prepared pan – bake 10 minutes, remove from oven and leave to cool
FILLING:
Increase the oven heat to 230 deg C (440 deg F) – Beat the Cream Cheese and Caster Sugar until creamy – Sift in the Flour and mix through – Add the Eggs one at a time, beating after each addition – Add the Sour Cream, Lemon Juice and Zest – beat until smooth
Pour Filling into the baked, cooled crust – Bake 10 minutes – turn temperature down to 110 deg C (230 deg F) – bake a further 30 minutes – switch off the oven and let cool in oven for at least 2 hours
LEMON CURD:
Combine the Caster Sugar, Lemon Juice, Zest and Butter in a small saucepan over medium heat – once the Sugar and Butter has dissolved – add tablespoonfuls of the warm mixture to the beaten Eggs – stir after each addition (about 3 – 4 spoonfuls) – pour the heated Egg mixture into the saucepan and return to the stove plate (low heat) – stir until Curd thickens and sticks to the back of the spoon ( Do not let the Curd boil) – remove from heat and leave to cool completely
As soon as the baked Cheesecake and the Curd have cooled completely, (turn the Cheesecake out onto a serving plate), spread the Curd over the Cheesecake filling
MERINGUE:
Whip together the Egg Whites and the Caster Sugar until stiff – spread over the Curd – place under the oven roasting grill (or brown with a kitchen blow torch), until nicely browned
Notes
Refrigerate at least 30 minutes before serving
Nutrition Information
Yield
12
Serving Size
1 Slice
Amount Per Serving
Calories

595
Total Fat

34g
Saturated Fat

19g
Unsaturated Fat

12g
Carbohydrates

68g
Fiber

1g
Sugar

59g
Protein

7g
Nutrition value is not always accurate