Coffee Cottage Cheese Triangle is a light dessert, perfect to end off a rich meal and ideal to adapt decorations for any occasion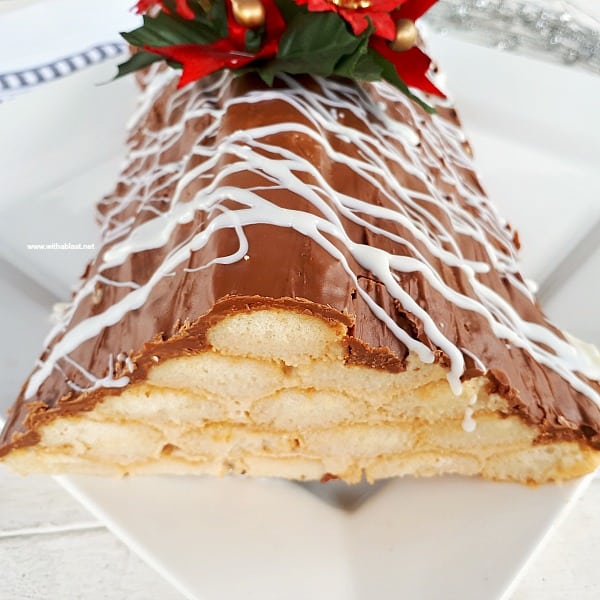 This Coffee Cottage Cheese Triangle is perfect for any celebration or even as an everyday dessert. It can be served chilled or frozen, but I prefer the Triangle chilled.
I always had a bit of a fear in assembling triangles ( or maybe better known as pyramid desserts ), but this is extremely easy. It took me just over 10 minutes to assemble !
This is also the perfect dessert to round off a rich meal, whether it be a week night dinner or something more extravagant like a Christmas dinner.
All due to the type of cookie (biscuit) used combined with Cottage Cheese which is much lighter than say cream cheese.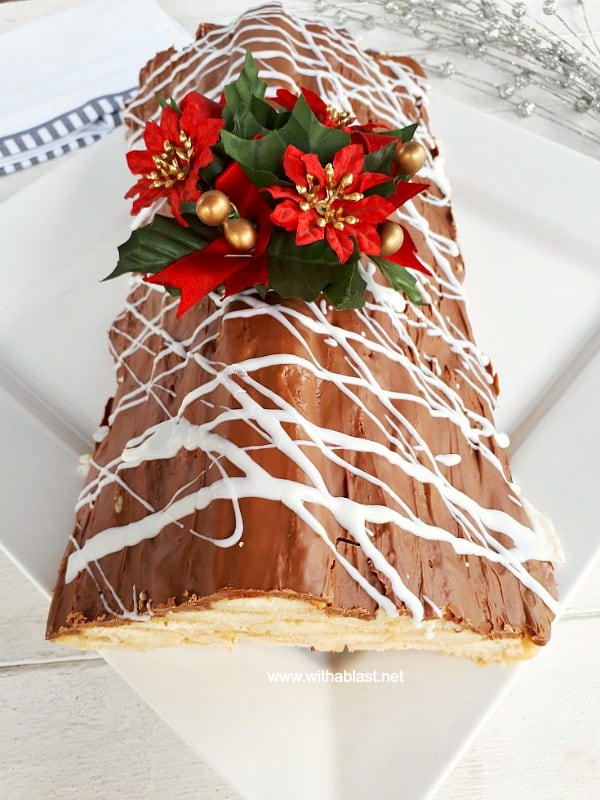 Which Lady Finger biscuits/cookies to use ?
Use a good brand Lady Fingers as some of the cheaper brands do not absorb liquids as it should. And that is exactly what we want here !
A biscuit which gets dunked, in-and-out quickly, absorbs some of the moisture, but does not go soggy immediately.
Seeing as the holidays are just around the corner, I have decorated the Coffee Cottage Cheese Triangle for Christmas. However the decorations can be anything to suit whatever the occasion.
I just leave it plain, as is drizzled with white chocolate when we enjoy this as a normal dessert after dinner. Another great feature of this dessert is that it is make-ahead friendly !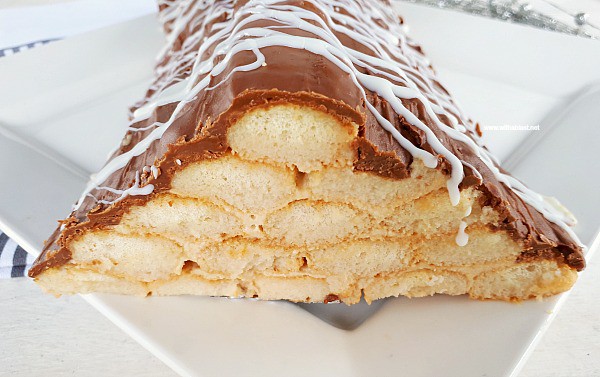 When served chilled, as I prefer the Triangle, it can be made a day in advance. Serving frozen ? Even better, make-ahead wise – wrap it tightly and the dessert will be perfect for weeks.
Although, do not freeze and defrost as this will result in a very soggy dessert. Either stick to chilled or frozen.

More Christmas recipes you might like:
Coffee Cottage Cheese Triangle
Yield: 15 Servings
Coffee Cottage Cheese Triangle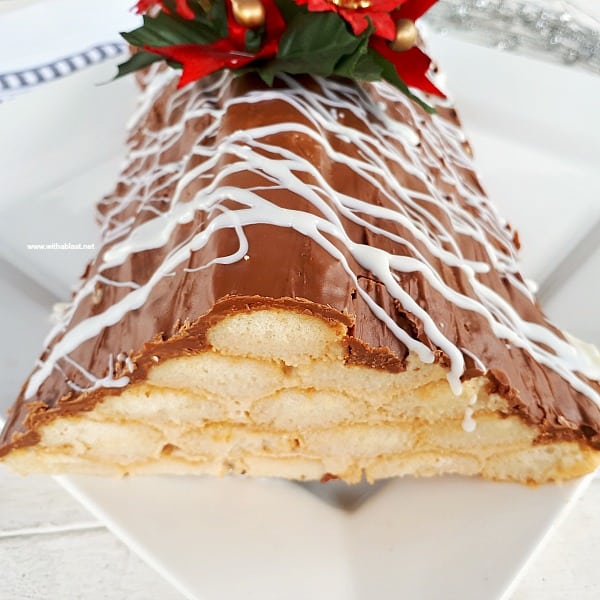 Coffee Cottage Cheese Triangle is a light dessert, perfect to end off a rich meal and ideal to adapt decorations for any occasion
Ingredients
1/2 cup Unsalted Butter, softened
1/2 cup Sugar
1 Egg, beaten
1 teaspoon Instant Coffee Powder, / Granules, mixed with 2 teaspoons Boiling water, cooled
250 grams Cottage Cheese , plain – smooth ( 8 oz )
1 1/2 cups Milk
3 teaspoons Vanilla Extract
45 Lady Finger Biscuits
250 grams Milk Chocolate, ( 8 oz )
White Chocolate, optional, to decorate
Instructions
Beat the Butter until light and fluffy – add the Sugar and Egg, keep beating until smooth
Mix the Coffee mixture with the Cottage Cheese and add to the Butter mixture – fold in gentle – chill until a little firmer but still spreadable
Combine the Milk and Vanilla – dip each Lady Finger into this mixture as you assemble the triangle
To Assemble: Base – Place 5 biscuits in 3 rows on a large sheet of aluminum foil (plus extra to cover the triangle when done assembling)
Spread some of the Cottage Cheese mixture over the biscuits
Repeat layering, using one biscuit less each time – spread Cottage Cheese mixture over each new layer – end with a single row of biscuits
Fold the aluminum foil from the bottom up over the triangle, pressing gently into a well-formed triangle
Chill for 30 minutes in the freezer compartment – remove and open the aluminum foil
You will now have a half-frozen triangle – do not worry if it is not too smooth – the Chocolate must still be spread over
Melt the Milk Chocolate and using the back of a table spoon, spread it over the sides and top of the triangle – place back in the freezer compartment for a couple of minutes to set
If using – Melt the White Chocolate and drizzle over the cold dessert
Either place back in the freezer (if you want frozen) or chill in the refrigerator until firm (about 2 hours)
Notes
Remove the aluminium foil and transfer, carefully, to a serving dish – cut into slices and serve immediately
Nutrition Information
Yield
15 Servings
Serving Size
1
Amount Per Serving
Calories

370
Total Fat

18g
Saturated Fat

10g
Trans Fat

0g
Unsaturated Fat

7g
Cholesterol

112mg
Sodium

169mg
Carbohydrates

43g
Fiber

1g
Sugar

19g
Protein

9g
Nutrition value is not always accurate