Christmas Wreath Pear Salad is a refreshing salad addition to your Christmas menu, with pears, nuts, pomegranates and more – Prepping to serving within minutes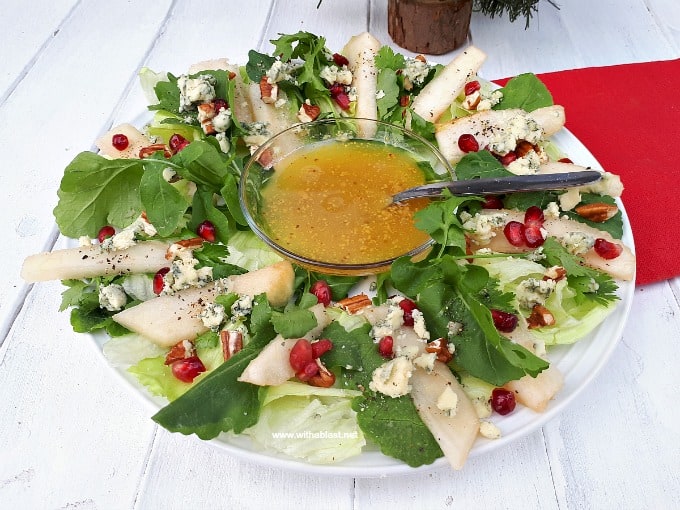 We love our salads ! If you have been following With A Blast for a while now, I am sure you know salads are one of our favorite foods.
This Christmas Wreath Pear Salad is one of our most loved sides to add to our Christmas menu. And I fully intend on making the salad again this year on Christmas Day !
Before we even go further, I have to tell you that this is also one of the quickest salads you can throw together. Fifteen minutes max, provided you have all your ingredients ready.
It is absolutely perfect and every time I make the Christmas Wreath pear salad, this is the last dish to make it to the Christmas table.
After I have all my dishes on the table, with hubby's help of course, I whip up the Wreath Salad and it is ready in minutes.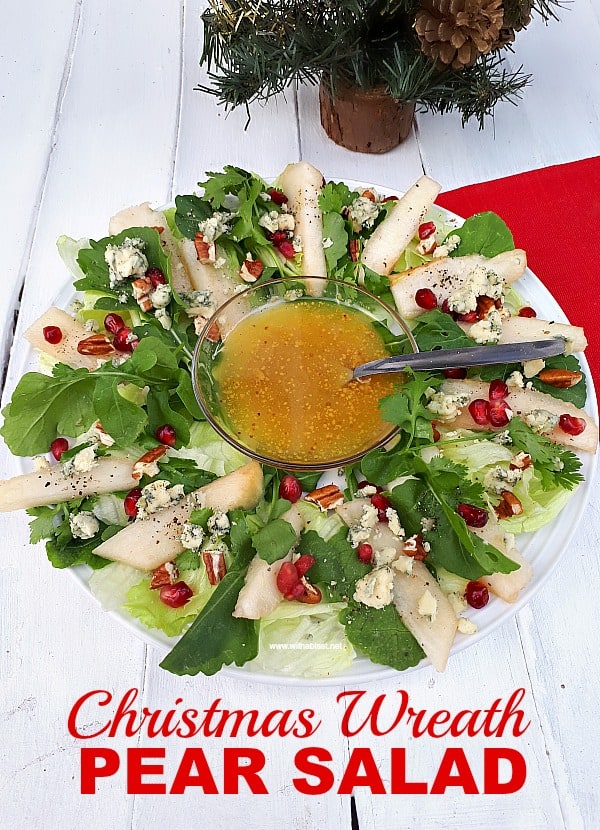 All the flavors work wonderfully together. And the different textures are just awesome, especially in a salad.
The crunch of the lettuce, arugula and nuts, the creaminess of the blue cheese and the crunchy, chewy bit of pomegranate seeds and pear slices round the salad off perfectly.
What I also love about the Christmas Wreath pear salad is serving the dressing in a small bowl in the center of the Wreath Salad.
This is ideal for everyone to help themselves to as much or as little of the dressing.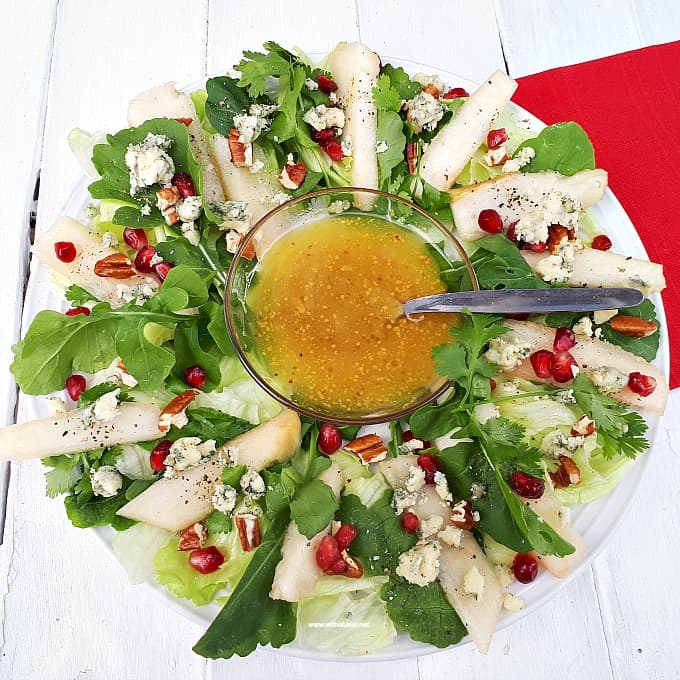 I am personally somewhat in between with dressings over salads, not too much and not too little. My son on the other hand barely drizzles his salads with dressing.
He is definitely not a huge fan of dressings, but rather like the various salad ingredient tastes.
Hubby again, well, depends on the salad ! He would either use a lot of dressing over a certain salad, or very little.
Keep in mind that this dressing is quite strong due to the White Wine Vinegar, therefore start with a little and add more as you prefer.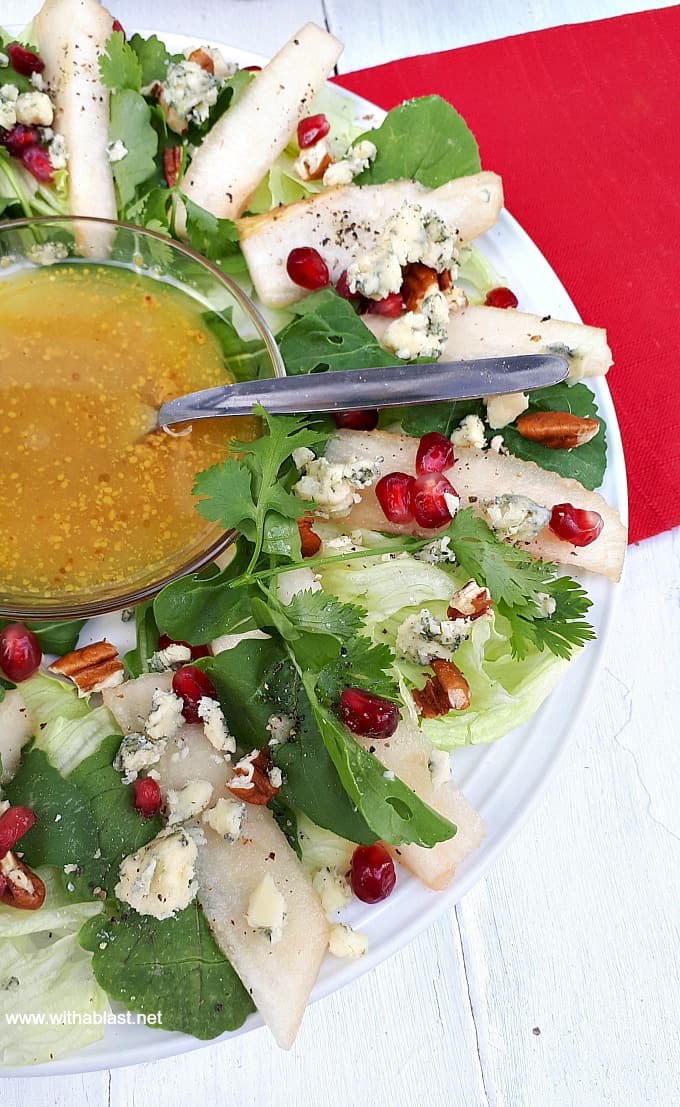 The only other thing (important!) to bear in mind is that the pears turn brown if you peel and slice them too early. Try to leave that to just before serving.
Prepping of the rest of the ingredients can be done in advance. I use crisp lettuce, which does not wilt as quickly as most other types. Arugula in general is fine to wash off and keep ready to use.
More Christmas recipes you might like:
Connect with us :
PINTEREST TWITTER FACEBOOK INSTAGRAM
Christmas Wreath Pear Salad
Yield: 6 Servings
Christmas Wreath Pear Salad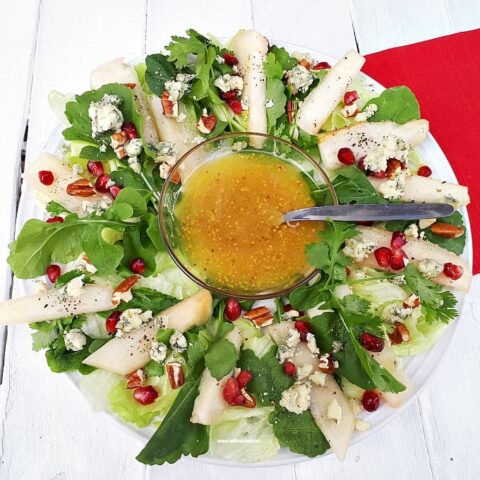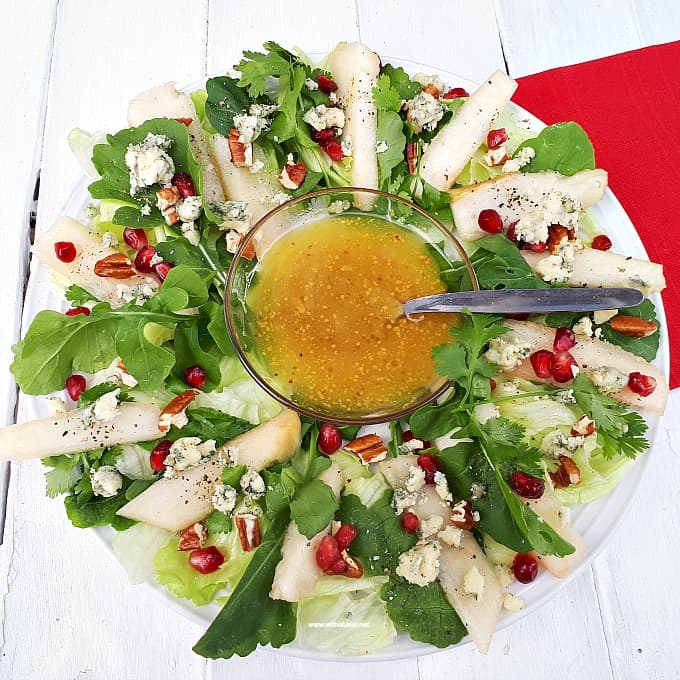 Christmas Wreath Pear Salad is a refreshing salad addition to your Christmas menu, with pears, nuts, pomegranates and more - Prepping to serving within minutes
Ingredients
SALAD:
2 cups Lettuce, torn
1 cup Arugula, baby leaves if possible
2 Pears, peeled, sliced thinly
1/2 cup Blue Cheese, crumbled
3 TB Pecan Nuts, chopped (toasted or not)
1/4 cup Pomegranate Seeds
DRESSING:
2 TB White Wine Vinegar
1 TB Honey
2 t Wholegrain Mustard
2 TB Olive Oil, extra virgin
OPTIONAL:
Black Pepper, freshly ground, to taste
Instructions
SALAD: Arrange the Lettuce and Arugula on a round serving plate in a wreath pattern
Place the Pear slices on top of the Lettuce / Arugula
Sprinkle over the Blue Cheese, Nuts and Pomegranate seeds
DRESSING: Combine all the ingredients for the dressing - transfer to a small round bowl and place in the center of the salad wreath
OPTIONAL: Sprinkle over Black Pepper
Notes
Serve the salad immediately
Nutrition Information
Yield
6
Amount Per Serving
Calories

163.3
Total Fat

11.7g
Saturated Fat

3.1g
Unsaturated Fat

8.1g
Carbohydrates

13g
Fiber

2.5g
Sugar

10.1g
Protein

3.5g
LINDA
Linking Up With : WEEKEND POTLUCK – Sweet Little Bluebird