Mint and Pomegranate Apple Sipper is a, refreshing, non-Alcoholic Festive drink which can be plain or sparkling – alcohol is optional at your own discretion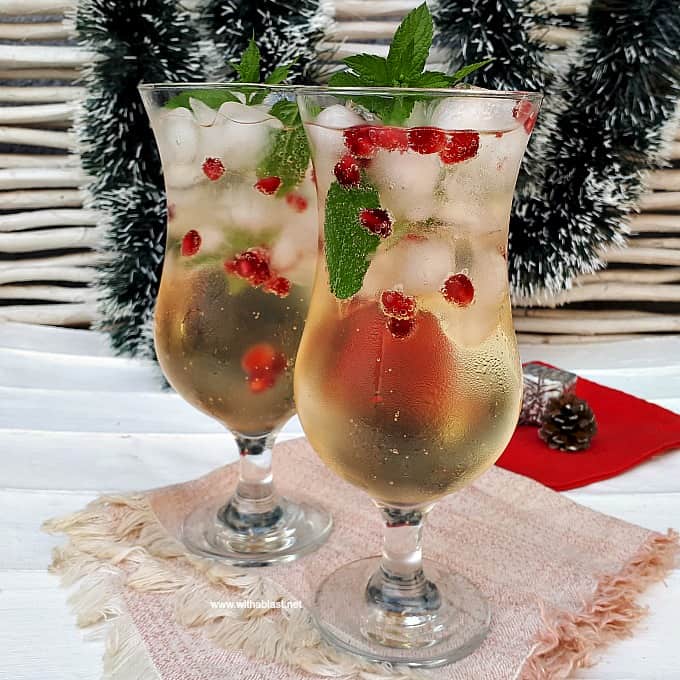 We are less than a week away from Christmas ! Almost unbelievable how quick time goes by. It feels like we celebrated Christmas just recently.
I do not drink too many alcoholic drinks, actually I can not even remember the last time I had one ! This Mint and Pomegranate Apple Sipper is just perfect.
Not only for myself, but everyone, as you can easily add Rum or whatever you fancy, to the Apple drink.
Making one or twenty, it will only take you minutes to have the drinks ready to be served.
Have your ice ready, a plate with Mint leaves, a small bowl of Pomegranate Seeds – fill tall glasses as per the recipe below.
All that remains is topping up the glasses with Apple Juice – and done !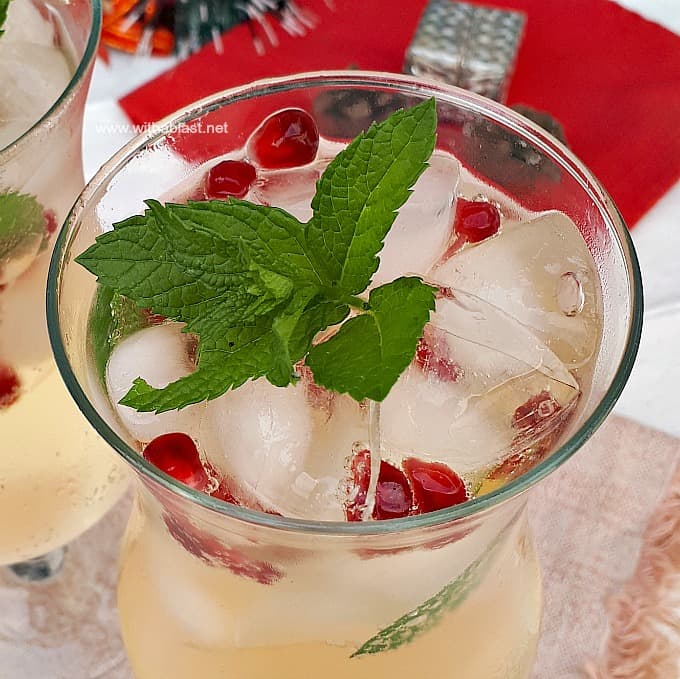 I think everyone will agree with me that Christmas eats, treats and drinks are the most colorful, delicious looking foods and drinks ever.
Not even Valentine's Day comes close to Christmas treats and especially decorations. The colors then are mainly red or pink with a smudge of something else.
Christmas colors are also not just random colors :
RED – represents the Apples on the Paradise Tree as well as Holly Berries which were said represented the blood of Jesus when he died on the cross
GREEN – Reminded people that Winter would not last forever and Spring will eventually come around – also represents the Paradise Tree which were always green with red apples, during early plays in the middle ages
GOLD – This is the color of the Sun and light – gold was also one of the presents the wise men brought to baby Jesus
To me, personally, these are the three main colors of Christmas, although White is also featured a lot.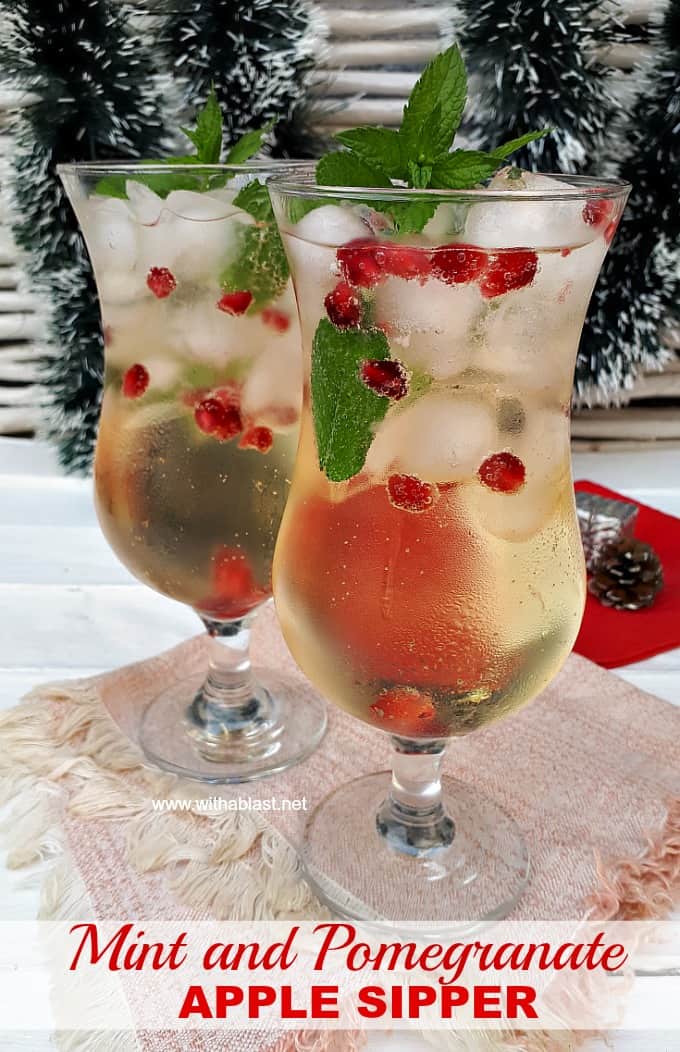 Besides the meanings of Christmas colors, everyone loves bright and shiny colors, especially in foods and drinks. It has been said over and over again that we eat/drink with our eyes first.
I tend to believe in that statement ! And if something tastes as good as it looks, well, then you have a winner.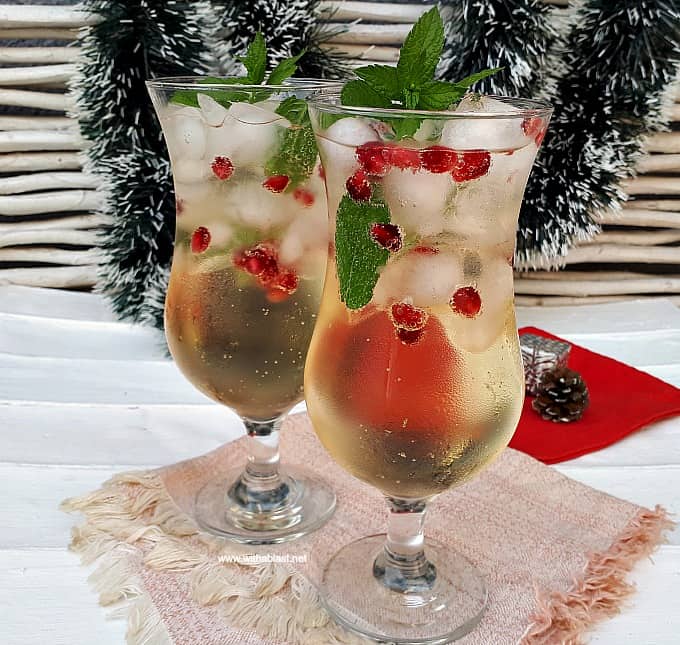 Just look at these Apple Sippers – how can anyone say no to a refreshing drink like this ?!
I have mentioned before that during Summer (which is right now in South-Africa) I do not bother to freeze juice to use instead of plain ice cubes.
We down one of these long before the ice really had time to start melting. And normally the ice cubes left in the glass are just enough to to top up your drink again.
But if you are a slow sipper, try to freeze some apple juice beforehand and your drink will not water down.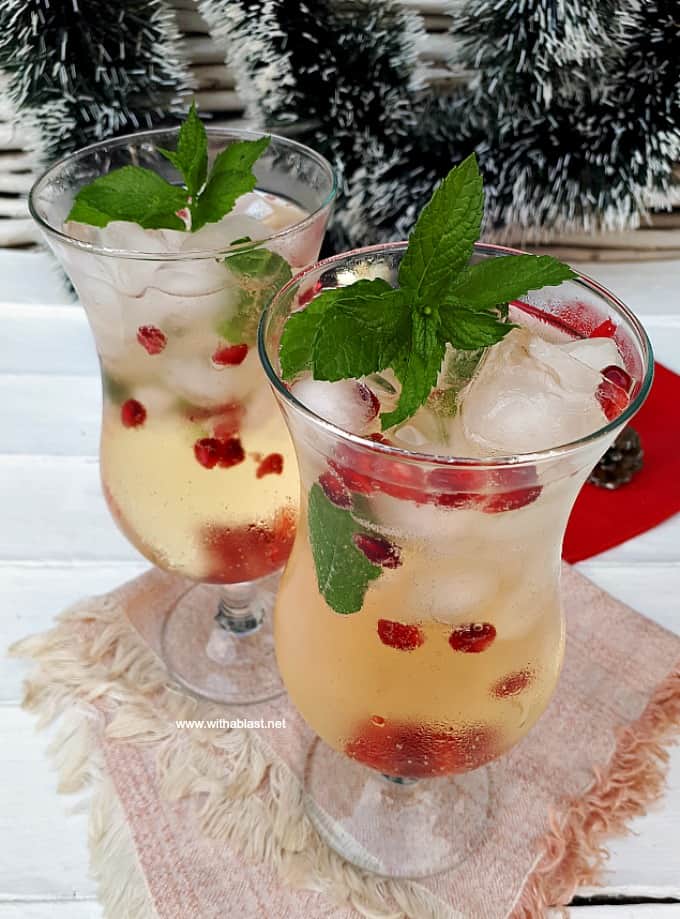 Kids also love this Mint and Pomegranate Apple Sipper although I have never added Pomegranate seeds when my kids were still little.
Way to easy to get one or more stuck in their throats. And yes, I am one of those overly cautious parents !
Good thing they are both adults now, as they most definitely would not appreciate me giving them half a Christmassy drink !
Remember to bruise the Mint leaves just very slightly as it gives a more distinct taste than when added as is. And the flavor combination in this drink is absolutely amazing. Simple ingredients, stunning drink for all!
More Christmas recipes you might like:
Connect with us :
PINTEREST TWITTER FACEBOOK INSTAGRAM
Mint And Pomegranate Apple Sipper
Yield: 1 Serving
Mint And Pomegranate Apple Sipper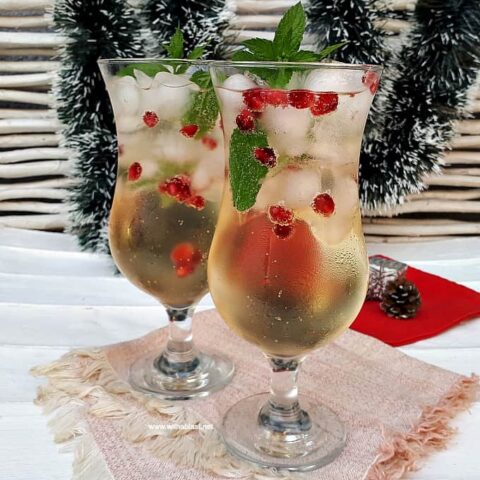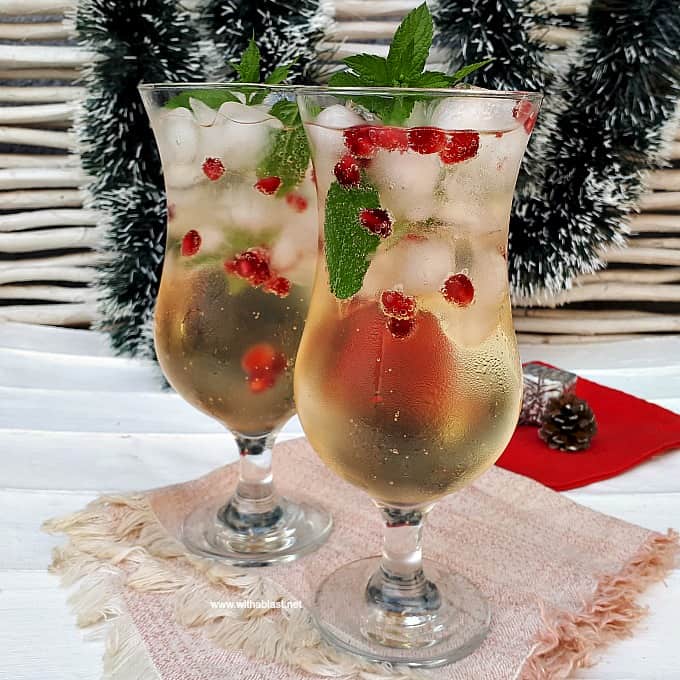 Refreshing, Mint and Pomegranate Apple Sipper is a must on your holiday drinks menu ! (Sparkling or plain) added alcohol optional
Ingredients
Ice Cubes, (plain or frozen apple juice cubes)
4-5 Mint Leaves, lightly bruised
1 t Pomegranate Seeds, heaped spoon
1 cup Apple Juice, (Sparkling or plain)
Extra Mint Leaves, to garnish
Instructions
Fill a tall glass halfway with ice cubes - add the bruised Mint leaves and Pomegranate seeds
Top up with Apple Juice and stir through using a drink stirrer or straw
Garnish with extra Mint leaves - serve immediately
Nutrition Information
Yield
1
Amount Per Serving
Calories

110.1
LINDA
Linking Up With: WEEKEND POTLUCK – Sweet Little Bluebird