Garlic Potato Christmas Trees are Festive looking and very Garlicky with a hint of Rosemary. This is the perfect side dish for Christmas (delicious and festive looking!)
Baby Potatoes are one of my favorite potatoes and these Garlic Potato Christmas Trees are just too cute not to share.
So simple, but it looks wonderfully Festive and ever so Merry Christmas.
I had seen something similar on a local magazine's sit. However, the actual recipe was not so much to my liking.
I decided to make one of my stand-by recipes, which I just about always use when I want simple, delicious Baby Potatoes.
Garlic and Rosemary always make a nice combo, especially when cooking or baking potatoes – baby or plain potatoes.
Our store was sold out of the usual nice Baby Potatoes and I had to settle for less. But it does not matter, the potatoes were still delicious and I think kids would love to see them on their plates at Christmas.
I only sliced the bottoms off a few of the Baby Potatoes (to form the base), as most of them stayed upright even with the second potato stuck on top.
Tip : use short but firm Rosemary sprigs to insert on the top, then everything will be done in a matter of minutes. (the Sprigs do not go straight through both Baby Potatoes – the toothpick keeps them together)
More Christmas recipes you might like:
Garlic Potato Christmas Trees
Yield: 8 Servings
Garlic Potato Christmas Trees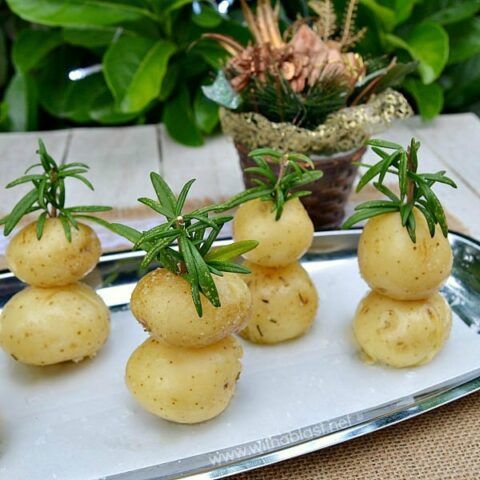 Garlic Potato Christmas Trees are Festive looking and very Garlicky with a hint of Rosemary ~ perfect side dish for Christmas
Ingredients
16 Baby Potatoes, scrubbed clean, pricked once or twice with a fork
3 t Fresh Garlic, crushed or sliced
2 t Dried Rosemary
Salt , to taste
2-3 TB Avocado Oil, plain. (or Olive Oil)
8 Rosemary sprigs
1 TB Coarse Maldon Salt
Instructions
Place the Baby Potatoes in a medium saucepan – add the Fresh Garlic, Dried Rosemary and Salt – cover with Water and cook until just done – remove from heat, drain and let cool slightly
Meanwhile, pre-heat the oven to 200 deg C (400 deg F) – spray an oven dish with cooking oil
If necessary, slice off the bottom, of half the Baby Potatoes to form a base – skewer with a toothpick and top with another [not sliced] Baby Potato – arrange on the prepared oven dish and drizzle with the Oil – bake 15 – 18 minutes or until golden and slightly crispy – remove from the oven when done
Stick a Fresh Rosemary Sprig into the top of each Baby Potato
Nutrition Information
Yield
8 Servings
Serving Size
1 Potato Tree
Amount Per Serving
Calories

144
Total Fat

11g
Saturated Fat

1g
Trans Fat

0g
Unsaturated Fat

9g
Cholesterol

0mg
Sodium

872mg
Carbohydrates

12g
Fiber

2g
Sugar

1g
Protein

1g
Nutrition value is not always accurate
Serve immediately, sprinkled with coarse Maldon Salt.